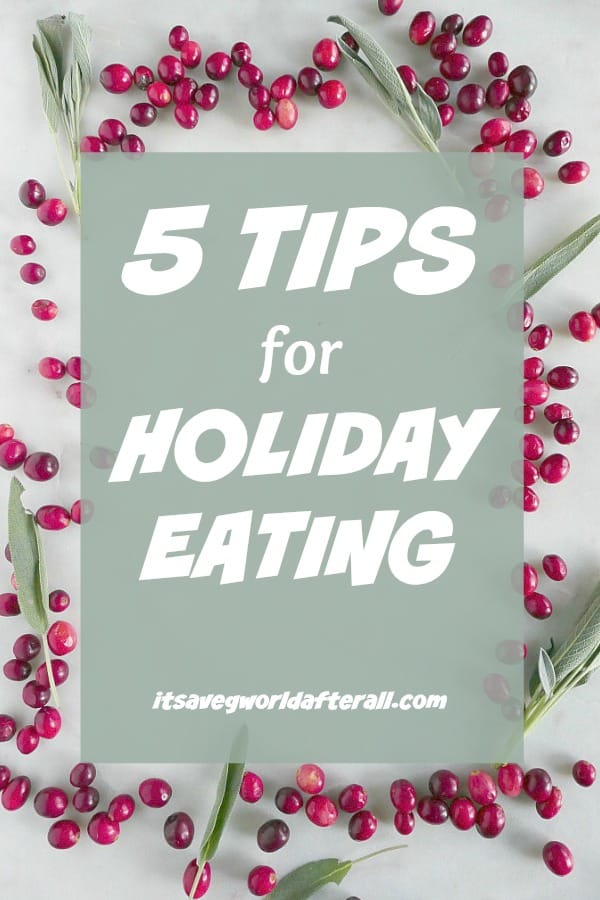 It's only the fourth of December, but I'm sure you have already been inundated with holiday everything: online, on TV, and in your work and personal lives. Aside from gift giving and receiving, food and drinks are a main focal point of the holiday season in our culture.
And rightfully so. Some of the best memories I have from my childhood and teenage years involve my family's favorite holiday dishes, and the tastes, aromas, and company that went along with them. So if you're concerned that in this post I'm going to tell you that you shouldn't eat your Aunt Jane's famous peanut brittle, I can ensure you that won't happen. Instead, I came up with five realistic tips for holiday eating. I hope that you can use these strategies to maintain a balanced lifestyle during the most wonderful time of the year!
I don't love the idea of "new year detoxes," and instead try my hardest to eat a balanced plate all year round, especially during the holiday season and stressful, busy times. *Try* is the key word here. Getting into my own rhythm and balance with healthy eating and exercise is an ongoing process. But after years of practice, I know a few things that work and few things that don't. And I try to help my readers, patients, clients, family and friends get to know what works for them, too.
Read on to learn more about my strategies to stay balanced during the holiday season. I hope that at least one of them resonates with you, and helps you maintain a healthy lifestyle over the next few weeks (and all year round)!
1- Fill up on veggies. 
No surprise here. My number one tip for holiday eating is filling up on those delicious lil pieces of heaven I like to call veggies!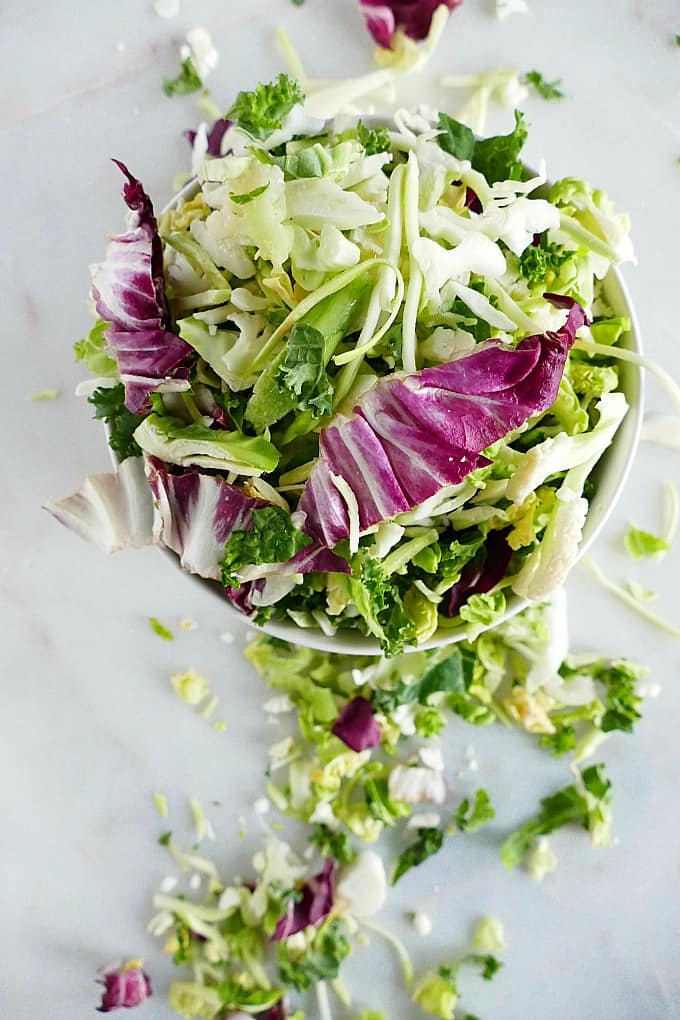 Whether you are preparing meals for the week or deciding what to choose at the holiday work party, put an emphasis on vegetables. By filling up on these, you can avoid the urge to overeat sweets or other heavy foods that tend to be lurking in every corner this time of year.
No veggies where you're going?! No problem. Bring your own! Everyone loves a veggie tray (even if they don't admit it), or you can get creative with a veggie-based appetizer or side dish. Check out my Pinterest boards for some inspiration!
2- Try not to fall into the "all or nothing" mindset. 
It's easy to let our minds say "well, I already had a slice of cake, what's another 10 cookies going to do?" And while it can be tempting to try every treat or dish on the spread, especially if you don't want to insult anyone, try to take a step back and make a plan. Grab tiny pieces of everything (split with a friend), or fill your plate with healthy options, then come back after you eat for the one or two treats that you can't get out of your mind.
With all of our commitments during the holidays, we might also find ourselves in an exercise rut. Instead of getting into the mindset of skipping workouts and restarting in the new year, make an effort to still include exercise in whatever way possible. Got 10 minutes at lunch to walk around the building? Grab a friend and head outside. Only have 15 minutes before you have to head out to pick up the kids? Try some crunches or squats in the kitchen. Even (ESPECIALLY) in the busiest of times, exercise can help clear our mind and keep us grounded.
3- Go "bite size." 
Seriously, how cute are bite size things?! You could put a miniature spam sandwich on a tray and I'd probably eat it because it would be adorable.
People love bite size foods. It's true! Now, they can be easy to overeat, but they are also a wonderful way to control portions. By choosing or bringing bite sized foods to a party or gathering, you can taste several options without overdoing it.
4- Drink water. 
Ok, ok, I know what you're thinking. All of us dietitians are obsessed with telling people to drink water. That may be true, but we have our reasons!
Staying hydrated, especially during the holiday season, can prevent overeating. Not to mention water is a perfect companion to alcohol, which we all tend to have a lot more of during the holidays! You can have your cocktail and drink it too, as long as you have a glass of water with it.
Don't like regular water? Try flavored sparkling options, or infused waters.
5- Plan healthy meals when you have control. 
I totally get it. You probably don't have a lot of control over your meals and snacks during the holiday season. Maybe your schedule is something like this: work party on Tuesday, pollyanna on Wednesday, gift wrapping and drinks on Thursday, and so on and so forth. Not the most ideal set-up for meal prep and healthy, homemade dinners.
But when you do have control over your meals, try to opt for nutritious foods. If all you can do is prepare baked chicken and roasted veggies for a few lunches during the week, that's still a step in the right direction. Or maybe you only have time to chop some carrots and boil some eggs for healthy snacks. Any effort counts.
How do you like to stay on track during the holidays?! I'd love to hear in the comments below or on Instagram.
Have a happy and healthy holiday season!
Lizzie