Make the most of your summer harvest with these 4 Easy Ways to Preserve Summer Vegetables for Winter!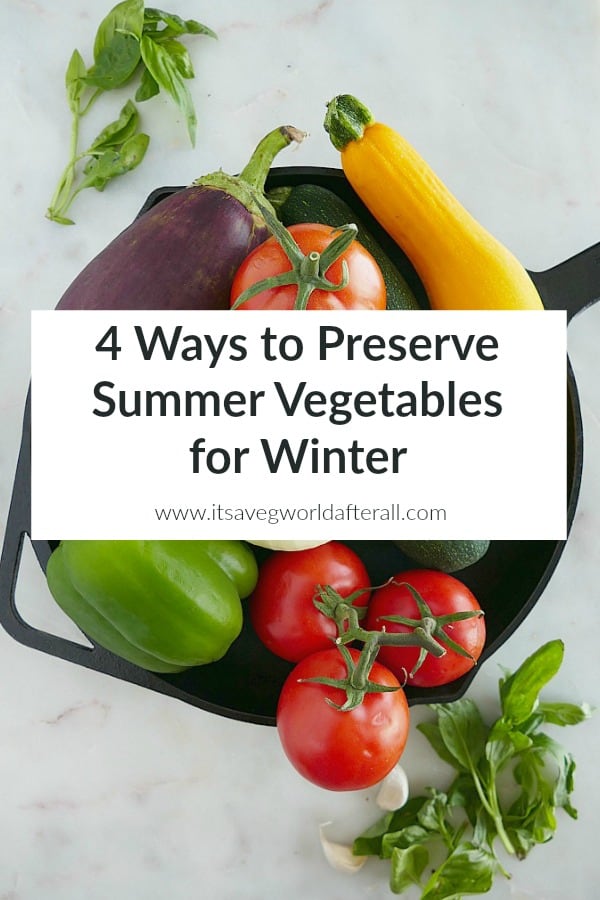 If you have been following the Veg World for a while, you probably know all about my love for seasonal veggies! Even if you are new to the blog, you might have picked up on that ;-).
Over the years, I have done my fair share of experiments on how to best preserve vegetables to be enjoyed at a later time. By pickling, freezing, or drying my favorite summer produce, I have been able to extend some of the best seasonal flavors. And whenever I crave last season's veggies or want to mix up the produce I'm eating, I can pick and choose from my stash of preserved goods.
Sounds pretty great, huh? Well, you can do it too!
Most people don't know that preserving vegetables is actually incredibly easy for the home chef to do! You don't need to use any fancy techniques or complicated recipes, just your everyday kitchen appliances and pantry staples.
Read on for the best ways to preserve summer vegetables for the winter, complete with recipes from the Veg World and fellow culinary dietitians.


Ways to Preserve Summer Vegetables for the Winter
1) Freezing
If your freezer isn't already one of your best friends, it's about to be! The freezer is one of the most important kitchen appliances for healthy eating. It can enable you to put nutritious meals on the table, even on your busiest days. AND it can help you preserve your favorite summer veggies!
Meal prepping on Sunday? Make double of whatever you're whipping up and throw it in the freezer. Don't know what to do with the ten pounds of tomatoes you have from your garden (lol)? Whip up an easy sauce that can be frozen.
You can also keep veggie scraps in a container in the freezer to use for making homemade stock during the colder months!
Some of my favorite summer produce recipes that store well in the freezer include:
2) Pickling
Making pickled vegetables is one of the best ways to use up leftover produce. I was always intimidated by the process until my sister (co-owner of the Philly-based Brine Street Picklery) arranged a pickling lesson for my bachelorette party.
As soon as I realized how easy pickling was, I was so excited to pickle anything in sight! All it requires is 1) a veggie of your choice, 2) some vinegar and water, 3) some sugar and salt, and 4) seasonings of your choice!
To avoid any food safety issues, try making pickled veggies that keep in the fridge ("refrigerator pickles") instead of canned pickles meant to stay at room temperature.
Some of my favorite refrigerator pickle recipes include:


3) Fermenting
Fermented vegetables are all the rage right now. They provide a ton of health benefits, like feeding beneficial gut bacteria and promoting optimal digestion.
But did you know that you can make DIY fermented veg, and that the process is relatively simple?! Lacto-fermentation, or the process by which naturally occurring bacteria preserve vegetables in an oxygen-deprived environment, is the easiest method to try at home. And it only requires some fresh produce, water, salt, and seasonings.
I'd recommend doing some additional research before giving this a whirl, to make sure you perform the correct steps in the safest way possible. But here are some recipes to get you started:
4) Drying
Last but not least, you can preserve vegetables for the winter by drying them!
The best appliance for the job is a dehydrator. It's one of those tools that can really bring your home cooking skills to the next level. I love using mine to preserve fresh herbs from my balcony garden that I can't get around to eating before the end of the season. You can also use it to dry veggies, fruit, homemade pasta, meat, and nuts.
No dehydrator? No problem. Using your oven to dry produce also works! For more info on how to use a dehydrator or oven to preserve your summer produce, check out:
Cheers to making those summer veggies last!
Lizzie