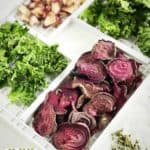 Print
Dehydrated Herbs
Dry your freshly grown herbs and savor the flavor of your herb garden all year long!
Fresh herbs

washed and dried (consider basil, oregano, mint, thyme, chives, and more)
Preheat dehydrator. Somewhere around 125 degrees Fahrenheit will do.

Place herbs on dehydrating trays.

Dry for ~3 hours, checking frequently. Herbs will be able to crumble in your fingers when finished.