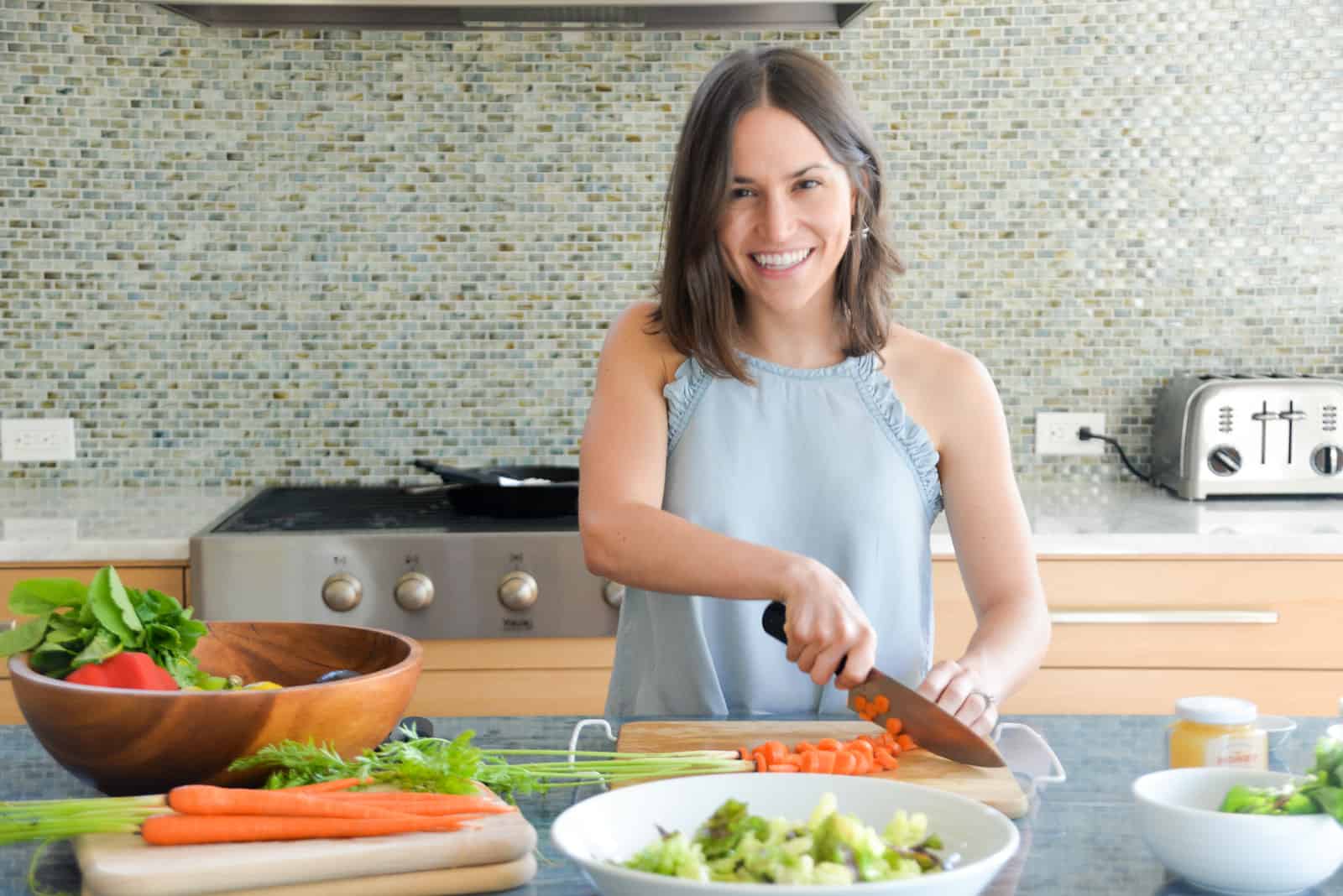 Hi there!
I'm Lizzie Streit, a Registered Dietitian Nutritionist, cookbook author, and veggie enthusiast based in Minneapolis, MN.
My blog turned business—It's a Veg World After All®*—is my passion. The resources and services I provide have one common goal: help anyone and everyone in the Veg World® embrace vegetables!
As an expert in culinary nutrition, I translate nutrition advice into practical application. I'm here to help you "eat your veggies" in simple and downright delicious ways and get comfortable with cooking, meal planning, and more.
Once people start eating more vegetables, amazing things happen. In my experience, I've seen how veggies can improve health and lift spirits. And I've witnessed how, through vegetables, people become more connected to their food and how it's prepared.
Pretty cool, huh?
I first became interested in nutrition when I was an undergraduate at the College of the Holy Cross (Worcester, MA), studying Environmental Studies and Sociology. The intersection between health, food systems, and food production was fascinating to me!
After Holy Cross, I took a year off, completed pre-requisites for grad school, and started It's a Veg World After All®. What began as a way for me to create recipes with unique vegetables that my mom and I received in our CSA share has blossomed into a passion-fueled business.
I went on to receive my M.S. in Human Nutrition from Drexel University (Philadelphia, PA) and complete my dietetic internship at the Minneapolis VA Healthcare System. After I passed my RDN exam, I worked as an outpatient telemedicine dietitian before pursuing It's a Veg World After All® full time.
When I'm not in the kitchen, I write for several nutrition publications, work as a recipe consultant and developer, host interactive cooking classes, and teach nutrition courses at Northwestern Health Sciences University.
Over the years that I have maintained and grown the Veg World®, my nutrition philosophy has evolved, but it still remains centered around vegetables and plant-based eating.
Simplicity and growth in the kitchen are at the core of my philosophy. You don't have to be a world class chef or dietitian to reap the benefits of vegetables. Just eating one more veggie a week or learning how to chop a pepper are simple actions that can lead to big changes over time.
Helping others embrace, enjoy, prepare, respect, or simply try vegetables is, in my opinion, at the core of maintaining and improving health.
Increasing vegetable intake also stirs up thoughts and questions about other important aspects of health, such as sustainable farming and food production, local food systems, food access, public health, food culture, and SO much more.
This is why I develop resources for my readers and clients through the lens of eating more vegetables. It's a seemingly simple suggestion with a huge impact. And whatever your goals may be, eating more vegetables always seems to help in some way.
If you're new to the Veg World®, take a second to browse my vegetable recipe library, check out my blog posts, and order a copy of my cookbook. I'd love to hear your thoughts and answer your questions! And don't forget to subscribe to the weekly newsletter to get the latest Veg World® posts to your inbox.
Happy vegetable eating!
xo Lizzie
Education and Accolades:
B.A. Environmental Studies and Sociology, College of the Holy Cross, 2013
M.S. Human Nutrition, Drexel University, 2016
Dietetic Internship, Minneapolis VA Healthcare System, 2017
Selected attendee, Blog Brûlée Conference, 2019
Professional Affiliations:
Registered, Commission on Dietetic Registration
Licensed, Minnesota Board of Dietetics and Nutrition Practices
Member, Academy of Nutrition and Dietetics
Member, Minnesota Academy of Nutrition and Dietetics
Member, Food and Culinary Dietitians Practice Group
*It's a Veg World After All® and Veg World® are registered trademarks of Elizabeth Streit.