For a plant-based recipe that's full of flavor and nutrition, try these vegan eggplant meatballs! They're made without breadcrumbs and use ground oats and a flax "egg" as binders. Cooked and mashed eggplant lends a meaty texture that's just as good as the real thing.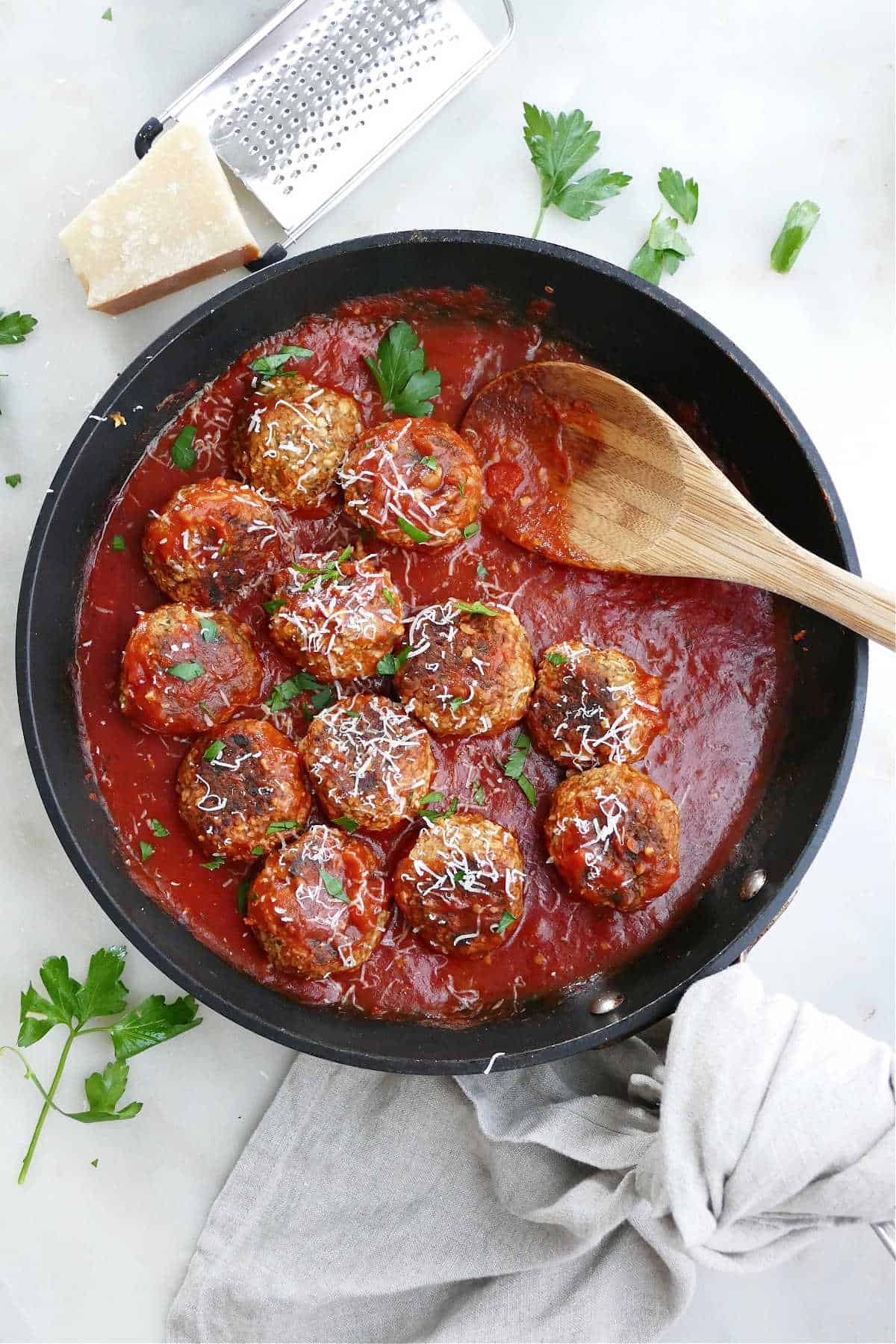 This post may contain affiliate links. For more information, see my affiliate disclosure.
Eggplant is one of those veggies that readers always request to be featured in more recipes. In the past, I've struggled with this request because, you see…I used to really not like eggplant!
But after a few years of experimentation, I've come to not only like eggplant but actually seek it out. I'm especially pleased with the recipes I have lined up for eggplant week this year, starting with today's vegan eggplant meatballs.
Thanks to mashed eggplant and ground oats, these meatless "meatballs" have a VERY similar texture to real meatballs but a LOT more fiber. They also have a ton of good flavor from Italian seasoning, garlic, and red pepper flakes. I was pleasantly surprised by how well they turned out.
You can serve eggplant meatballs with spaghetti (regular or legume-based), on top of zucchini noodles (seasonal veggies galore!), or stuffed into a hoagie roll. The opportunities are endless. Enjoy!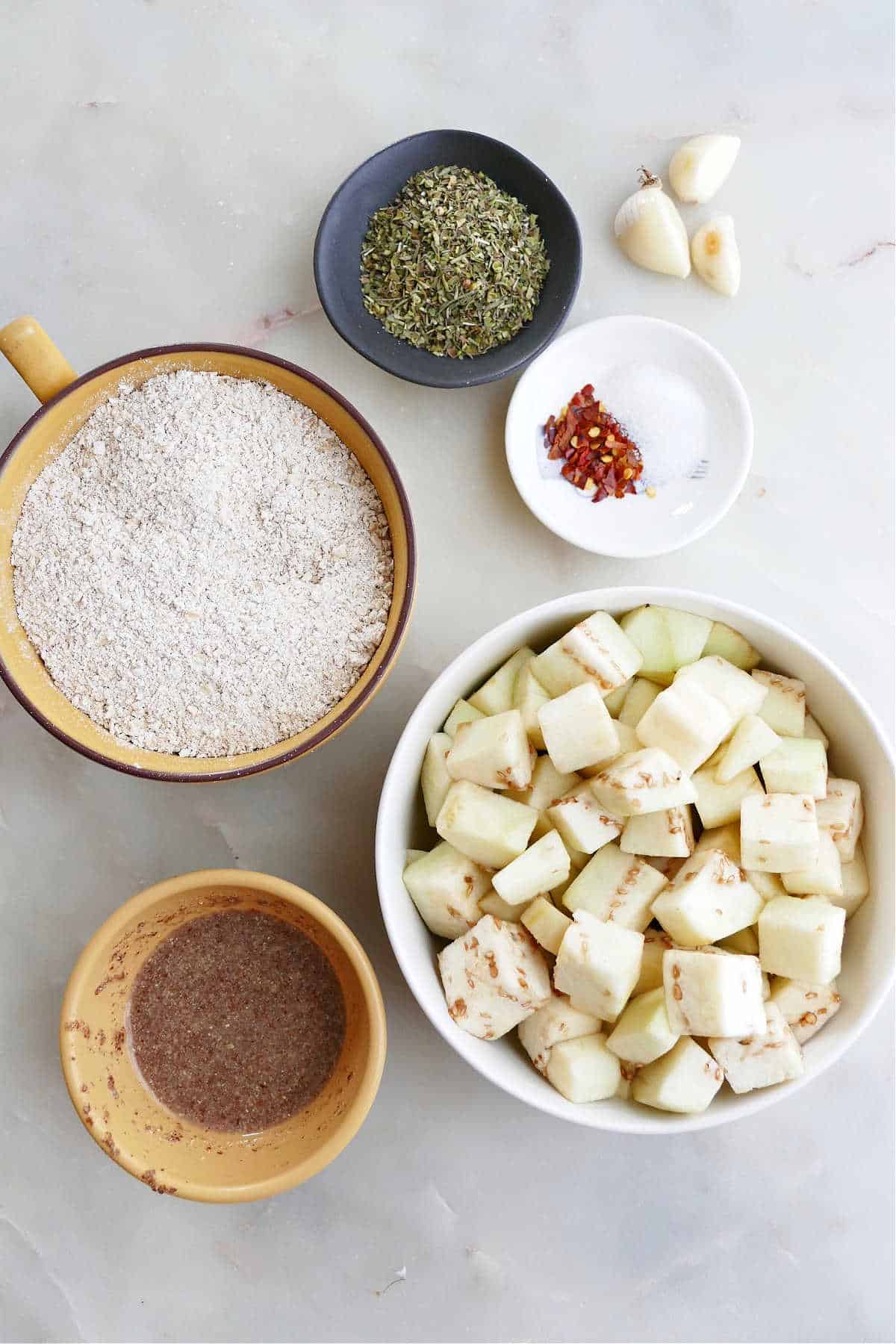 How to Make Vegan Eggplant Meatballs
First, whisk together the ground flaxseed and water to make your flax "egg". Let it thicken for about 10 to 15 minutes while you prep the rest of the ingredients.
Peel the eggplant and slice it into cubes. You can use a vegetable peeler or knife to remove the skin. See my tutorial on How to Cut Eggplant for more tips.
Cook the eggplant down in a skillet until soft. Transfer it to a mixing bowl and mash with a potato masher. Let it cool for a few minutes.
Add the rest of the ingredients (ground oats, seasonings, garlic, and flax "egg") to the bowl. Stir until well-combined.
Take a scoop out of the mixture and roll it into a ball. Repeat until you have 12 vegan eggplant meatballs. Place them on a greased baking sheet, and bake for 20 to 25 minutes.
When the balls are finished baking, let them simmer in a skillet or saucepan with tomato sauce for a few minutes. Enjoy over pasta or in a meatball sub.
Expert Tips
For the full recipe, scroll down to the recipe card. But be sure to read through these expert tips first!
You need about four cups of cubed eggplant. I only needed one large eggplant to get this amount, but you may need more depending on the size of your eggplant.
This dish is vegan and gluten-free. However, if you need these to be strictly gluten-free, be sure to get rolled oats that are labeled as gluten-free to ensure they have not been contaminated with gluten during processing.
Vegan eggplant meatballs keep well in the fridge and freezer. Store them in an airtight container in the fridge for up to five days. They will keep well even if you have already simmered them in tomato sauce.
To freeze eggplant meatballs, let them cool completely then transfer them to a plate. Place the plate on a flat surface in the freezer and let them freeze for a couple of hours. Once frozen, transfer the meatballs to a labeled bag and store for up to three months. Alternatively, you can skip the pre-freezing step and wrap each one tightly in plastic wrap after they have cooled before placing them in a bag. The goal of both of these techniques is to prevent them from sticking to each other while in the freezer.
To reheat eggplant meatballs (from the fridge or freezer), let them simmer in a skillet or saucepan with tomato sauce over medium heat until warmed through. Cover the pan to keep more heat inside if you want to speed up the process. If your meatballs are frozen and you are able to plan ahead, try to remove them from the freezer and let them thaw in the fridge the night before you plan to eat them, but this isn't absolutely necessary.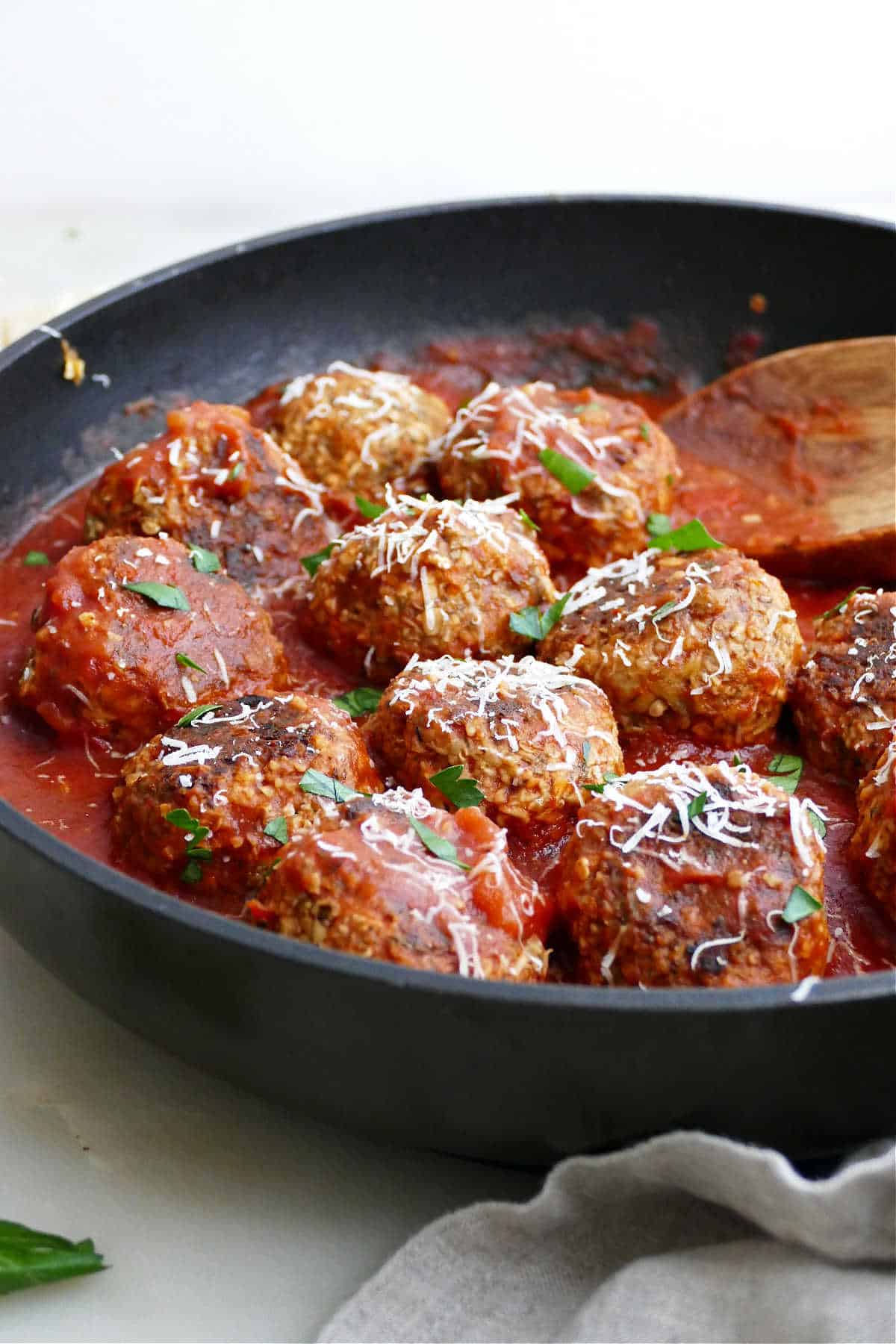 Serving Ideas
Vegan eggplant meatballs taste delicious simmered in tomato sauce and tossed with spaghetti. I love using Cucina Antica Garlic Marinara sauce or my homemade San Marzano Tomato Sauce.
Use gluten-free or legume-based pasta if you avoid gluten. For a little extra protein, consider adding a can of white beans to the mix.
Sprinkle with chopped parsley or basil if desired. If you do not follow a strict vegan diet, a sprinkle of parmesan cheese is a delicious addition.
These meatballs also pair really well with zucchini noodles or kohlrabi noodles. If you don't usually cook with veggie "noodles," they are a great way to eat more vegetables! Here is the spiralizer I use to make veggie noodles if you are interested.
Finally, you can also use eggplant meatballs to make a vegetarian meatball sub! YUM.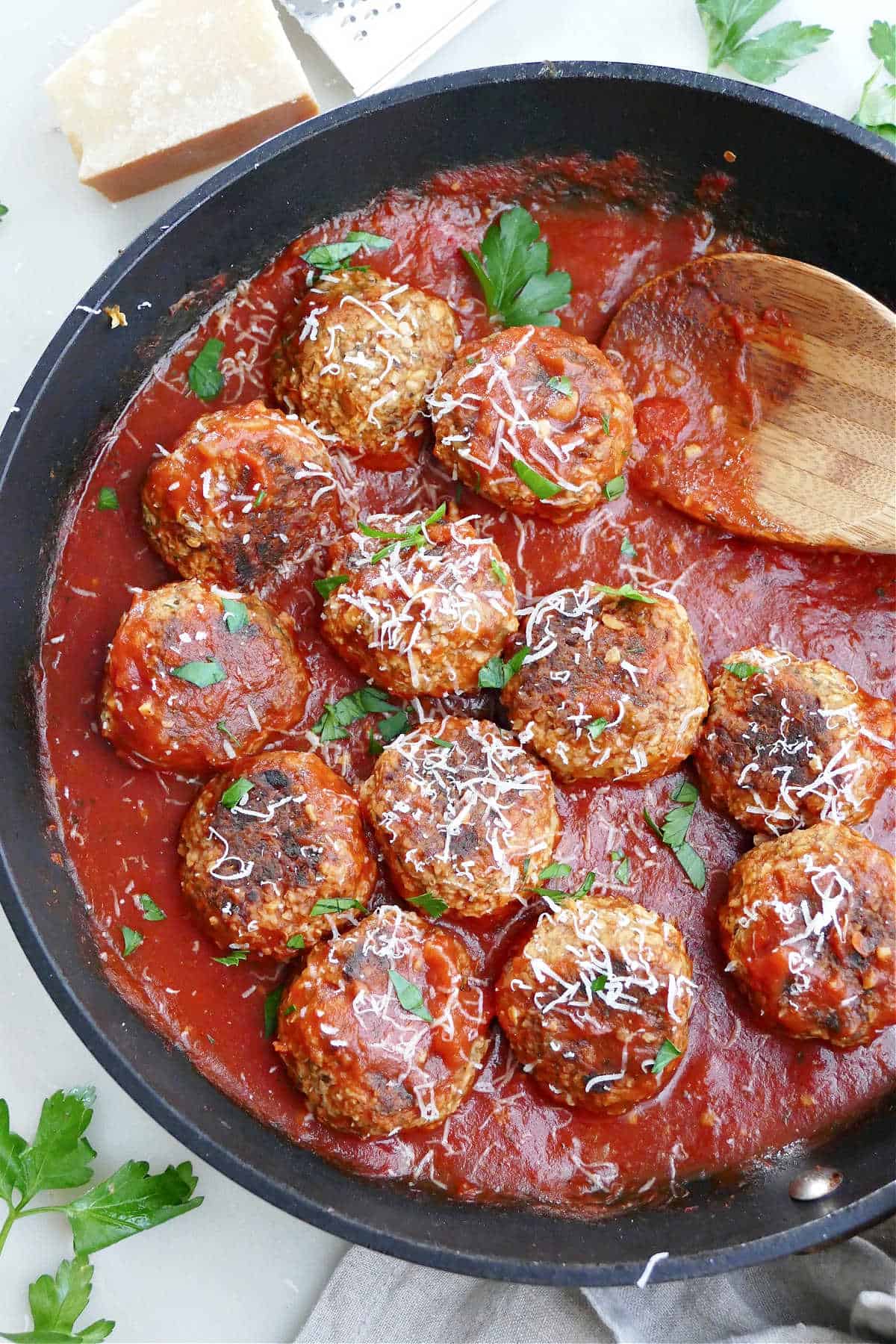 Other Eggplant Recipes
Love my vegan eggplant meatballs? Check out the Roasted Eggplant Red Pepper Dip, Vegan Eggplant "Teriyaki," Crispy Baked Eggplant Slices, and Eggplant Gyro Sandwich on Pita. You may also enjoy the Baked Italian Zucchini Balls.
I'd love to hear how you like this recipe! Rate/review using the stars on the recipe card or in the comments, and follow the Veg World on YouTube, Instagram, Facebook, and Pinterest. Looking for something totally different? Browse the recipe library.
📖 Recipe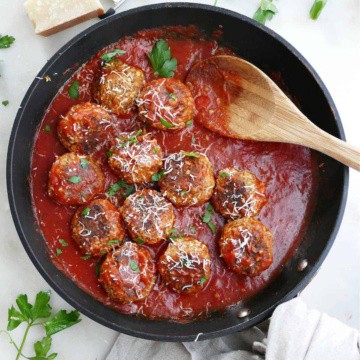 Vegan Eggplant Meatballs
These meatless Italian eggplant balls are made without breadcrumbs. They're full of flavor and have a similar texture to real meatballs!
Print
Pin
Rate
Save
Saved!
Instructions
Whisk together the 1 tablespoon milled flaxseed with 3 tablespoons of water to make a flax "egg." Set aside and let thicken for 15 minutes while you prepare the rest of the ingredients.

Preheat the oven to 375 degrees F. Spray a baking sheet with cooking oil (you can put parchment paper on top of the baking sheet before spraying with cooking oil if you want).

Heat the olive oil in a large skillet over medium heat. Add the eggplant cubes and ¼ cup of water. Let the eggplant cook down for 10 to 12 minutes until soft, stirring occasionally.

Transfer the cooked eggplant to a mixing bowl. Use a potato masher to mash it into a paste. Alternatively, you can use a food processor or blender to do this step. Let the eggplant cool for a few minutes before completing the next step. Prep the ground oats and other ingredients while it cools.

Add the thickened flax "egg," ground oats, Italian seasoning (see notes for a sub if you don't have Italian seasoning), salt, red pepper flakes, and garlic to the bowl. Mix well.

Use your hands to form the mixture into 12 balls. Place the balls on the prepared baking sheet in an evenly spaced, single layer. Bake on the center rack of the oven for 20 to 25 minutes.

A few minutes before the eggplant meatballs are finished baking, prepare your pasta of choice according to package instructions. Pour a jar of tomato sauce in a large skillet or saucepan, and heat over medium-low heat. When the meatballs are finished, place them in the skillet and let them simmer in the tomato sauce for a few minutes.

Serve the meatballs and tomato sauce over your pasta of choice or veggie noodles (try zucchini or kohlrabi noodles!). You can also stuff them into hoagie rolls to make "meatball" subs. Sprinkle with chopped fresh herbs if desired and parmesan cheese (if you do not need it to be vegan). Enjoy!

Leave a rating or review by tapping the stars on this recipe card (above) or in the comments section (at the end of the post)!
Notes
My San Marzano Tomato Sauce works really well in this recipe.
If you don't have Italian seasoning, use 2 teaspoons dried oregano, 2 teaspoons dried basil, 1 teaspoon dried thyme, and 1 teaspoon dried rosemary.
If you need this recipe to be fully gluten-free, use oats that are labeled as gluten-free and serve with gluten-free or legume-based pasta or rolls.
For some extra protein, add a can of white beans to the tomato sauce while it simmers.
Store leftover eggplant meatballs in the fridge for up to 5 days. To freeze, let them cool completely after baking and transfer to a plate. Put the plate in a flat area in the freezer. Leave it in there for a couple hours until the meatballs are frozen solid, then transfer them to a labeled bag. Store for up to 3 months.
Reheat the meatballs in tomato sauce in a skillet or saucepan with a lid for several minutes until warmed through. You can reheat the meatballs straight from frozen if needed, but you can speed up the process by letting frozen meatballs thaw in the fridge overnight.
Nutrition facts are only for the meatballs and do not include the pasta.
Nutrition
Serving:
1
ball
|
Calories:
87
kcal
|
Carbohydrates:
13
g
|
Protein:
3
g
|
Fat:
3
g
|
Saturated Fat:
1
g
|
Polyunsaturated Fat:
1
g
|
Monounsaturated Fat:
2
g
|
Sodium:
409
mg
|
Potassium:
316
mg
|
Fiber:
3
g
|
Sugar:
4
g
|
Vitamin A:
301
IU
|
Vitamin C:
5
mg
|
Calcium:
32
mg
|
Iron:
1
mg
Enjoy this new favorite recipe! – Lizzie