These easy beet pancakes are great for babies as a finger food or for baby led weaning (BLW). Made in a blender with 4 main ingredients — oats, banana, beets, and eggs — they're nutritious and delicious. You can also serve them for toddlers, older kids, and adults — the whole family! They freeze well and make a good breakfast or snack.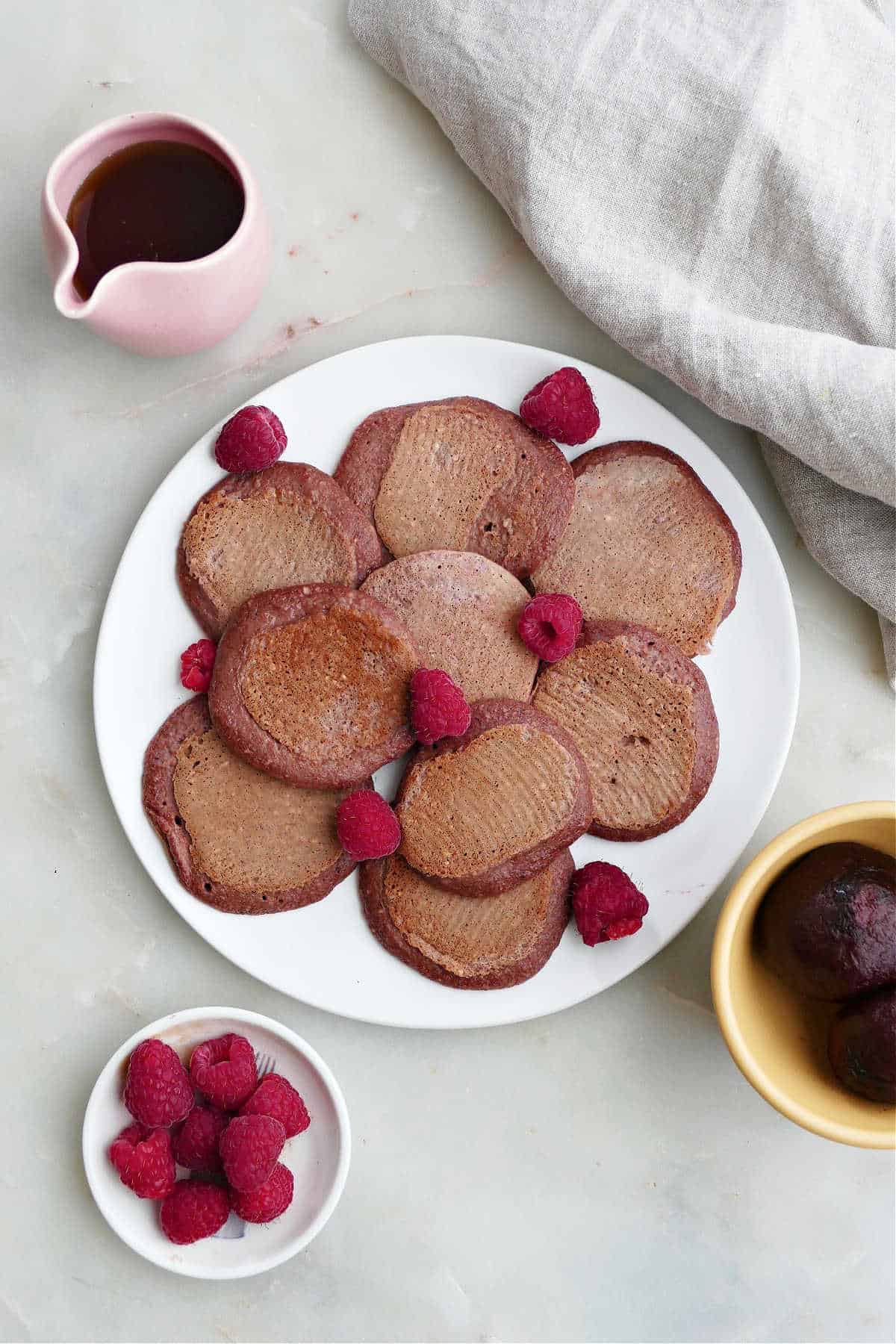 Introducing new foods to babies is so exciting. Nothing compares to witnessing them experiencing flavors for the first time! Now that my daughter is 9 months old and has advanced to finger foods, we have been able to add even more variety to her diet.
Recently, I made her banana oat pancakes. She loved them (and so did Will and I!), so I started brainstorming ways to add a vegetable and boost their nutrition content even more. Knowing that roasted beets blend well and can easily be incorporated into batters, I settled on trying beet pancakes.
My experimentation worked perfectly. The flavors of beet and banana complement each other very well, just like in my Strawberry Banana Beet Smoothie. Plus, the roasted beets turned the pancakes a beautiful shade of purple/pink. They're easy for babies to gum and taste delicious with mashed fruit for your little ones or a touch of maple syrup for older kids and parents.
Jump to: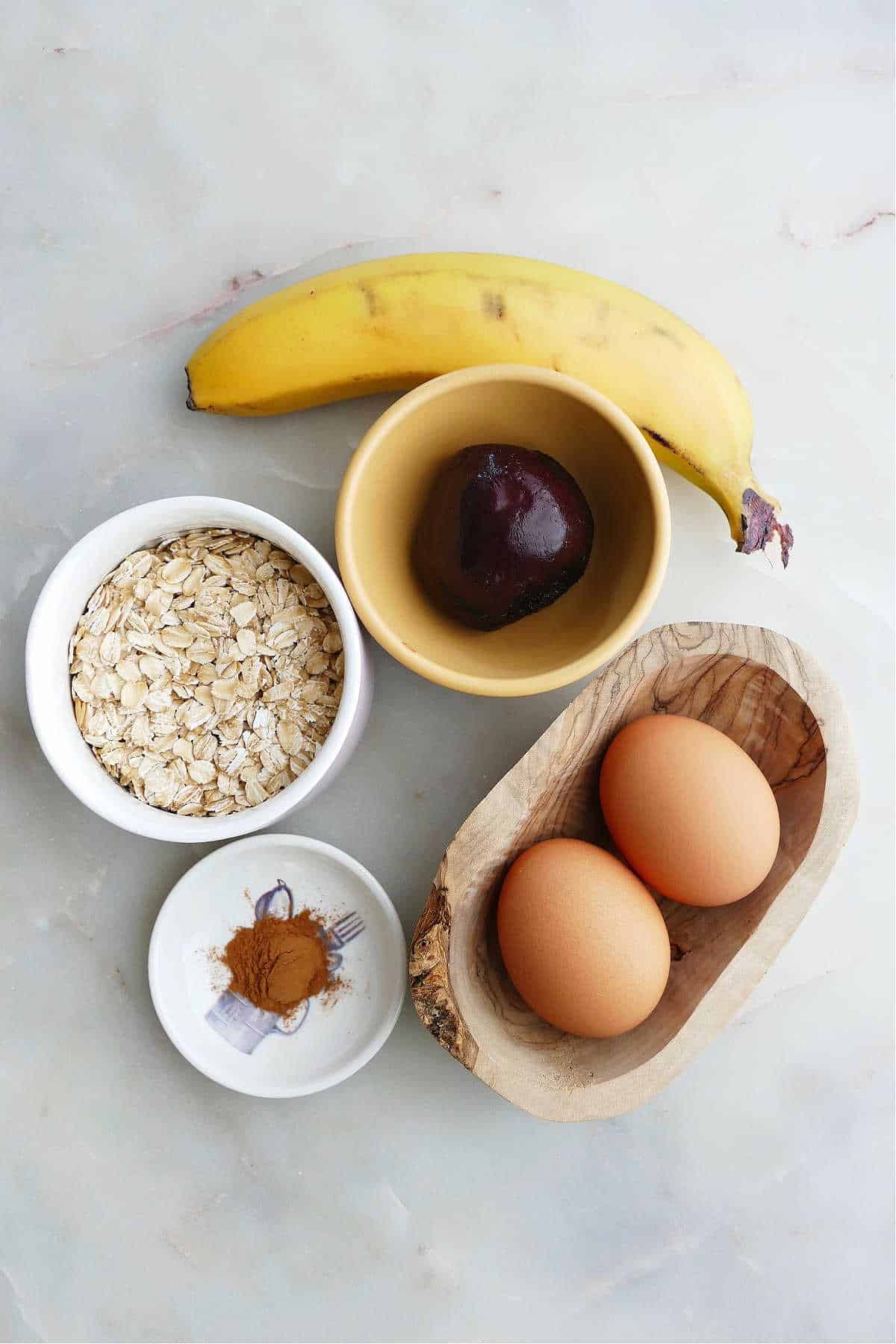 Ingredients
Beets: You need to use roasted beets to make beet pancakes. I love using pre-roasted beets, such as Love Beets or the kind they sell at Trader Joe's, since it saves a TON of time. You can also used canned beets for this recipe. However, canned beets can be high in sodium, so they aren't great for baby-friendly recipes. If you are making the pancakes for older kids or adults, you don't need to worry about the sodium as much.
Banana: Use a very ripe banana if you can, since you want it to be sweet enough to complement the earthy beet taste.
Oats: Old fashioned rolled oats are the best kind to use here. I believe you would be able to use any kind of oats, since you are going to blend them down anyway, but I have only tested the recipe with rolled oats.
Cinnamon: This is optional, but it provides great flavors.
Instructions
Find the full recipe card, with the ingredient quantities and step-by-step instructions, at the end of the post.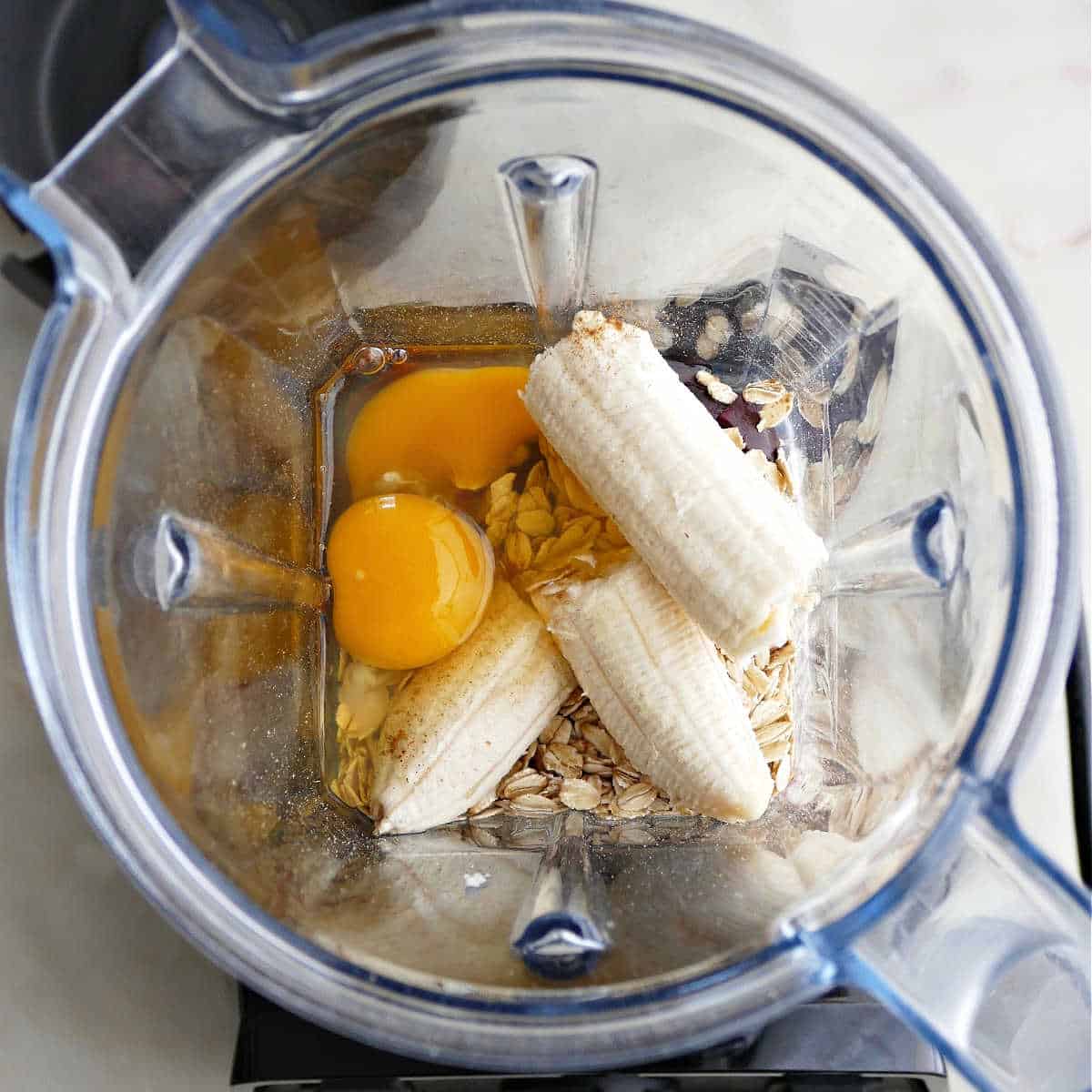 Combine all ingredients in a blender.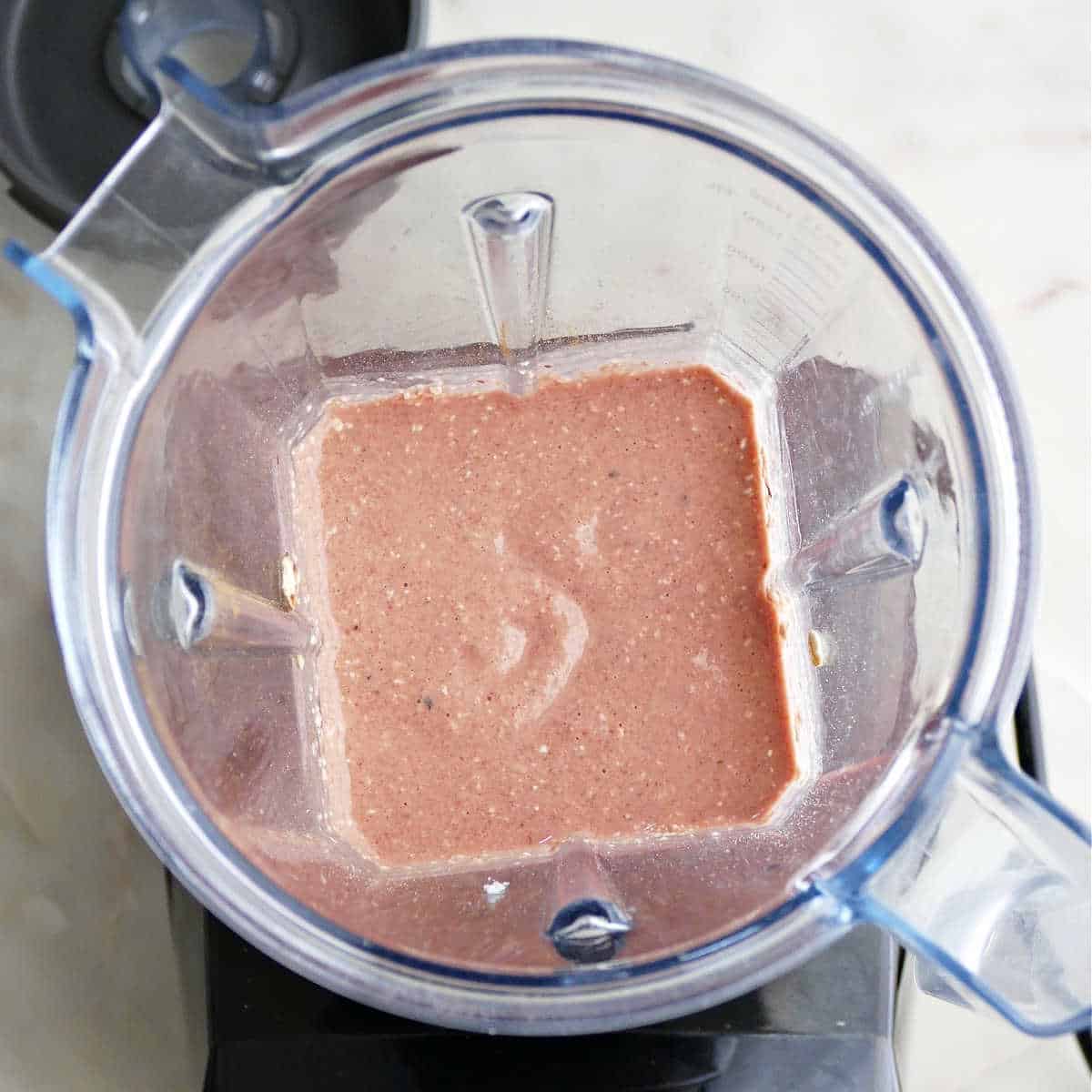 Blend until smooth.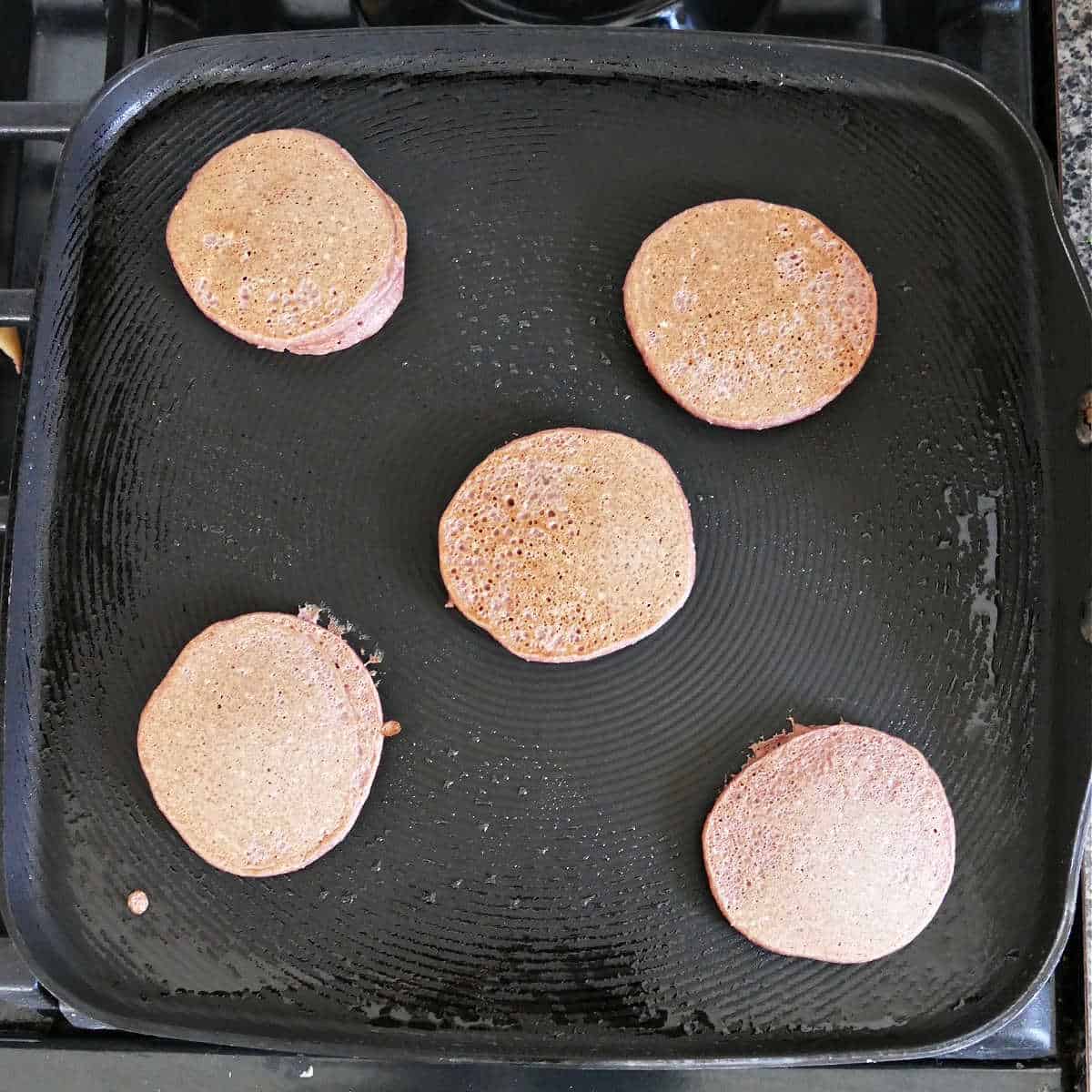 Pour a tablespoon of batter for each pancake onto a skillet. Cook over low heat for a couple of minutes on each side.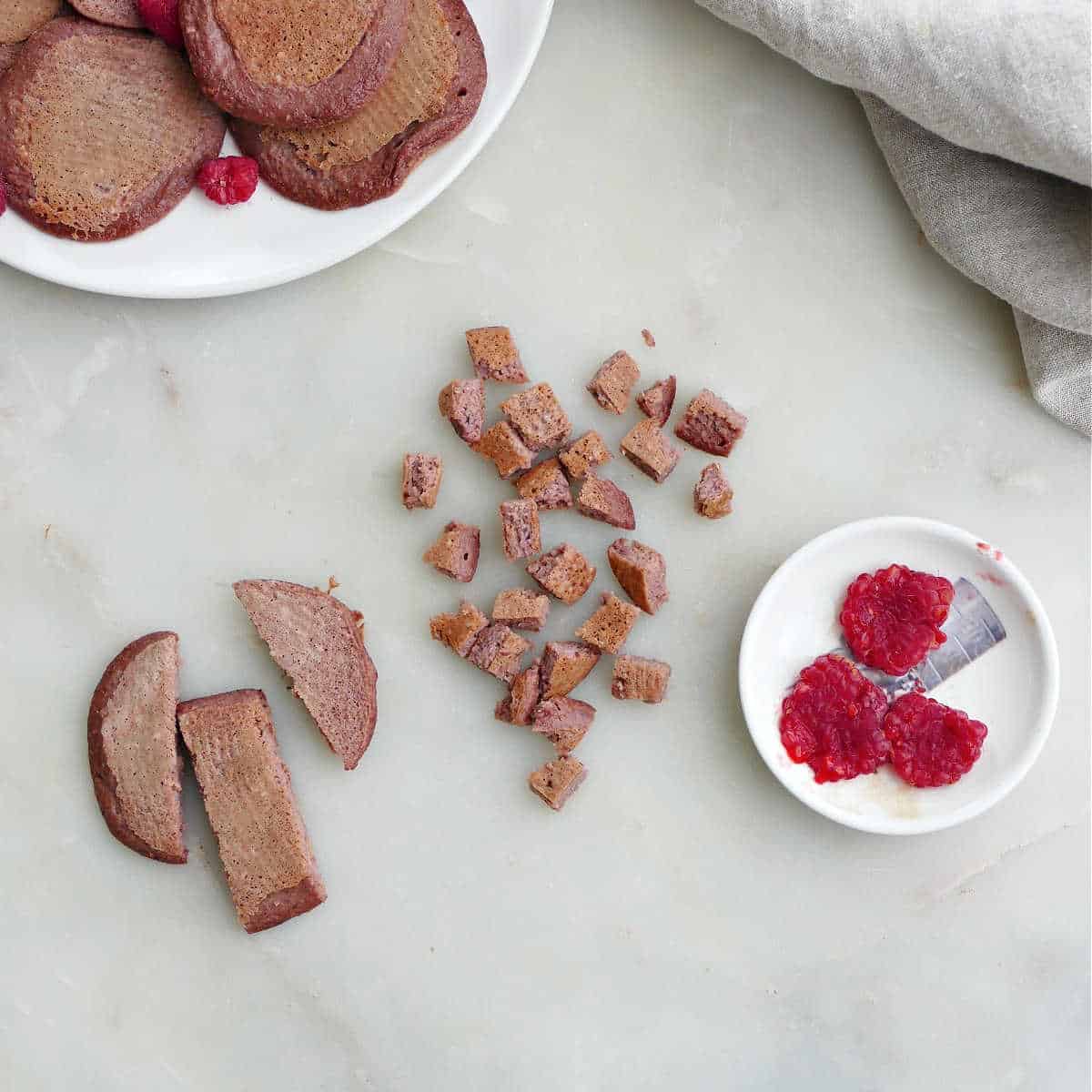 Cut the pancakes into the appropriate size and shape for your baby. Serve and enjoy!
Cutting Pancakes for Babies
Do not serve beet pancakes to your child if your baby has not started solids with the approval of a pediatrician. If your child has started solids, is at least 6 months old, and is doing baby led weaning, cut the pancakes into strips about the size of your index finger.
For older babies with a pincer grasp, around 9 months of age and older, you can cut pancakes into bite-sized pieces about the size of a chickpea. Beet pancakes are a great finger food for babies of this age, whether they started with baby led weaning or traditional purees.
Toddlers older than a year may even enjoy using a fork to pick up pieces of pancakes. The opportunities are endless for the whole family!
Storage and Reheating
Keep leftover pancakes in an airtight container in the fridge for 2 to 3 days. You can serve them cold or reheat them in a skillet for a couple of minutes over medium heat.
If you want to freeze beet pancakes, place them on a lined baking sheet in a single layer. Put the baking sheet in the freezer, somewhere it won't get bumped. Freeze for an hour or until frozen solid. Transfer the frozen pancakes to a freezer-safe bag, such as Stasher bags, or container. Freeze and use within 3 months. Thaw in the fridge before serving or reheating.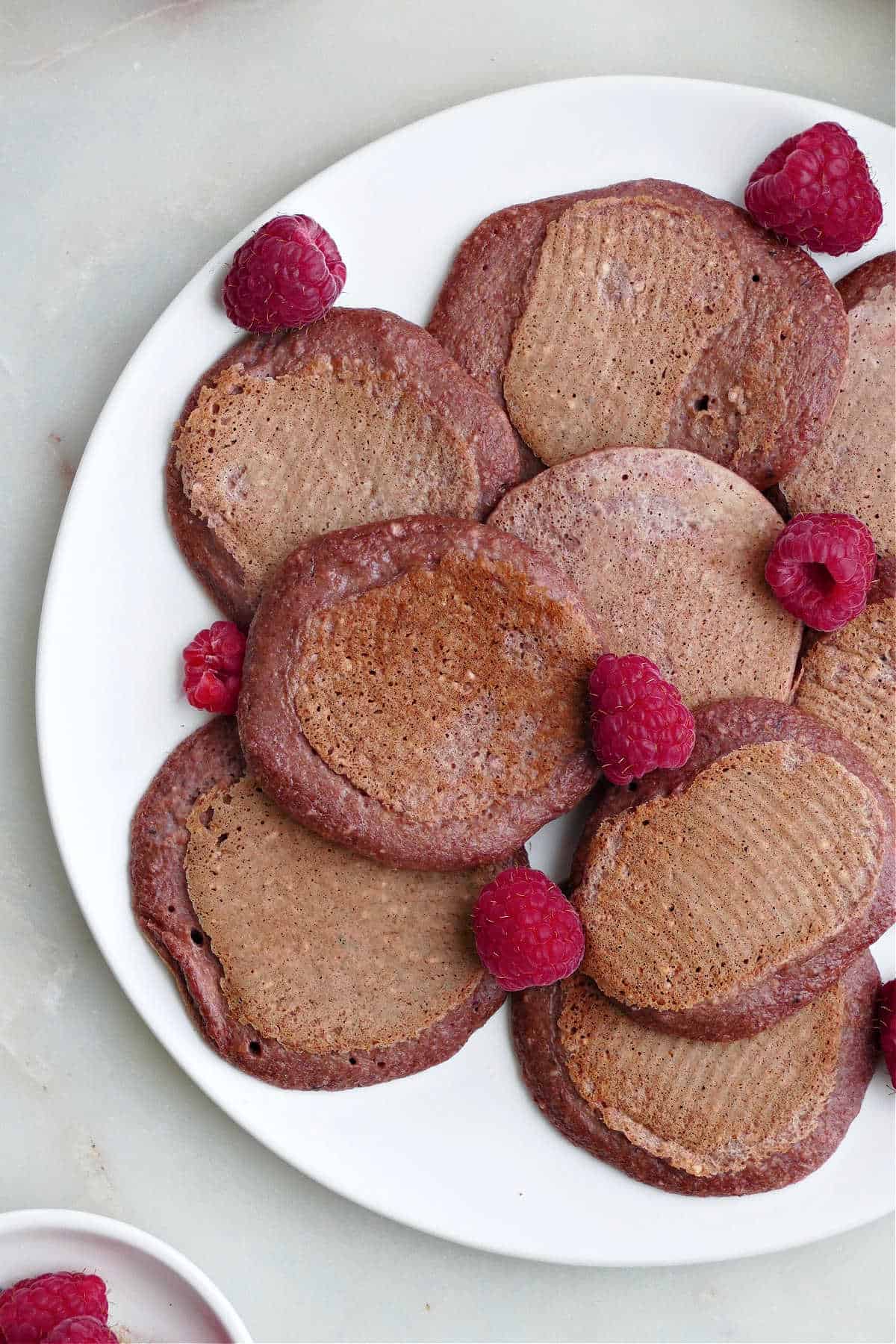 Serving Ideas
Serve beet pancakes with mashed berries and/or Greek yogurt for younger babies. You can serve the Greek yogurt in a bowl next to the pancakes with mashed berries in it or on the side. Alternatively, you can spread some yogurt on the pancakes. Don't serve with any added sugars, such as maple syrup.
You can also spread a very thin layer of nut butter on the pancakes before slicing them. I like to thin nut butter with water or breast milk to make it a safer consistency. This is an easy way to expose your child to common allergens.
For adults or older kids, I recommend maple syrup, nut butter, yogurt, and fruit. I enjoyed a tall stack with butter, syrup, and raspberries!
Similar Recipes
I'd love to hear how you like this recipe! Rate/review using the stars on the recipe card or in the comments, and follow the Veg World on YouTube, Instagram, Facebook, and Pinterest. Looking for something totally different? Browse the recipe library.
📖 Recipe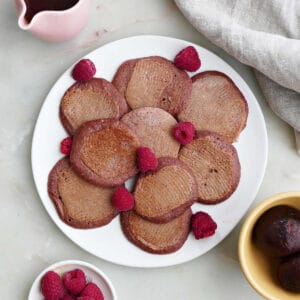 Beet Pancakes
These banana beet oat pancakes are a great option for baby led weaning, babies who have started finger foods, toddlers, and even adults! They're colorful, tasty, and so easy to make with the help of a blender.
Print
Pin
Rate
Save
Saved!
Instructions
Combine the banana, beets, oats, eggs, and cinnamon in a blender. Add 2 tablespoons of water. Blend until smooth, about 60 seconds.

Check the consistency of the batter. It should not be overly sticky. If it does not slide off a spoon, add another tablespoon or 2 of water.

Place a griddle or large skillet on the stove over low heat. I have a gas range and kept my heat between 2 and 3 (out of 10). Grease the skillet with a little coconut oil.

Use a tablespoon to pour some batter into a circle on the skillet. I poured 5 tablespoons to make 5 small pancakes per round of cooking. You can cook more or less depending on the size of the griddle or skillet. Cook the pancakes for 2 minutes on each side. Transfer the cooked pancakes to a plate and set aside. You want to cook them "low and slow" so that they retain their color and don't get too browned on the outside.

Repeat until all of the pancakes have been cooked.

Serve the pancakes with toppings of your choice! If you are serving these to a baby, be sure to cut them into the appropriate size and shape: about the size of an adult index finger for babies with the palmar grasp (approximately 6 months+) and bite-sized pieces about the size of a chickpea for babies with the pincer grasp (approximately 9 months+).

Leave a rating or review by tapping the stars on this recipe card (above) or in the comments section (at the end of the post)!
Notes
To freeze these pancakes, place them on a lined baking sheet. Put the baking sheet in the freezer, somewhere it won't get bumped. Freeze for about an hour until frozen solid. Transfer the frozen pancakes to a freezer bag. Seal tightly, label, and use within 3 months. Thaw in the fridge before using.
For babies, I like to serve these with Greek yogurt and mashed berries. For older kids and adults, try yogurt, fruit, maple syrup, or nut butters.
If you do not have pre-roasted beets, you can roast a beet yourself. Scrub the beet clean, trim off the stem and leaves, and rub the skin with olive oil. Wrap the beet up in aluminum foil, put it on the center rack of the oven, and roast for 45 to 60 minutes until tender. Before using the beet in this recipe, remove the skin by rubbing it off with your fingers.
Nutrition
Serving:
1
pancake
|
Calories:
28
kcal
|
Carbohydrates:
4
g
|
Protein:
1
g
|
Fat:
1
g
|
Saturated Fat:
0.2
g
|
Polyunsaturated Fat:
0.2
g
|
Monounsaturated Fat:
0.3
g
|
Cholesterol:
22
mg
|
Sodium:
13
mg
|
Potassium:
65
mg
|
Fiber:
1
g
|
Sugar:
1
g
|
Vitamin A:
39
IU
|
Vitamin C:
1
mg
|
Calcium:
6
mg
|
Iron:
0.3
mg
Happy cooking! – Lizzie