Learn all about freezing garlic 101 with this ultimate meal prep hack! It's a great way to keep minced garlic on hand for easy cooking on busy nights.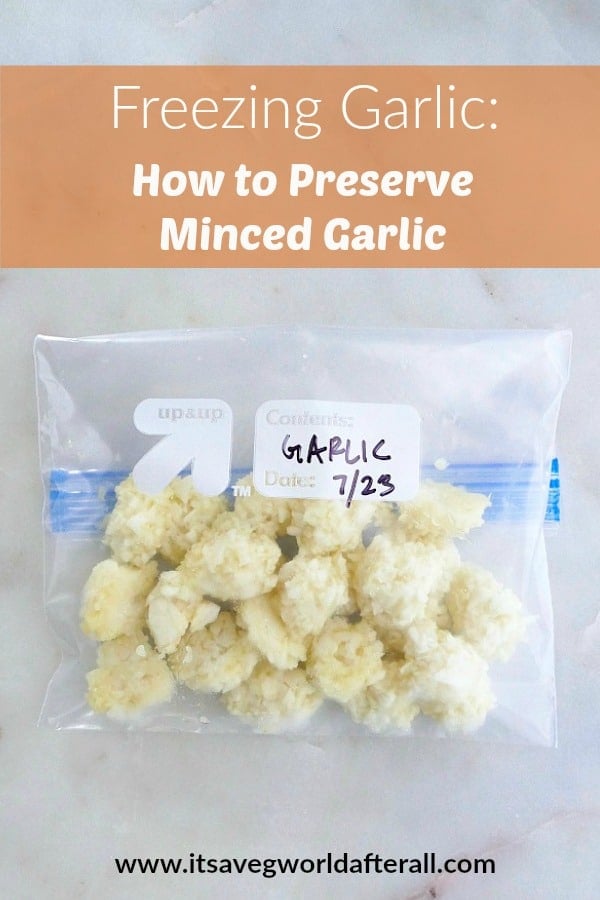 This post may contain affiliate links. For more information, see my affiliate disclosure.
Are you a garlic junkie like me? I personally add it to recipes and meals at least a few times a week. In fact, I've used it in hundreds of recipes on this very blog.
Usually, I opt for fresh garlic cloves, and always keep a bulb or two on the counter with other staples like onions and potatoes. But sometimes I wish I could save myself the time of preparing fresh garlic, especially on a busy evening when I'm hangry!
And sometimes I just don't want the lingering scent of garlic on my fingers! You can relate, can't you?! 😉 (PS – if you have a lemon wedge on hand when you're cooking with garlic, a squeeze of lemon juice works incredibly well at removing garlic's smell and stickiness.)
If you also LOVE to use garlic to season your veggies, but want an easier way to prep it, I've got the cooking hack for you.
Read on to learn all about freezing fresh, minced garlic so you can save yourself time and money, without sacrificing flavor!
Safety Tips for Preserving Garlic
Before you freeze garlic, keep these safety tips in mind (1):
Garlic stored in oil at room temp for long periods can promote the growth of the bacterium that causes Botulism, a serious foodborne illness. To avoid this situation, it's important to freeze minced garlic that is mixed with oil right away.
Garlic and oil preparations should not be kept at room temperature. They can be safely stored in the fridge, but only for a short period of time (~4 days). So, your best bet is to store garlic that's mixed with oil in the freezer, after you make it and up until right before you add it to a dish (1).
Of course, it's OK to make a garlic dipping oil (i.e. for bread) that you plan to eat right away.
How to Safely Freeze Minced Garlic in Oil
Garlic can be frozen in many forms, including whole raw or roasted garlic cloves, garlic paste, and minced or chopped garlic with or without oil.
My favorite way to freeze garlic is in a little bit of oil, since I usually sautee garlic in olive oil when I'm using it in recipes anyways.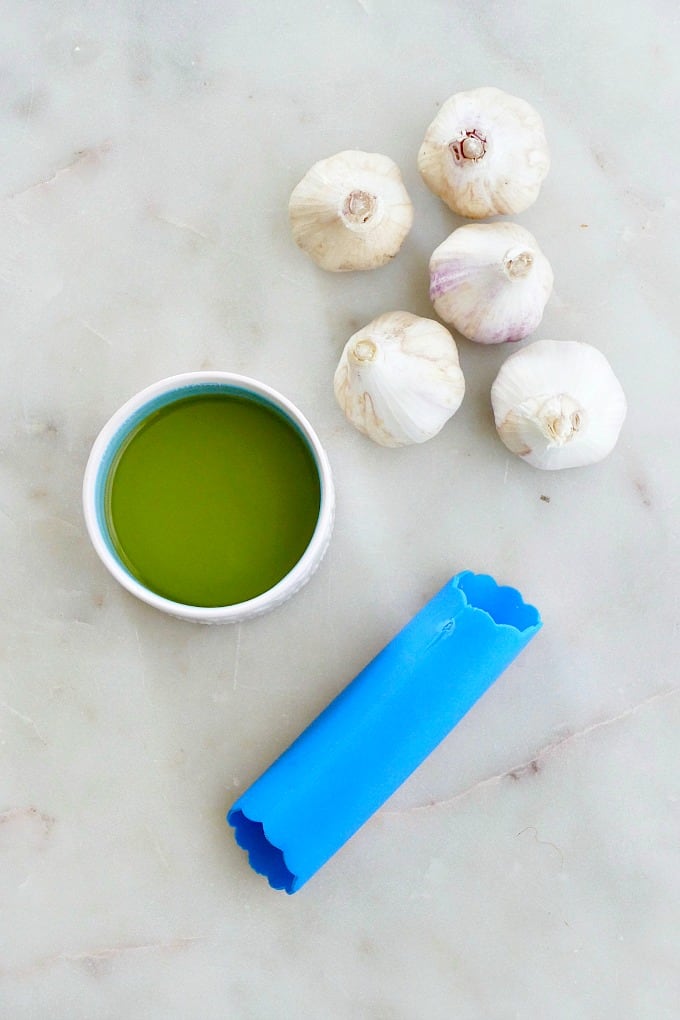 Follow these simple steps to make sure you're following the appropriate safety precautions.
Purchase a large bag of peeled garlic cloves or several fresh bulbs.
Peel each clove. A silicone garlic roller is a lifesaver for this process!
Add the cloves and olive oil to a food processor. The best ratio is 2 parts oil to 1 part garlic. Pulse until the cloves are chopped, but stop before they turn into a paste.
Scoop out one teaspoon of the garlic/oil mixture at a time and place the teaspoons on a baking sheet.
Put the baking sheet in the freezer for at least a couple of hours. Then, transfer the frozen garlic/oil teaspoons to a freezer bag.
Label the bag with the date. Keep in the freezer for up to 3 months.
When you want to use some frozen garlic, add 1 or 2 of the frozen teaspoons directly to the dish.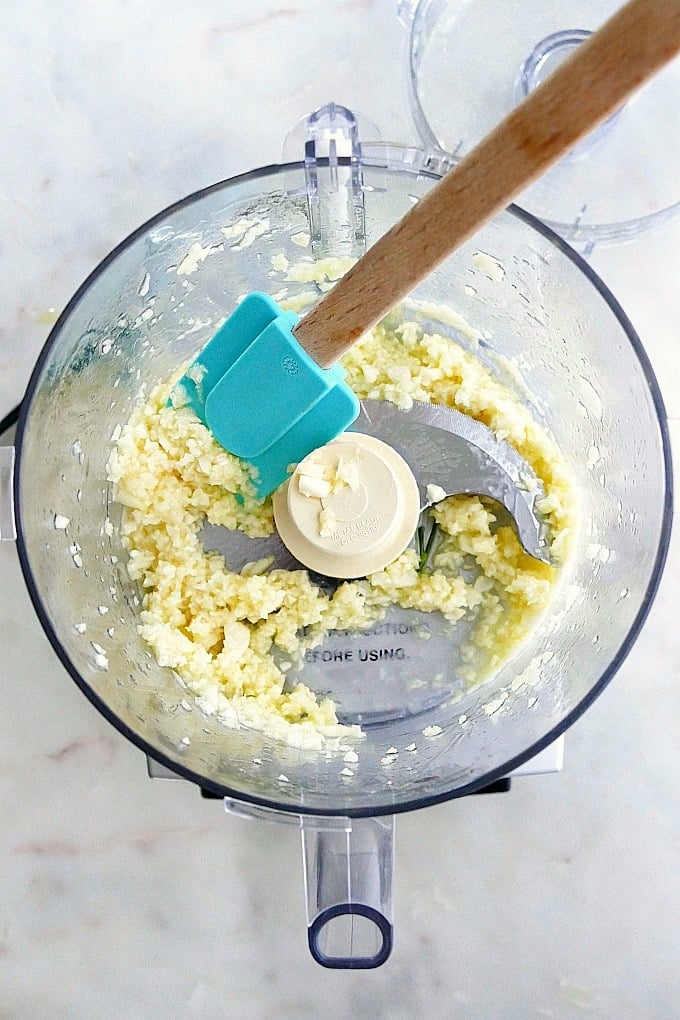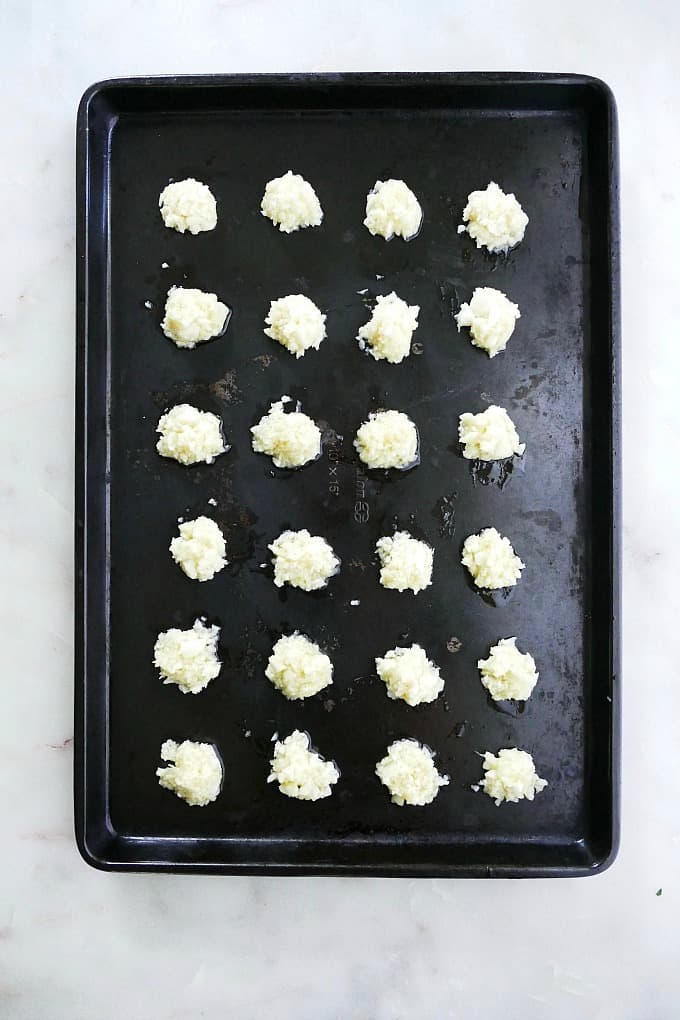 This process reminds me of my favorite hack for making frozen herb cubes. Check out that post if you're interested in preserving more of your favorite veggie seasonings!
How does freezing garlic affect taste and texture?
The taste of frozen garlic is pretty similar to fresh, but sometimes it's not as pungent. Frozen garlic has a mushier texture than fresh garlic, but this shouldn't make a difference in the overall texture of a recipe if you're just using garlic to season it.
PSA for my fresh garlic lovers out there: Trust me, I understand the many benefits of using fresh garlic over frozen! Ha. But I also think that having common staples on hand in easy-to-use forms can be very helpful in staying on track with healthy cooking.
There's room for both fresh and frozen garlic in the kitchen ;-)…
Do you need to thaw frozen garlic in oil?
Nope! Just add a frozen garlic and oil ball directly to the pan you're using to prepare your meal or recipe.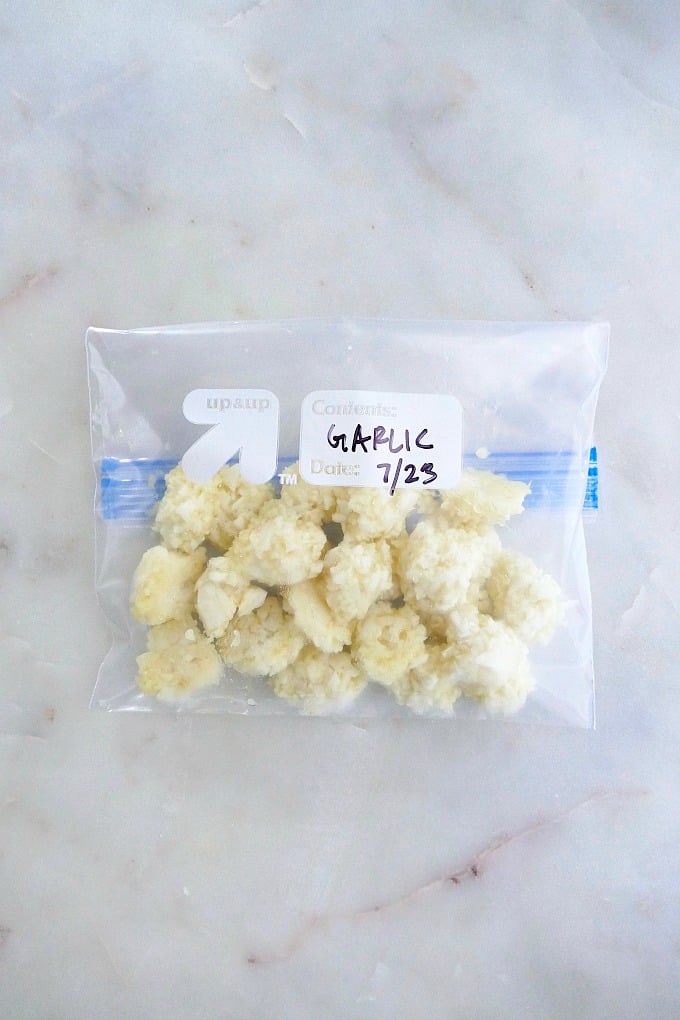 How to Use Frozen Garlic
Here are several ways to use frozen minced garlic:
Add to a skillet with another dash of olive oil, salt, and pepper to sautee veggies.
Cook with onion and other seasonings as the base of a soup.
Add to salad dressings.
Put a few teaspoons on top of garlic bread before it goes into the oven.
Mix into dips and sauces.
I'd love to hear how you like this recipe! Rate/review using the stars on the recipe card or in the comments, and follow the Veg World on YouTube, Instagram, Facebook, and Pinterest. Looking for something totally different? Browse the recipe library.
📖 Recipe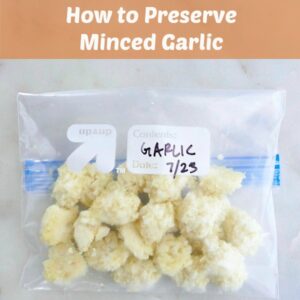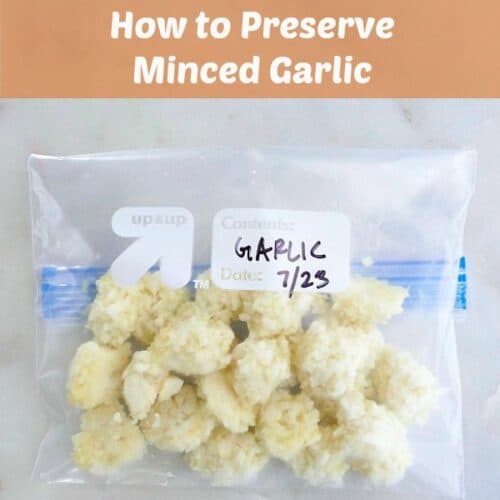 Frozen Minced Garlic in Olive Oil
Learn how to safely freeze garlic in olive oil for easy cooking.
Print
Pin
Rate
Save
Saved!
Servings:
25
garlic and oil balls
Ingredients
5

bulbs

garlic

-

peeled and separated into cloves

¼

cup

olive oil
Instructions
Combine the peeled garlic cloves and olive oil in a food processor. Pulse until the cloves are chopped, but stop before they turn into a paste.

Scoop out one teaspoon of the mixture at a time and transfer to a baking sheet. Freeze for a couple of hours before putting the teaspoons in a freezer bag. Store for up to 3 months.

When you want to use the frozen garlic, transfer the desired amount directly from the freezer to the dish. Do not thaw.
Notes
Garlic stored in oil at room temp can promote the growth of the bacterium that causes Botulism, a serious foodborne illness. To avoid this situation, freeze minced garlic that is mixed with oil right away.
Do not keep garlic and oil at room temperature for long periods of time.
Nutrition
Serving:
1
ball
|
Calories:
19
kcal
|
Carbohydrates:
1
g
|
Protein:
1
g
|
Fat:
2
g
|
Saturated Fat:
1
g
|
Sodium:
1
mg
|
Sugar:
1
g
|
Vitamin C:
1
mg
|
Iron:
1
mg