Learn how to make homemade vegan peanut butter cups with pumpkin and dark chocolate! This healthy dessert has only 4 ingredients, and is an easy and fun recipe for Halloween, holiday parties, or an afternoon snack.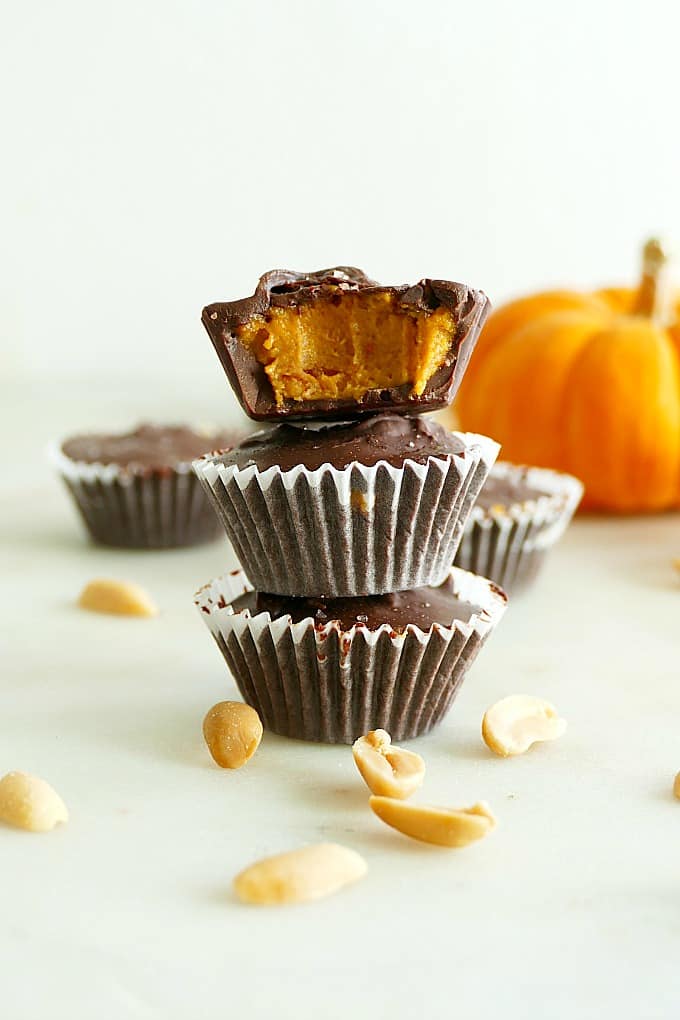 This post may contain affiliate links. For more information, see the affiliate disclosure.
I can't believe that Halloween is here! I used to love trick-or-treating, trading my Almond Joys to my siblings for more Butterfingers or Reese's cups, and stashing my candy in a top secret spot.
It's still one of my favorite days of the year as an adult, especially since it's the start of the cozy holiday season! But as you can imagine, I no longer stockpile candy (or go trick-or-treating for that matter).
Still, my sweet tooth lives on. Of course, I indulge in candy on Halloween, but I also love creating my own lightened up versions of Halloween classics, with some added veggies! That's how I got the inspiration for Vegan Peanut Butter Cups with Pumpkin. See also my Pumpkin Peanut Butter Balls!
These healthy peanut butter cups are rich in flavor but short on ingredients. They taste even better than Reese's and have only 4 ingredients!!! Or 5 if you count the sea salt I sprinkled on top of them. Plus, this recipe can help you use up any leftover pumpkin that you may have in the fridge.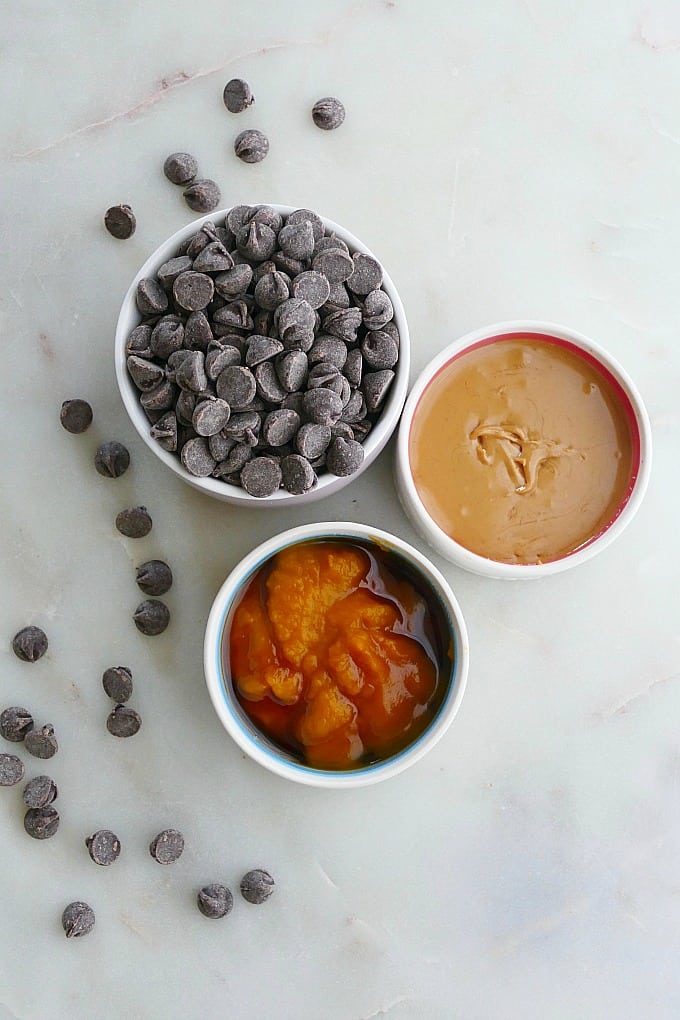 Healthy Peanut Butter Cups – What You Need
Before making this recipe, make sure you have everything on this list:
Ingredients: Semisweet chocolate chips (check the label to make sure they are dairy-free if you want to keep these vegan; vegan options include Enjoy Life and Simply Delicious Morsels from Nestle), creamy peanut butter, pumpkin puree, maple syrup, and sea salt
Mini cupcake liners: You can use paper or foil.
Other materials: A microwave-safe bowl, a cookie sheet or large plate, and 2 spoons (one for the chocolate and one for the PB mixture)
Want some other pumpkin-based recipes? Check out the Chocolate Cherry Pumpkin Oatmeal Bars, One Pot Pumpkin Tomato Pasta, and Pumpkin Black Bean Dip.
How to Make Vegan Peanut Butter Cups with Pumpkin
Ok, ok, now let's talk about how to make these! First, melt the chocolate chips in a microwave safe bowl and mix together the pumpkin, peanut butter, and maple syrup in a separate bowl.
Then, line a large plate or baking sheet with mini cupcake liners (photo 1), transfer a spoonful of chocolate to each liner (photo 2), add a spoonful of the peanut/PB mixture (photo 3), and finish it off with another spoonful of chocolate (photo 4). Sprinkle each cup with a little sea salt, pop them in the freezer, and there you have it!
Expert Tips
Use your spoon to spread some melted chocolate up the internal sides of each cupcake liner before you add the filling (see photo 2 above). Do not skip this step! Otherwise, your cups won't stay together, and you'll send pumpkin flying everywhere when you take a bite.
Complete the recipe in 2 batches of 6 to prevent the bottom layer of chocolate from hardening too quickly. Add the first layer of chocolate, spread it up the liner, then add the filling. Repeat with the next 6. Or, you can complete one cup at a time from start to finish.
If you have issues with the chocolate hardening in the bowl before you put it in the liners, try placing the chocolate bowl in another bowl of hot water as you complete the recipe. My mother-in-law gave me that great tip (you can see her comment below)!
The peanut butter cups should only take 20 minutes to harden in the freezer, but you can keep them in for longer if you get busy with something else.
You can freeze homemade peanut butter cups or store them in the fridge in an airtight container or Stasher bag. They should last for 5-7 days in the fridge and 3 or months in the freezer.
Let the cups sit at room temp (especially if they are frozen) for 15-20 minutes before serving. They can be difficult to bite into when they are rock solid, and you don't want anyone cracking a tooth!
No peanut butter? Substitute almond, cashew, or sunflower seed butter instead!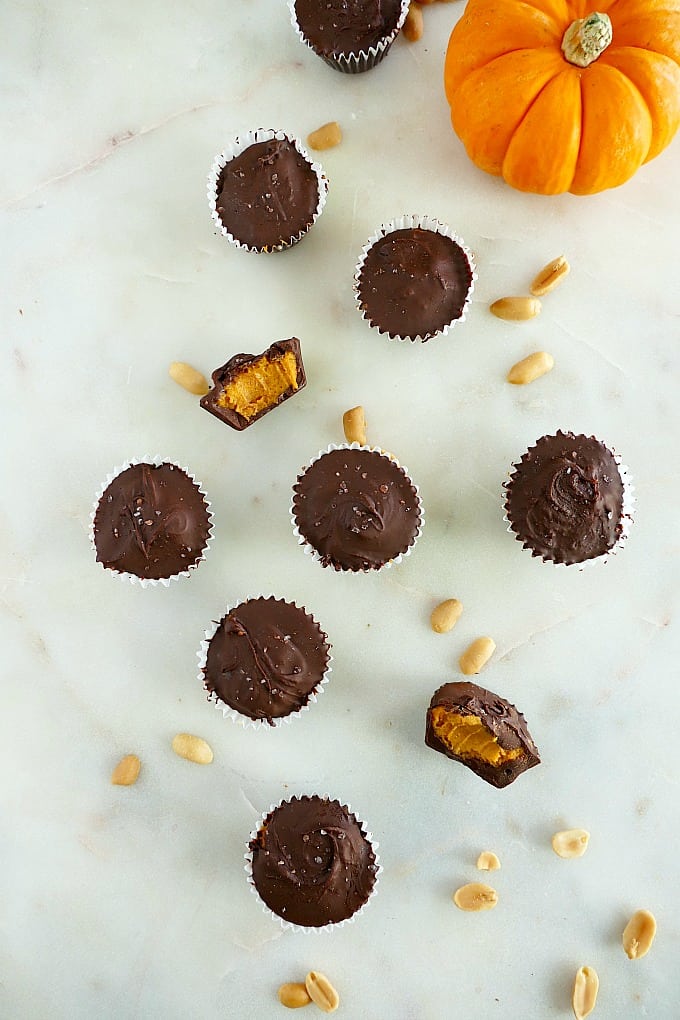 Be sure to bookmark this vegan peanut butter cups recipe to whip up a batch in honor of Halloween! But really, you can make them at any time of the year ;-)! And BTW, these got the approval of both my husband and my best friend who was visiting when I made them.
If you're looking for some other sweets with veggies, take a look at the Fudgy Beet Brownies, Carrot and White Bean Blondies, and Candied Vegetable Popcorn Mix.
And don't forget to report back if you make these by rating and reviewing the recipe in the comments! I'd love to hear from you.
📖 Recipe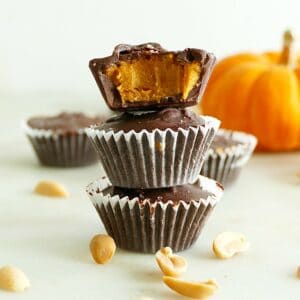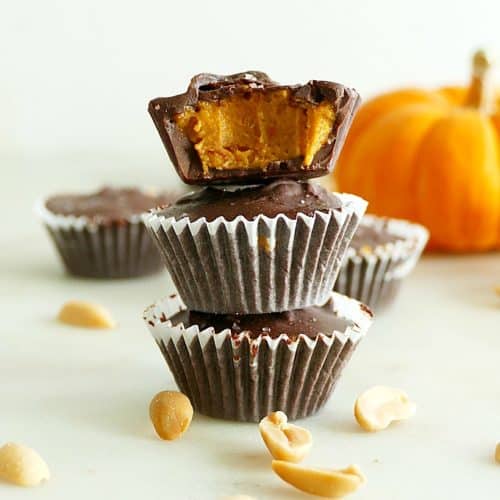 Vegan Peanut Butter Cups with Pumpkin
A healthier version of classic peanut butter chocolate cups, with some added fiber and nutrition from pumpkin!
Print
Pin
Rate
Save
Saved!
Instructions
Prepare a baking sheet or large plate with 12 mini cupcake liners.

Place the chocolate chips in a small bowl and heat them in the microwave for 20 seconds. Remove, stir, and repeat for 20-second intervals until you have smooth, melted chocolate. While the chocolate is melting, mix the peanut butter, pumpkin, and maple syrup in a small bowl.

You will want to make 6 at a time (2 shifts) so that the bottom layer of chocolate does not harden too quickly. Start by scooping ~1 teaspoon of melted chocolate on the bottom of each mini cupcake liner. Make sure you spread some of it up the internal sides of the liner with your spoon. Then add ~1 tablespoon of the pumpkin mixture, followed by ~1 teaspoon of the melted chocolate. You can also make one cup at a time.

Sprinkle each chocolate cup with a dash of sea salt. Transfer the tray or plate to the freezer and let the cups freeze for 20-30 minutes. Enjoy!
Notes
Use your spoon to spread the melted chocolate up the sides of each cupcake liner to make sure the filling is surrounded by chocolate.
If the chocolate hardens in the bowl as you are putting it in the liners, try placing the chocolate bowl in another bowl with hot water as you complete the recipe.
Store in the freezer (3 or more months) or fridge (5-7 days) in an airtight container. Let the cups sit at room temp for 15-20 minutes before serving.
You can sub almond, cashew, or sunflower seed butter for peanut butter.
Nutrition
Serving:
1
PB cup
|
Calories:
168
kcal
|
Carbohydrates:
14
g
|
Protein:
3
g
|
Fat:
11
g
|
Saturated Fat:
6
g
|
Cholesterol:
1
mg
|
Sodium:
27
mg
|
Potassium:
176
mg
|
Fiber:
2
g
|
Sugar:
10
g
|
Vitamin A:
805
IU
|
Vitamin C:
0.21
mg
|
Calcium:
19
mg
|
Iron:
2
mg
This post was originally published in October 2018 but was updated with more photos and expert tips in October 2019.
Happy Halloween!!
Lizzie