Roasted artichoke halves make the most amazing snack or appetizer! This post teaches you how to clean, prepare, roast, eat, and serve fresh artichokes.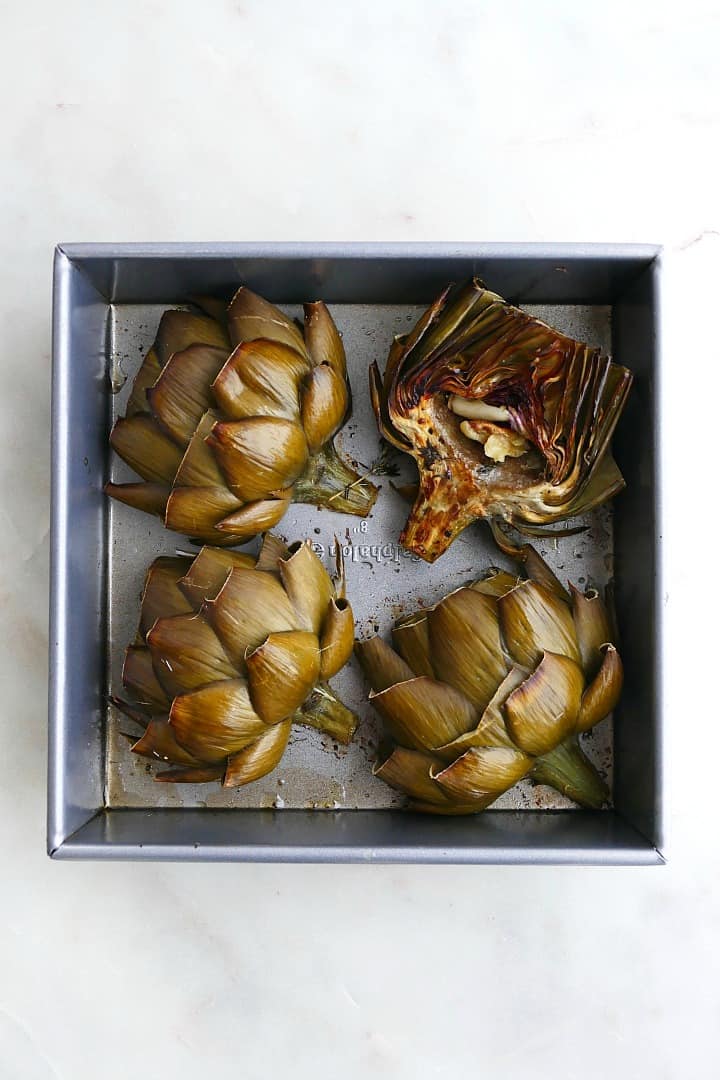 This post may contain affiliate links. For more information, see my affiliate disclosure.
April is peak artichoke season, and while I haven't been enjoying as much seasonal produce as usual this year, I picked up a couple artichokes the last time I was at the store. If you see them next time you go grocery shopping, I highly recommend that you get some too!!
Why, you ask?! Well, over the past couple of months, I have been working on a very big project (that I can't wait to share with you), during which I spent a lot of time working with fresh artichokes. I was amazed at how delicious they are when prepared in the right way.
Afterwards, I couldn't wait to share all my newfound tips and tricks for making roasted artichoke halves with all of you! I think you will be blown away by how DELISH they are.
But if you've never eaten a fresh artichoke and/or you're not quite sure how to do that, let alone prepare them, I detailed everything you need to know below.
Prepping artichokes may sound intimidating, but the process is actually quite easy. And the end result is worth it! Plus, they are a stunningly pretty veggie.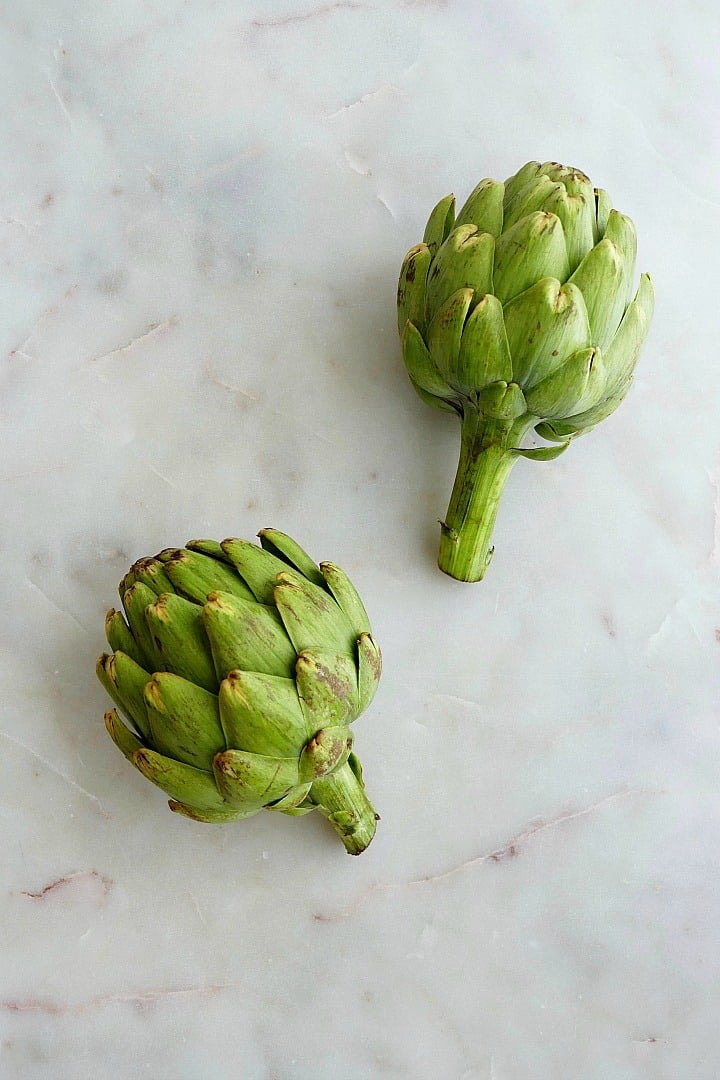 How to Prepare Roasted Artichoke Halves
There are a few things to keep in mind when working with fresh artichokes. When selecting artichokes, give them a squeeze. If they squeak and have mostly green leaves, they are fresh.
Artichokes have pointy leaves, so you need to trim them. They also start to brown when exposed to air. To prevent browning, you need to have lemon wedges handy to rub over the cut surfaces. Honestly, though, artichokes get brown when roasted anyways, so this step doesn't matter as much.
As you prepare to make this roasted artichoke halves recipe, keep a cutting board, sharp knife, kitchen scissors, and a spoon nearby.
Then follow these steps:
Use a sharp knife to slice about ½ to 1-inch off the top and bottom. Rub the cut surfaces with some lemon juice.
Use your kitchen scissors to trim the outer leaves. You should also remove any browned or tough leaves from the bottom (near the stem).
Slice the artichoke in half and rub lemon juice on the cut surfaces again.
Use a spoon to remove the fuzzy choke inside each artichoke. Discard.
Place the artichoke halves in a baking dish (that's been lightly drizzled with olive oil). Stuff each artichoke half with a couple garlic cloves and herb sprigs. Sprinkle with salt and pepper.
Flip each one over, making sure the garlic stays in the cavity.
That wasn't so bad, huh? Now, cover the dish with foil and pop these beauties in the oven.
How to Eat Roasted Artichokes
Once your roasted artichoke halves are done baking, it's time to eat! Let them cool for a little bit before digging in.
To start, peel off a leaf and slide it in between your teeth, removing the tender flesh on the inner portion of the leaf as you go. Discard what's left and repeat with the rest of the leaves.
The leaves of an artichoke get more tender as you get closer to the center/heart, and you can actually eat some of the baby leaves whole. Both the artichoke heart and stem are edible too!
What to Serve With Roasted Artichoke Halves
Sure, roasted artichokes are delicious on their own, but if you don't eat the leaves with some sort of dipping sauce, it doesn't really count.
My all-time favorite condiment to pair with roasted artichoke halves is melted butter mixed with lemon juice. Yum to the YUM. Dunk each leaf in this before eating, and you will be hooked!! It's the BEST springtime treat.
Oh, and I should mention. The reason you put garlic cloves inside the artichokes is so the garlic gets super tender and creamy and can be mixed into the lemon butter. It's amazing.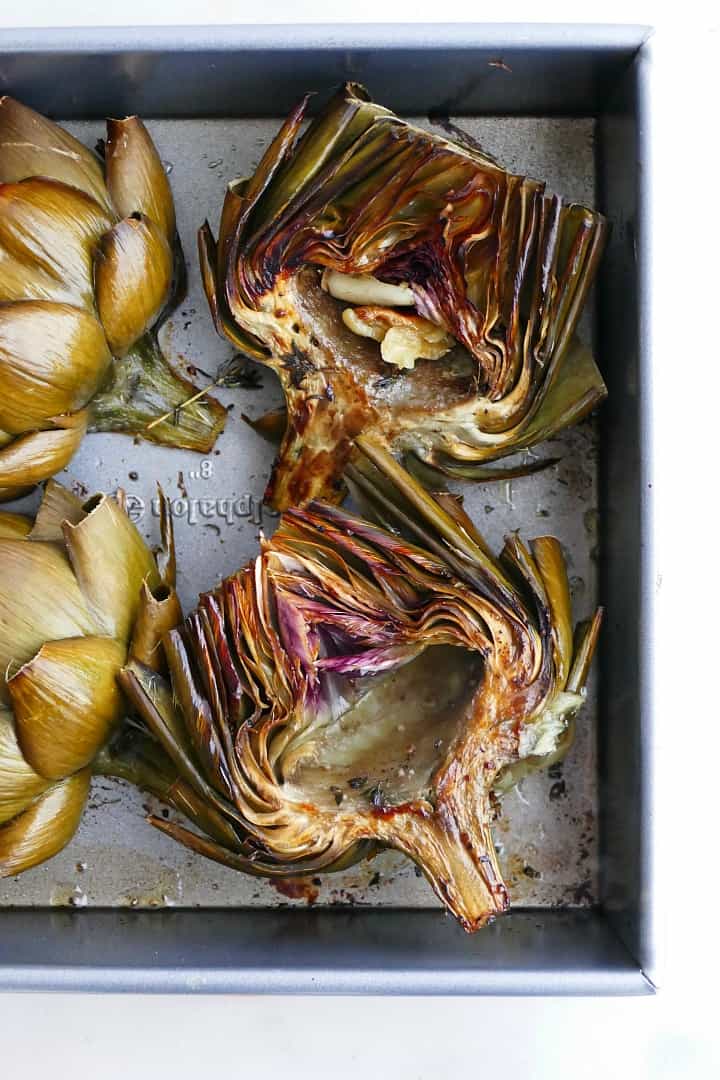 More Artichoke Recipes
I'd love to hear how you like this recipe! Rate/review using the stars on the recipe card or in the comments, and follow the Veg World on YouTube, Instagram, Facebook, and Pinterest. Looking for something totally different? Browse the recipe library.
📖 Recipe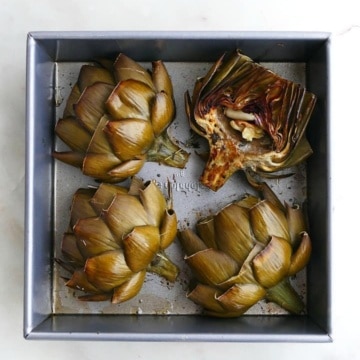 Roasted Artichoke Halves
The most delicious roasted artichoke recipe with tips on preparing, eating, and serving.
Print
Pin
Rate
Save
Saved!
Ingredients
1

tablespoon

olive oil

2

artichokes

Lemon wedges

-

for preparing and serving

8

garlic cloves

-

peeled

Fresh herb sprigs

-

such as thyme or rosemary

Salt -

to taste

Freshly ground black pepper -

to taste

4

tablespoon

melted butter

-

for serving
Instructions
Preheat the oven to 400 degrees F. Drizzle a thin coating of olive oil on an 8×8 baking dish.

Gather a cutting board, sharp knife, kitchen scissors, lemon wedges, and spoon. Slice off about 1 inch of both the top and stem of each artichoke, and rub the cut surfaces with lemon juice. Trim the pointy outer leaves with kitchen scissors and peel off any rough leaves near the stem. Slice each artichoke in half lengthwise and rub the cut surfaces with lemon juice again. Scoop out the fuzzy choke with your spoon and discard. The artichokes may still brown a little even with the lemon juice, but that's OK because you are roasting them anyways.

Place the artichoke halves cut side up in the oiled baking dish. Stuff each half with a couple cloves of garlic and a few sprigs of herbs. Sprinkle with salt and pepper, and drizzle a little olive oil over them. Carefully flip each one over, making sure that the garlic stays in the center cavity, and drizzle the leaves with a little more oil. Cover the baking dish with foil and bake for 55 to 70 minutes, until the outer leaves are tender and you can easily pierce through them with a fork. Cooking time will depend on the size of the artichoke, so be sure to check smaller artichokes starting around 40 or 50 minutes to see if they are ready.

Let the artichokes cool slightly. To make a dipping sauce, melt ½ stick of butter in a bowl. Whisk in the juice of 1 lemon, and stir in some of the cooked garlic cloves. Taste and adjust seasonings as desired. To eat, remove a leaf, dip it in the melted butter sauce, and place it in between your teeth. Scrape the tender flesh from the leaf, discard what's left, and repeat. You can eat some of the smallest leaves towards the center of the artichoke, as well as the artichoke heart and stem, whole.
Notes
The freshest artichokes will squeak when you squeeze them.
While roasted artichokes are best enjoyed right away, I have had luck storing them in the fridge for a couple of days. Reheat on high in the microwave for 1 to 2 minutes.
Nutrition
Serving:
1
half
|
Calories:
172
kcal
|
Carbohydrates:
9
g
|
Protein:
3
g
|
Fat:
15
g
|
Saturated Fat:
8
g
|
Cholesterol:
31
mg
|
Sodium:
163
mg
|
Potassium:
261
mg
|
Fiber:
4
g
|
Sugar:
1
g
|
Vitamin A:
355
IU
|
Vitamin C:
9
mg
|
Calcium:
42
mg
|
Iron:
1
mg
Mmmm. Happy eating! – Lizzie