These Seared Cabbage Wedges are an easy vegetable side dish with a zesty orange ginger tahini dressing. Serve this vegan cabbage recipe with a weeknight dinner or holiday meal.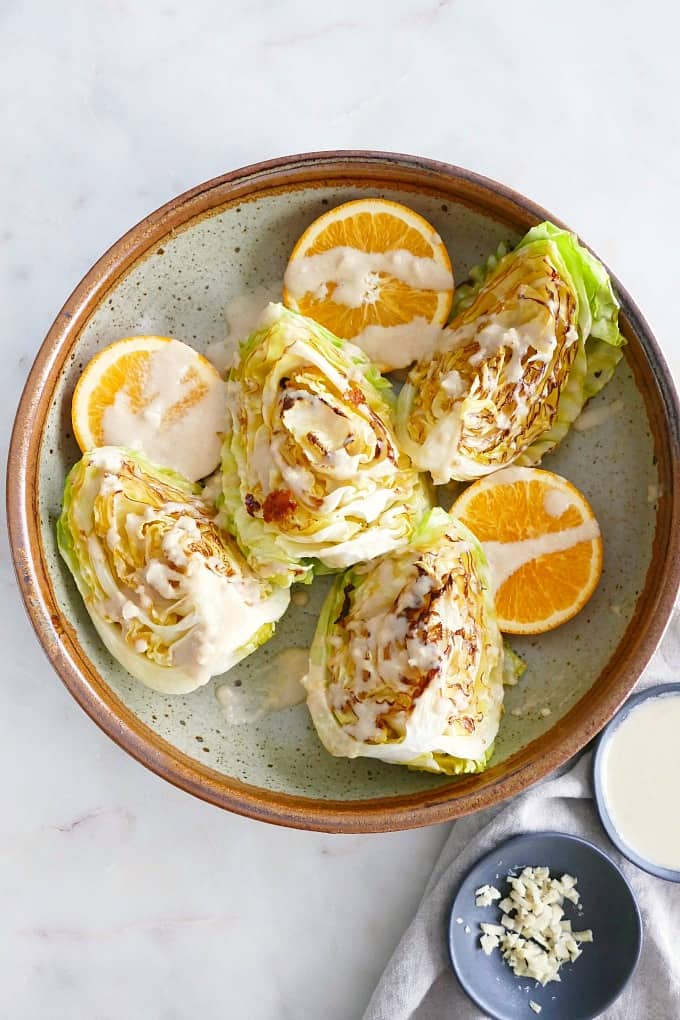 This post may contain affiliate links. For more information, see my affiliate disclosure.
Happy Monday everyone! I spent this weekend relaxing, watching West Wing and the Winter Olympics, and celebrating our two friends' recent engagement. It was a much needed series of events to rest and recharge after the Super Bowl weekend and a long week at work.
But of course, I couldn't resist making some new recipes! Most of the dishes I tried weren't even for the blog…just ones I had bookmarked to try at some point. You know I LOVE making new recipes for all of you, but some days I also like to try out what some of the other bloggers have tested. I got into this whole food blogging world since I love to cook, after all.
Now that I had some solid time to catch up on making my bookmarked recipes, I'm back in full force prepping dishes for this blog. Today's recipe is the epitome of an easy vegetable dish. Seriously, these Seared Cabbage Wedges are such a fun way to mix it up in the kitchen and experiment with a new veggie.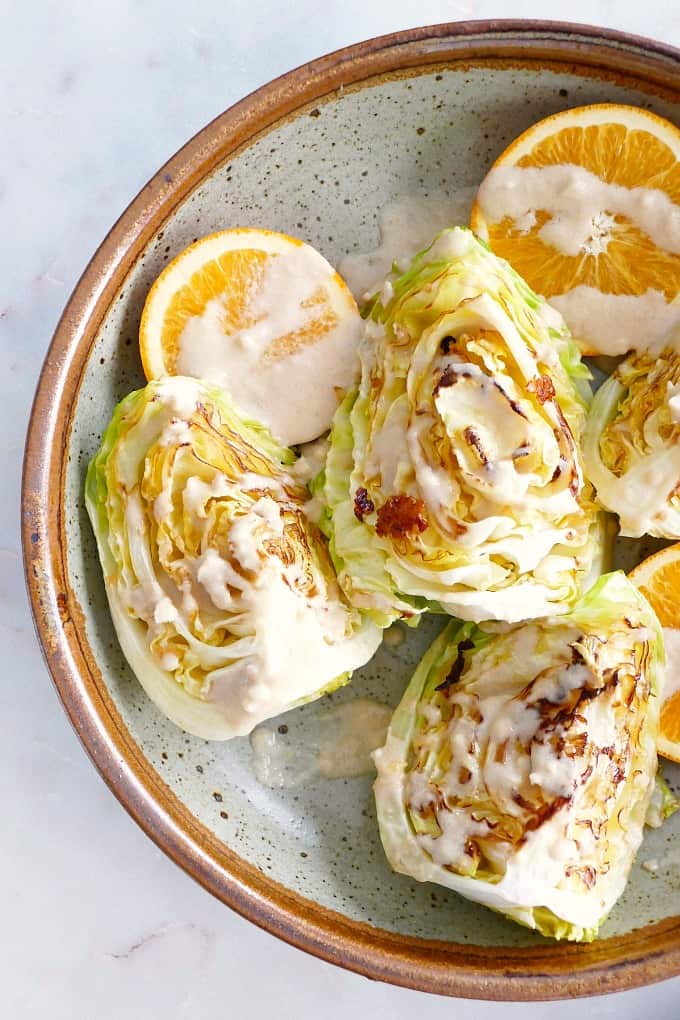 These wedges also know no [seasonal] bounds. I imagine they would taste just as delicious grilled as they do when they are seared! You can even switch out the freshly squeezed orange juice in the dressing for pineapple juice in the summer. Mmmmm…
Health Benefits of Cabbage
You are probably aware that fermented cabbage, or sauerkraut, is a source of probiotics. Probiotics are healthy bacteria that promote optimal gut health and digestion. But plain cabbage is very nutritious too!
Cabbage contains vitamins K and C. Eating enough vitamin K promotes healthy blood and is important for the blood clotting process. Vitamin C acts as an antioxidant and can heal damage in the body from reactive molecules called free radicals.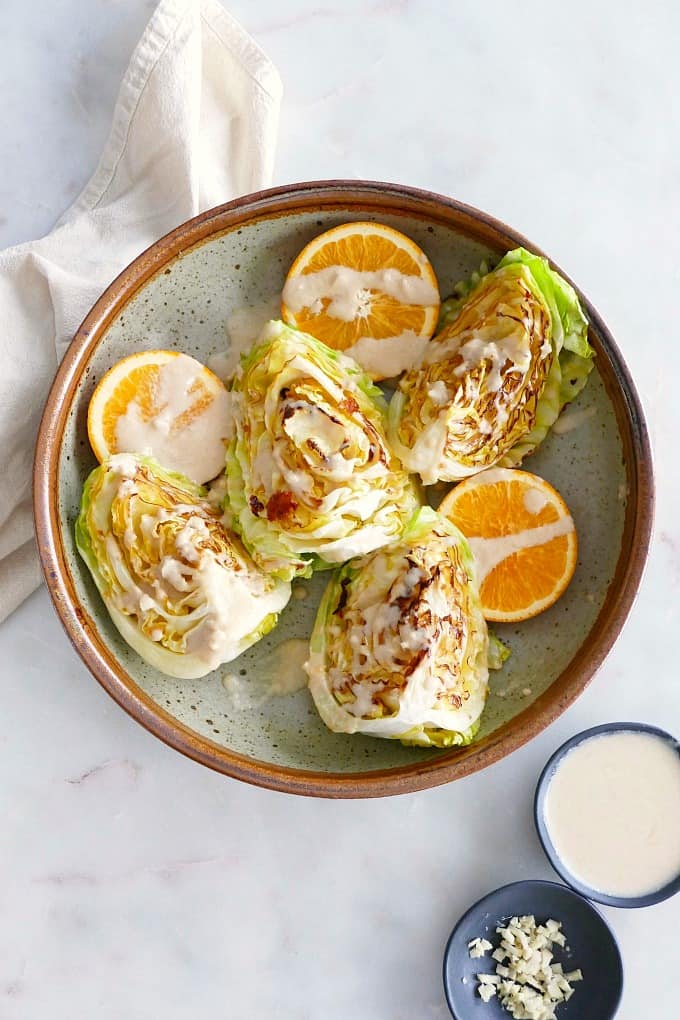 How to Make Seared Cabbage Wedges
If you want to reap the benefits of cabbage and make these seared cabbage wedges, this is all you need to do:
Heat some olive oil and crushed garlic in a large skillet over medium high heat.
While the oil is heating, slice a head of cabbage into four wedges and remove the core.
Sear the cabbage wedges on each side for approximately 5 minutes, or until it begins to brown and becomes tender.
Make the dressing while the cabbage is cooking by combining freshly squeezed orange juice with tahini, chopped ginger, apple cider vinegar, and maple syrup.
Remove the cabbage wedges from the skillet and serve them warm with the dressing.
Want some more recipes with cabbage? Try my Stewed Cabbage, Apples, and White Beans or Beet and Red Cabbage Slaw. But I think you're going to want to give these a try first…because, well…the dressing…(orange + ginger + tahini = amazing).
If you make this recipe, I'd love to hear how you like it! Please rate/review using the stars on the recipe card or in the comments section.
📖 Recipe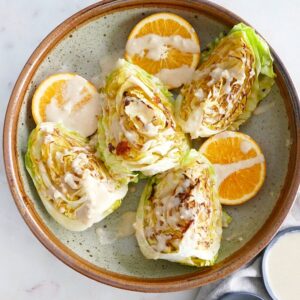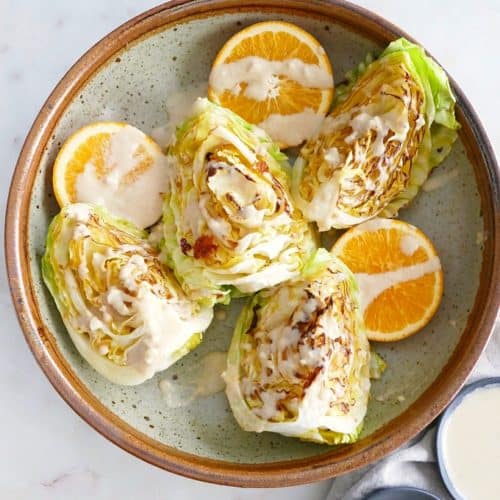 Seared Cabbage Wedges with Orange Ginger Tahini
A delicious and light side dish with creative and refreshing flavors. Up your cabbage game with this easy recipe and zesty dressing.
Print
Pin
Rate
Save
Saved!
Instructions
Prepare cabbage by slicing the head into 4 wedges. Remove the white core from the wedges.

In a large skillet, heat olive oil and garlic cloves over medium heat. Place cabbage wedges in the skillet, and cook on each side for 5 minutes or until it becomes charred and tender. You can cook it for longer, depending on how tender you want it. You may also need to add some more olive oil as the cabbage is cooking.

While the cabbage is cooking, prepare the dressing by combining the orange juice, tahini, apple cider vinegar, maple syrup, and ginger in a small bowl and whisking together. The dressing will thicken up if you let it sit for a few minutes.

Drizzle the dressing over warm cabbage wedges, and enjoy!
Nutrition
Serving:
1
serving
|
Calories:
233
kcal
|
Carbohydrates:
22
g
|
Protein:
6
g
|
Fat:
15
g
|
Saturated Fat:
2
g
|
Sodium:
48
mg
|
Potassium:
496
mg
|
Fiber:
6
g
|
Sugar:
12
g
|
Vitamin A:
252
IU
|
Vitamin C:
92
mg
|
Calcium:
120
mg
|
Iron:
2
mg
Have a happy and healthy week! – Lizzie
*Photos for this recipe were updated 2/5/2019. Most of the original writing remains.*