Enjoy this sourdough breakfast strata with kale, shallots, and gruyere for Christmas morning breakfast or a weekend brunch.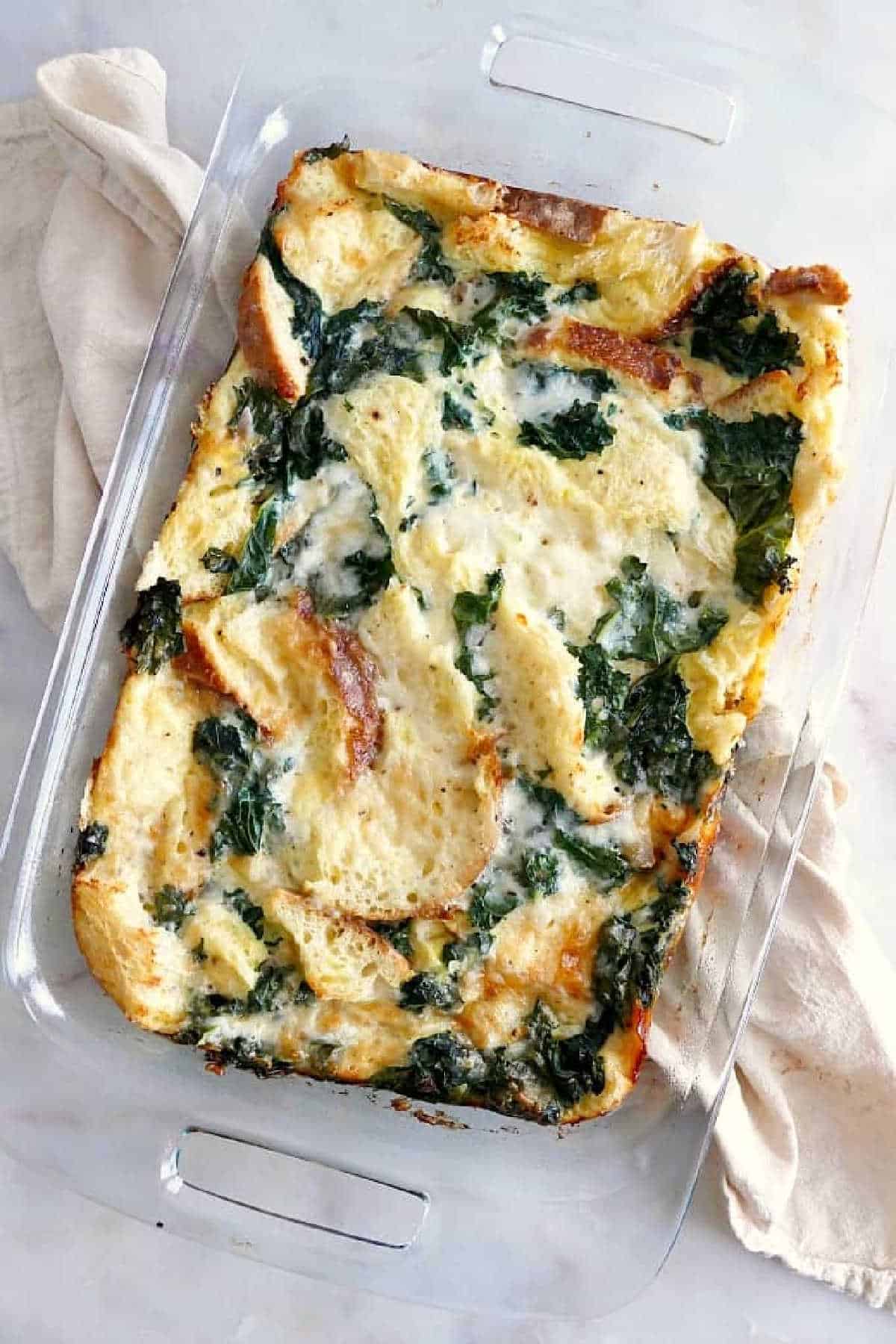 On the ninth day of Vegmas, my true love gave to me…breakfast strata? Well, more like kale in a breakfast strata to be more clear.
I was introduced to breakfast strata this past year, and I can't believe I didn't know about it! It's SO good. You really can't go wrong with bread + eggs. But when you bake them together in the SAME dish and add some other good stuff (ahem, cheese, ahem), it's just so much better than bread + eggs in the form of scrambled eggs and toast.
This actually might be my favorite Vegmas recipe, and that's saying something. You can check out the first eight days of recipes here if you need to catch up.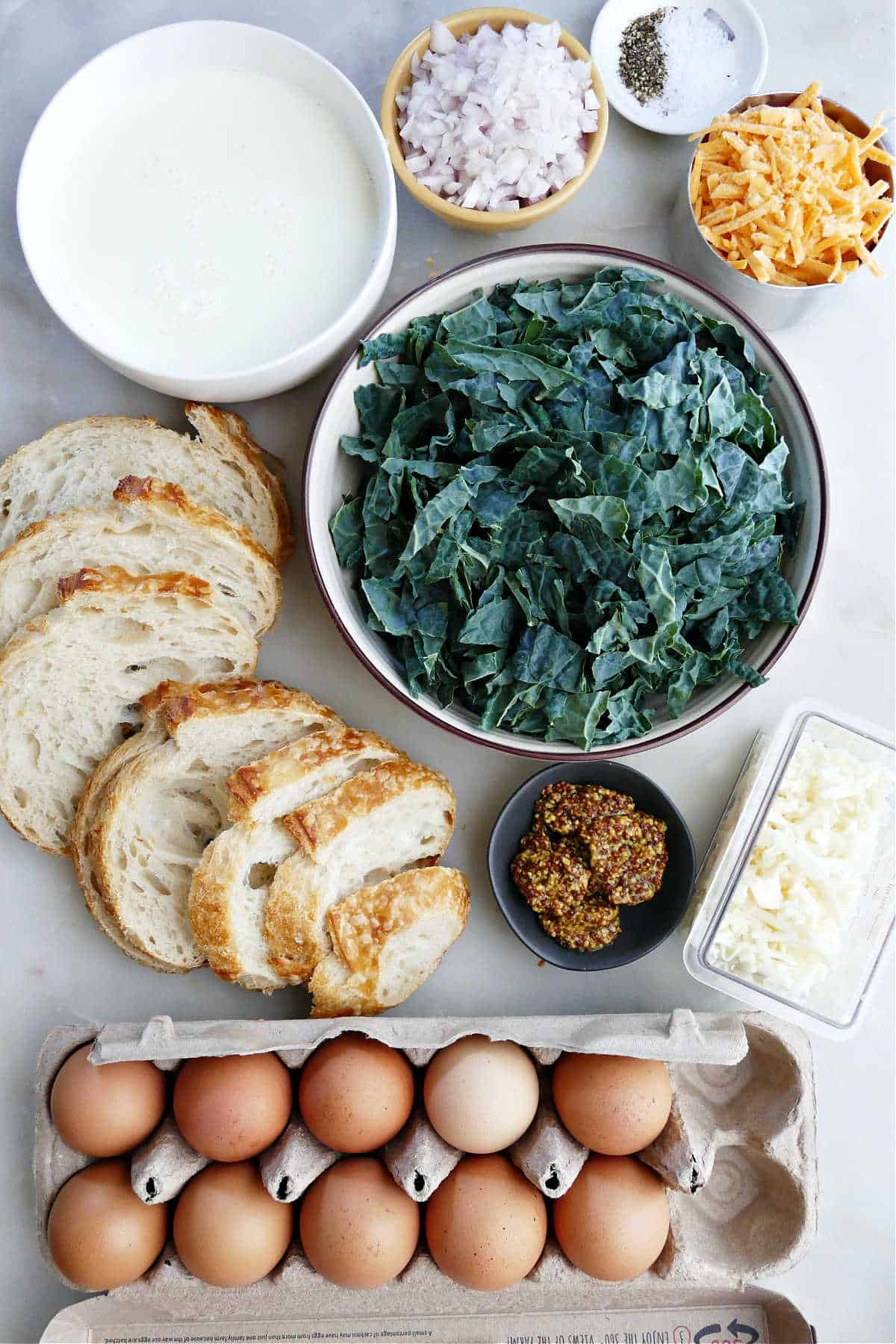 Wait, I take back the comment about me not knowing about breakfast strata until recently. Now that I think about it, my mom used to make this AMAZING ham, bread, and egg casserole on Christmas morning every year. So, that's a type of strata, right?!
Who knew all these years I was a regular strata consumer and didn't even know it?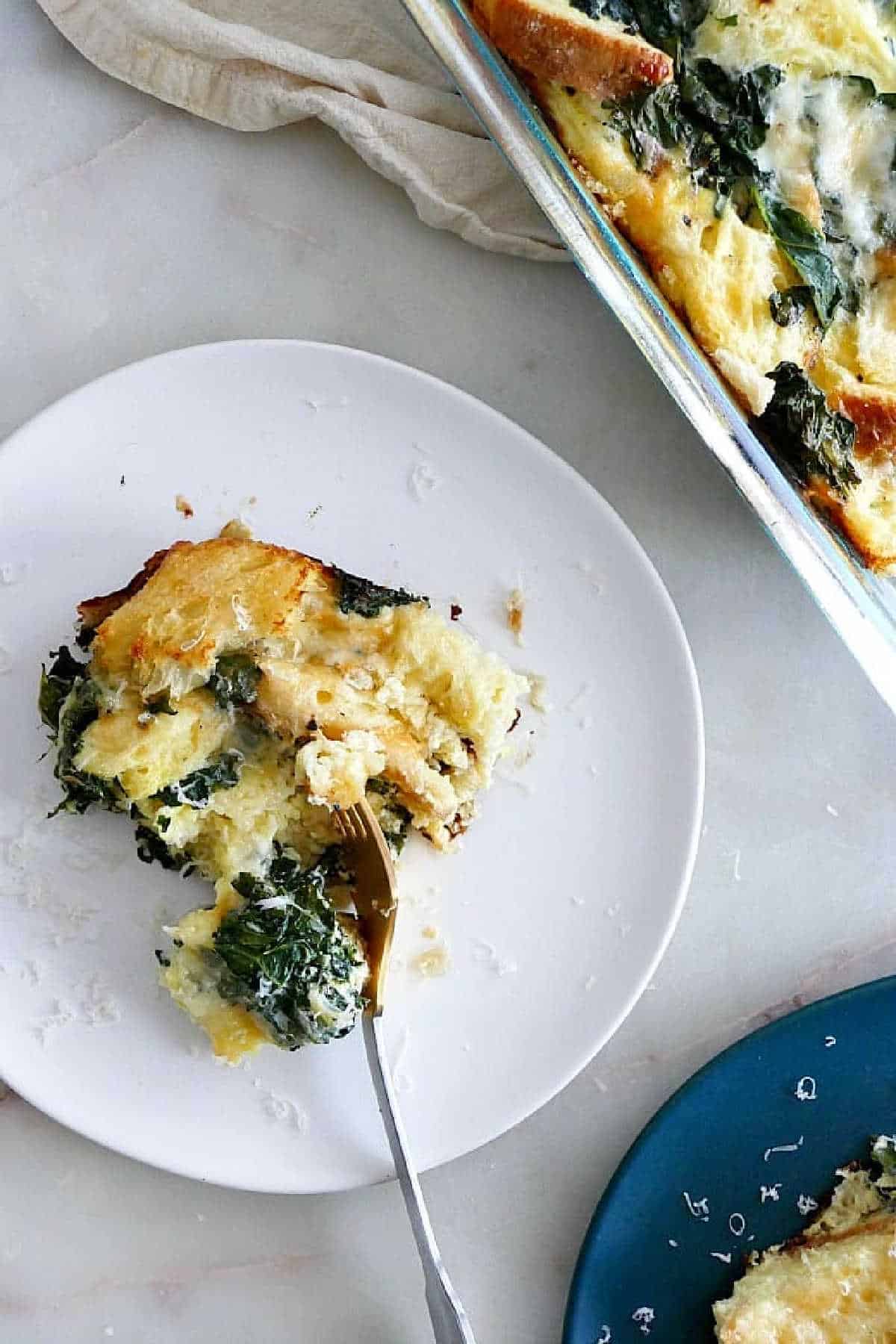 This Sourdough Breakfast Strata with Kale is sort of like my adult, fancy pants version of the Christmas morning breakfast casserole I had as as kid. I mean, it has sourdough bread AND kale. I'm pretty sure those both fall under the top 10 things millennials love to talk about and/or eat.
But don't be fooled by the ingredients, it's incredibly easy to make. You can also prepare this strata the night before you want to eat it and let it sit in the fridge overnight. Game. Changer.
If you're interested in another easy breakfast casserole, check out my Easy Broccoli and Cheese Egg Bake.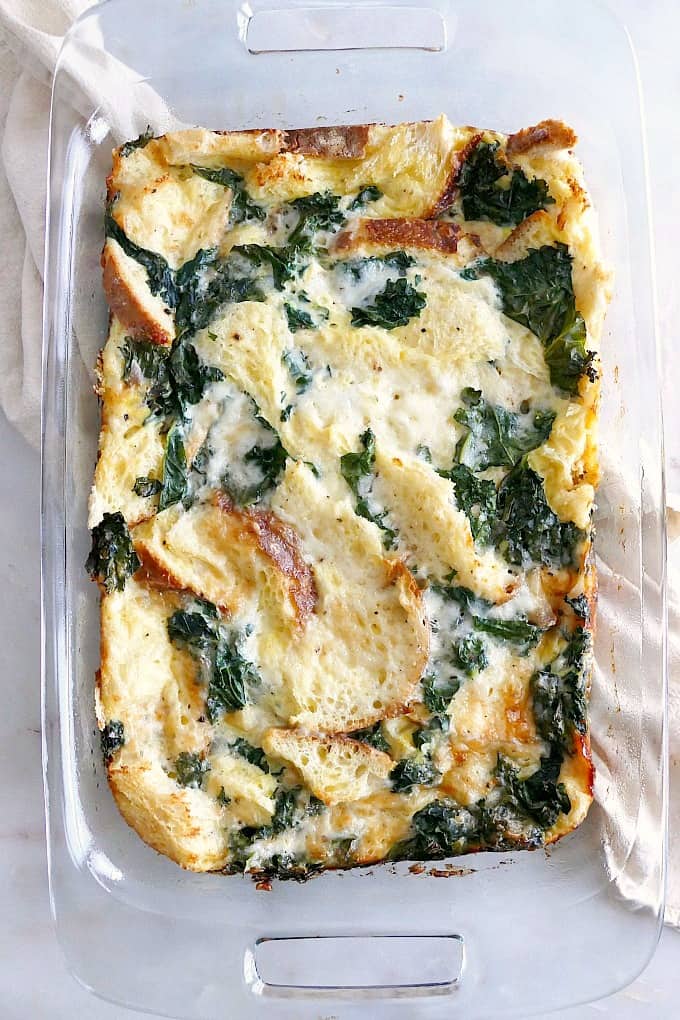 If you celebrate Christmas, then I know you're well aware that Christmas Eve can be a late night. Hosting dinner, wrapping presents, and going to church services (midnight mass anyone?) can keep you up until the wee hours of the morning. That's why breakfast stratas that can be prepped in advance are so helpful on holidays.
With this Sourdough Breakfast Strata with Kale, you don't have to worry about waking up early to get breakfast ready for the fam. You can prep it before you head to dinner or church on Christmas Eve, pop it in the fridge, and simply transfer it to the oven when you wake up the next morning. But don't worry, you don't need to let it sit overnight if you would rather make the recipe all in one morning!
PS – you know what would taste really good with this strata!? My Carrot and Orange Mimosas. You're welcome ;-)…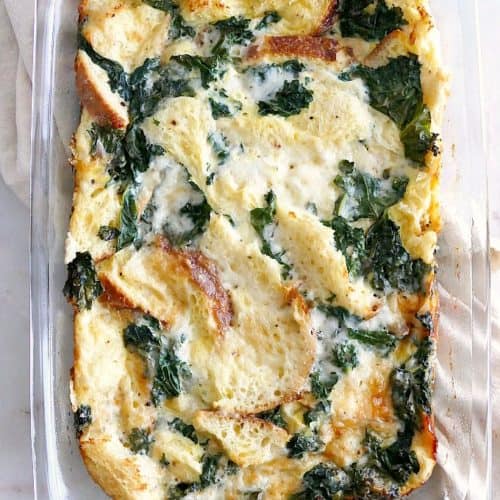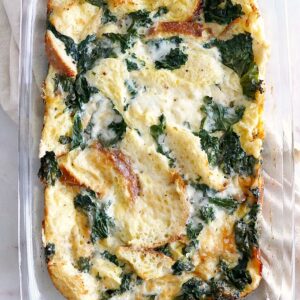 Sourdough Breakfast Strata with Kale
An easy breakfast casserole with sourdough bread, kale, shallots, and gruyere cheese. If desired, this can be prepared in advance and kept in the fridge overnight before baking.
Print
Pin
Rate
Servings:
6
large squares
Ingredients
Instructions
If you are making the strata right away and not letting it sit overnight, preheat the oven to 400 degrees F. Grease the bottom of a 9x13 baking dish with cooking spray or butter.

Heat olive oil in a large skillet over medium heat. Finely chop the shallot, and prepare the kale leaves by taking them off their stems and roughly chopping them. Add the shallot and kale to the skillet and cook for 7 to 10 minutes, or until the shallots are tender and the kale leaves are wilted.

Transfer the cooked kale and shallots to the baking dish, and then add the torn or cubed sourdough bread, followed by the shredded gruyere cheese.

In a large bowl, whisk together the eggs, milk, salt and pepper. Pour this mixture over the sourdough, veggies, and cheese. Gently shake the dish with your hands to promote an even distribution of the egg mixture. Sprinkle a little more gruyere cheese on top if desired. Cover with foil.

Put the covered strata in the fridge for at least 20 minutes so the bread can soak up everything. You can keep it in the fridge overnight if you plan to bake the strata the following morning.

Bake the strata for 30 to 35 minutes covered in foil. Remove the foil and bake it for another 15 to 20 minutes until you see the eggs set in the middle and bubbling on the edges. Enjoy warm!
Nutrition
Serving:
0
g
|
Carbohydrates:
0
g
|
Protein:
0
g
|
Fat:
0
g
|
Saturated Fat:
0
g
|
Polyunsaturated Fat:
0
g
|
Monounsaturated Fat:
0
g
|
Trans Fat:
0
g
|
Cholesterol:
0
mg
|
Sodium:
0
mg
|
Potassium:
0
mg
|
Fiber:
0
g
|
Sugar:
0
g
|
Vitamin A:
0
IU
|
Vitamin C:
0
mg
|
Calcium:
0
mg
|
Iron:
0
mg
Pin this for an upcoming brunch! 


Happy ninth day of Vegmas and less than one week until Christmas!
Lizzie