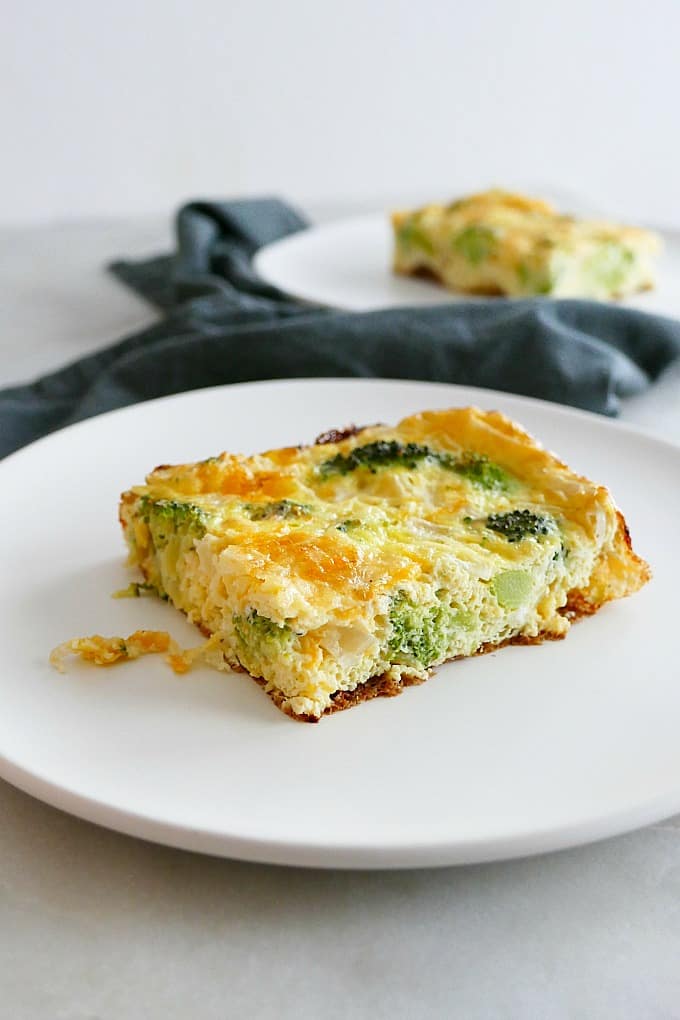 Fa-la-la-FRIDAY! We made it to the end of another busy week. I don't know about you, but my meal prep always seems to suffer during the holiday season. So lately, I've been all about those EASY recipes, even more than usual.
I had this in mind when I whipped up today's Easy Broccoli and Cheese Egg Bake. Specifically, I was thinking of all of you hosting guests or going to potlucks this season, because this is indeed a perfect Christmas brunch recipe!
The ingredients are simple. You see a lot of them right here, minus the eggs, milk, salt and pepper…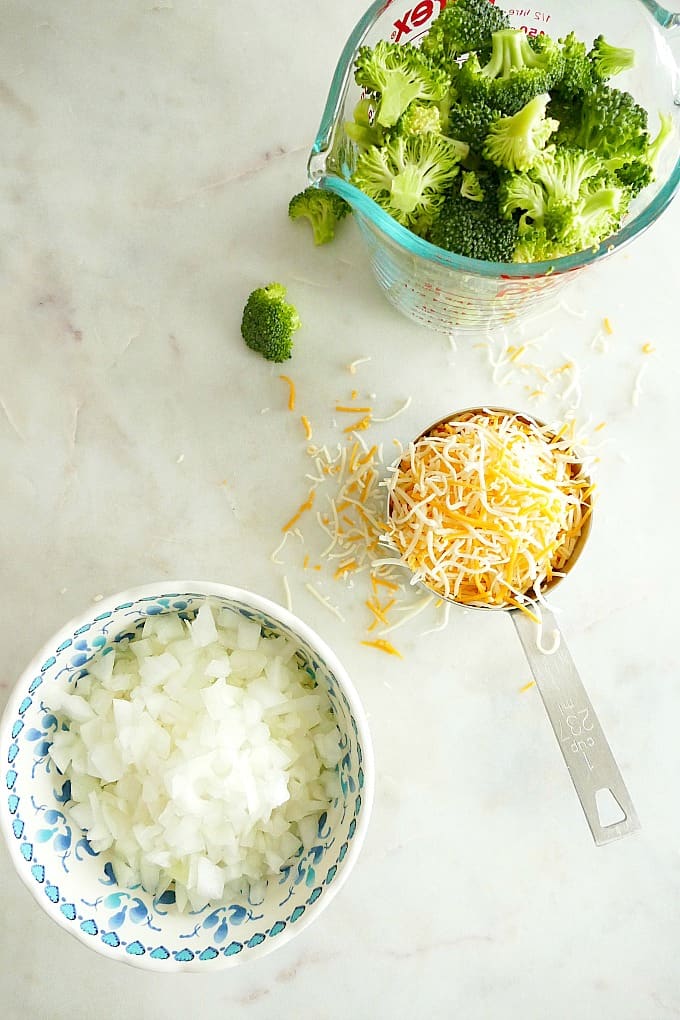 And the process?! Even more simple! Seriously, you can whip this one up in your sleep. Which is perfect, especially if you're feeling pretty sleepy on Christmas morning.
The flavors are classic; broccoli and cheese, who doesn't love that power couple? Plus, you could prepare this egg bake in advance, and pop it in the oven before you plan to serve it to your hungry family and guests. Serve with some fruit (and maybe a mimosa), and you'll have everyone asking "how do you do it?!" in no time!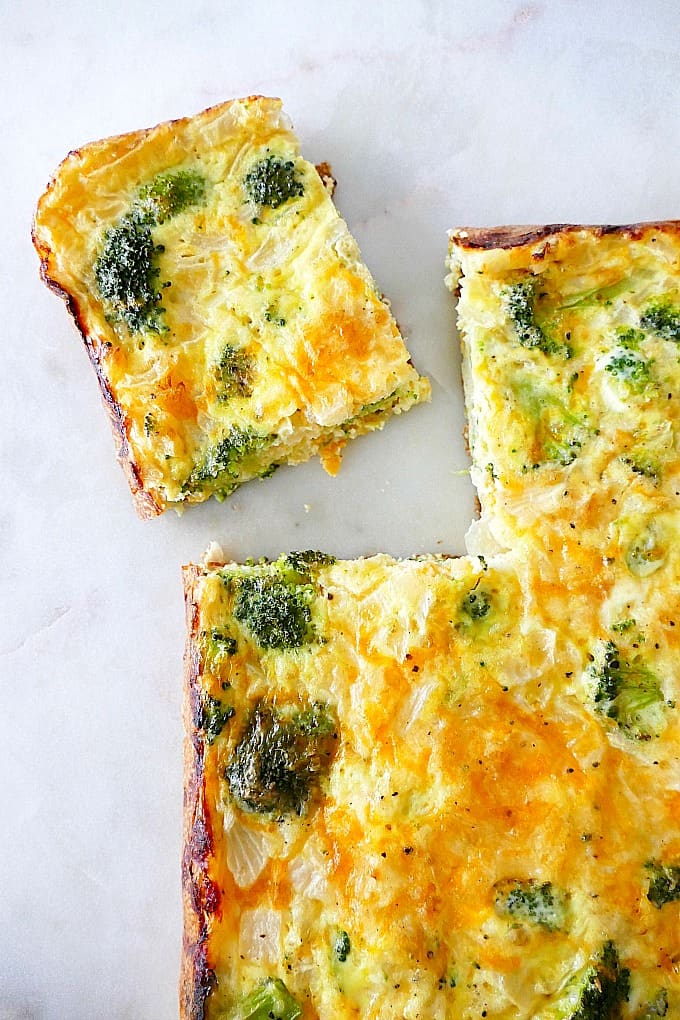 This recipe reminds me of a savory version of my Spiced Plum and Walnut Oatmeal Bake that I posted a while back (another great choice for Christmas brunch). Or maybe serve them side by side?! Whatever you decide on for your holiday brunch menu, you can't go wrong.
Or you could take after me, and prepare this egg bake for tasty breakfasts all week long! Store in the fridge or freezer, reheat, and you are good to go.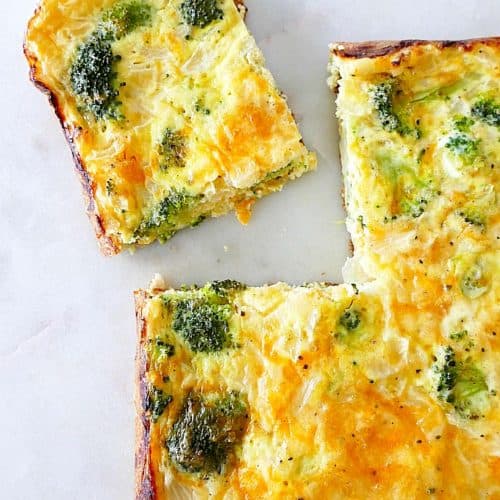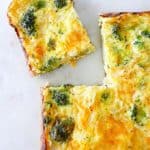 Easy Broccoli and Cheese Egg Bake
This delicious egg bake is so easy! Perfect for holiday brunch or potlucks. Prepare in advance if you wish, and pop in the oven before you want to serve your guests. Makes 12 single servings.
Ingredients
12

eggs

1

cup

milk of choice

(I used unsweetened almond milk but also works with cows milk)

1

small onion

diced

2

heaping cups

broccoli florets

chopped

1 1/2

cups

shredded cheese of choice, more to taste if desired

(recommend Mexican blend or cheddar)

1/4

tsp

salt

more to taste

1/4

tsp

ground black pepper

more to taste
Instructions
Preheat oven to 400 degrees F. Lightly spray a 9x13 baking dish with oil.

In a large bowl, whisk eggs and milk together. Add chopped broccoli and onions, shredded cheese, and salt and pepper to taste. Mix until well combined.

Pour into baking dish and bake for approximately 25-30 minutes or until eggs are cooked through. Let dish stand for 5-10 minutes before serving.
Recipe Notes
Nutrition Facts per 1 of 12 servings: 117 kcal, 8 g fat, 3 g carb (1 g fiber, 1 g sugar), 9 g protein 
*please note nutrition facts are estimated and may not be exact, and these will change if using cows milk or other additional ingredients (they are calculated with almond milk here)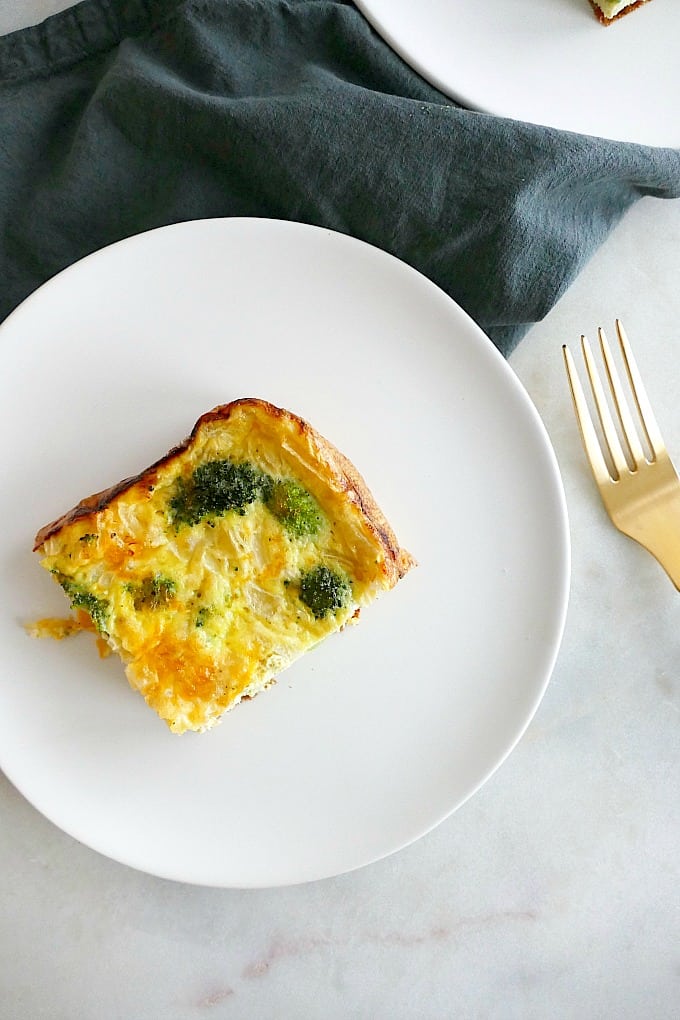 Happy holidays to all of you! And happy Friday 🙂
Lizzie