A sweet and tart strawberry rhubarb salsa that comes together in minutes! This versatile recipe can be eaten as a healthy snack with pita chips or served on top of fish or pork.

I am just so excited about this recipe! When I was planning my content calendar for the next couple of months, I started to really think about spring vegetables.
I made a list of the ones I wanted to highlight on the blog, and something funny caught my eye as I glanced at a google list of seasonal vegetables.
Well, you see, rhubarb was on the list. Rhubarb?! That's a fruit though, right?
But then I actually thought about it. Well, no, I guess it isn't. Hm, so that means…rhubarb…is a vegetable?! Why yes, yes it is.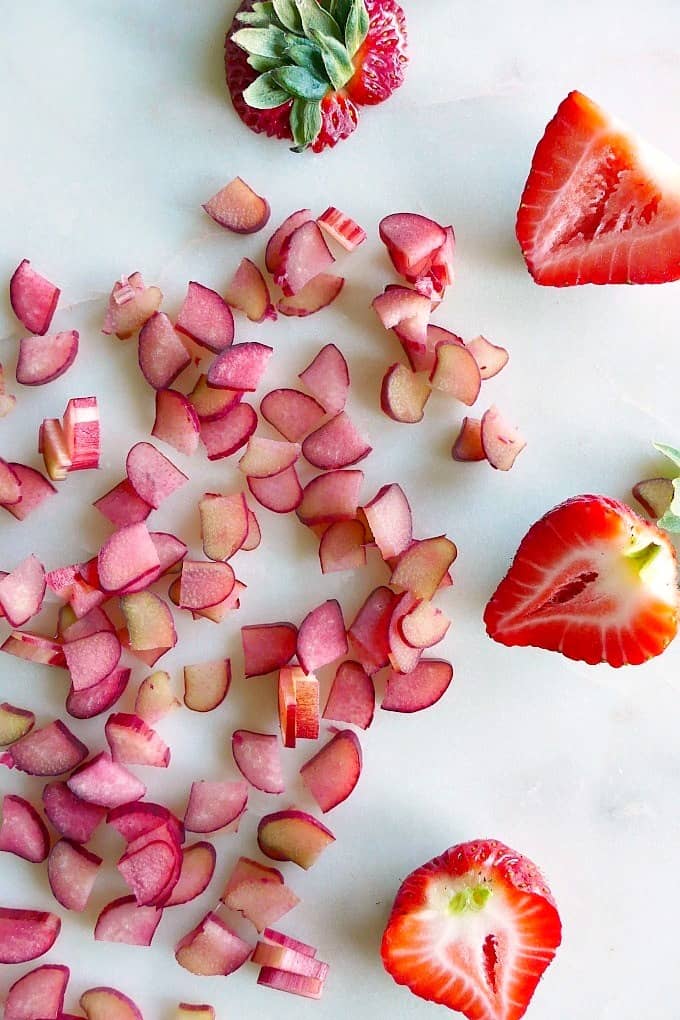 Of course, this makes sense. It's kind of like pink celery, no? (Sometimes it's actually green too). But since rhubarb is almost always served with strawberries, I had it pegged as a fruit.
Rhubarb has a tartness that's similar to a Granny Smith apple, and tastes best (in my opinion) when it's served with some type of sugar. This is why strawberry rhubarb pies and crumbles are so dang delicious!
I thought about how I could highlight this vegetable in a different way, and wanted to come up with something versatile! This Strawberry Rhubarb Salsa is a great topping, tastes amazing with pita chips, and can even be eaten straight out of the jar with a spoon.
I even followed the cardinal rule of preparing rhubarb and added a little bit of natural sugar from honey.
How to Make Strawberry Rhubarb Salsa
This recipe is stupid easy. Simply slice the rhubarb stalks in half lengthwise then dice them up. Cut up some strawberries and red onion too. Combine in a bowl.
Whisk up the dressing ingredients in another bowl: olive oil, honey, and lime juice. Pour over the chopped fruit/veggies, and voila!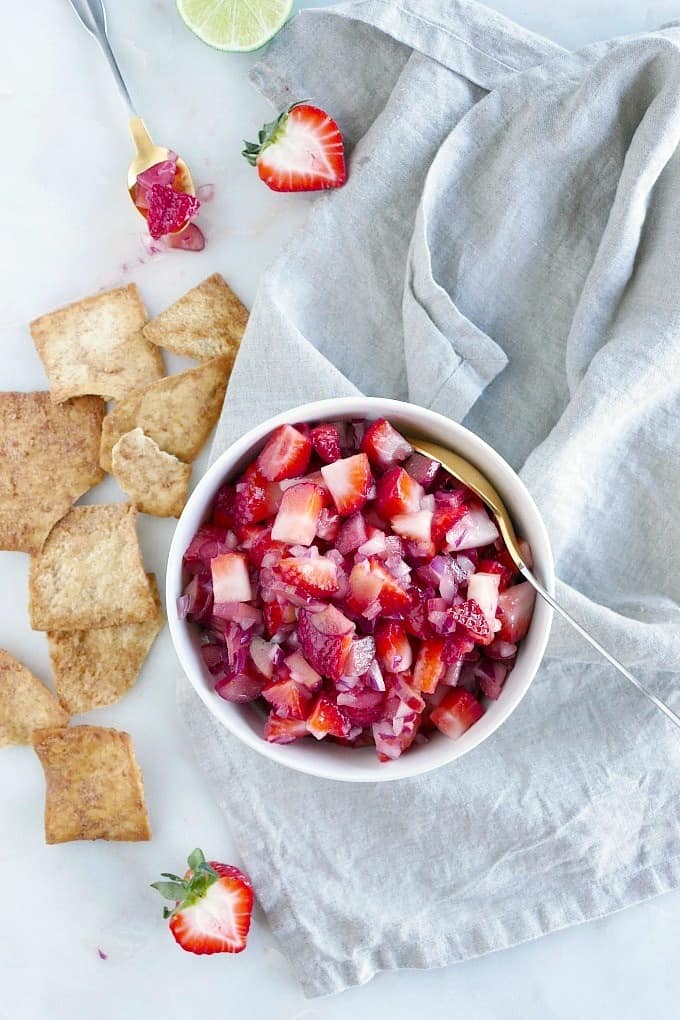 Ways to Use Strawberry Rhubarb Salsa
If you're looking for a sweet and tart condiment or snack, this Strawberry Rhubarb Salsa is for you!
Here are a few ways you can use it:
Serve on top of mahi mahi or another white fish. We tried this last night and it was delicious!
Serve on top of pork chops. I haven't tried this, but my mom suggested it and I think it would be amazing!
Serve with pita chips. I tried to get plain pita chips yesterday but the store was sold out. So reluctantly, I purchased Stacy's Cinnamon Sugar pita chips. I didn't regret that decision once I tried it with the salsa! Amazing.
If you're in a strawberry + vegetable mood, be sure to check out my Butter Lettuce Strawberry Salad too!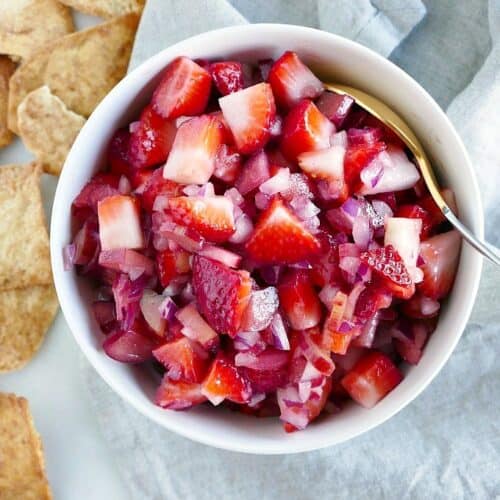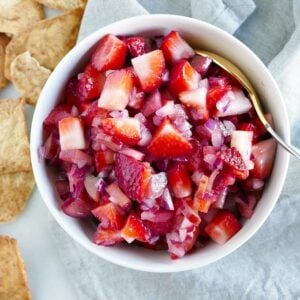 Sweet Strawberry Rhubarb Salsa
This tart and sweet salsa is delicious and versatile! Serve it with white fish or pork chops, or on its own with pita chips. A perfect recipe for late spring and summer.
Print
Pin
Rate
Ingredients
Instructions
Combine rhubarb, strawberries, and red onion in a large bowl. In a separate bowl, whisk together the olive oil, honey, and lime juice. Drizzle on salsa and stir until coated. Add salt, and perhaps a little sugar, to taste. Enjoy!
Nutrition
Serving:
1
cup
|
Calories:
154
kcal
|
Carbohydrates:
18
g
|
Protein:
1
g
|
Fat:
10
g
|
Saturated Fat:
1
g
|
Sodium:
4
mg
|
Potassium:
284
mg
|
Fiber:
3
g
|
Sugar:
12
g
|
Vitamin A:
35
IU
|
Vitamin C:
63
mg
|
Calcium:
51
mg
|
Iron:
1
mg
Pin now to make later!

Enjoy your Wednesday!
Lizzie