Shredded vegetables add flavor and fiber to this healthy Parsnip Carrot Cake Granola! Pair with yogurt or almond milk for a delicious breakfast.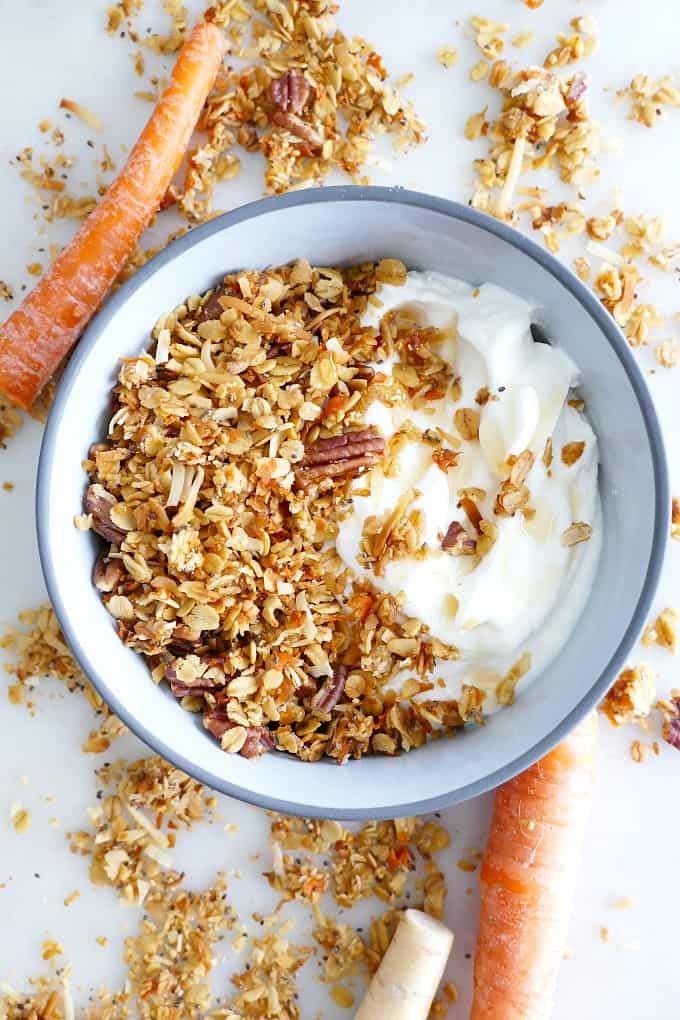 This post may contain affiliate links. For more information, see my affiliate disclosure.
HAPPY FRIDAY VEG WORLD!! I jumped out of bed this morning and just couldn't wait to get this Parsnip Carrot Cake Granola up on the blog for you. Wait, wait, hold up. There's a lot going on in that name.
Parsnips. Carrots. Cake?! Yep, all of the above. I made this recipe with fellow carrot cake lovers in mind. And I got some inspiration from one of our favorite cookbooks: Run Fast. Cook Fast. Eat Slow. There's an incredible recipe for honey cardamom granola in there, and I just can't get enough of it.
So, since I'm now a granola addict, I set out to make a flavorful, veggie-loaded version for all of you veggie enthusiasts.
Parsnip Carrot Cake Granola is, of course, reminiscent of carrot cake. It has carrots, cinnamon, pecans, coconut…you know the drill.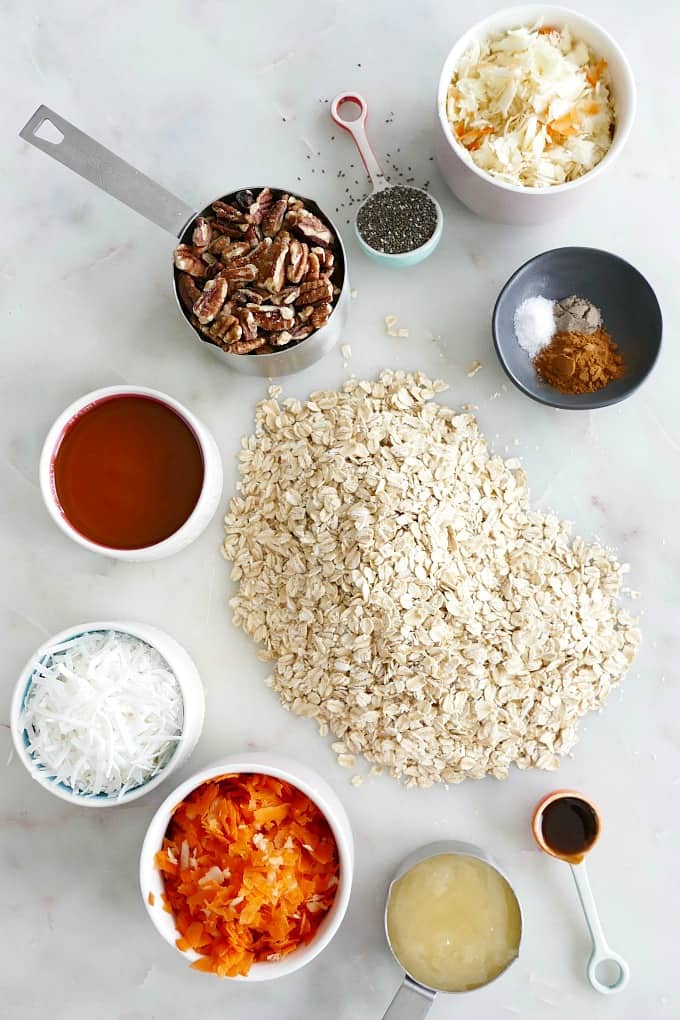 But I also included some rogue additions, like cardamom. This spice has an intense flavor that's sort of comparable to mint. If you haven't tried cardamom, now's your chance. It's an excellent addition to any spice cabinet!
It also may have a number of health benefits. Earlier this year, I wrote an article for Healthline about cardamom if you're interested.
Parsnips are another rogue ingredient in this recipe. But they're such a great companion to carrots that I just had to include them. Plus, that means you get two veggies in one granola!!
Ok, back to the recipe.
Tips for Making Parsnip Carrot Cake Granola
My number one tip for making good granola is to make sure you don't set the oven temperature too high. The right temp (about 275°F) will ensure that the granola cooks evenly and doesn't burn.
You also want to use parchment paper to line your baking sheet so you don't end up with burnt granola that's stuck to the pan! (that's the worst…am I right?)
Finally, it's really important to let the granola cool completely before you try to eat it or transfer it to containers. When you first take it out of the oven, you might think it needs more time because it's not "crunchy" yet. However, it usually doesn't need to cook more and just needs to cool.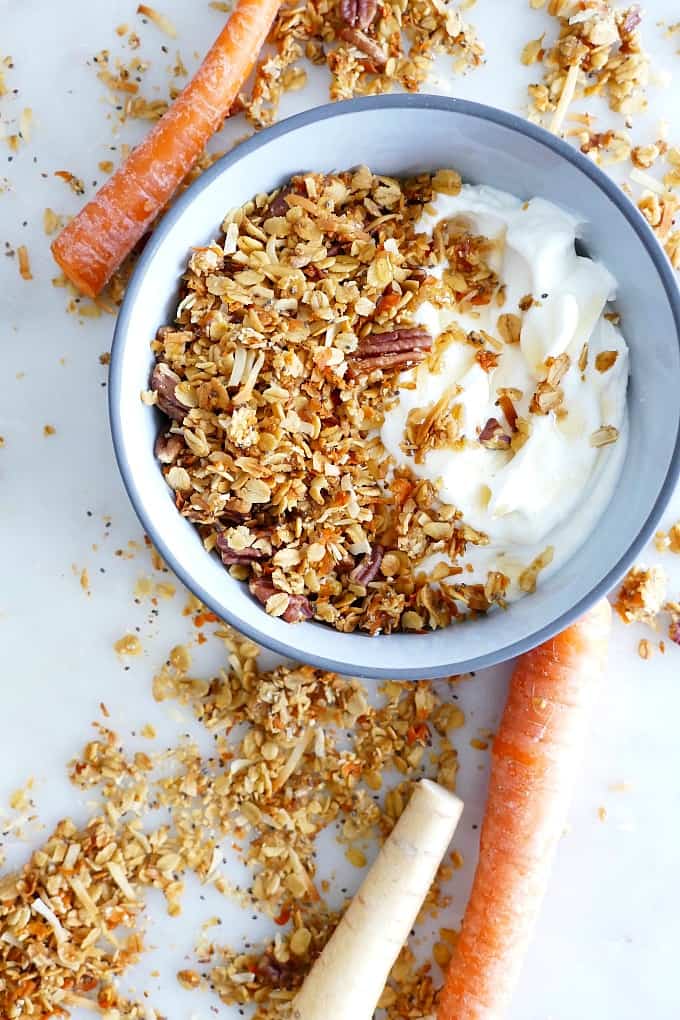 Storage and Substitutions
After 15 minutes of letting it cool, the granola should be crunchy and you should be able to break it up into clumps. The final product can be stored in a glass jar or container at room temperature for several days, but you'll likely eat it pretty quickly ;-).
By the way, if you don't have cardamom or don't want to use it, you can substitute ground ginger. You can also substitute another nut or seed for the pecans if desired.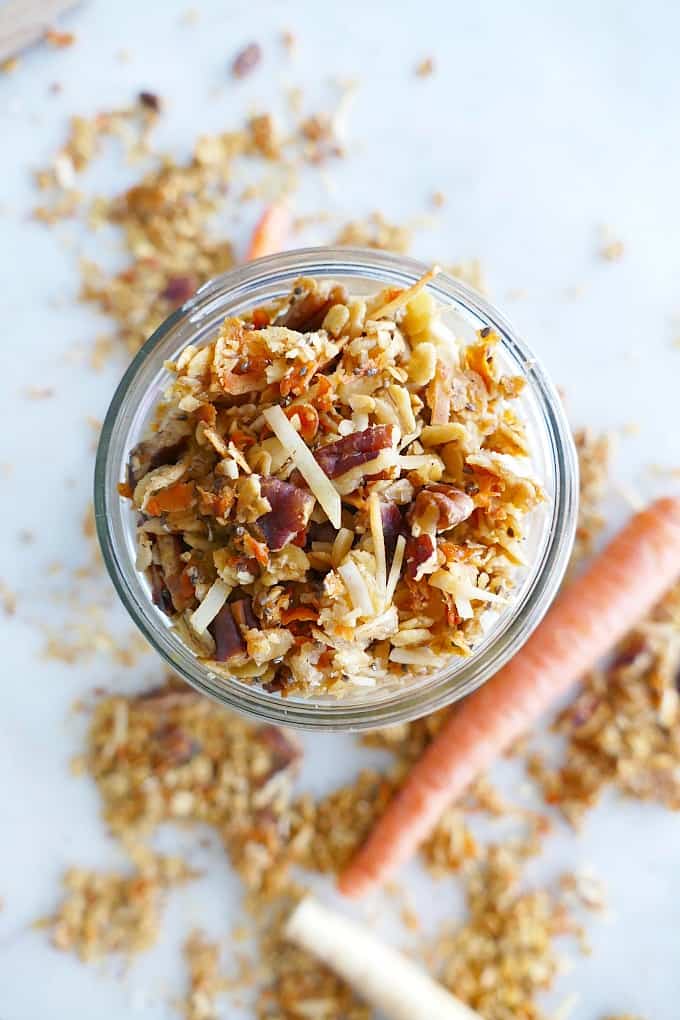 Ways to Use Parsnip Carrot Cake Granola
Once you have your granola stash, you can:
pair it with plain Greek yogurt and a drizzle of honey (my personal fav)
eat it like cereal with milk
serve it over ice cream
sprinkle it on top of an apple with peanut butter.
If you make this recipe, let me know how you like it and use it in the comments below! And if you like parsnips and carrots, check out my Spiced Parsnip and Apple Baked Oatmeal, Carrot Banana Breakfast Bread, and Individual Microwave Parsnip Pear Crisp.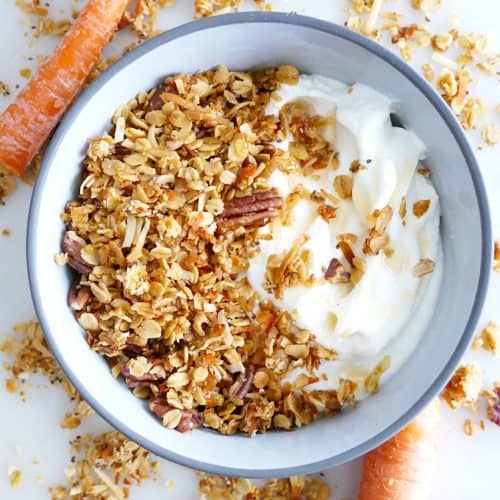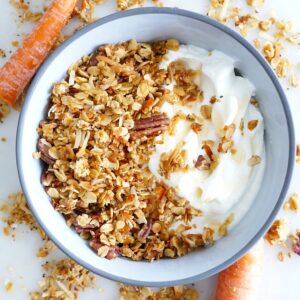 Parsnip Carrot Cake Granola
A healthy granola recipe with two vegetables and a whole lot of flavor!
Print
Pin
Rate
Instructions
Preheat the oven to 275 degrees F. Line a large baking sheet with parchment paper.

In a large bowl, combine the oats, pecans, coconut, grated carrots and parsnips, cardamom, cinnamon, and sea salt. Pour in the honey, olive oil, and vanilla. Mix until well combined.

Transfer to the lined baking sheet and spread the mixture evenly. Bake for 40 minutes, turning it over with a spatula at 20 minutes.

Remove from oven and let the granola cool entirely (about 15 minutes). Break it into clumps and store in glass containers in a cool dry area. Serve with yogurt, ice cream, or fruit. Enjoy!
Nutrition
Serving:
1
serving
|
Calories:
467
kcal
|
Carbohydrates:
45
g
|
Protein:
6
g
|
Fat:
32
g
|
Saturated Fat:
7
g
|
Sodium:
216
mg
|
Potassium:
372
mg
|
Fiber:
8
g
|
Sugar:
19
g
|
Vitamin A:
3574
IU
|
Vitamin C:
5
mg
|
Calcium:
48
mg
|
Iron:
2
mg
Have a great weekend!
Lizzie