Learn how to cut beets — for salads, roasting, juicing, and more — with tips for trimming and peeling fresh beets. This tutorial includes step-by-step photos and a short video to guide you in cutting beets, plus delicious beet recipes.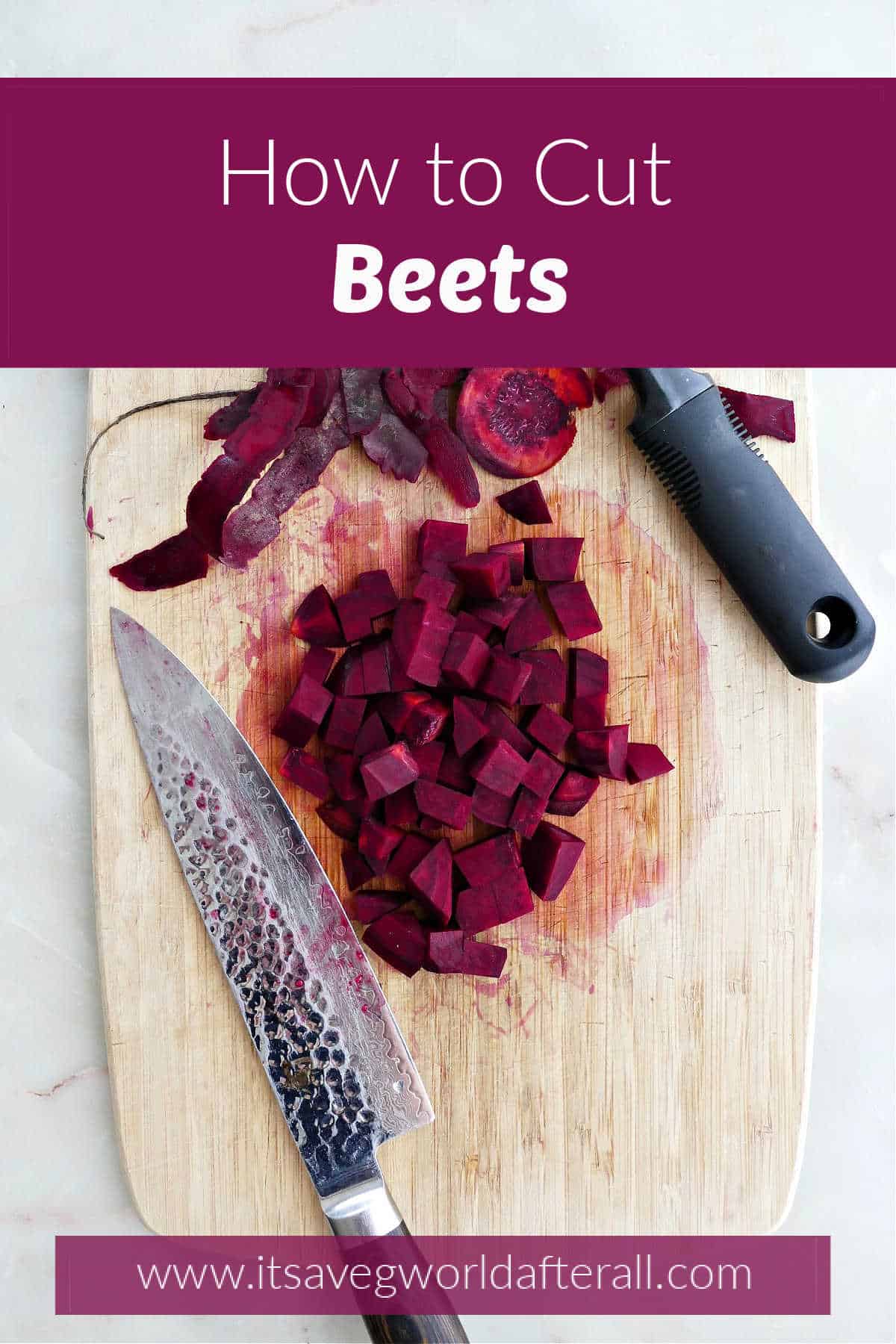 Using beets in recipes is a great way to add color, fiber, and tons of nutrients to your meals! Before you can cook with these earthy root vegetables, however, you may be wondering how to cut beets. Read on to learn everything you need to know about working with beets in the kitchen.
Jump to:
How to Clean and Trim Beets
The first step in preparing beets is trimming them. Use a knife to slice off the root, stem, and leaves. Next, scrub the beets under running water with a vegetable brush (for best results), your fingers, a scouring pad, or a wet paper towel to remove the dirt. I like to use the Oxo vegetable brush or a Skoy scrub pad.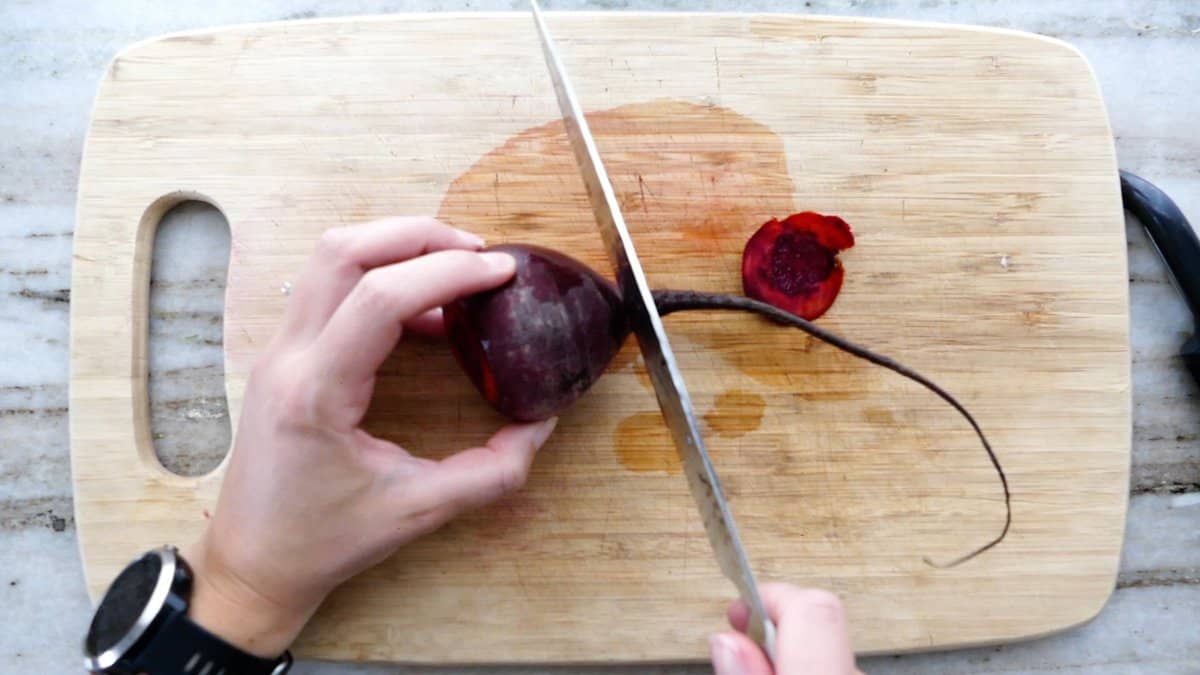 How to Peel Raw Beets
If you're wondering if you peel beets before chopping, it depends on your preferences. Beet skin is edible, but it has a tougher texture than the flesh and tends to hold onto dirt even if you clean your beets well. Many people prefer to remove the skin before cutting fresh beets. If you plan to cook the beets whole by roasting them in foil, boiling, or steaming in the Instant Pot, you can leave the skin on and easily peel it off after cooking.
After trimming and scrubbing the beets, use a swivel peeler to remove the skin. Alternatively, you can slice off the skin with a paring knife.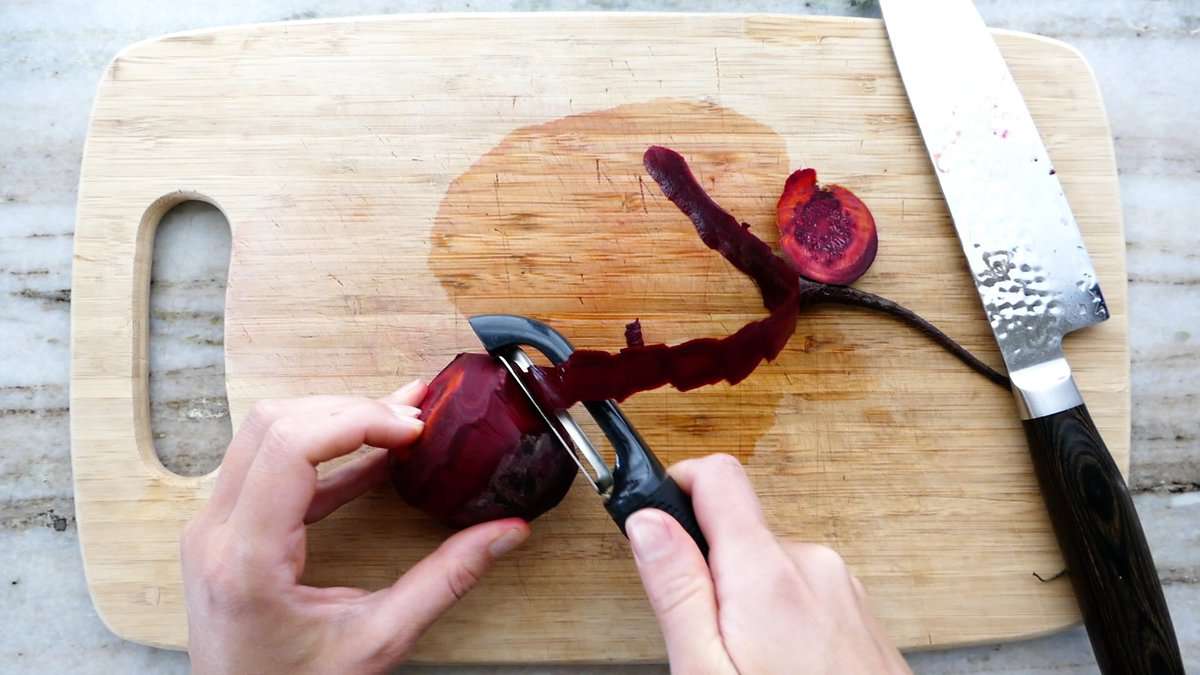 How to Slice and Chop Beets
After trimming, cleaning, and peeling, it's time to cut the beets! First, slice the beetroot into discs about ½-inch thick. If you are cutting beets for juicing, you can either cut them in half or into slices to add to the juicer.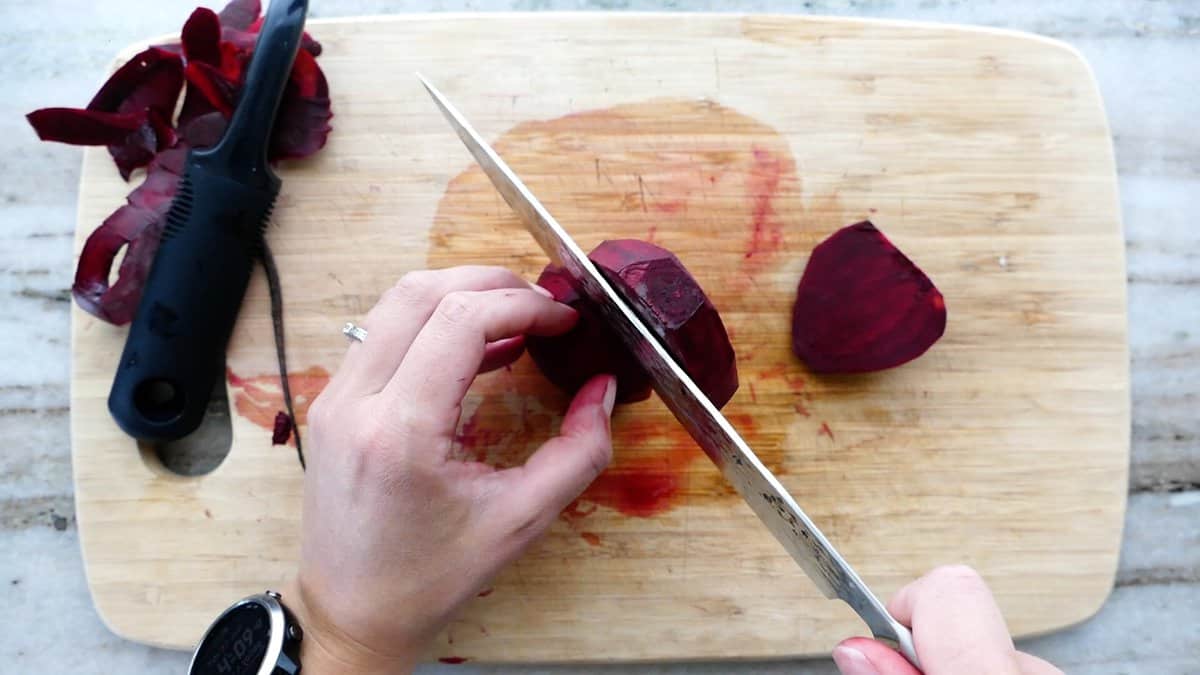 Then, stack the discs on top of each other, making sure the one you put on the bottom lays flat on the cutting board. Cut the discs into sticks about ½-inch wide.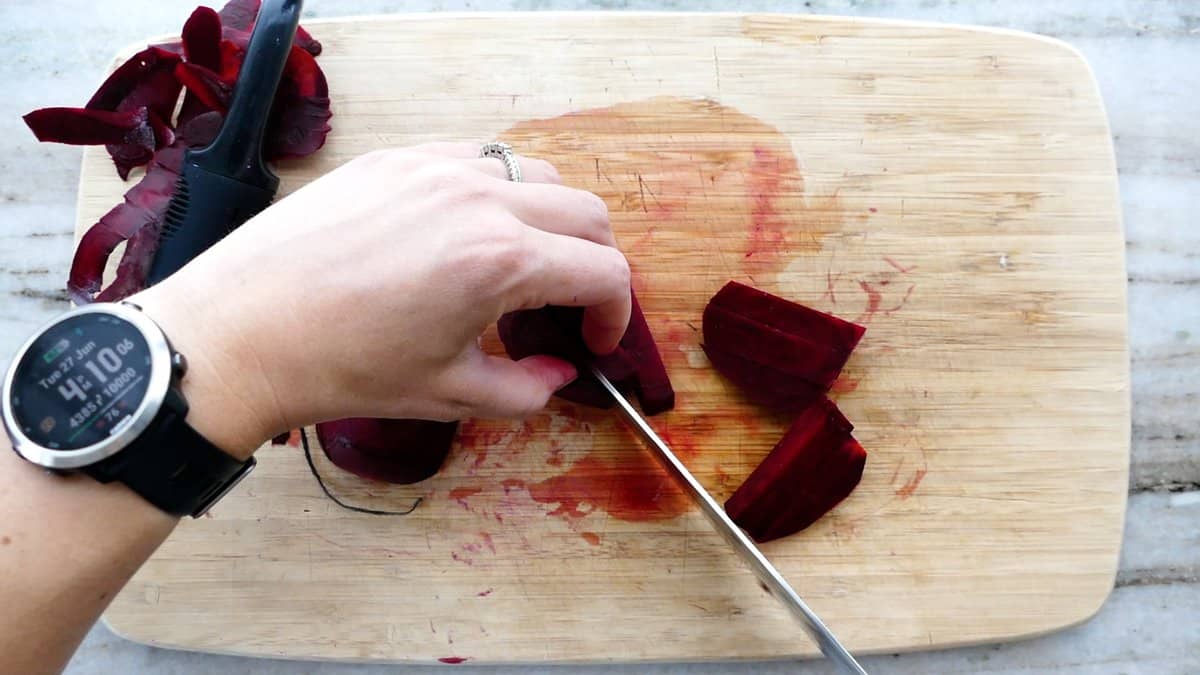 Cut the sticks crosswise into cubes of your desired size. You can use chopped beets for roasting or add them to salads raw or cooked.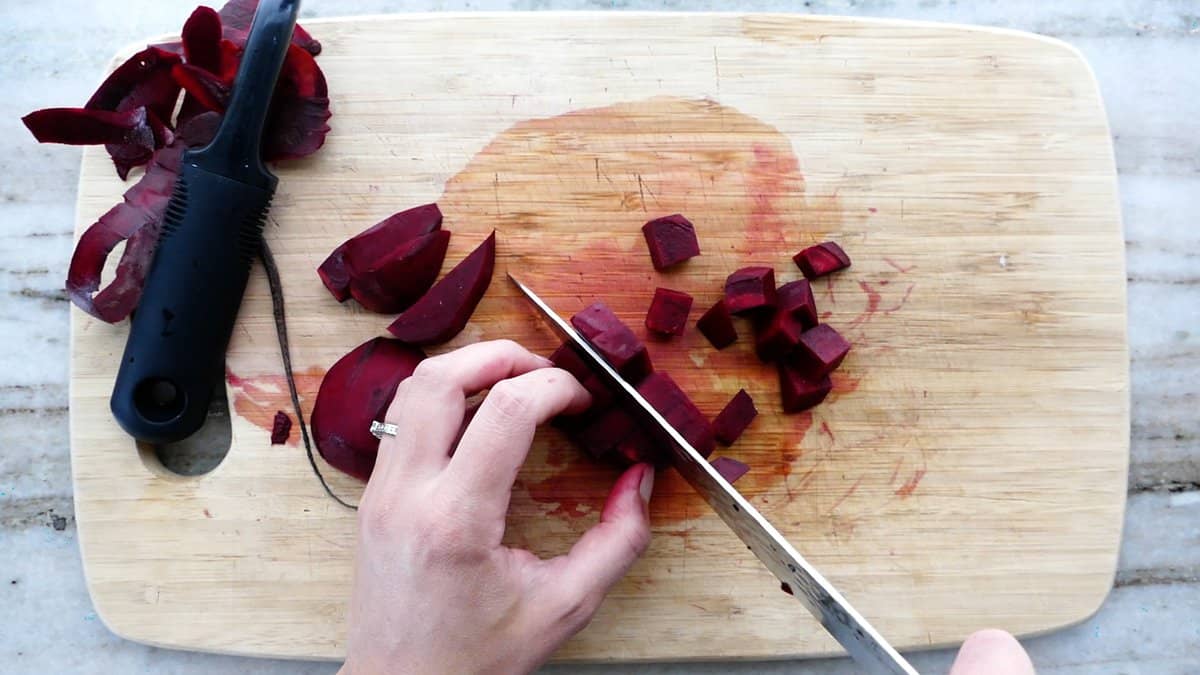 Avoiding Stained Hands
The deep red pigments in beets can stain hands and cutting boards. If you want to cut or peel beets without staining your hands, use gloves while handling them or wash your hands frequently. To prevent beet stains on your cutting boards, wash them immediately after use and/or use a plastic cutting board instead of wood or bamboo if you have one.
As you can see in the photos in this post, I used a bamboo cutting board but I scrubbed the board with soap and water right away to prevent stains. If you have a stubborn stain from beets that won't come out with soap and water, mix a little water with some baking soda to make a paste, spread the paste on the stain and let it sit for a few minutes, then scrub it off. Repeat this process until the stain is gone.
Beet Recipes
Now that you know how to cut beets, let's talk about cooking them! Diced beets can be tossed in olive oil and seasonings of choice and roasted at 400 degrees F for 30 to 40 minutes until tender. Feel free to roast them alongside other root vegetables, such as sweet potatoes, carrots, or parsnips if desired.
You can also add diced beets to soups, curries, and hashes, such as my Slow Cooker Borscht (Vegetarian), Root Vegetable Hash with Eggs, and Coconut Beetroot Curry with Thyme. One of my favorite ways to use cut beets is my Unsweetened Applesauce with Veggies.
Other recipes call for cooking beets whole instead of diced. For these dishes, follow the tips for cleaning and trimming beets in this tutorial but stop before slicing or dicing them. Check out the Beet Pasta Sauce, Beet and Fennel Salad with Citrus Dressing, and Fudgy Beet Brownies for dishes with whole roasted beets.
Video
I'd love to hear how you like this recipe! Rate/review using the stars on the recipe card or in the comments, and follow the Veg World on YouTube, Instagram, Facebook, and Pinterest. Looking for something totally different? Browse the recipe library.
📖 Recipe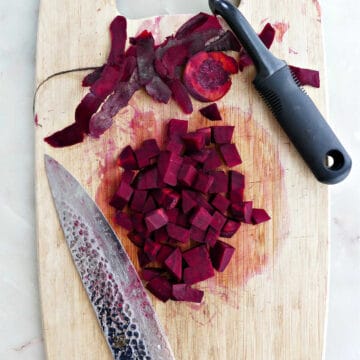 Instructions
Trim the beet by slicing off the root, stem, and leaves.

Scrub the beet under running water using a vegetable brush, scouring pad, paper towel, or your hands to remove dirt.

If desired, peel the beet with a swivel peeler or a paring knife to remove the skin.

Slice the beet into discs about ½-inch thick (or thicker depending on your needs).

Stack the discs on top of each other, making sure the one on the bottom lays flat on the cutting board. Cut the discs into ½-inch wide sticks.

Slice the sticks crosswise into cubes of your desired size.
Notes
Diced beets can be roasted or added to soups, curries, stir fries, and hashes.
If you are cooking beets whole, stop after the trimming and cleaning steps. You can remove the skin from cooked beets after cooking.
Nutrition
Serving:
1
beet
|
Calories:
35
kcal
|
Carbohydrates:
8
g
|
Protein:
1
g
|
Fat:
0.1
g
|
Saturated Fat:
0.02
g
|
Polyunsaturated Fat:
0.1
g
|
Monounsaturated Fat:
0.03
g
|
Sodium:
64
mg
|
Potassium:
267
mg
|
Fiber:
2
g
|
Sugar:
6
g
|
Vitamin A:
27
IU
|
Vitamin C:
4
mg
|
Calcium:
13
mg
|
Iron:
1
mg