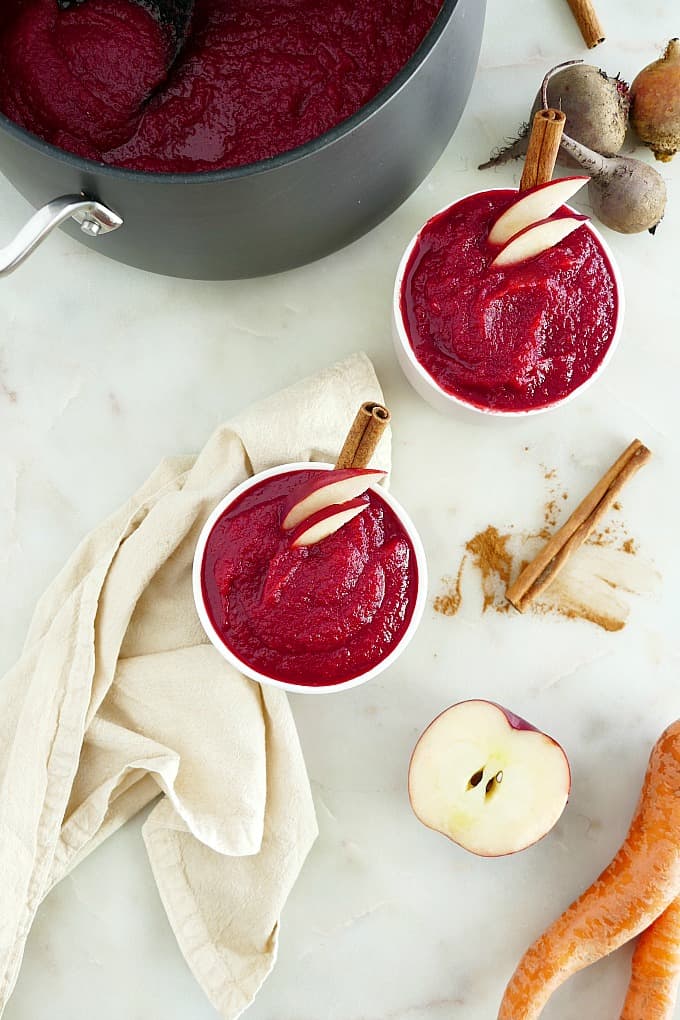 I've been all about dem apples lately! They're just so satisfying and delicious in the fall. So when I was planning my blog content for October, I was dreaming of ways to pair apples and veggies together!
I imagine the way I came up with this recipe went a little something like this. "Apple pie, apple crisp, baked apples, apples in a salad…oh wait, what about applesauce?! Isn't it, like, super easy to make that? I bet I could even add veggies, since this is a blog about vegetables after all!"
And so, Beet and Carrot Veggie Applesauce was born! This recipe has the most gorgeous color (from the beets of course). Plus it's full of fiber and antioxidants with no added sugar. In fact, I specifically chose beets and carrots to add to this applesauce since they tend to be fairly sweet when cooked.
As you might be able to tell from this photo, you only need one dish to make this recipe! Chop up your veggies and fruit, pop them all in a large pot, and add some water and cinnamon. 30 minutes later, you can use your immersion blender to finish it all off! You can also make this in a slow cooker and keep your house smelling like freshly baked apple pie for a little longer ;-).
Ok, enough about the process. You're probably wondering what it tastes like, right?! Well, it really is just like a beet-flavored applesauce. I used 2 medium sized beets, so if you're not the biggest beet person (shame on you), you can just use 1 to still get that gorgeous color but less of a beet taste!
The carrot flavor is much more subtle and makes a dulled appearance in the aftertaste. But just because you can't taste them as much as the beets and apples doesn't mean you're not getting all of the added benefits of sneaking in a second vegetable!!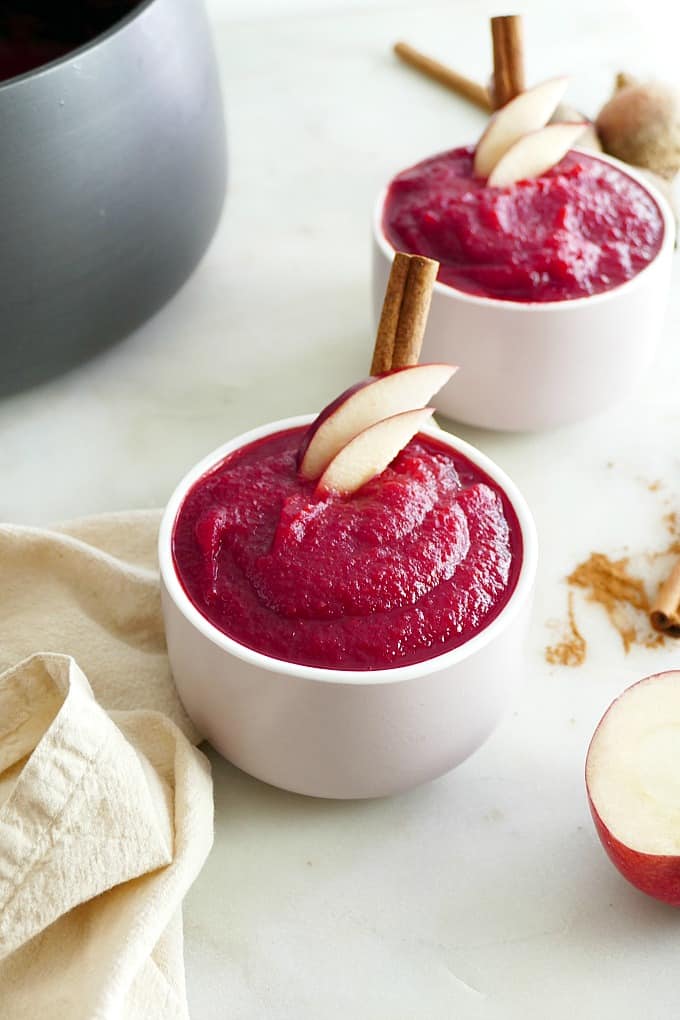 What can you do with this Beet and Carrot Veggie Applesauce?!
I made this recipe on a Sunday when my husband was home and our good friend was visiting. The three of us came up with some great ways to use it, including:
As a treat for kids or adults, warm or cold
Mixed into oatmeal
On top of waffles or pancakes
Mixed into smoothies
Stirred into yogurt
As a base for granola
Of course, we haven't been able to try all of those, but they sure sound good! Be sure to let me know how you use it :-).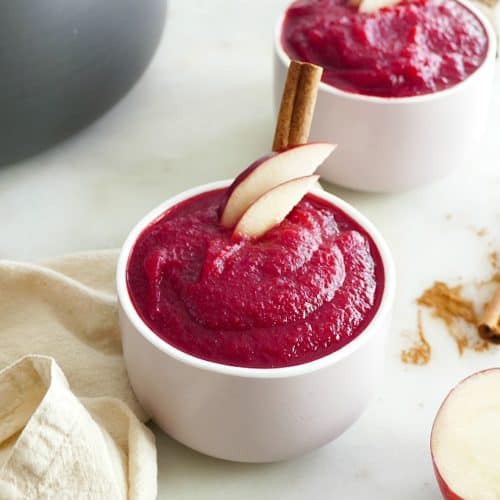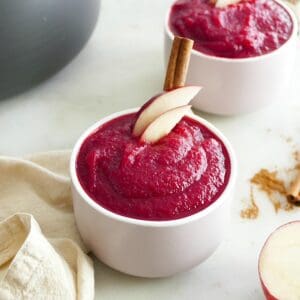 Beet and Carrot Veggie Applesauce
A fun twist on classic applesauce with the addition of beets and carrots! Recipe yields approximately 6 cups and can be served cold or warm.
Print
Pin
Rate
Ingredients
6 to 8

apples

-

I used a local variety, but Pink Lady or Honeycrisp would work well

2

large carrots

2

medium beets

1

tsp

cinnamon -

ground

1

cup

water
Instructions
Prepare the apples by coring them and roughly chopping them into quarters. I kept the skin on for some extra fiber, but you can choose to peel them if you want. Prepare the carrots by washing and peeling them then slicing them into rough pieces. Wash and peel the beets, and chop them into rough quarters. For a sweeter taste, use 8 instead of 6 apples and 1 less beet.

Place a large pot on the stovetop over high heat and add the apples, carrots, and beets along with the cinnamon and water. Bring the mixture to a boil and then simmer, covered, for 30 to 35 minutes (turn the heat to low). You will want the fruit and veggies to be tender when touched with a fork before blending.

Use an immersion blender to blend the contents of the pot until smooth. You can also transfer the ingredients in batches to a regular blender and blend each batch for approximately 1 minute until smooth.

Serve warm or chilled with additional cinnamon to taste!
Notes
To make in a slow cooker, combine all of the ingredients and cook on low for 3-4 hours or high for 6-8 hours. Use an immersion blender or transfer the mixture to a regular blender in batches to finish the recipe. 
Nutrition
Serving:
0
g
|
Carbohydrates:
0
g
|
Protein:
0
g
|
Fat:
0
g
|
Saturated Fat:
0
g
|
Polyunsaturated Fat:
0
g
|
Monounsaturated Fat:
0
g
|
Trans Fat:
0
g
|
Cholesterol:
0
mg
|
Sodium:
0
mg
|
Potassium:
0
mg
|
Fiber:
0
g
|
Sugar:
0
g
|
Vitamin A:
0
IU
|
Vitamin C:
0
mg
|
Calcium:
0
mg
|
Iron:
0
mg
Pin this gorgeous Beet and Carrot Veggie Applesauce now to make later!


Enjoy these colors!
Lizzie