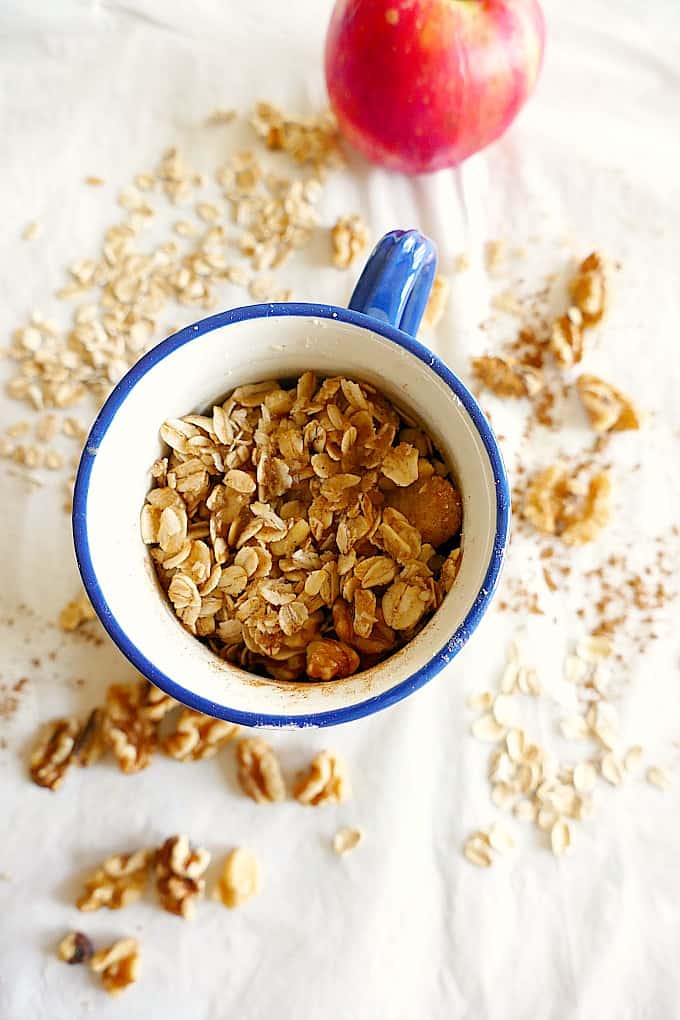 Every season, I collaborate with a group of food bloggers to create a recipe that features an ingredient of our choice. This has been such a fun experience, and I love seeing all of the creative dishes! For the fall, we chose to focus on apples (who doesn't love apples?!!!), and will be posting our recipes on our blogs and on Instagram with the hashtag #AisforAlltheApples. The past two times that I participated were during my dietetic internship, so I was unable to post the recipe on the blog, and instead featured a special post on my Instagram. So I'm especially excited that today I can contribute with this Individual Microwave Apple Crisp.
There's a LOT to love about this easy recipe. I've created it to be a single serving, for those of you who want a sweet treat without baking a whole cake or batch of cookies. Plus, you can whip it up in no time at all with the help of the microwave.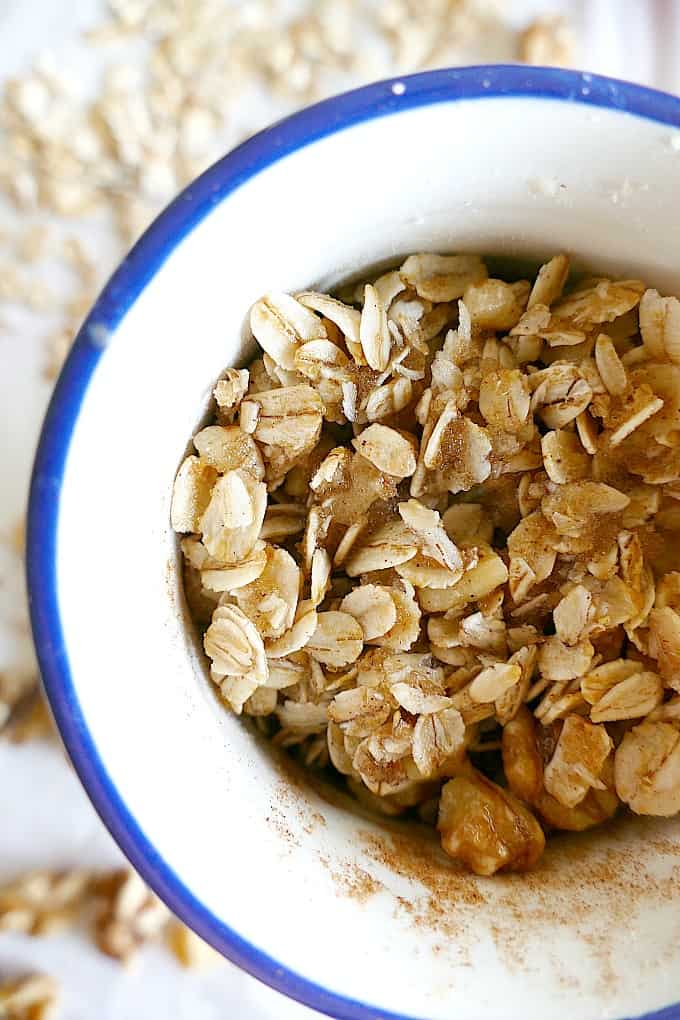 But just because it's easy doesn't mean it's any less delicious than traditional apple crisp. With hints of cinnamon and ginger, and a touch of brown sugar, you will love how "classic" this tastes! All that gooey autumn deliciousness without even getting any dishes dirty!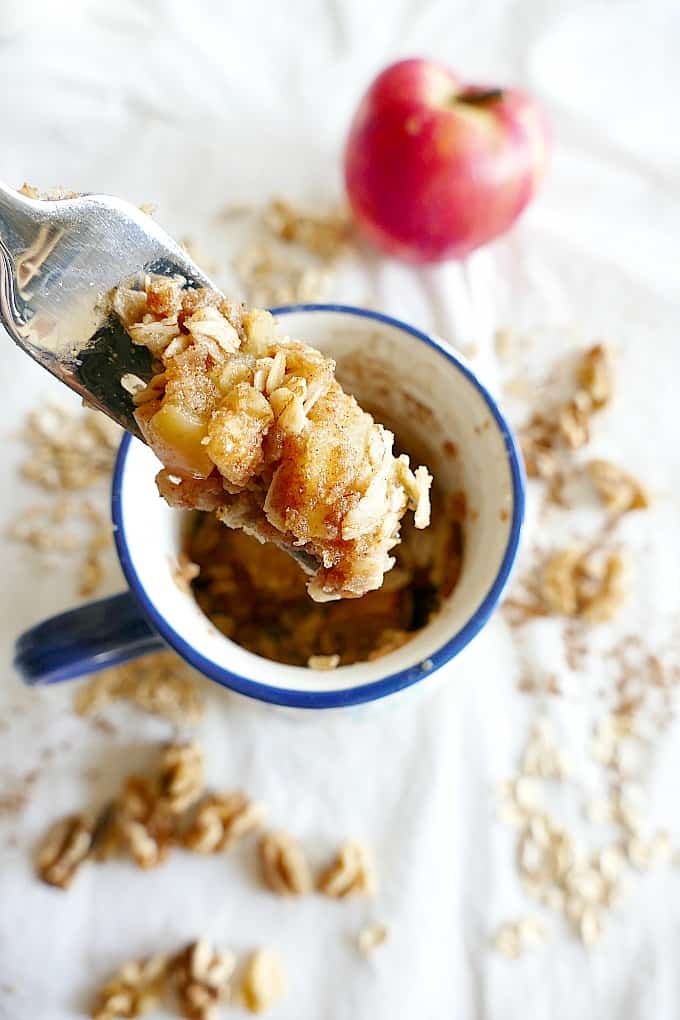 This recipe also has built-in portion control. So if you love dessert, but don't want to go overboard, this Individual Microwave Apple Crisp is for you!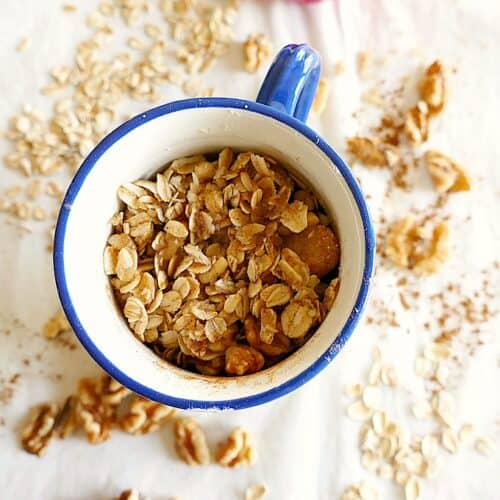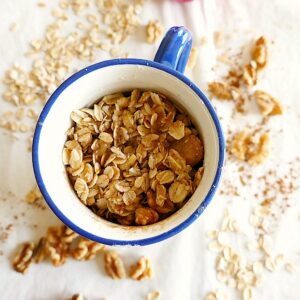 Individual Microwave Apple Crisp
An easy single serving dessert that still tastes like traditional apple crisp! Enjoy this vegan treat in under 10 minutes.
Print
Pin
Rate
Ingredients
1

apple

-

diced

2

tbsp

all purpose gluten-free flour

-

or flour of choice, divided

2

tsp

brown sugar

-

divided

1/4

tsp

ginger

-

ground

1/4

tsp

cinnamon -

ground (or could use 1/2 tsp pumpkin pie spice in place of ginger and cinnamon)

1

tbsp

walnuts

-

chopped

2

tbsp

old-fashioned rolled oats

-

use gluten-free if desired

1

tbsp

coconut oil

-

melted
Instructions
In a microwaveable mug, combine diced apples, 1 tbsp flour, 1 tsp brown sugar, cinnamon, and ginger. Mix until apples are coated.

In a separate small bowl, combine 1 tbsp flour, 1 tsp brown sugar, walnuts, oats, and coconut oil. Pour over apple layer in mug.

Microwave on high for 3 to 4 minutes or until apples are tender. Enjoy!
Notes
Nutrition Facts: 406 kcal, 19 g fat, 57 g carb (10 g fiber, 25 g sugar), 4 g protein
*please note that nutrition facts are estimated via meal planning software and may not be exact
*to make this gluten-free, be sure to use certified gluten-free flour and rolled oats

Happy fall!
Lizzie
Looking for some more apple inspiration? Check out the other bloggers that took part in this collaboration!
Other Blog Posts:
Cloudy Kitchen's Salted Caramel and Apple Babka
Square Meal Round Table's Chai Spiced Tarte Tatin
The Wood and Spoon's Maple Apple Cake
The Cooking of Joy's Deep Fried Apple Dumplings with Miso Caramel Dipping Sauce
Pensive Foodie's Mini Bacon Crusted Apple Pies
My Kitchen Love's Bird's Nest Caramel Apple Cake
More Icing Than Cake's Apple Butter Pretzels with Rosemary Cheddar Dip
Casey Joy Lister's Waldorf Salad's Twisted Sister
The Kitchen Sink's Apple Cheddar Loaf
What Should I Make For's Apple Puff Pastry Tarts
Jessie Sheehan Bakes' Apple Fritters
Smart in the Kitchen's Gluten Free Apple Cranberry Crisp
This Healthy Table's Cardamom Apple Tart
Figs & Flour's Apple Purple Potato Pizza
Something New for Dinner's Savory Bread Pudding with Apples, Sausage, and Pecan
Always Eat Dessert's Apple Spice Scones with Maple Bourbon Glaze
Rezel Kealoha's Rose Poached Apples with Rosewater Reduction
The Soup Solution's Fennel Sausage and and Apple Dressing (Stuffing)
Lemon Thyme and Ginger's Smoky Maple Apple Dutch Baby
Gobble the Cook's One Pan Pork Chops and Sausages with Apple
Hola Jalapeno's Fluffy Apple Chili Biscuits
Salt and Wind's Pomegranate Ginger Apple Cider Punch
What Annie's Eating's Butternut Squash/Apple Soup with Asiago and Sage Croutons
Flours in Your Hair's Brown Butter Bourbon Apple Pie
Confetti Kitchen's Kale Salad with Chicken and Apple
Salted Plains' Gluten-Free Apple Crumb Cake
Easy and Delish's Fun Candy Corn Apple Pops
This Mess is Ours' Easy Baked Apple Custard
Butter Loves Company's Gingerbread with Brandied Apples
Zestful Kitchen's Puffed Apple Pancake
Sweet Pillar Food's Apple Honey Brie
A Farmgirl's Dabbles Peanut Butter Apple Cookies
Amee's Savory Dish's Peanut Butter Protein Dip
Especially Southern Dishes' Apple Pie Egg Rolls
Pie Girl Bakes' Salted Caramel Apple Pie
Cocoa and Salt's Vegan Apple Stuffin' Muffins
Saltnpepperhere's Honey Apple Muffins
Worthy Pause's Thanksgiving-in-Your-Mouth Paleo Stuffing
Baking The Goods' Apple Cheddar and Thyme Scones
Smart in the Kitchen's Gluten Free Apple Cranberry Crisp
Measuring Cups Optional's Caramel Apple Upside Down Cake
Inspired by the Seasons' Brussels Sprout & Apple Slaw
Sprouting Radiance's White Bean and Apple Soup
Feed the Swimmer's Apple Buckwheat Galette with Halva and Maple Tahini
Vanilla and Bean's Spiced Apple Pecan Rum Bread