Are you always in a hurry in the morning? You'll love these make ahead, freezer-friendly veggie breakfast burritos as an on-the-go option!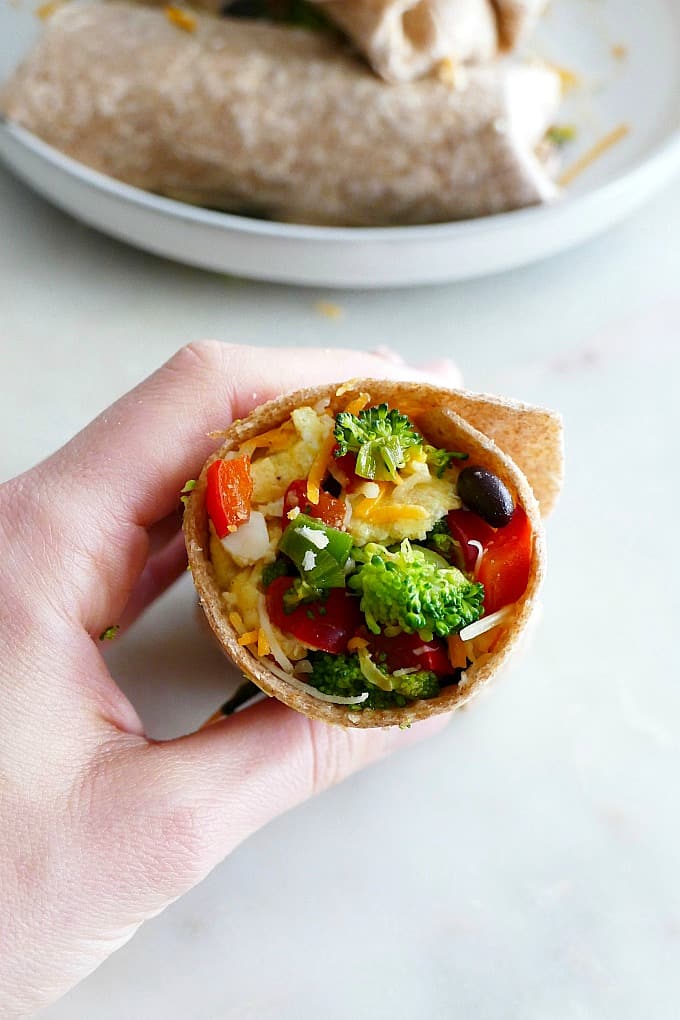 Happy New Year to the Veg World!
I realized this week that I both like and dislike the celebration of a new year. I like it because it's an opportunity to reflect on the past year, jot down highs and lows, and come up with new goals that excite me. This process never fails to refresh my enthusiasm for another year of growth and inevitable change.
After taking some time off over the holidays, and ending my vacation with reflection and preparation, I feel more inspired than ever to see what this year holds! I hope you were able to fit in some relaxation and reflection too. So yes, the start of a new year can be pretty great…
But I dislike New Year's because of the pressure it seems to put on all of us. Setting resolutions for the year can be a great way to refocus and seek out opportunities for development. But if the resolutions you set add significant stress to your life, then the process of working towards them is no longer rewarding nor beneficial.
This is especially true of diet-related resolutions. These types of goals tend to focus on restriction and unrealistic diet and exercise regimens, and send us into a tailspin when we can't achieve them.
I don't think that setting resolutions related to food choices or exercise habits is a bad practice per se. In fact, I think setting achievable, realistic goals is an effective method for most people who want to improve their health. But, as with most things in life, simple is usually better when it comes to diet and exercise changes.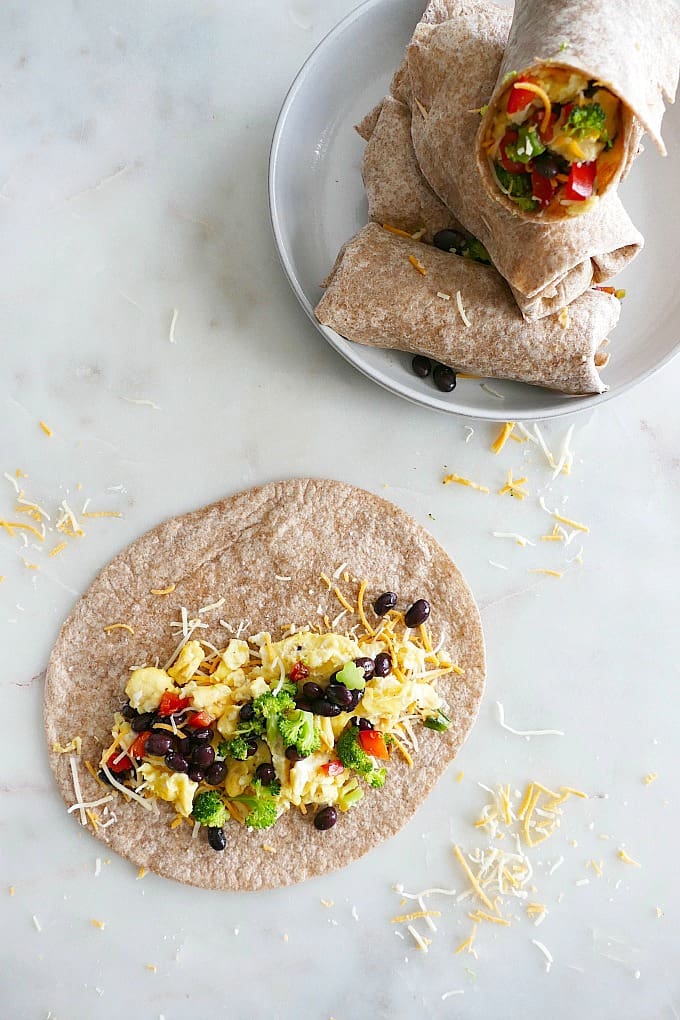 Are your New Year's goals to eat better and exercise more? Awesome! But, did you vow to only eat paleo foods (if you did, these delicious veggie breakfast burritos won't work for you…) and run 5 miles a day? Yikes. Sounds intense.
Don't get me wrong, I think it's fantastic that so many people want to eat healthy foods and experience the many benefits of exercise at the start of a new year. But the way you get there doesn't have to be rigid. What about focusing on what you can add, rather than what you should remove?
Seemingly simple goals like "eating more veggies" or "having breakfast 3 days a week" (if you don't already eat it) can add up to big changes over time. Plus, these are not strict rules that are inherently breakable.
That's where this recipe for veggie breakfast burritos comes in (finally). I swear I was getting to the point…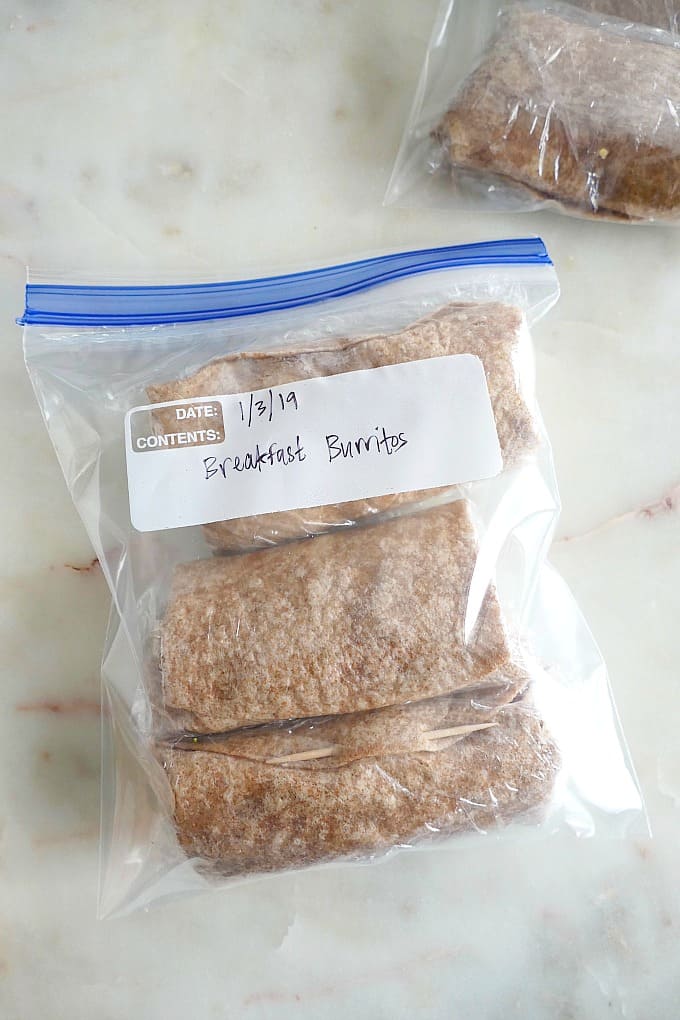 These veggie-filled egg burritos are DELICIOUS, nutritious, and the perfect way to help you 1) eat more veggies and 2) eat a balanced breakfast. Plus, as the name suggests, this is a MAKE AHEAD recipe, meaning you make it, freeze it, and forget about it. These burritos will be there for you when you need a warm, filling breakfast on a busy morning.
How to Make Veggie Breakfast Burritos
To make these, you will need:
10- or 12-inch tortillas: (the bigger, the easier to roll), preferably whole wheat. They roll the best. I didn't try corn or almond flour tortillas, but I've heard that they do not work well for burrito rolling.
Scrambled eggs, beans, veggies, and shredded cheese: you will want to chop the veggies into very small pieces. Then sauté them for a few minutes so they are soft enough for your burritos.
Plastic wrap and freezer bags: you can store these for up three months in the freezer! I recommend wrapping them in plastic wrap and then storing them in a freezer bag or reusable Stasher bag.
When you want to reheat one for breakfast, remove it from its plastic wrap, place it on a plate, and heat for 1-2 minutes on high in the microwave or until it's heated through. You can also reheat the burritos on a griddle/panini press.
Tips for Rolling a Burrito
I'm pretty terrible at rolling burritos, to be honest, so I watched a few videos and I also used toothpicks to keep mine together just in case!
You may want to watch some YouTube videos on rolling a burrito, like this one, if you need some practice. I tried to be as specific as possible with my directions below, but when in doubt, check out YouTube!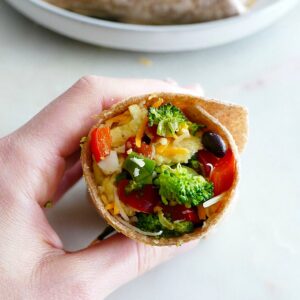 Make Ahead Veggie Breakfast Burritos
Loaded vegetarian breakfast burritos that you can make in advance, freeze, and reheat for busy mornings!
Print
Pin
Rate
Save
Saved!
Ingredients
2

tablespoon

olive oil -

divided

1

cup

red bell pepper

-

chopped, about ½ large pepper

1

cup

broccoli

-

chopped

2

scallions

-

chopped

10

eggs

-

lightly beaten

Salt and pepper

-

to taste

1

cup

shredded cheese

-

cheddar or pepperjack, more to taste

1

15 oz can

black beans -

drained and rinsed

10

whole wheat tortillas

-

12-inch
Instructions
If they are not already stored at room temperature, remove the tortillas from the fridge so they can warm up while you prep the rest of the ingredients. This will make them easier to roll.

Heat 1 tablespoon olive oil in a medium skillet over medium heat. Add the chopped veggies and cook, stirring occasionally for 5-7 minutes or until tender. Transfer to a bowl or plate to cool.

In the same skillet, add the other 1 tablespoon olive oil and beaten eggs. Cook over medium heat, stirring with a rubber spatula as the eggs begin to set and cook. This should take approximately 5 minutes. Remove from heat.

Prepare the breakfast burritos by sprinkling a thin layer of shredded cheese in the center of each tortilla, followed by a spoonful of eggs, beans, and veggies. You will want to use about 1/10 of the ingredients in each burrito to have enough to make all of them and to make sure your burritos are not too stuffed.

Roll each burrito by folding in two of the tortilla's sides, pushing the ingredients towards you, and then rolling up the rest of the burrito away from you. You can keep the burritos together by inserting a toothpick to keep them closed if needed. For further instructions, do a YouTube search.

Wrap each burrito in plastic wrap and transfer them to a freezer bag. Store in the freezer for up to 3 months.

To reheat, remove a burrito from its plastic wrap, place on a plate, and heat for 1-2 minutes on high on each side until warmed through. You can also reheat them on a panini griddle for about 2 minutes on each side. Enjoy!
Notes
For the veggies: I found it best to chop them into very small pieces. This will make them fit better within the burritos.
Nutrition
Serving:
1
burrito
|
Calories:
294
kcal
|
Carbohydrates:
30
g
|
Protein:
15
g
|
Fat:
13
g
|
Saturated Fat:
4
g
|
Cholesterol:
173
mg
|
Sodium:
555
mg
|
Potassium:
242
mg
|
Fiber:
6
g
|
Sugar:
3
g
|
Vitamin A:
860
IU
|
Vitamin C:
29
mg
|
Calcium:
182
mg
|
Iron:
3
mg
Pin these Make Ahead Veggie Breakfast Burritos now to kick off your New Year!

Cheers a healthy and happy New Year!
Lizzie