A versatile and easy-to-make condiment, Pickled Red Cabbage is a great way to use leftover cabbage!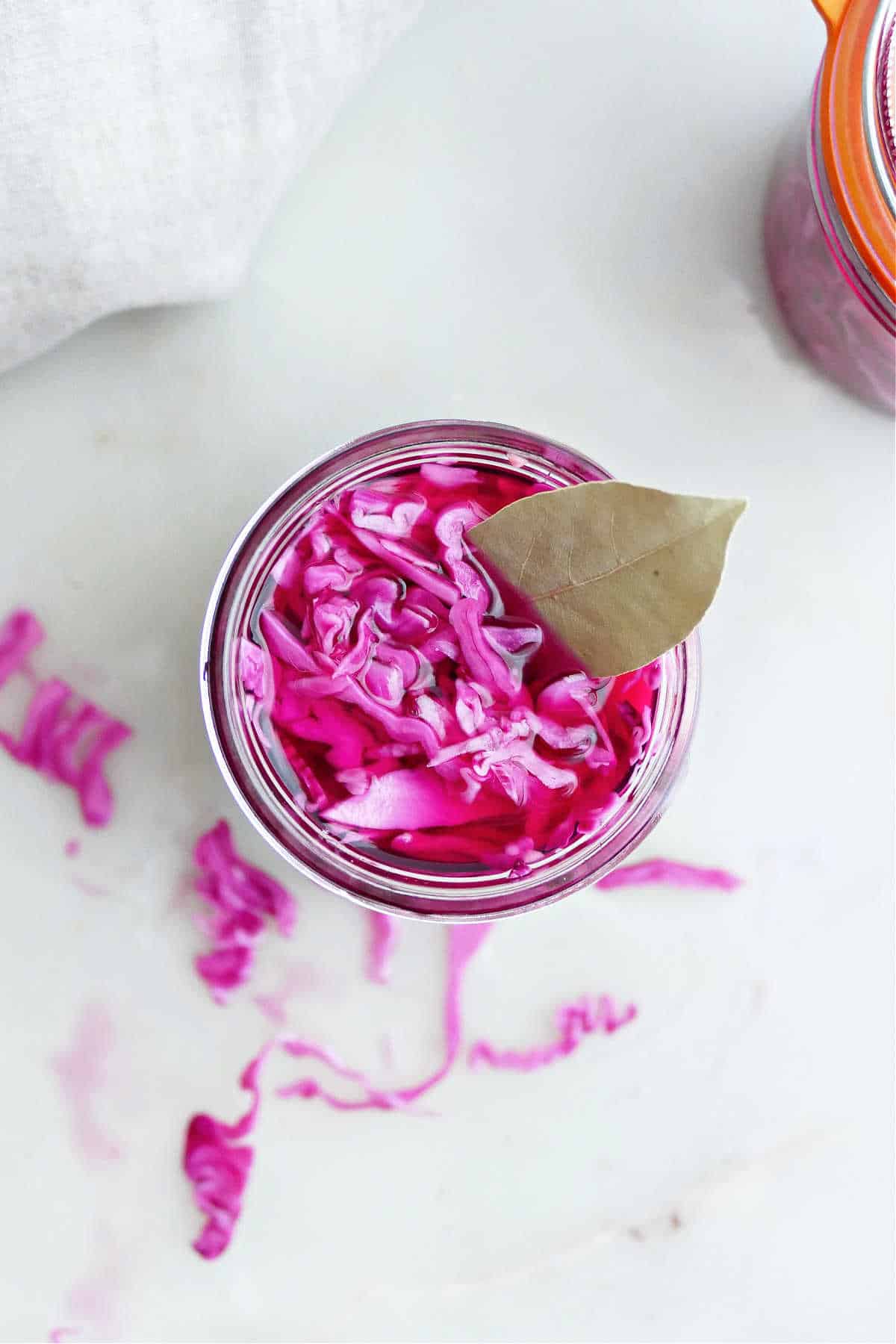 This Pickled Red Cabbage recipe was originally published on 7/28/16. It was updated with new photos and a little extra love on 9/11/18!
Red cabbage is one of those ingredients that always seems to go to waste. I am often guilty of buying a head of this veggie, using a quarter of it, and then forgetting about the rest.
A week later, I usually stumble upon the leftover cabbage in one of the drawers in my fridge. Face palm!
This exact scenario has happened to me many times, especially when I'm making my favorite Beet and Cabbage Slaw!
But I'm determined to put an end to my wasteful red cabbage habit! Lately, Will and I have been making a lot of efforts to reduce our food waste, and lucky for us, I recently discovered that red cabbage is incredibly easy to pickle.
That's because the thin, stringy pieces are perfect for soaking up brine.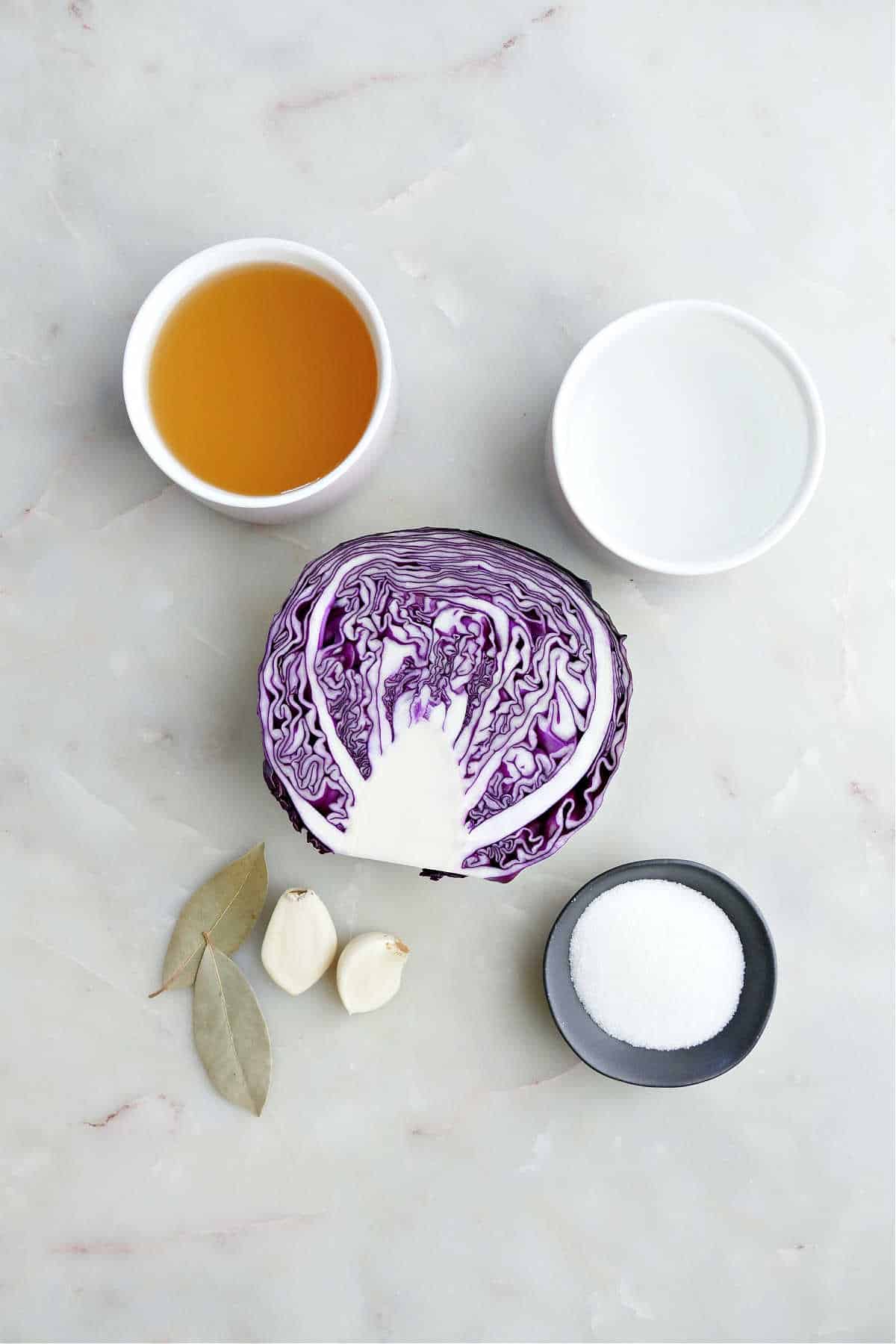 In making this recipe, I discovered that the best way to shred cabbage is with a mandoline (affiliate link). But you can also use a sharp knife to thinly slice cabbage into small pieces.
I also discovered that keeping pickled veggies in the fridge is pretty amazing. They can be used to add flavor and nutrition to a variety of dishes, and help you increase your daily veggie intake in the process!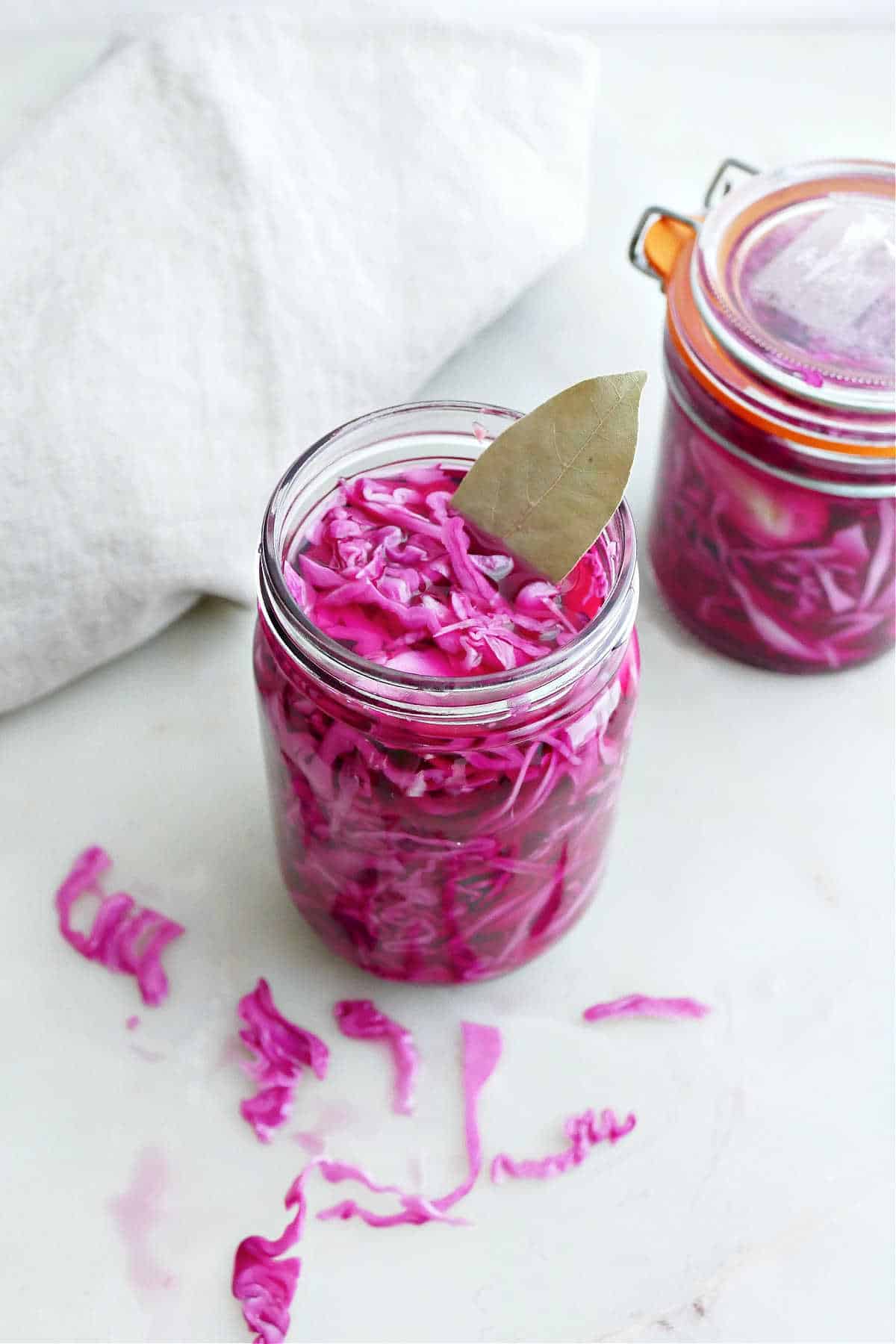 Pickled red cabbage, in particular, can keep for a few weeks in the fridge, and adds just the right amount of punch to dishes.
Here are a few ways you can eat it:
as a side to scrambled or fried eggs
on top of tacos, BBQ sandwiches, burgers, or fish
as part of a charcuterie board or vegetable platter
or just straight out of the jar with a fork!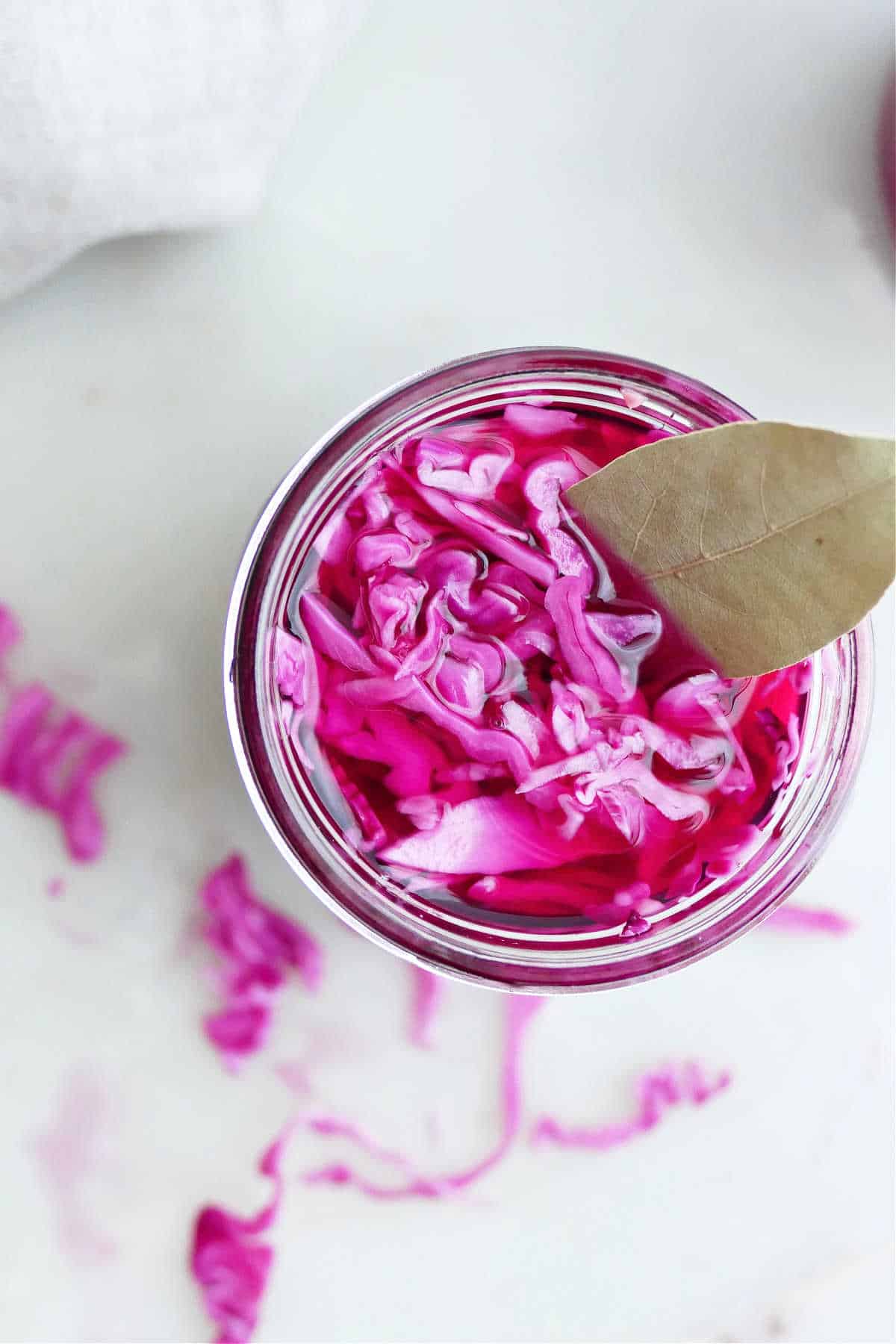 If you make this recipe, please rate and review it in the comments below. Or tag me on Instagram @its_a_vegworld_afterall!
For other condiments with vegetables, check out: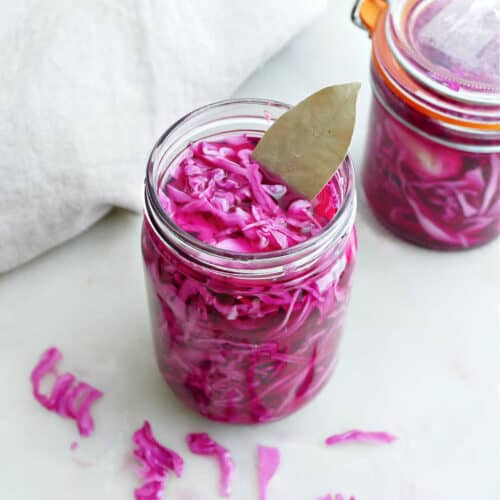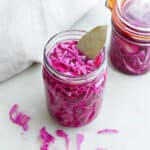 Pickled Red Cabbage
Make your own pickled red cabbage in no time with this simple recipe! Tastes great on tacos, sandwiches, burgers, and fish.
Cook Time
3
hours
45
minutes
Ingredients
1/2

head

red cabbage

1

cup

water

1

cup

apple cider vinegar

1

tbsp

sugar

4

cloves

garlic

smashed

2

bay leaves

1

tsp

sea salt
Instructions
Remove the core of the cabbage and slice it into quarters. Using a mandoline or very sharp knife, slice the cabbage into thin pieces. Divide cabbage pieces evenly into two large glass jars.

In a small bowl, whisk together the water, vinegar, and sugar. Use the side of a large chef's knife to smash the garlic cloves. Add smashed garlic cloves, bay leaves, and sea salt to the brine.

Pour half of the brine into each jar so that they have equal amounts of liquid, garlic cloves, and bay leaves. The brine will not cover the cabbage pieces entirely, and may only come up to the middle of the jar. Seal the jars tightly and leave them at room temperature for 3.5 to 4 hours.

After 3.5 to 4 hours, transfer the jars to fridge. Enjoy the final product once it has cooled. It can usually last in the fridge for up to 2 weeks.
Pin this Pickled Red Cabbage now to make later!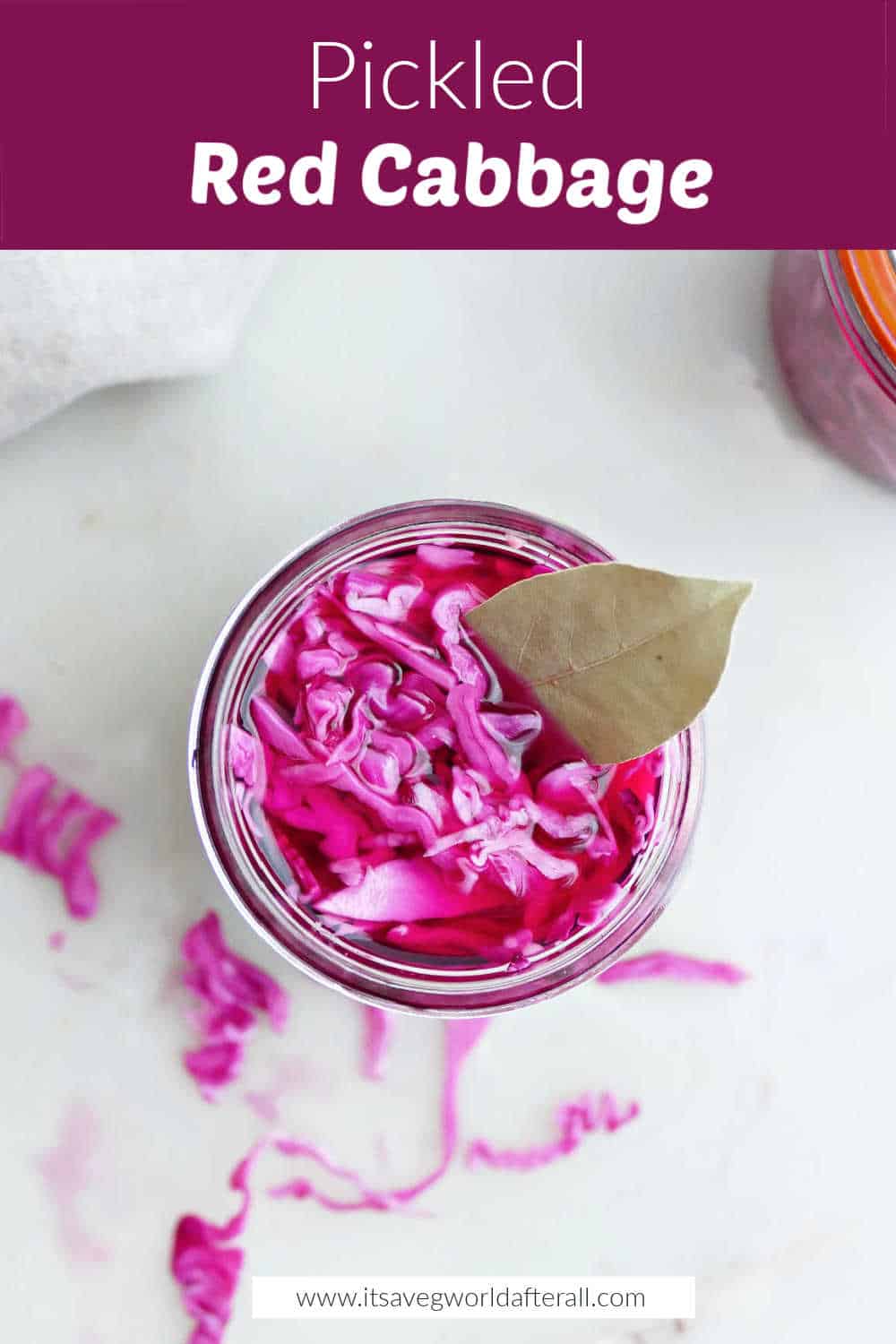 Aren't those colors just gorgeous!!???
-Lizzie