Learn how to shred cabbage for coleslaw or other dishes using a mandoline and sharp knife!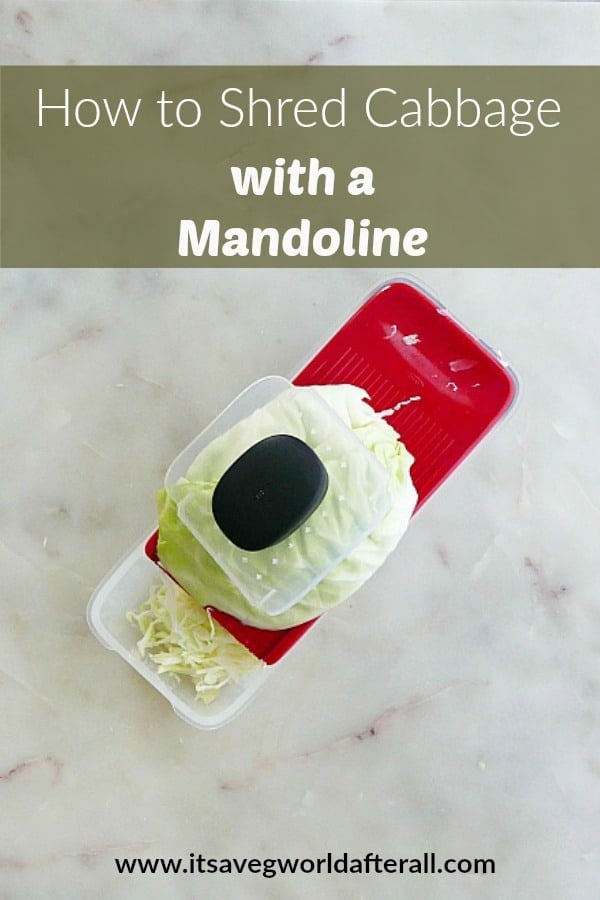 This post may contain affiliate links. For more information, see my affiliate disclosure.
One of the keys to enjoying more vegetables in your diet is learning how to cut and slice them in the right ways.
Who wants to eat coleslaw with big chunks or leaves of cabbage? Probably no one, right? So much of the appeal of coleslaw stems from the thinly sliced cabbage that makes it up.
But when you come home from the store with a head of cabbage for slaw, you many not know exactly how to prepare it. Follow along with the photos and instructions in this tutorial to learn the BEST way to shred cabbage!
How to Cut and Core Cabbage
Before you start shredding your cabbage, wash it and remove any dirty, outer leaves. Then, slice off the root, and slice the head in half from top to bottom and then in half again (quarter it).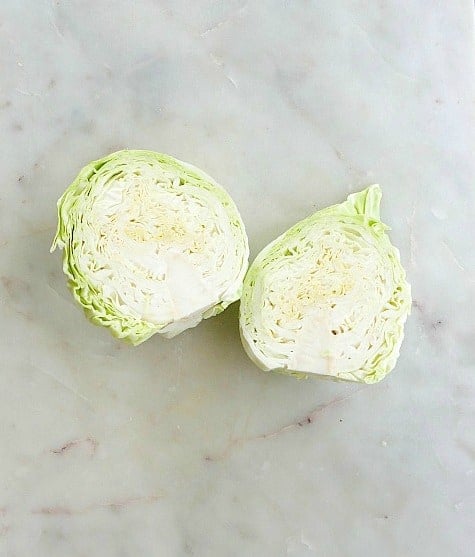 To remove the core of the cabbage, use a sharp knife to slice off the solid white core at the root of each quarter.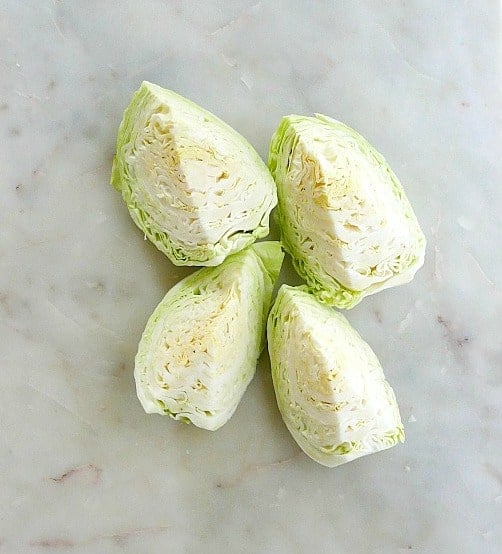 How to Use a Mandoline to Make Shredded Cabbage
Next, set up your mandoline. I use this mandoline from Oxo, and it is fantastic!
By the way, is it spelled mandolin or mandoline? Technically I think it's mandolin, but so many of the cookware brands spell it mandoline…so who knows? Ok, I digress.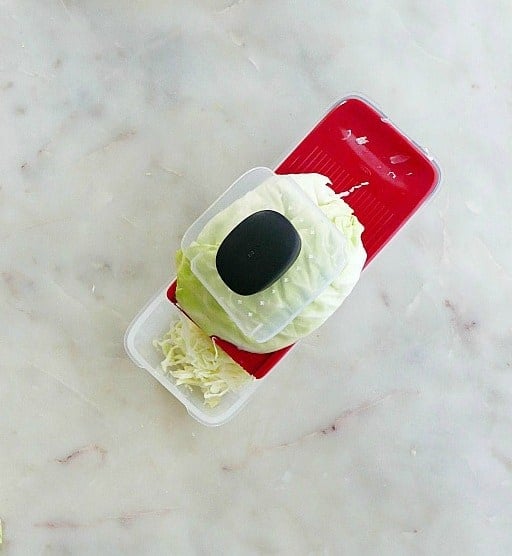 Place one quarter of cabbage on top of the mandoline and then use your blade guard to push it through the blade, until you shred the entire thing.
Just make sure the piece of cabbage isn't too big for the mandoline or creeps over the sides, because then it won't slice as well. Cut off a little bit from the edges if you need to make it smaller.
Repeat with the rest of the quarters, and there you go! Perfectly shredded cabbage.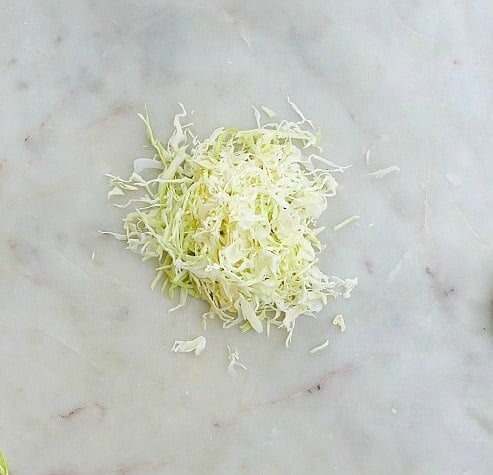 Can you shred cabbage ahead of time?
If you want to shred cabbage to be used later, you can prep it ahead of time. Shredded cabbage can be kept in an airtight ziplock bag or Stasher bag in the fridge for 2-3 days.
However, cabbage can go brown pretty quickly, so if you're worried about that, I'd recommend improving your cabbage storage game and following the tips in the next section.
How do you keep shredded cabbage fresh?
To keep shredded cabbage fresh and green, place it in a bowl and squeeze lemon juice over it. Use your hands to coat the cabbage in the juice, then cover the bowl tightly with plastic wrap and keep it in the fridge.
The plastic wrap will keep the cabbage away from oxygen and the acid from the lemon juice will inhibit the reactions that cause cabbage to go brown. You can usually keep it this way for a few days.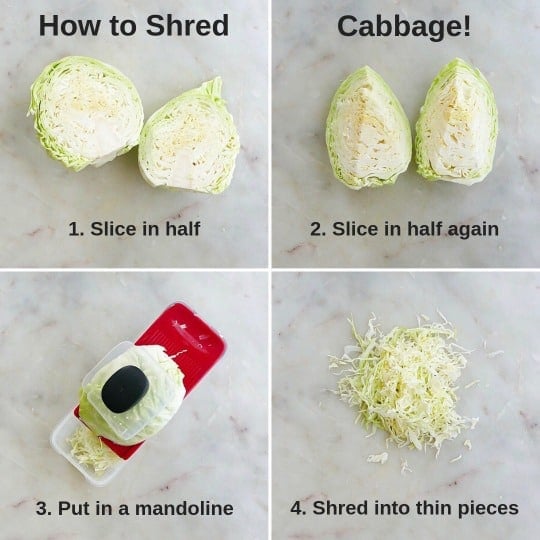 Recipes with Shredded Cabbage
Looking for ways to used shredded cabbage? Here are a few of my favorite recipes:
📖 Recipe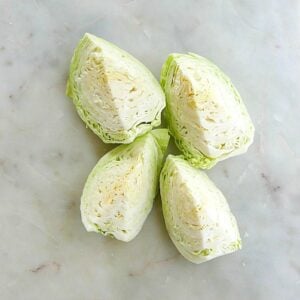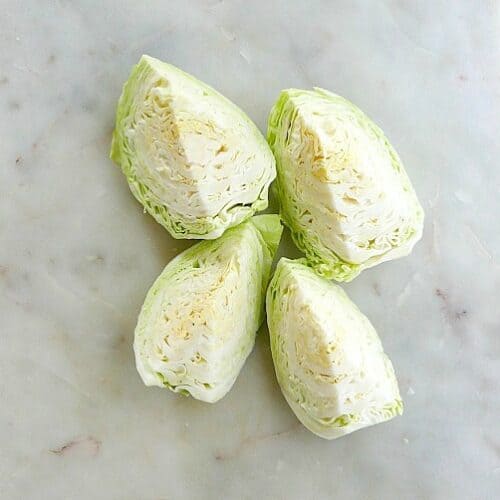 Ingredients
1

head

cabbage

-

purple or green
Instructions
Wash the head of cabbage and remove the outer leaves. Put the cabbage on a cutting board and slice off the root with a chef's knife.

Use the knife to slice the cabbage in half from top to bottom, and then in half again (quarter it). Then slice off the solid white core at the bottom of each quarter.

Put one quarter of cabbage on top of a mandoline, and use your blade guard to push it through to shred the cabbage. Repeat with the other quarters.

Use the cabbage right away in a recipe, or toss it in lemon juice and store in a bowl with tightly sealed plastic wrap in the fridge for up to 3 days.
Nutrition
Serving:
1
cup
|
Calories:
28
kcal
|
Carbohydrates:
7
g
|
Protein:
1
g
|
Fat:
1
g
|
Saturated Fat:
1
g
|
Sodium:
20
mg
|
Potassium:
193
mg
|
Fiber:
3
g
|
Sugar:
4
g
|
Vitamin A:
111
IU
|
Vitamin C:
42
mg
|
Calcium:
45
mg
|
Iron:
1
mg
Happy cooking! – Lizzie