In search of a recipe using frozen broccoli florets? This incredibly simple Roasted Frozen Broccoli is your answer! Enjoy it plain or choose from one of my five seasoning ideas for an easy, healthy side dish.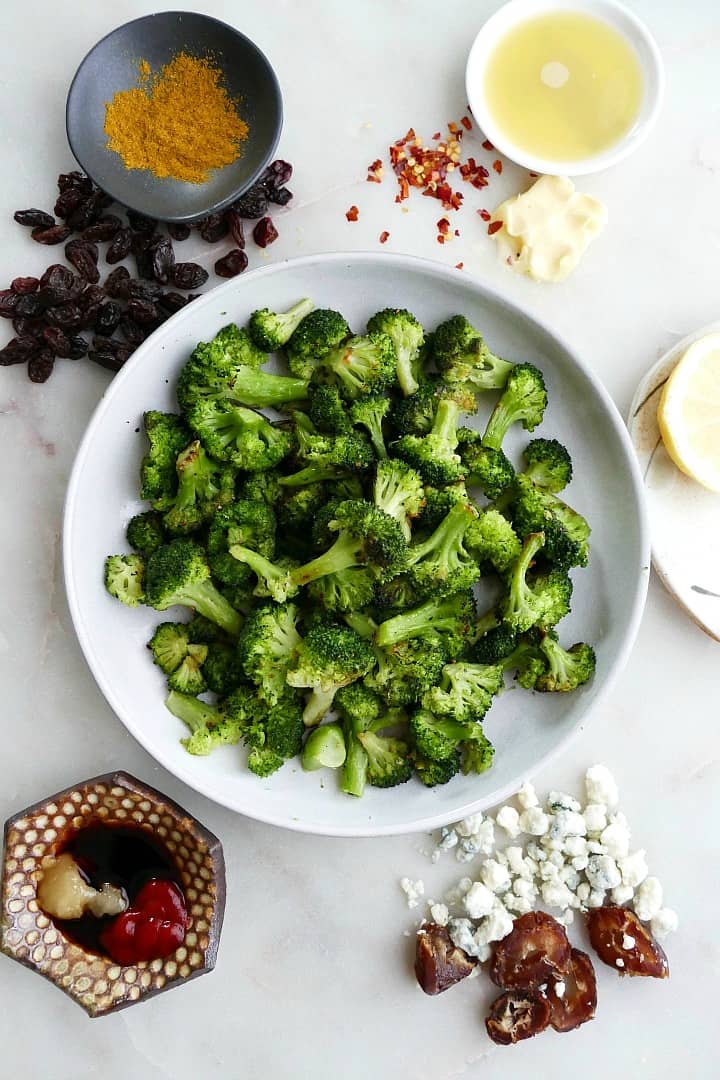 This post may contain affiliate links. For more information, see my affiliate disclosure.
At this moment in time (in the heart of the global pandemic, for those of you reading this in the future), I feel pretty certain that a high percentage of people in the US have at least one bag of frozen veggies in their freezer.
I don't say this to mock the situation or downplay the #panicbuying that's going on in grocery stores across the country. If anything, the idea that people are remembering to get long-lasting vegetables for their time at home is simply giving me something to smile about amidst the bad news!
So whether you reluctantly purchased frozen veggies only because you know they last longer than fresh, or you haven't bought any yet because you'd rather get non-perishable goods that you actually like…I got you!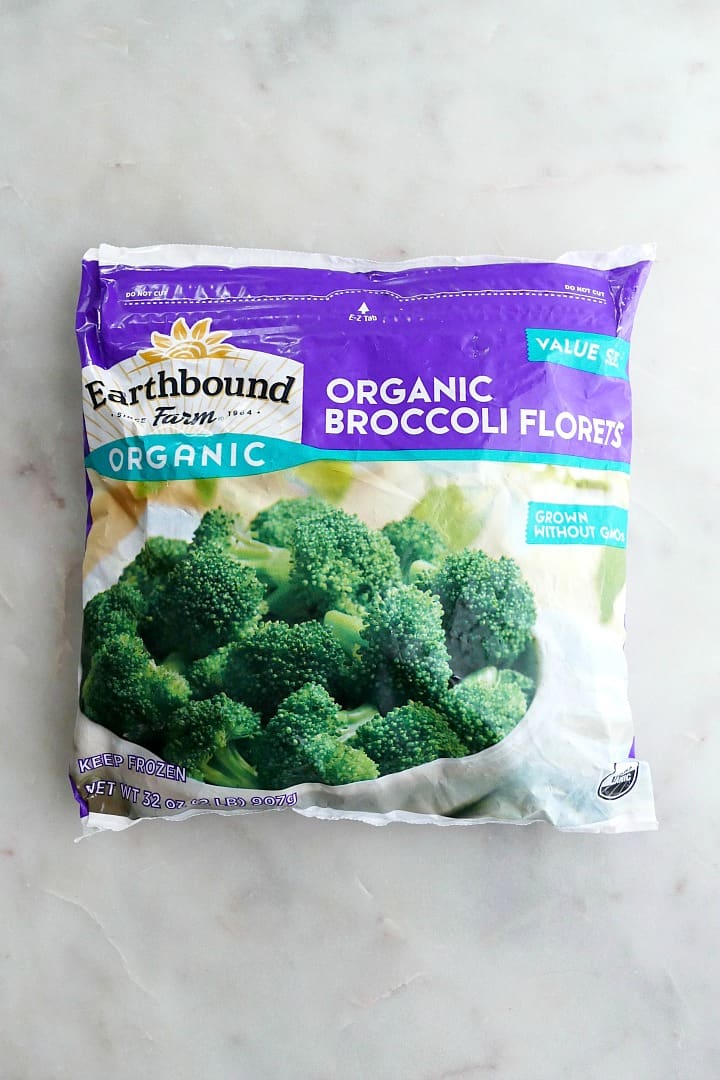 This roasted frozen broccoli recipe will show you just how delicious frozen vegetables can be! If you typically don't like their taste or fear their potential sogginess, roasting is the way to go.
Frozen veggies get much more caramelized and have a better texture when you cook them in the oven. Plus, I'm giving you my top five favorite seasonings for roasted broccoli, in case you want to get fancy. But, alas, you may be wondering…
Should you thaw frozen vegetables before cooking?
No, you don't need to do anything to frozen veggies before roasting them. When I learned this fact about a year ago, I thought it was too good to be true. Then I tried roasting cauliflower straight from the freezer. It checks out!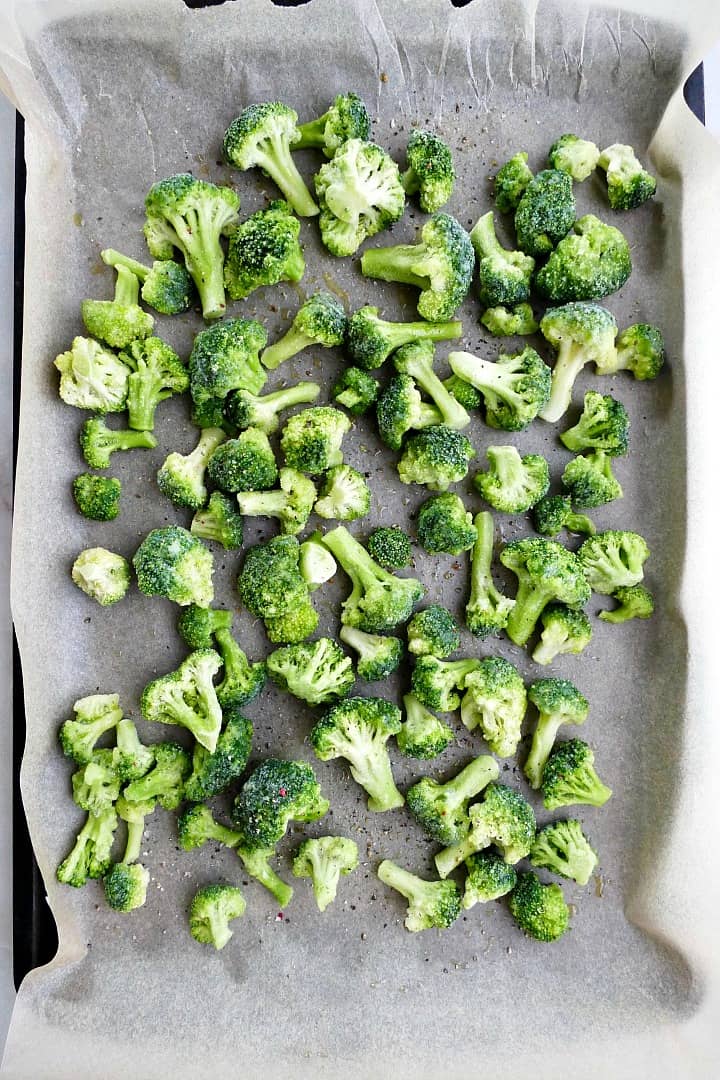 Looking for other broccoli recipes while you're here? You may like the Healthy Greek Yogurt Broccoli Salad, Broccoli Soup with Potatoes and Peas, and Simple Charred Broccoli and Red Onion.
How to Roast Frozen Broccoli
Spread out florets, straight from the bag, on a lined baking sheet.
Toss in olive oil, salt, and pepper
Roast for 20, stir, roast for another 10. BOOM.
Honestly, this recipe solves a whole lot of problems that people face when eating/cooking veggies.
Veggies going bad too soon? Not a problem here. Long prep time? Not in this case. Don't know how to cook? You can still make this recipe with ease!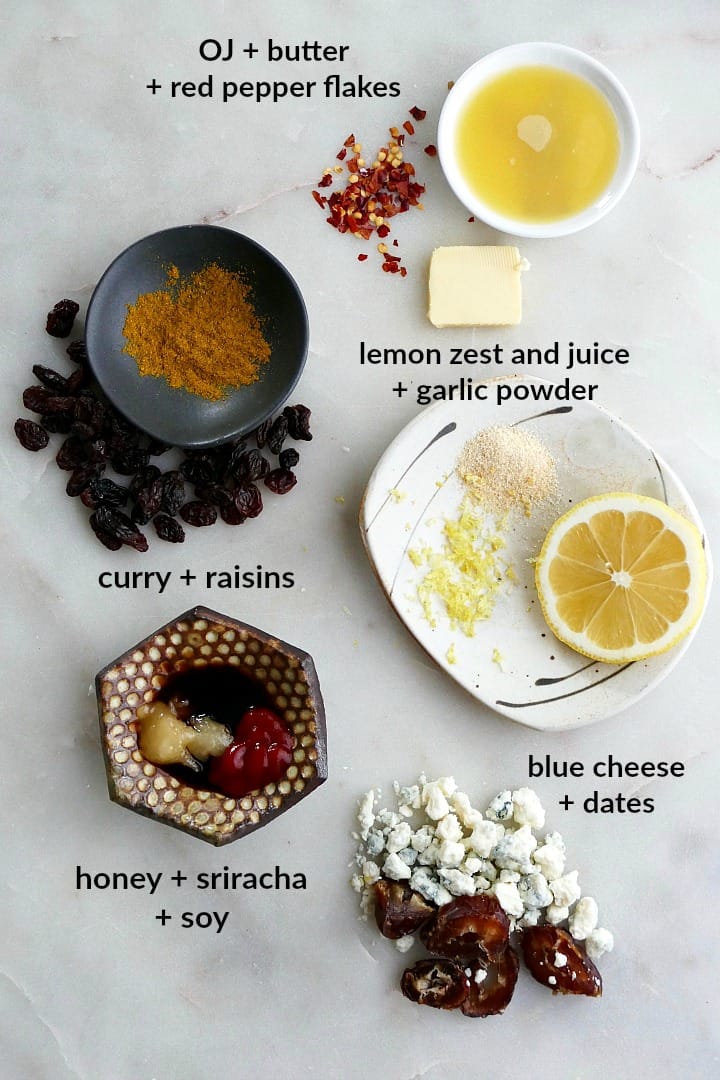 Seasoning Ideas for Roasted Frozen Broccoli
Ok, now let's get to the fun part. I compiled a list of some of my favorite ways to spice up roasted broccoli. Most of these combos use pantry ingredients or other items you may have on hand.
Orange juice + butter + red pepper flakes: This one sounds weird but it's REALLY good. While the broccoli is roasting, melt down a 2:1 ratio of butter to OJ in a saucepan with a pinch of red pepper flakes. Toss the broccoli in this before eating. Add some orange zest if you have it.
Lemon zest + garlic powder + lemon juice (to finish): Sprinkle garlic powder and zest from ½ lemon on the broccoli florets before roasting. Squeeze lemon juice on top before serving.
Curry powder + raisins: Sprinkle curry powder, salt, and pepper on the broccoli before roasting. A few minutes before they're finished cooking, add some raisins to the tray so that they warm up with the broccoli.
Honey + sriracha + soy sauce: For a sweet and spicy kick, mix together 1 tablespoon each of honey and sriracha with 1 teaspoon soy sauce. Add a dash of garlic powder or squeeze of lime juice if you have it on hand. Toss the broccoli in this sauce before serving.
Blue cheese + dates: Oh, you fancy, huh? After the broccoli is finished cooking, remove it from the oven and push the florets together in the center of the tray. Sprinkle blue cheese and sliced dates on top. Put this under the broiler for a couple minutes until the cheese is melted.*
*Remove the parchment paper from beneath the broccoli before putting the tray under the broiler.
Which one of these seasonings jumps out at you?! Let me know in the comments. If you enjoy this recipe, you may also want to check out the Boiled Broccoli, Roasted Frozen Brussels Sprouts, and Lentil Pasta Primavera with Frozen Vegetables and read my posts: Are Frozen Vegetables Healthy? and What Can I Make with These Ingredients?.
I'd love to hear how you like this recipe! Rate/review using the stars on the recipe card or in the comments, and follow the Veg World on YouTube, Instagram, Facebook, and Pinterest. Looking for something totally different? Browse the recipe library.
📖 Recipe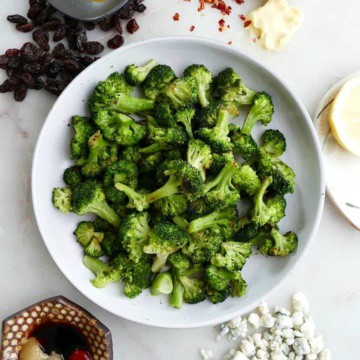 Roasted Frozen Broccoli
Learn how easy it is to roast frozen broccoli, and choose from five seasonings ideas!
Print
Pin
Rate
Save
Saved!
Instructions
Preheat the oven to 400 degrees F. Line a baking sheet with parchment paper. Spread the broccoli florets (straight from the bag) in a single layer on the sheet. Toss with olive oil, salt, and pepper.

Roast for 30 minutes, stirring the florets at 20 minutes, until tender and slightly browned. Enjoy the florets plain or with one of the seasoning ideas (see notes).
Notes
Seasoning ideas:
Orange juice + butter + red pepper flakes: Melt down a 2:1 ratio of butter to OJ in a saucepan with a pinch of red pepper flakes. Toss the broccoli in this after roasting. Add orange zest if you have it on hand.
Lemon zest + garlic powder + lemon juice: Sprinkle garlic powder and the zest from ½ lemon on the florets before putting them in the oven. Add a squeeze of lemon juice before eating.
Curry powder + raisins: Season the broccoli with curry powder before roasting. A few minutes before it's finished, add raisins to the tray.
Honey + sriracha + soy sauce: Mix 1 tablespoon each of honey and sriracha with 1 teaspoon soy sauce. Toss the broccoli in the sauce before serving.
Blue cheese + dates: Remove the cooked broccoli from the oven and push the florets together in the center of the tray. Add blue cheese and sliced dates on top. Put this under the broiler for 2-3 minutes to melt the cheese. (Remove the parchment paper before broiling.)
Nutrition
Serving:
1
plain serving
|
Calories:
139
kcal
|
Carbohydrates:
15
g
|
Protein:
6
g
|
Fat:
8
g
|
Saturated Fat:
1
g
|
Sodium:
75
mg
|
Potassium:
717
mg
|
Fiber:
6
g
|
Sugar:
4
g
|
Vitamin A:
1413
IU
|
Vitamin C:
202
mg
|
Calcium:
107
mg
|
Iron:
2
mg
Enjoy your frozen veggies! – Lizzie