Get your answer to this question and more in my "reverse recipe" guide. Browse recipes by ingredients that you already have in your kitchen, with clickable links that jump straight to the ingredient.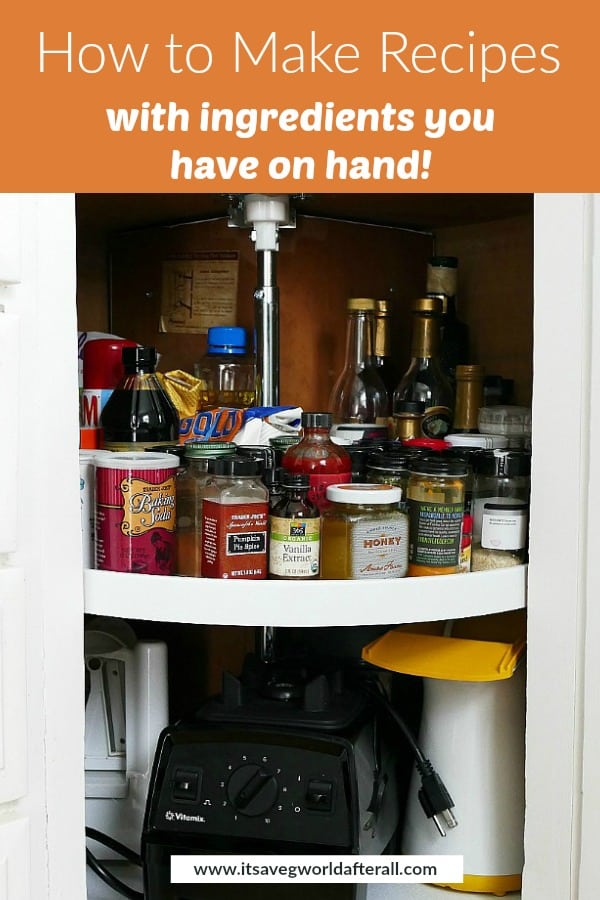 This post may contain affiliate links. For more information, see my affiliate disclosure.
It's been just over a week since the global pandemic and response efforts really started to escalate in the US. And I, for one, spent most of these past seven days trying to come to terms with what's going on. I'm sure many of you are doing the same.
In the midst of all this uncertainty, one thing's for sure. Most people will be staying home and doing a LOT more cooking. Fortunately, experts suggest that the food supply in the US is strong and that grocery stores will remain open.
Another upside is that cooking can be a wonderful outlet for those with anxiety. At least in my experience, cooking a meal allows me to regain control when everything seems to be spinning. Seems like the perfect activity for being stuck inside during a time of heightened stress, right?
Sort of. At the moment, planning meals and trying to figure out what to make with the pound of dried beans and canned tomatoes you picked up might actually be causing more stress, instead of helping it. So let's work on that part!
A couple of weekends ago, my friend Francesca told me about an idea for an app or website that would allow you to input ingredients you have on hand and show you recipes to make. Genius, right? This conversation, coupled with the current global situation, sparked the inspiration for this post.
In this guide, you'll find a list of common pantry ingredients and long-lasting vegetables. Click on these foods to jump to a list of recipes you can make. Instead of finding a recipe then getting the ingredients you need, you can do this in reverse!
I also recommend bookmarking this page for use throughout the next few weeks or months. We will all inevitably need to go to the grocery store, even if we go less frequently than usual. So recipes that use long-lasting ingredients will come in handy. (PS – sign up for my newsletter to get your healthy pantry checklist.)
Recipes Ideas by Ingredients
Canned Beans
Canned Salmon
Canned Tomatoes
Coconut Milk
Eggs
Frozen Vegetables
Lentils and Dried Beans
Nut Butters
Oats
Pasta
Potatoes
Rice and Grains
Root Vegetables
Salsa
Spaghetti Squash
Sweet Potatoes
Final Thoughts
I hope these recipes help you make the most out of cooking at home during this time. And remember, most restaurants are offering curbside pick-up and delivery. Take-out is still an option and a great way to support local businesses.
Finally, communities all across the country are working to address food insecurity during this time. Check out this post on how to help food shelves as they plan to face increased demand.