This easy Shaved Asparagus Salad is bursting with flavor from lemon, parmesan, and fresh mint and tarragon. It's a delicious dish to liven up any spring meal!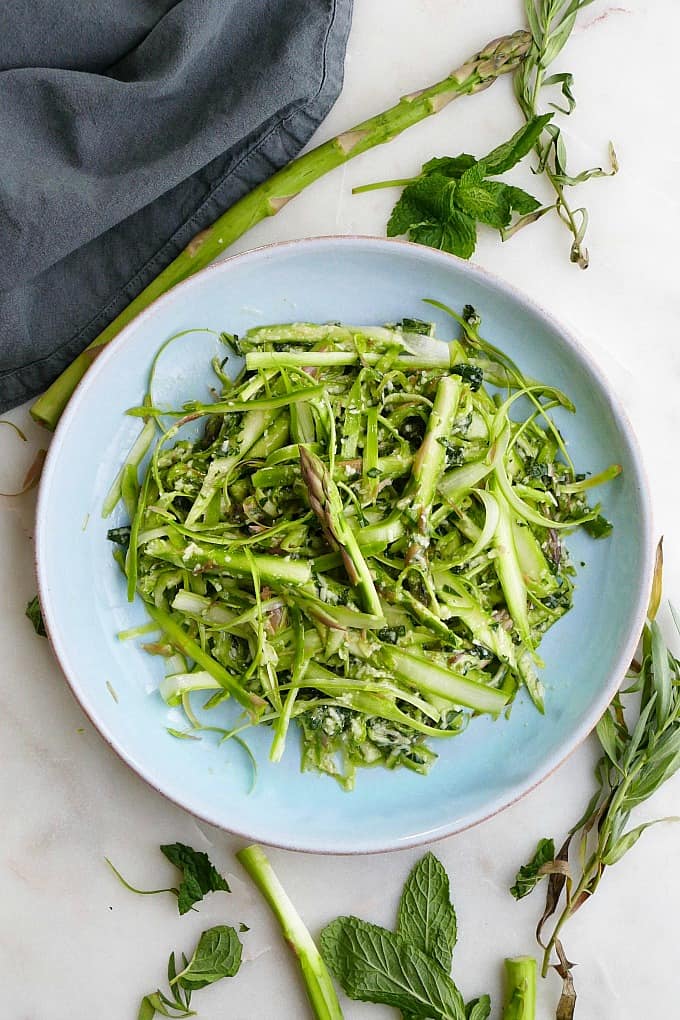 This post may contain affiliate links. For more information, see my affiliate disclosure.
There is a new way to eat asparagus on the block and let me tell you, it's DELICIOUS!!! I'm talking about this Shaved Asparagus Salad if you didn't know. It features stringy slices of asparagus, all dressed up in the freshest, tastiest, most springy dressing ever.
With fresh herbs and lemon juice, this baby epitomizes the spring harvest. Plus, the recipe uses raw asparagus, so you don't even need to turn on your stove! It has a lot going for it.
So now that you're planning to make it, you might be wondering how you make shaved asparagus. Well, I'm glad you asked.
How to Make Shaved Asparagus Salad
First, you will need a good swivel peeler, like this one from Oxo. Once you have that ready, wash and dry the asparagus and trim the end of the stems. Holding an asparagus stalk in one hand and the vegetable peeler in another, press the peeler down the entire length of the stalk to make thin strips.
Don't stress yourself out about making perfect strips though. It's not necessary! I personally did the best I could with each asparagus, then once I peeled as much as I could, I sliced what was left into uneven pieces with a knife. The variety of asparagus shapes and cuts is part of what makes the dish so visually appealing and delicious!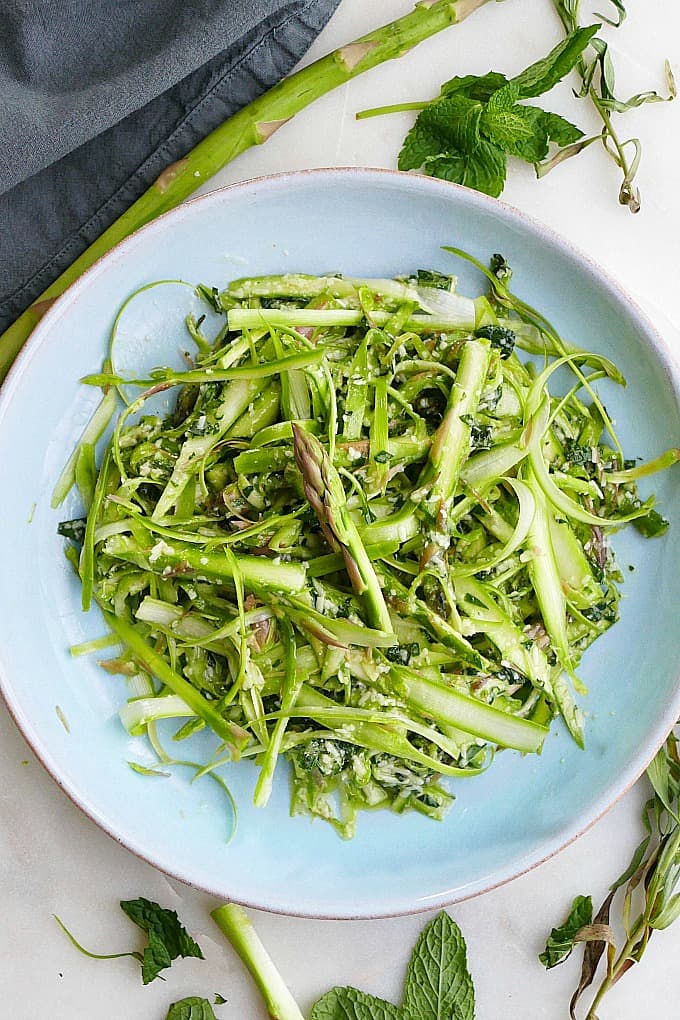 How to Make Mint Tarragon Dressing
The most flavorful part of this salad is the dressing. It's packed with fresh herbs! Chances are you've had fresh mint before, but if you don't have too much experience with tarragon, it's an herb with thin green leaves that carry a licorice-like taste. When it's paired with the right complements, like olive oil, lemon juice, and mint, tarragon is a delicious addition to fresh dishes.
To make the dressing for this dish, you'll need to combine:
1/3 cup olive oil
Juice of 1 lemon
1/4 cup tarragon
1/4 cup mint
1/8 tsp sea salt (optional)
1 cup freshly grated Parmesan (at the end)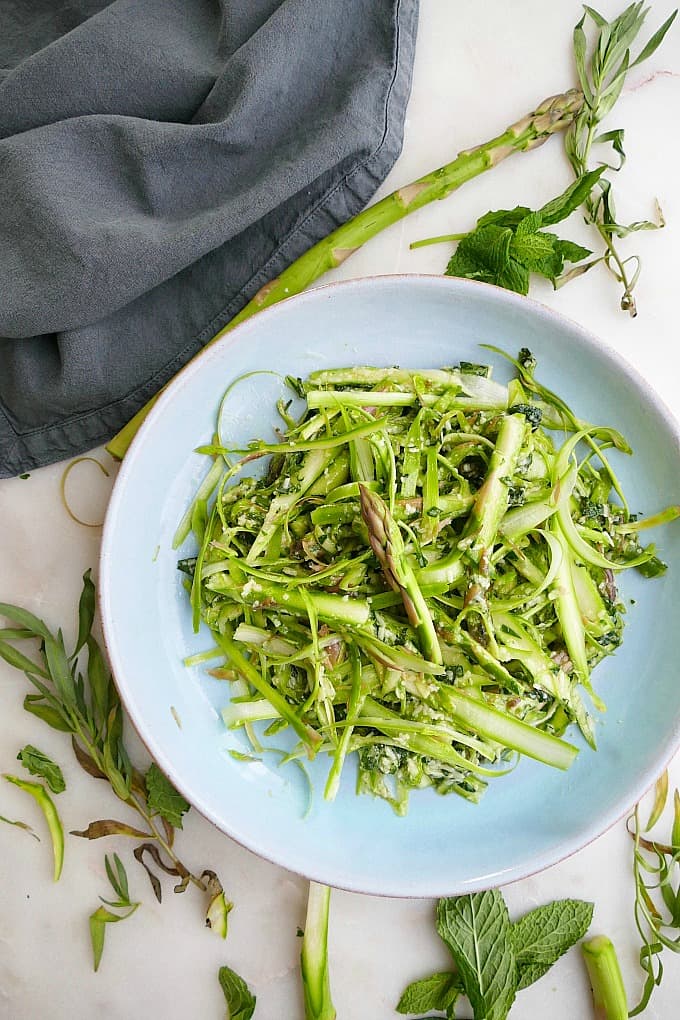 What to Serve with Shaved Asparagus Salad
This salad adds a lovely dose of fresh spring flavors to any meal. Try it on the side of fish, meat, or with grilled skewers. It would also make a lovely addition to an Easter dinner!
For other ways to cook asparagus, be sure to check out my Roasted Sesame Asparagus. And for other shaved salads, see my Simple Shaved Carrot and Fennel Salad.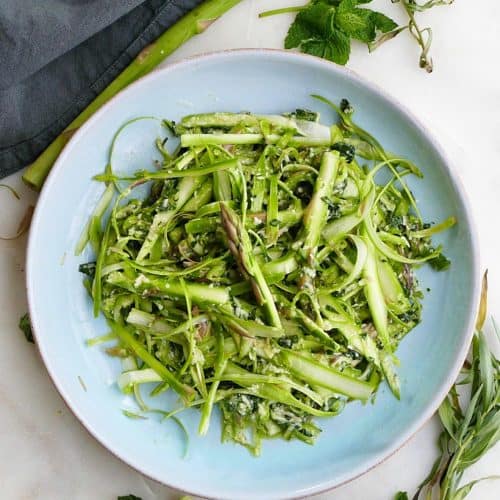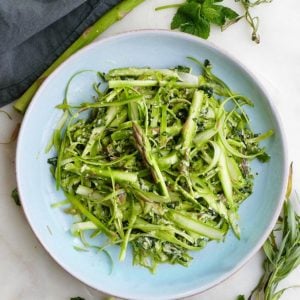 Shaved Asparagus Salad with Mint Tarragon Dressing
A beautiful and simple raw asparagus salad with an irresistibly fresh herb-based dressing.
Print
Pin
Rate
Ingredients
Instructions
Using a swivel peeler, shave each asparagus stalk into thin pieces. You won't be able to peel each stalk perfectly, so chop whatever is left with a knife. This contributes to a nice mix of textures.

Prepare the dressing by combining the olive oil, lemon juice, fresh tarragon and mint, sea salt, and grated parmesan in a large bowl. Whisk together.

Add the shaved asparagus to the bowl and mix until coated. Transfer to plates, serve immediately, and enjoy!
Notes
This is best served immediately but can keep in the fridge for a day or two.
Nutrition
Serving:
0
g
|
Carbohydrates:
0
g
|
Protein:
0
g
|
Fat:
0
g
|
Saturated Fat:
0
g
|
Polyunsaturated Fat:
0
g
|
Monounsaturated Fat:
0
g
|
Trans Fat:
0
g
|
Cholesterol:
0
mg
|
Sodium:
0
mg
|
Potassium:
0
mg
|
Fiber:
0
g
|
Sugar:
0
g
|
Vitamin A:
0
IU
|
Vitamin C:
0
mg
|
Calcium:
0
mg
|
Iron:
0
mg
Like what you see? Pin now to make later!

Happy spring!
Lizzie