A fun spin on traditional fried rice, using orzo pasta and two types of spring peas! This Spring Pea Orzo Fried Rice is healthier than take-out and an easy weeknight meal.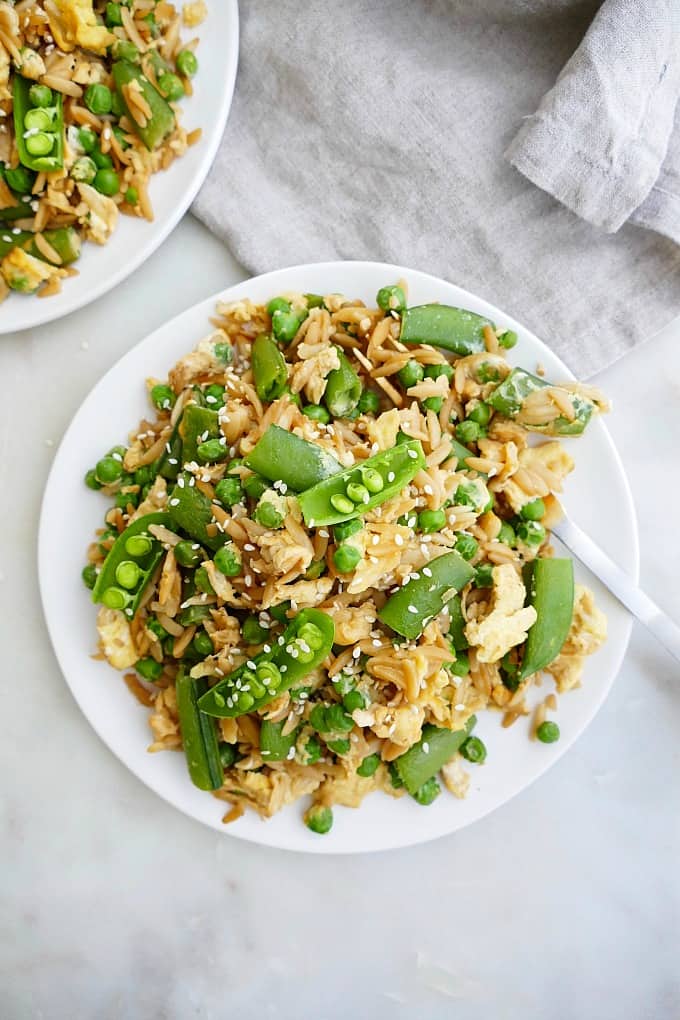 If you follow me on Instagram, you may already know that last week I had to get a few stitches in my thumb due to a kitchen mistake. I was using a sharp knife to "unstick" frozen veggie patties for lunch, and well, that wasn't the smartest idea!
Fortunately, I only needed three stitches and I was able to get them done right at an Urgent Care clinic. (Did you know they do stitches?! I didn't!). Thumbs up for Urgent Care!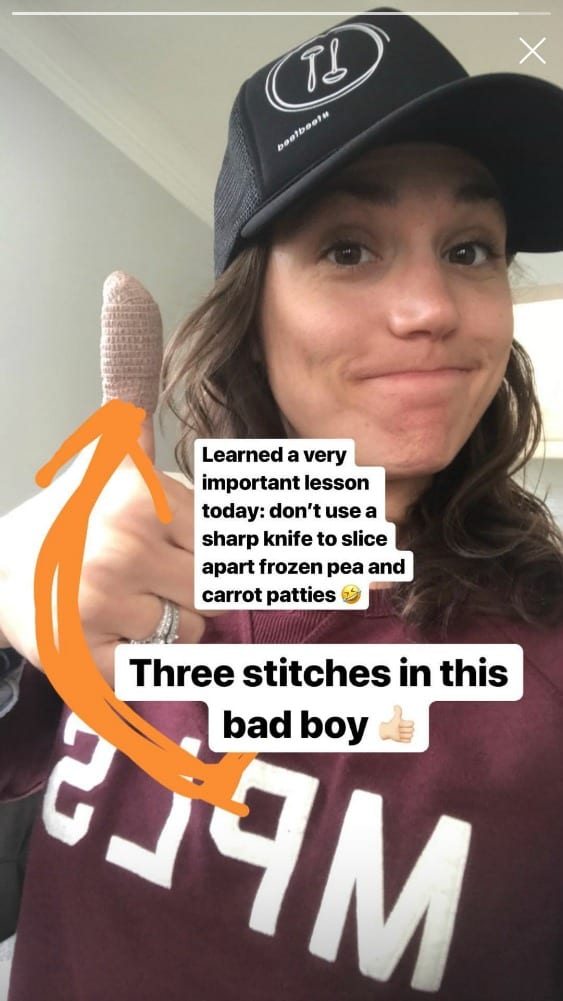 Ok, ok, I digress. Moral of the story? I needed to come up with some recipes that were pretty light on chopping for this week's blog posts.
That's where this Spring Pea Orzo Fried Rice comes into play. I had this recipe in mind for a few weeks, but originally planned for it to go live at the end of the month. But since it requires almost no chopping, I switched up my content calendar and whipped it up for this week, stitched thumb and all!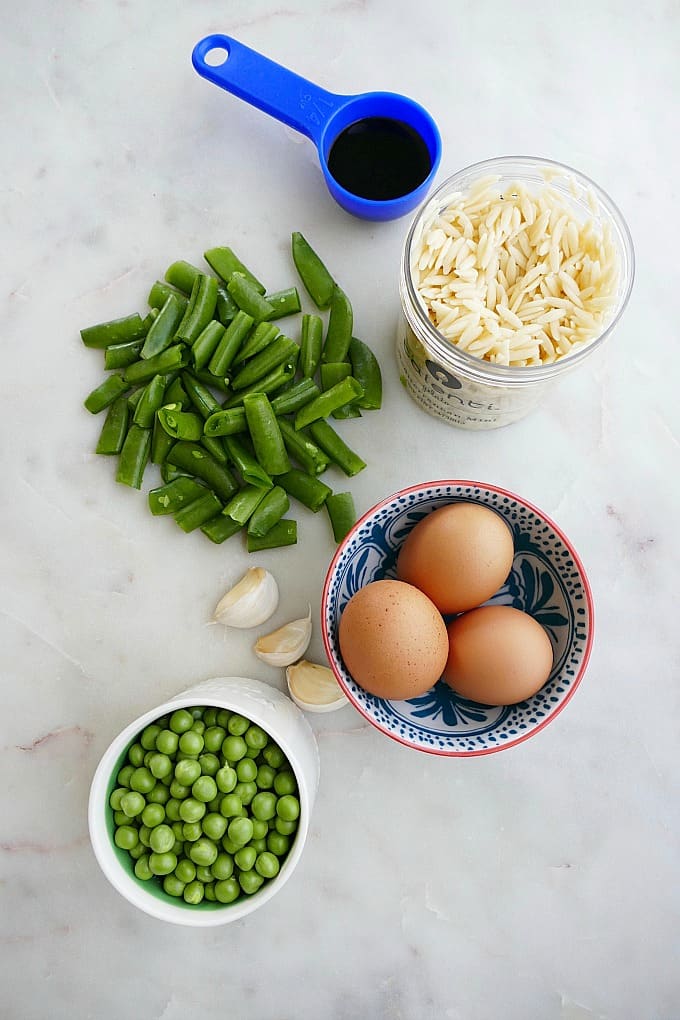 So what's the deal with orzo? If you're not familiar with it, orzo is technically a pasta but it's shaped like a grain. So if you're kind of bored with grains at the moment, subbing orzo might just be what you need.
How to Make Orzo Fried Rice
The longest part of preparing this fried rice is cooking the orzo, and it doesn't take long at all! But if you're interested in cutting down the prep time for this recipe, I'd suggest making the orzo in advance and keeping it in the fridge until you're ready to whip up the fried rice for dinner one night.
Here's what else you'll need for this dish:
Olive oil
Garlic
Green peas (use fresh or thawed, frozen ones)
Snap peas
Soy sauce
Eggs
Once you have all of your ingredients, heat up some olive oil in a large skillet, add the garlic, and let it cook for a bit. Throw in the snap peas and green peas and let them cook. Then add the orzo and soy sauce, followed by a few beaten eggs. Once the eggs set, mix it all up…and dinner is served!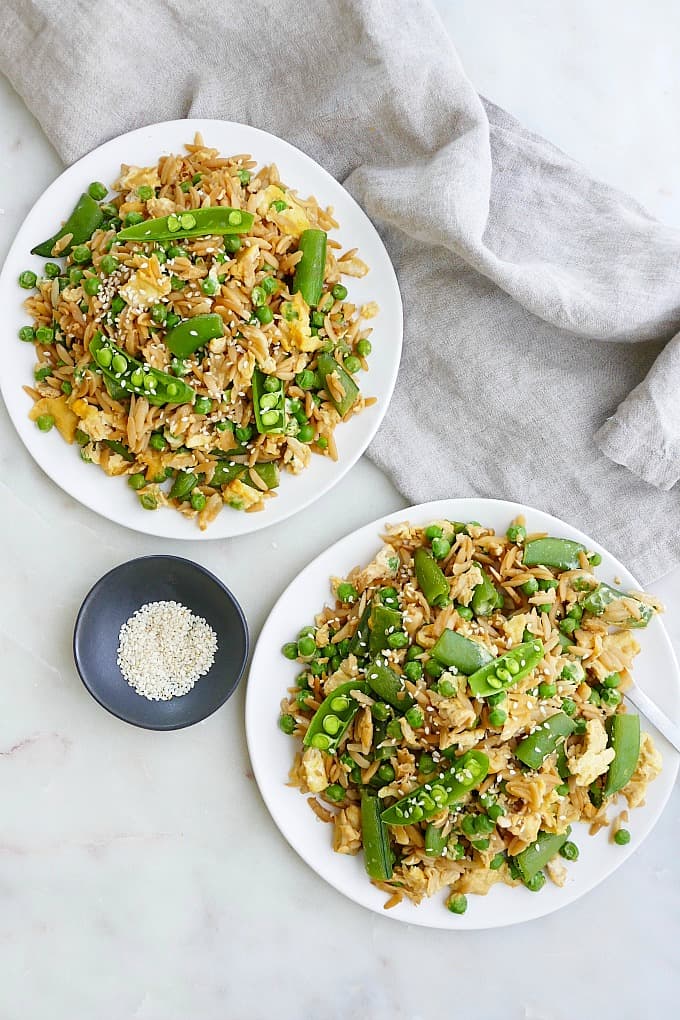 If you don't pre-cook the orzo, simply prep it right before you want to make the fried rice. It should only add on 15-20 minutes to the total cooking time. I found that the best ratio for preparing two cups of orzo (which is what I used for the recipe) was ⅔ cup uncooked orzo to two cups of boiling water.
Spring Pea Orzo Fried Rice is pretty much a complete meal in itself, with non-starchy veggies (snap peas), carbs (orzo, peas), and protein (from the eggs and the peas!). You could even add some cashews or sesame seeds for a healthy fat. Simple, nutritious, and balanced!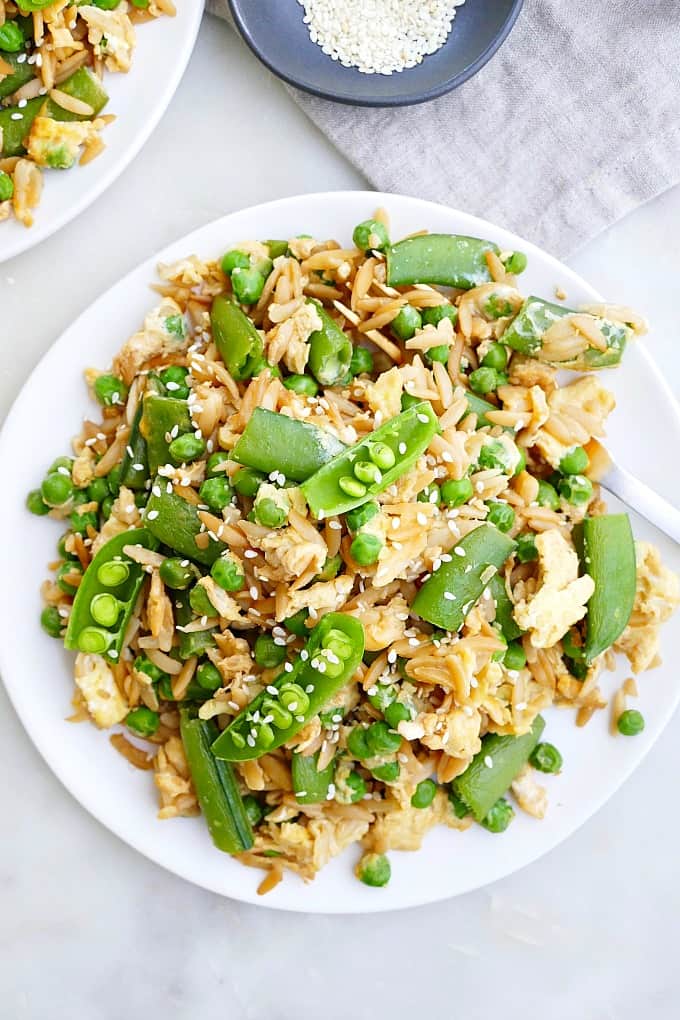 If you're in the mood for more peas, check out:
And for a similar meal, try the Baby Portobello Mushroom Stir Fry or Vegetarian Spaghetti Squash Ramen.
📖 Recipe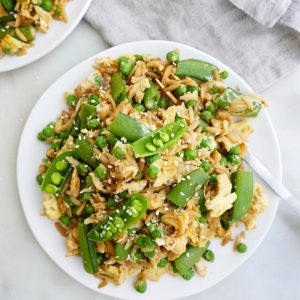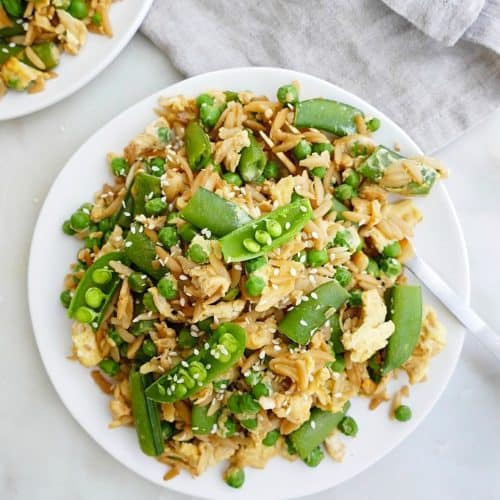 Spring Pea Orzo Fried Rice
A fun twist on classic fried rice using orzo pasta and two types of peas. Better and healthier than take-out!
Print
Pin
Rate
Save
Saved!
Ingredients
Instructions
If you did not prep the orzo in advance, boil 2 cups of water in a saucepan. Add ⅔ cup dry, uncooked orzo to the boiling water and cook for ~8 minutes until tender (or according to package instructions).

In a large skillet over medium heat, heat the olive oil and garlic. Cook for 1-2 minutes before adding the green and spring peas, then cook for an additional 3-4 minutes until they start to get tender.

Add the orzo and soy sauce and cook for a few minutes. Push the orzo and veggie mixture to one side of the skillet and add the beaten eggs to the other side.

Wait for the eggs to set on the bottom and then use a spatula to mix the stir fry together.

Serve warm with a dash more soy sauce to taste, and sesame seeds or cashews as a garnish!
Notes
This recipe can be doubled or tripled to serve bigger families. You'll just need to use a bigger skillet! If you want to decrease the sodium content, use low sodium soy sauce.
Nutrition
Serving:
1
serving
|
Calories:
455
kcal
|
Carbohydrates:
57
g
|
Protein:
25
g
|
Fat:
15
g
|
Saturated Fat:
3
g
|
Cholesterol:
246
mg
|
Sodium:
1323
mg
|
Potassium:
590
mg
|
Fiber:
7
g
|
Sugar:
8
g
|
Vitamin A:
1444
IU
|
Vitamin C:
61
mg
|
Calcium:
108
mg
|
Iron:
5
mg
And remember, don't use a sharp knife when you don't need to!
Lizzie