This comforting vegetarian Spaghetti Squash Ramen is the perfect easy meal for a cold night! It's naturally gluten free, nourishing, and flavorful.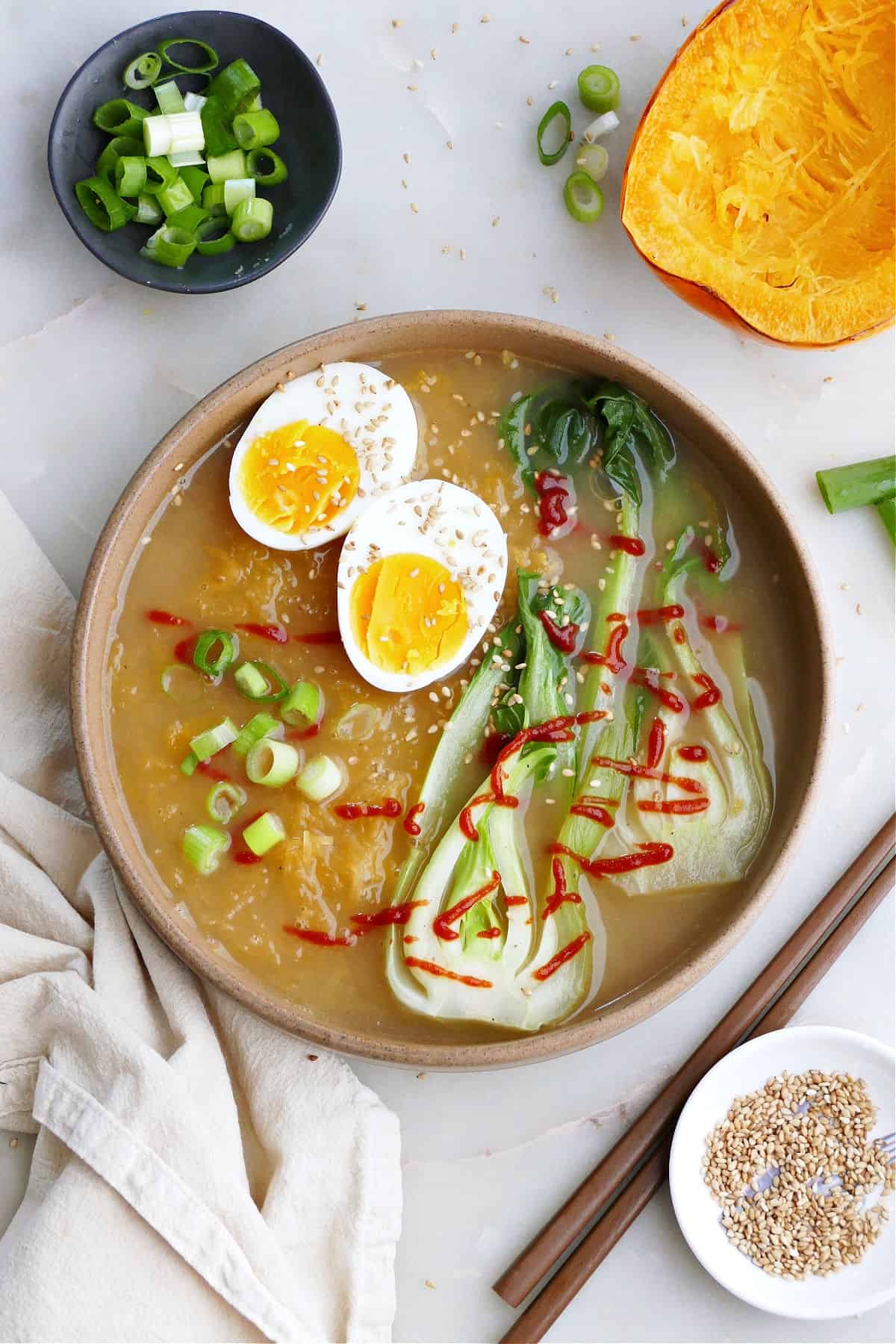 This post may contain affiliate links. For more information, see my affiliate disclosure.
In the fall, I received a text from a close friend asking for a Veg World ramen creation. I loved this idea so much that I immediately put it on my content calendar for the winter. This friend also happens to live in the Midwest, so she knows how important it is to have some warm, healthy comfort food recipes in your back pocket for January and February!
Oddly enough, we are having a fairly mild winter here in Minnesota, complete with record >40 degree temps last week! But, as if the universe knew I was experimenting with my ramen recipe this week, today's temp is a biting -3 degrees with wind chill. Yikes. I'm so glad I have some of this spaghetti squash ramen to heat up for lunch today!
If you aren't familiar with ramen, it's a Japanese dish made of noodles and broth, with some floating vegetables and Asian seasonings (soy sauce, sesame, sometimes fish sauce or miso, etc). In the U.S., we know ramen as the salty noodles that come in styrofoam containers, much different than authentic Japanese ramen and a staple of the "college diet."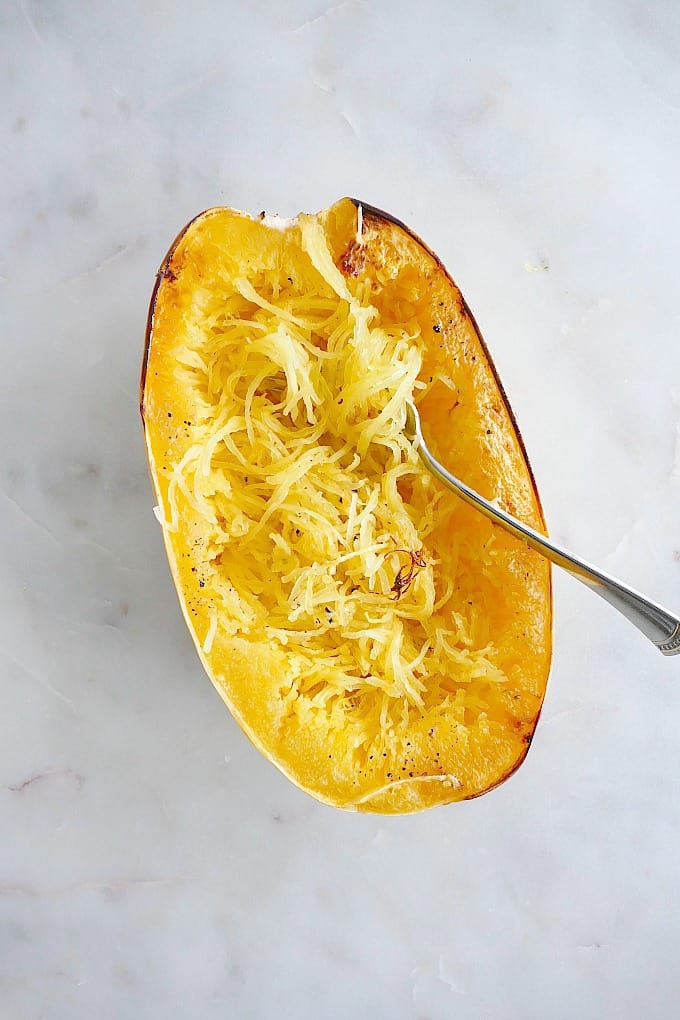 This ramen recipe more closely resembles the ramen you might get at a Japanese restaurant, but with one subtle difference. In true Veg World fashion, I used spaghetti squash as the noodles! This adds an extra boost of fiber, B vitamins, and potassium. Also, I just think making spaghetti squash is fun. So there's that.
But the best part about this veggie-based recipe is the broth. Traditional ramen broth is comforting, savory, a little salty, and just tastes downright nourishing. I personally think I was able to mimic a vegetarian broth with all of those features (try it out and let me know).
With hints of onion, garlic, ginger, sesame oil, and soy sauce, it goes down REAL easy. Plus, you get all of that delicious ramen flavor, but for a lot less sodium than takeout or packaged versions!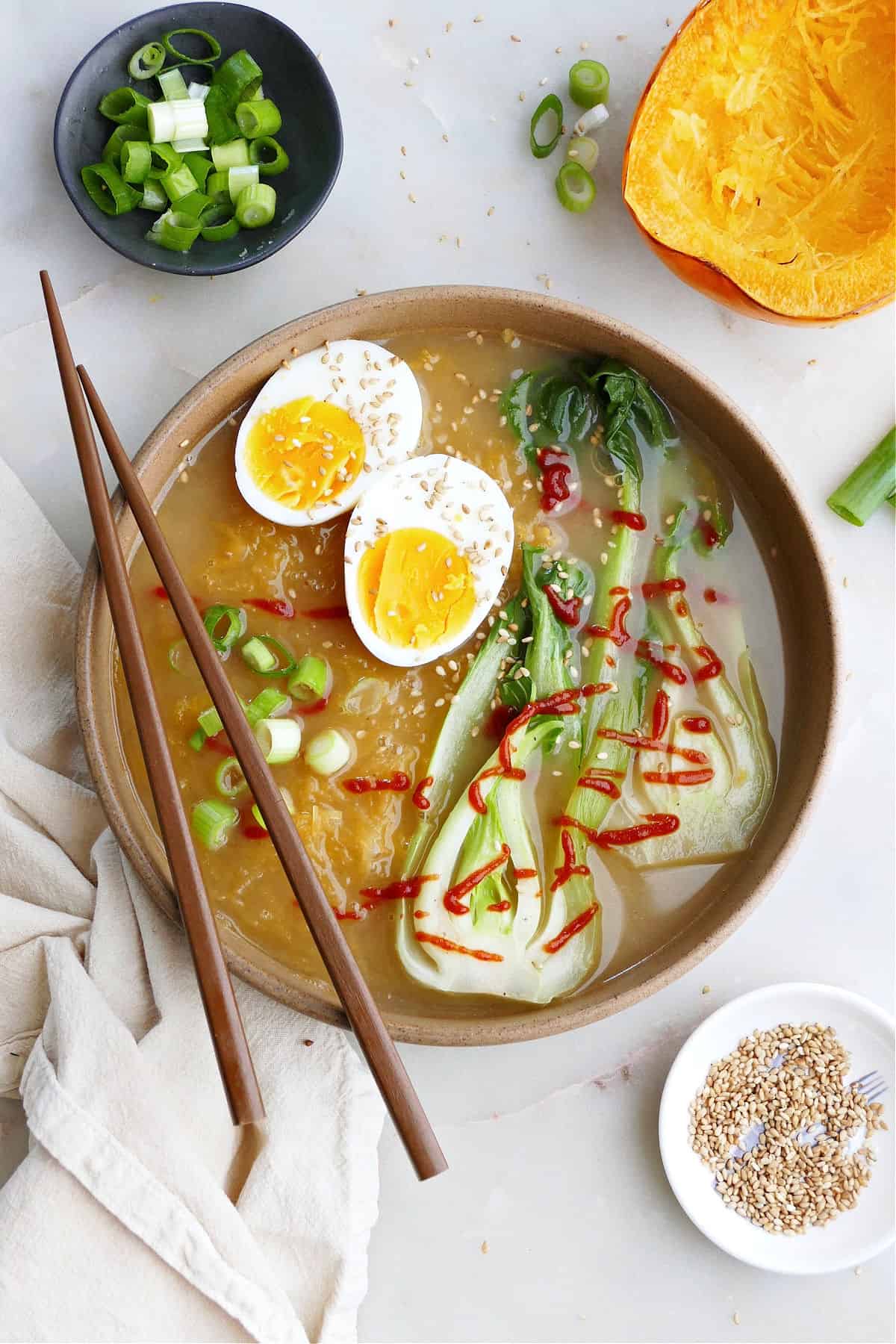 While you roast the spaghetti squash, you just need to whip up the broth, boil a couple eggs, and BOOM. Dinner is served! To make a vegan version of this recipe, omit the eggs. If you want to add more protein, consider throwing in some shredded chicken. It's your ramen, folks. Do with it what you please!
Pro tip: you can easily boil eggs in a pot of water on the stove, but if you want to up your game, I absolutely love my electric egg maker (affiliate link).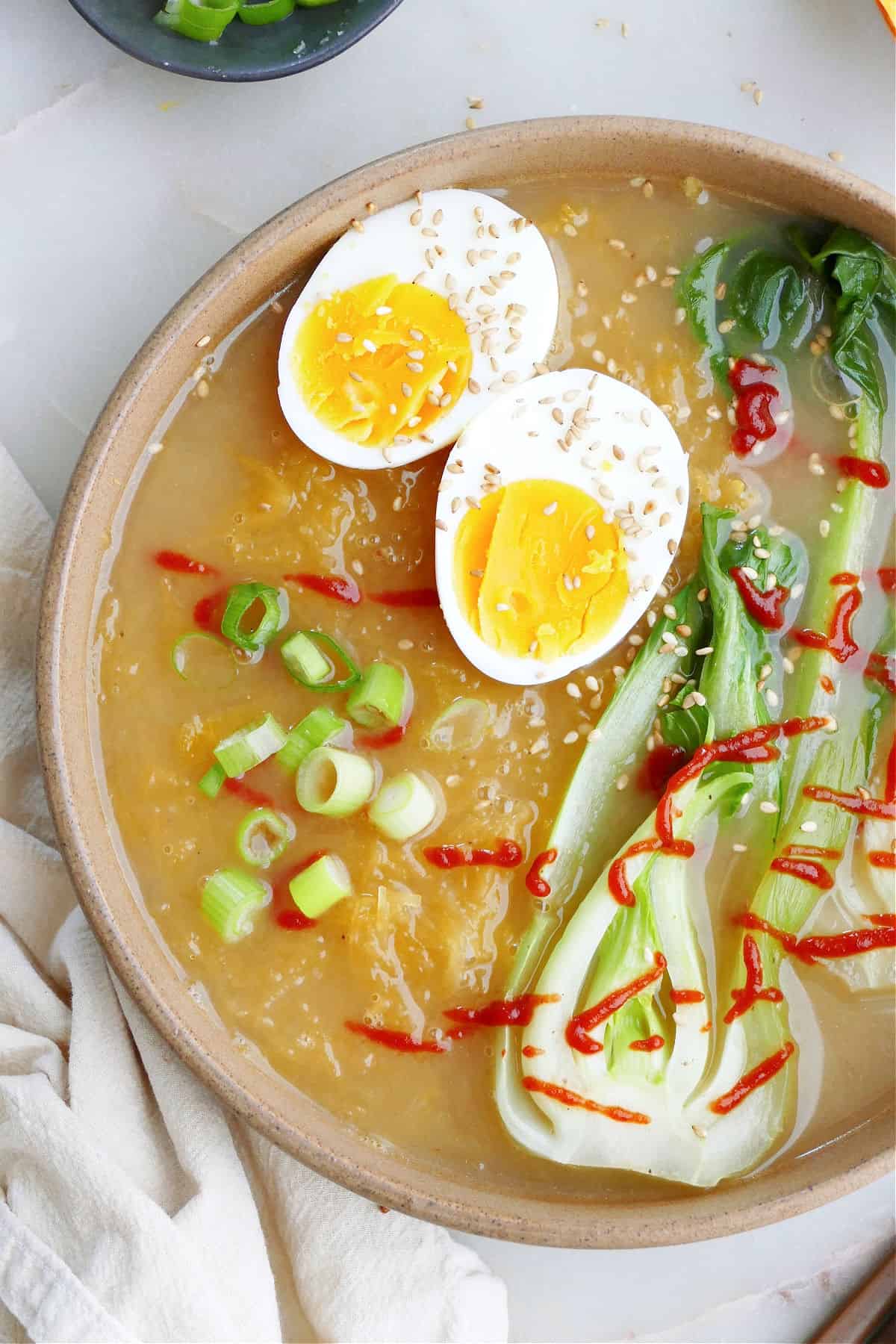 If you like this recipe, be sure to check out some other reader favorites with spaghetti squash: Spaghetti Squash Pad Thai, Spaghetti Squash Burrito Bowls, and 5 Ingredient Italian Spaghetti Squash Boats. And don't forget to let me know how you like it in the comments below! I'd love to hear from you.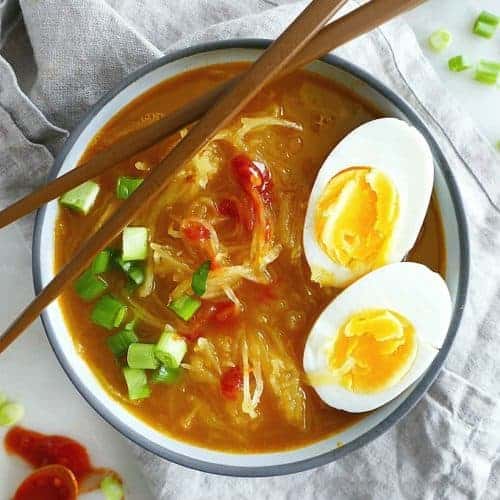 Vegetarian Spaghetti Squash Ramen
A comforting vegetarian meal with savory broth, spaghetti squash noodles, and boiled eggs.
Print
Pin
Rate
Ingredients
2

cups

spaghetti squash

-

cooked

1

yellow onion

-

diced

3

cloves

garlic

-

crushed or minced

1

tbsp

ginger

-

finely chopped

2

tsp

toasted sesame oil -

divided

4

cups

vegetable broth

1

tbsp

soy sauce -

sub tamari for gluten free

2

scallions

-

green and white parts thinly sliced

2

eggs

-

hard or soft boiled, depending on preference; can add more for additional protein

Hot sauce

-

to taste
Instructions
Preheat the oven to 400 degrees F. Line a baking sheet with parchment paper.

Slice the spaghetti squash in half and scoop out the seeds. Drizzle with a small amount of olive oil, season with salt and pepper, and place flesh side down on the lined baking sheet. Bake for 35 to 45 minutes or until squash is tender and can be pulled with a fork.

While the squash is roasting, heat 1 tsp sesame oil in a pot over medium heat. Add the onion, garlic, and ginger and cook for approximately 5 to 7 minutes. Pour the vegetable broth into the pot and bring to a boil. Add the soy sauce and the remaining 1 tsp sesame oil to the broth and stir. Lower heat and simmer for 15 to 20 minutes, or until the squash is ready.

While the broth is simmering, prepare the eggs by dropping them in a pot with enough water to cover them by 1 inch. Bring to a boil and cook for 8 to 10 minutes. A shorter cooking time will result in a softer boiled egg, if desired. Transfer the eggs to a bowl of cold water after cooking.

Remove broth from heat. Place a sieve over another pot and pour the broth through it, so that you can remove the onion pieces. If you do not have a sieve, you can serve the broth with the onions still in it. This is a personal preference.

Prepare 2 ramen bowls by scooping roughly 1 cup of spaghetti squash in each bowl. Pour 1.5 cups of broth over each serving. Peel and slice the boiled eggs in half and serve on top. Add sliced scallions and hot sauce to taste. Enjoy!
Notes
The cooking time for spaghetti squash will vary depending on the size of your squash. I personally prefer to check the squash at 35 minutes to see if it is ready, so that I don't overcook it and get soggy noodles.
Nutrition
Serving:
1
serving
|
Calories:
184
kcal
|
Carbohydrates:
20
g
|
Protein:
8
g
|
Fat:
9
g
|
Saturated Fat:
2
g
|
Cholesterol:
164
mg
|
Sodium:
1007
mg
|
Potassium:
270
mg
|
Fiber:
2
g
|
Sugar:
9
g
|
Vitamin A:
1444
IU
|
Vitamin C:
9
mg
|
Calcium:
71
mg
|
Iron:
1
mg
Happy hump day!
Lizzie