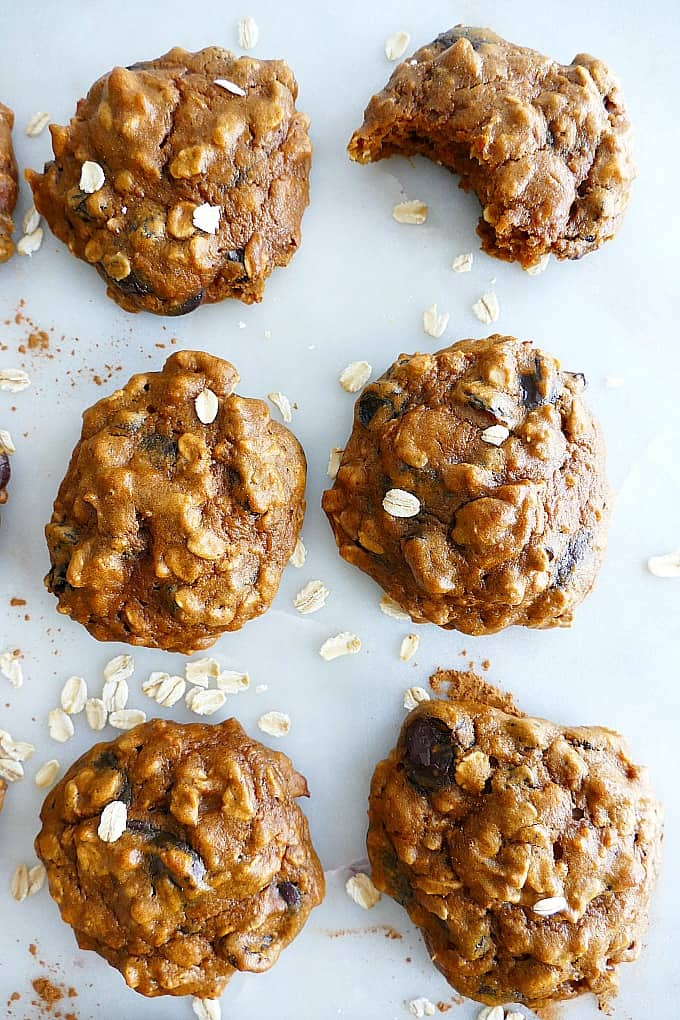 Thank you to Cyclebar Uptown for sponsoring this post!
Happy Friday Veg World! This week on Instagram, I partnered with Cyclebar Uptown in honor of National Nutrition Month. I had so much fun creating content about sports nutrition for their audience! Throughout the week, I gave tips about pre- and post-workout fuel, hydration, healthy carbs for athletes, and more. To check it out and learn more, visit their Instagram page.
I created today's Sweet Potato Recovery Cookies in honor of this collaboration with my favorite local cycling spot. They're so called "recovery" cookies because they are a great way to refuel after a hard cardio workout.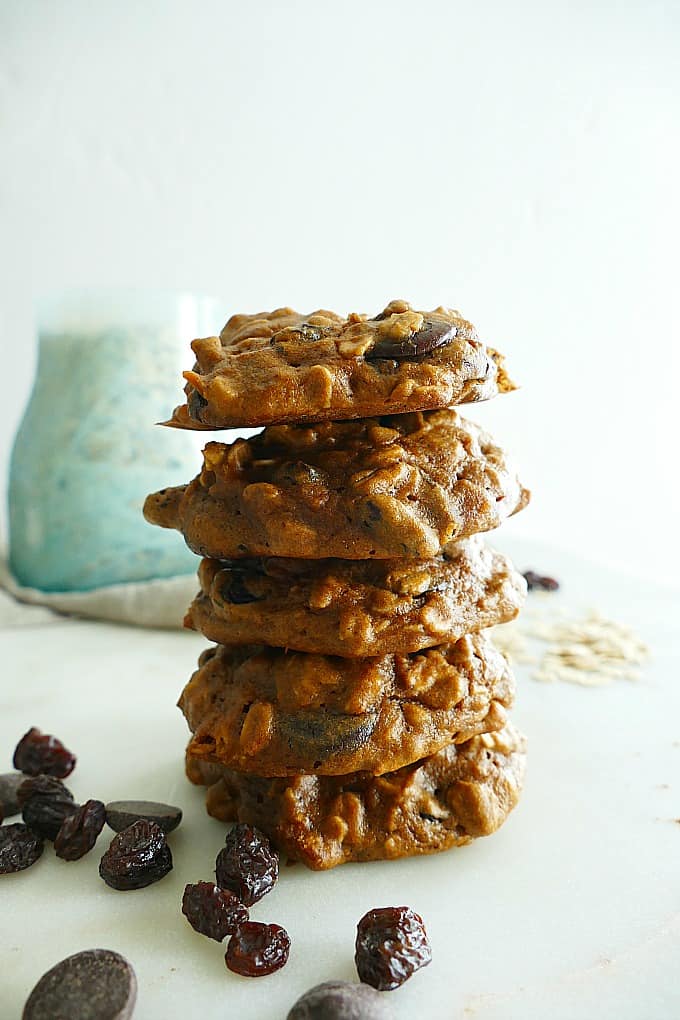 For those of you who aren't familiar with Cyclebar, their classes are fast-paced workouts on stationary bikes, led by upbeat instructors who make killer playlists! Not only are they a blast, but they also give you an AMAZING workout. I always sleep my best and feel full of energy the next day after my usual Thursday evening Cyclebar class. So if you're looking to switch up your workouts, or add something new to the mix, check 'em out!
But don't worry, you won't need to go to a cycling class to enjoy these Sweet Potato Recovery Cookies ;-). They're great after pretty much any type of exercise. If you read my post Snacks to Eat After Exercise, you may recall that the best fuel after working out is a mix of carbohydrates and protein.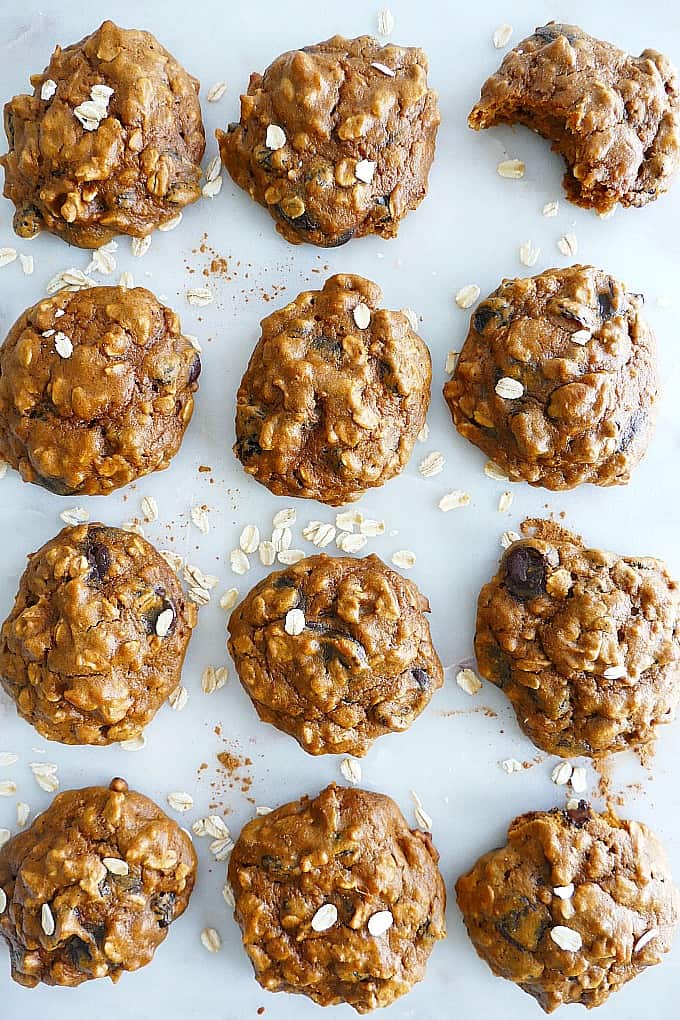 Why? Exercise, especially higher intensity workouts, can deplete your body's stores of carbohydrates. Even more, depending on the type of exercise, your muscles will undergo some breakdown and damage – which, don't worry, is totally normal and healthy! BUT it is important to replenish your body with the right foods to promote rebuilding and strengthening.
Enter: Sweet Potato Recovery Cookies. These cookies have complex carbohydrates from cooked sweet potato, rolled oats, and raisins, and protein from peanut butter, making them a great post-workout snack. Honestly, they would be a good pre-workout snack too!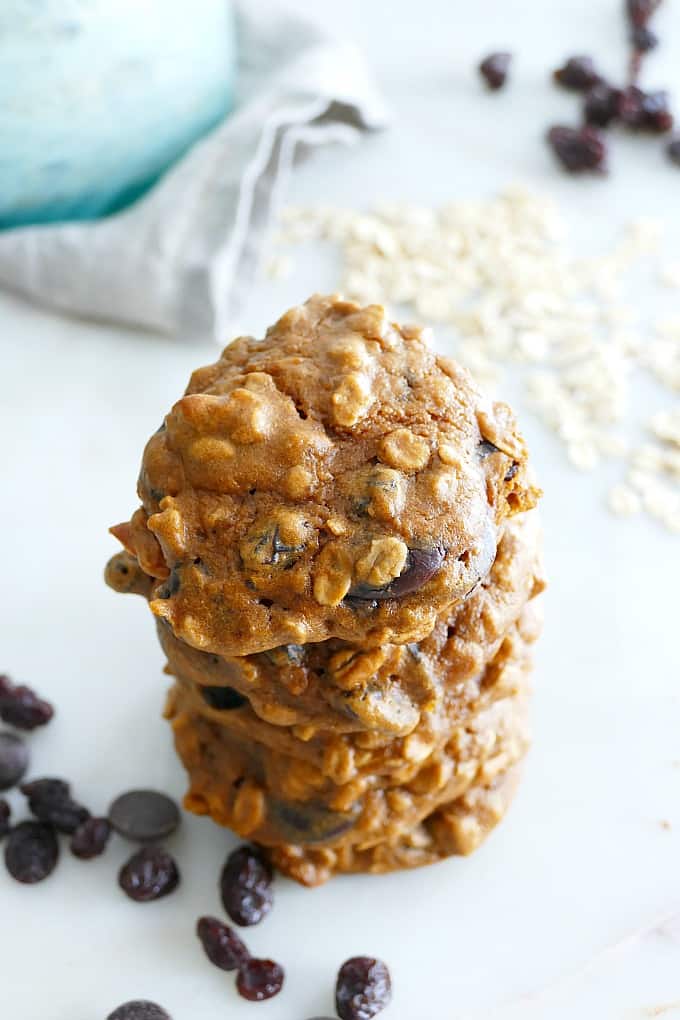 In an ideal world, we would all eat a balanced meal of complex carbs, protein and healthy fat within 2 hours of exercise. In the actual world, this is not always possible. So, instead of grabbing a processed snack or bar on the run after your workout, keep these Sweet Potato Recovery Cookies on hand to keep you satisfied until your next meal.
They're great to prep in bulk and keep in your fridge and freezer all week long. Oh and they have a VEGETABLE in them, which you know I'm pumped about! You can even make a sandwich with two cookies and some extra peanut butter in the middle… YUM. And they are delicious for breakfast too!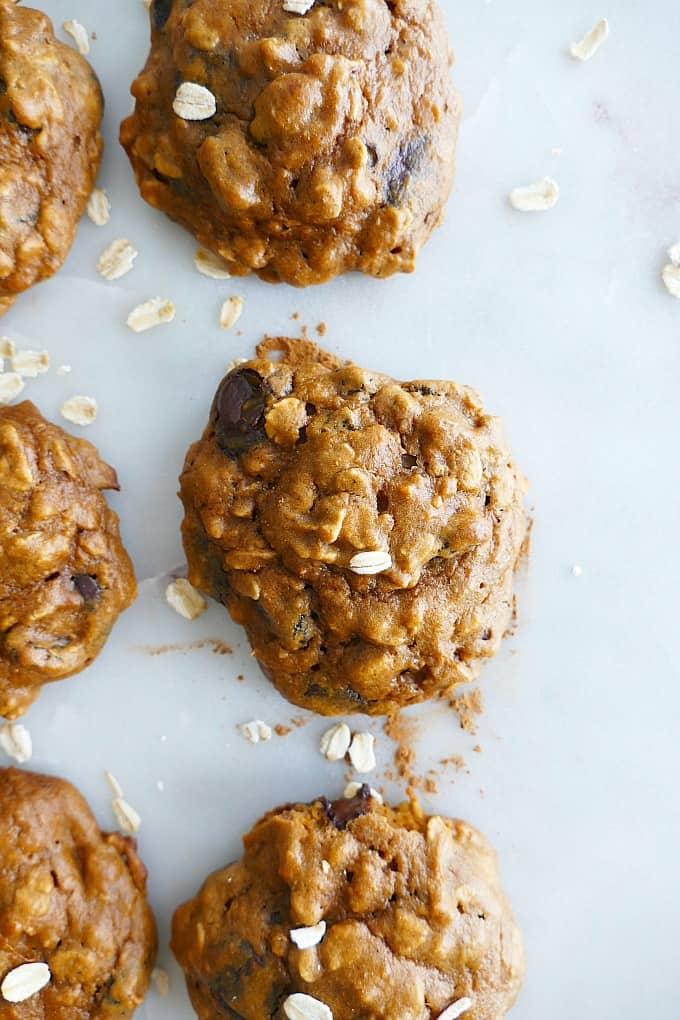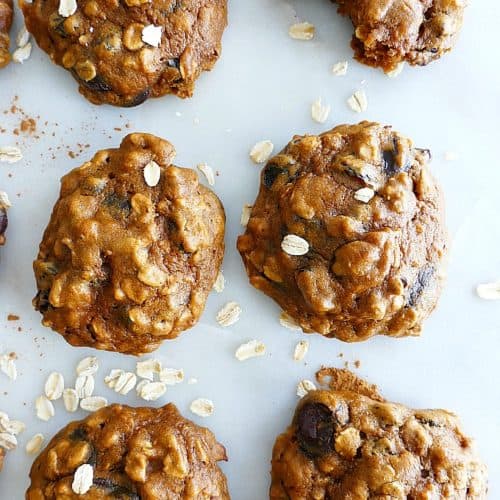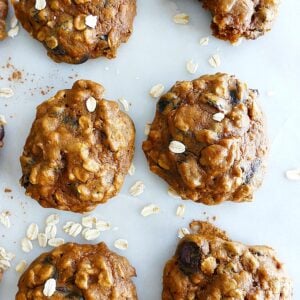 Sweet Potato Recovery Cookies
A tasty way to refuel after exercise - made with complex carbohydrates from sweet potatoes and protein from peanut butter!
Print
Pin
Rate
Instructions
Preheat oven to 350 degrees F. Line a baking sheet with parchment paper.

In a large bowl, combine cooked sweet potato, peanut butter, eggs, maple syrup, and vanilla. Mix until well combined. In a separate bowl, combine the rolled oats, raisins, baking soda, cinnamon, sea salt, and chocolate chips. Add the dry ingredients to the sweet potato mixture, and stir until well combined.

Roll batter into 12 balls (it will be sticky), and place them on the lined baking sheet, evenly spaced. Bake for 15-17 minutes. Enjoy!
Nutrition
Serving:
0
g
|
Carbohydrates:
0
g
|
Protein:
0
g
|
Fat:
0
g
|
Saturated Fat:
0
g
|
Polyunsaturated Fat:
0
g
|
Monounsaturated Fat:
0
g
|
Trans Fat:
0
g
|
Cholesterol:
0
mg
|
Sodium:
0
mg
|
Potassium:
0
mg
|
Fiber:
0
g
|
Sugar:
0
g
|
Vitamin A:
0
IU
|
Vitamin C:
0
mg
|
Calcium:
0
mg
|
Iron:
0
mg
Pin these Sweet Potato Recovery Cookies now to make later!


Happy exercising!
Lizzie