Looking for a fun and different way to eat roasted kohlrabi? A simple pomegranate reduction should do the trick! This vegan kohlrabi recipe is festive enough for a holiday, but simple enough for a weeknight dinner.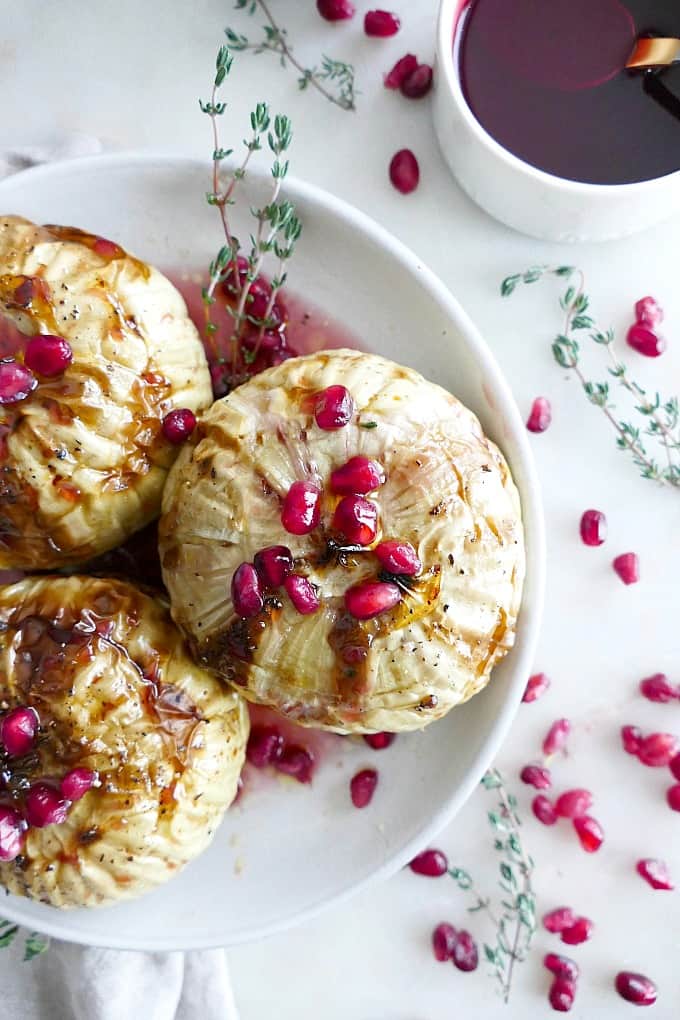 This post may contain affiliate links. For more information, see the affiliate disclosure.
I've done kohlrabi in salad, made kohlrabi chips, and even experimented with kohlrabi "steaks"…but roasted kohlrabi?! Not yet!
If you aren't familiar with kohlrabi, it's a knobby-looking bulb with thick stems and leaves that comes in green and purple. It tastes somewhere between cabbage, broccoli, and brussels sprouts, and provides fiber, potassium, and several other nutrients.
The subtle yet distinct flavor of kohlrabi is fairly malleable, meaning it tastes great with a fun dressing or sauce! So that's exactly why I made a sweet pomegranate reduction to drizzle over this roasted kohlrabi recipe.
Oh MAN, that stuff is GOOD. When I first made this recipe, I whipped up a pomegranate vinaigrette…but I really wasn't satisfied with how it coated the veggies.
I soon realized I should make a pomegranate reduction with a more syrup-like texture, so that it would better coat the kohlrabi. It also offers a more powerful flavor that's, in my opinion, sweeter and less pronounced than the taste of cranberries.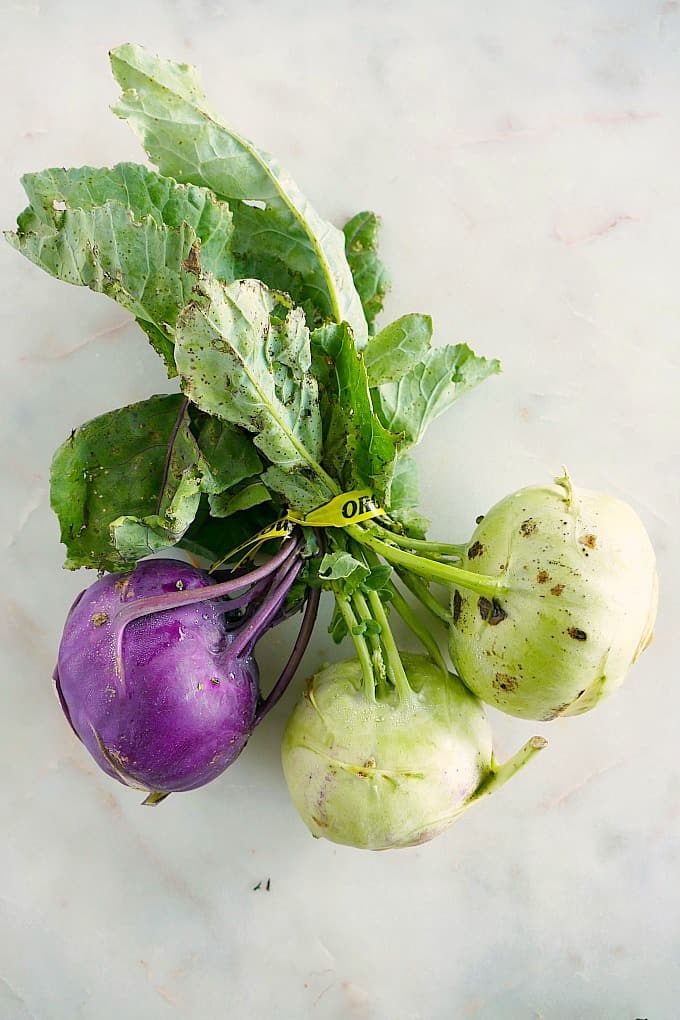 How to Prepare Roasted Kohlrabi
You can roast whole kohlrabi bulbs or diced kohlrabi. For this recipe, keep the bulbs intact! Whole roasted kohlrabi makes a great main dish if you're looking to switch up your veggies, and it even requires a knife and fork to eat.
First trim off the stems and leaves, then scrub the bulbs clean.
Drizzle each bulb with olive oil, salt, and pepper.
Bake them for 50-60 minutes, or until tender, on a lined baking sheet at 400 degrees F.
Keep in mind that diced kohlrabi takes less time to cook if you want to shorten the roasting time.
To make the pomegranate reduction, simply boil pomegranate juice in a small saucepan, then decrease the heat and cook until it "reduces" and thickens to a syrup-like consistency. The great news it that you can make a pomegranate reduction in about the same amount of time it takes to cook whole roasted kohlrabi!
Want more easy veggie side dishes? Check out the Savory Roasted Root Vegetables and the Roasted Turnips and Pears with Rosemary Honey Butter while you're here!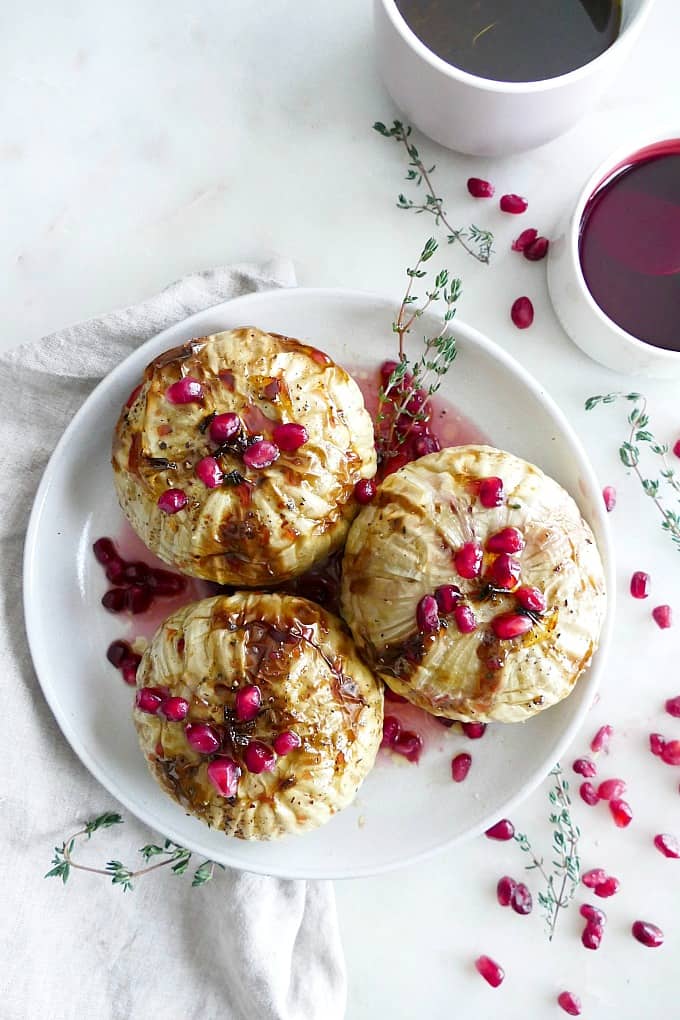 Do you peel kohlrabi before cooking?
Some people choose to peel kohlrabi before roasting it, especially if they don't want to keep the slightly rubbery skin to eat. However, the skin is edible and full of fiber, so it's really up to you.
I have made this recipe with both peeled and unpeeled kohlrabi, and have enjoyed it both times.
What does cooked kohlrabi taste like?
Roasted kohlrabi tastes very similar to broccoli stalks. It has a tender texture that resembles cooked carrots.
Expert Tips for Roasted Kohlrabi
Make the pomegranate reduction a few days in advance, and then you won't have to worry about anything while you're cooking the kohlrabi. It can be stored in an airtight container in the fridge and reheated in a saucepan over low heat.
This recipe has the perfect festive colors for the Christmas and holiday season! Serve with thyme or rosemary sprigs for a pop of green.
I recommend purchasing pomegranate arils and juice separately at the store, instead of trying to get them out of a whole pomegranate. Unless you're really good at doing that…then by all means! ;-)…
Leftovers can be stored in an airtight container in the fridge for 3-5 days. You can enjoy them cold or reheat in the microwave.
If you serve this as a main dish, keep in mind that kohlrabi is fairly low in protein. Pair with a quinoa or bean salad for a balanced plate.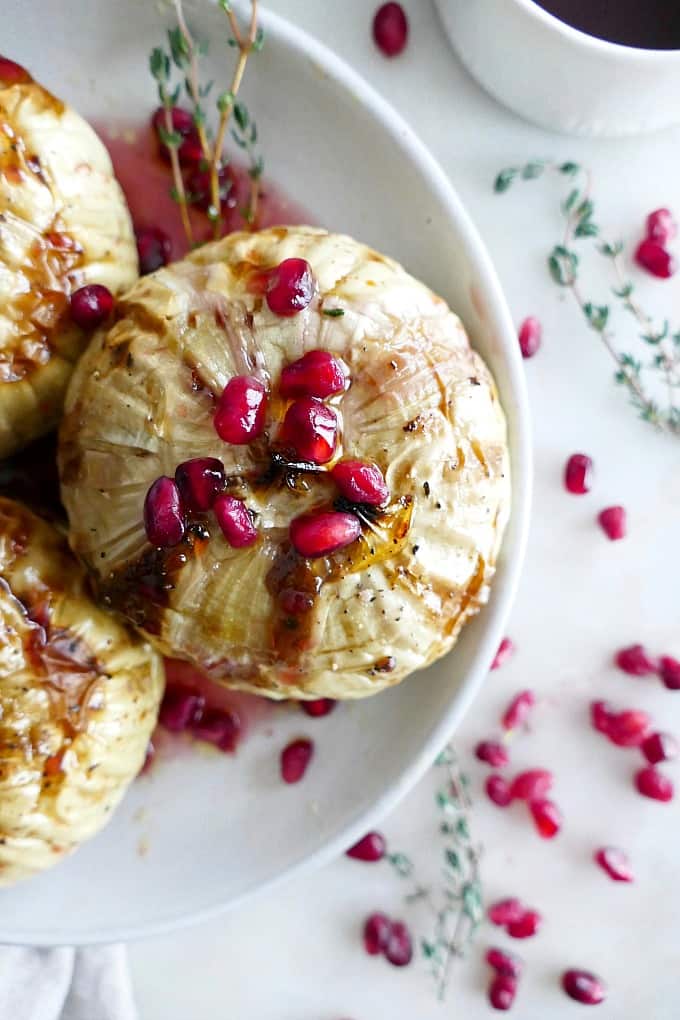 More Kohlrabi Recipes
If you make this recipe, I'd love to hear how you like it! Rate it using the stars on the recipe card or in the comments.
📖 Recipe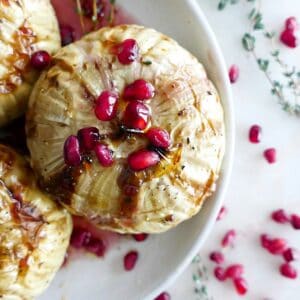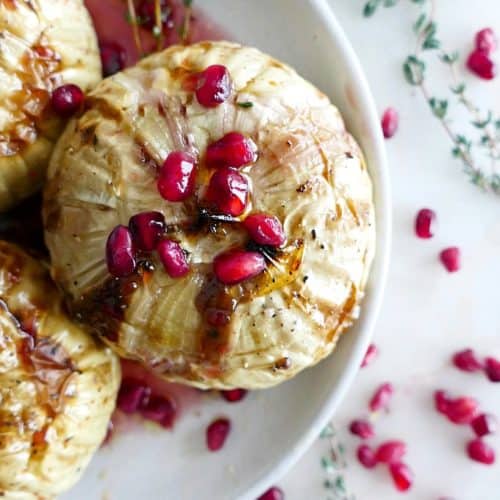 Whole Roasted Kohlrabi with Pomegranate Reduction
A fun way to eat kohlrabi with a sweet, syrup-like pomegranate reduction made solely from pomegranate juice!
Print
Pin
Rate
Save
Saved!
Instructions
Preheat the oven to 400 degrees F. Line a baking sheet with foil or parchment paper. Prepare the kohlrabi bulbs by trimming off their stems and leaves, scrubbing them clean, and peeling them (optional, but most people prefer peeled). Transfer the bulbs to the baking sheet, and brush each one with a thin layer of olive oil. Season with salt and pepper to taste. Bake for 45 to 60 minutes, or until the kohlrabi are tender. Cooking time will vary depending on the size of the bulbs.

While the kohlrabi are roasting, prepare the pomegranate reduction. Add the pomegranate juice to a small saucepan over high heat. Bring to a boil and then reduce heat to medium to maintain a slower boil for approximately 40-45 minutes, or until the juice begins to thicken into syrup-like consistency that coats the back of a spoon. The change can happen rather suddenly, so be sure to keep an eye on it and stir the juice occasionally to make sure you don't reduce it too much. You will end up with approximately half of the amount of juice you started with.

Remove the kohlrabi from the oven, and transfer the bulbs to serving plates. Drizzle each bulb with a few spoonfuls of the reduction, and sprinkle with pomegranate seeds. Enjoy warm!
Notes
You can make the pomegranate reduction a few days in advance, store in the fridge, and reheat over low heat on the stove right before serving.
Leftovers can be stored in an airtight container in the fridge for 3-5 days.
Nutrition
Serving:
1
bulb
|
Calories:
173
kcal
|
Carbohydrates:
33
g
|
Protein:
3
g
|
Fat:
4
g
|
Saturated Fat:
1
g
|
Sodium:
43
mg
|
Potassium:
888
mg
|
Fiber:
7
g
|
Sugar:
25
g
|
Vitamin A:
54
IU
|
Vitamin C:
97
mg
|
Calcium:
54
mg
|
Iron:
1
mg
This post was originally published in December 2018 and was updated a year later with expert tips.
Cheers to another week!
Lizzie