Looking for a fun and different way to eat roasted kohlrabi? A simple pomegranate reduction should do the trick!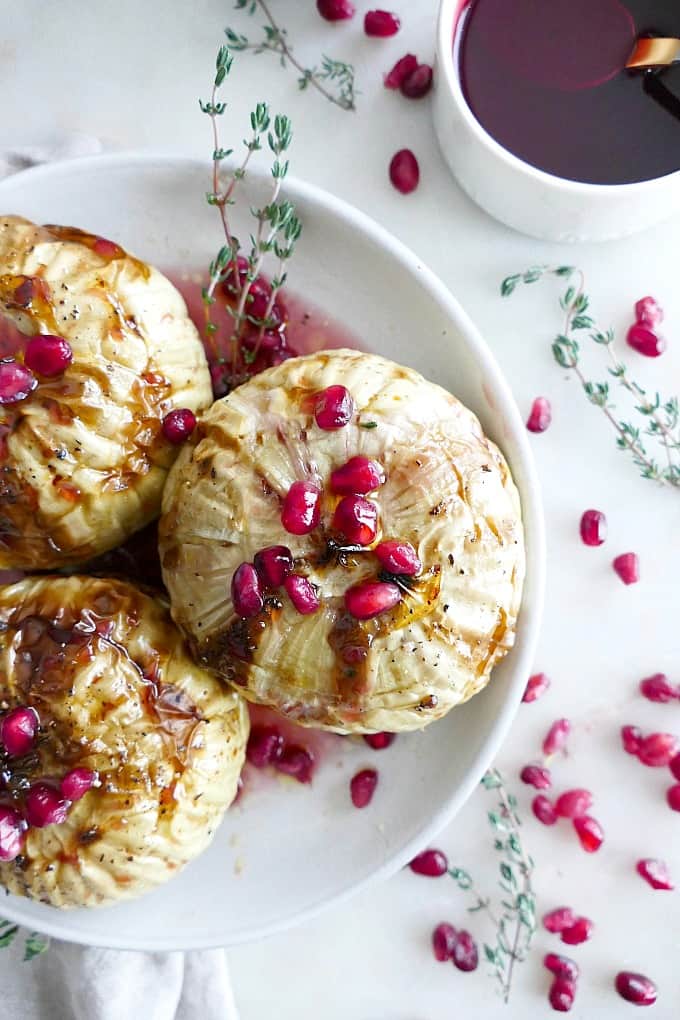 On the sixth day of Vegmas, my true love gave to me…KOHLRABI! Can you believe it?! We are already halfway through Vegmas!
It's been a lot of fun so far, and I loved reading your responses to the first five days. Sounds like the Shredded Brussels Sprouts Salad with Dates is one of the most popular recipes! Can't wait to see what you think of this week's creations.
But first, let's finish off the first half of Vegmas with this Whole Roasted Kohlrabi with Pomegranate Reduction recipe. If you aren't familiar with kohlrabi, it's a knobby-looking bulb with thick stems and leaves that comes in green and purple. It tastes somewhere between cabbage, broccoli, and brussels sprouts, and you can eat it raw or cooked.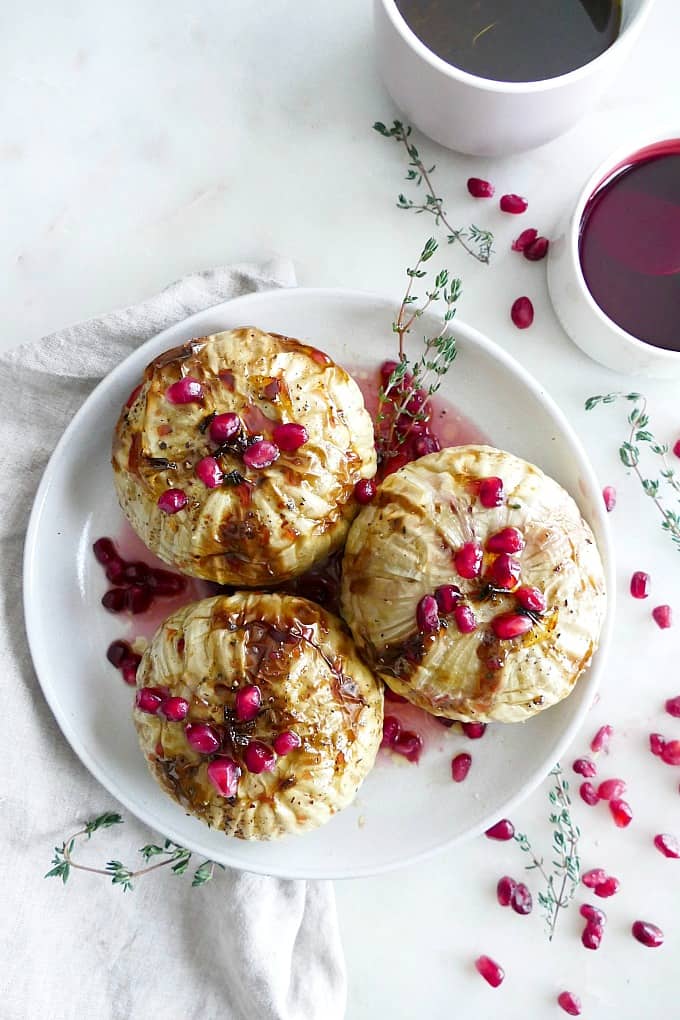 How Do You Make Whole Roasted Kohlrabi?
Most people peel and dice kohlrabi before roasting it, but you can also roast entire kohlrabi bulbs. First trim off the stems and leaves, then scrub the bulbs clean. Drizzle each bulb with olive oil, salt, and pepper. Bake them for 50-60 minutes, or until tender, on a lined baking sheet at 400 degrees F.
Some people choose to peel kohlrabi before roasting it whole, especially if you don't want to keep the slightly rubbery skin to eat. It's really up to you!
One of the coolest parts about whole roasted kohlrabi is that it can be a great main dish if you're looking to switch up your veggies, or want to swap out your typical meat or fish at dinner one night. It even requires a knife and fork to eat. This recipe is also a tasty and festive vegetable side dish that would be fun to enjoy during the holiday season, or really any time of year!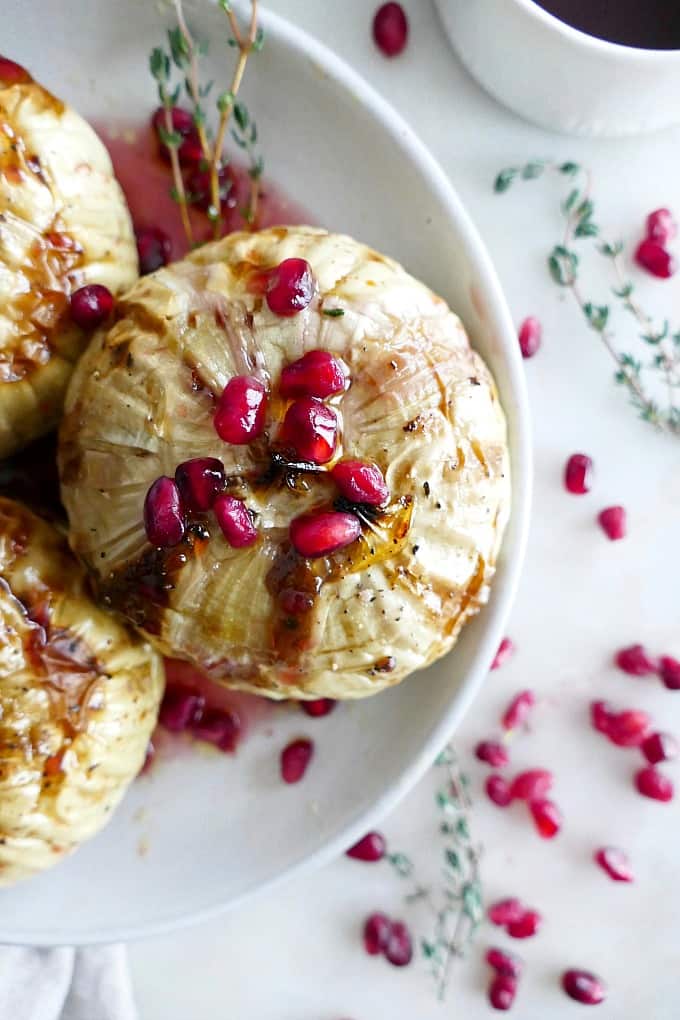 What about the pomegranate reduction, you ask? Oh MAN, that stuff is GOOD. When I first made this recipe, I whipped up a pomegranate vinaigrette to drizzle on the kohlrabi. Even though the taste was delicious, I really wasn't satisfied with how it coated the veggies. It didn't stick the way I wanted it to, leaving the dish slightly bland and boring. I soon realized I should make a pomegranate reduction with a more syrup-like texture, so that it would better coat the kohlrabi and offer a more powerful flavor.
So that's exactly what I did! However, I already shot the photos before I came to this realization, so that's why the pomegranate dressing doesn't appear to be a thicker reduction in the photos (in case you were wondering). As for flavor, pomegranate reduction has a slightly tart taste that's, in my opinion, sweeter and less pronounced than the taste of cranberries.
If you haven't made a reduction before, it's so easy! You only need to bring juice to a boil over high heat, then lower the heat so it maintains a slow boil, and let the juice cook until it has a syrup-like consistency. The great news it that you can make a pomegranate reduction in about the same amount of time it takes to cook whole roasted kohlrabi!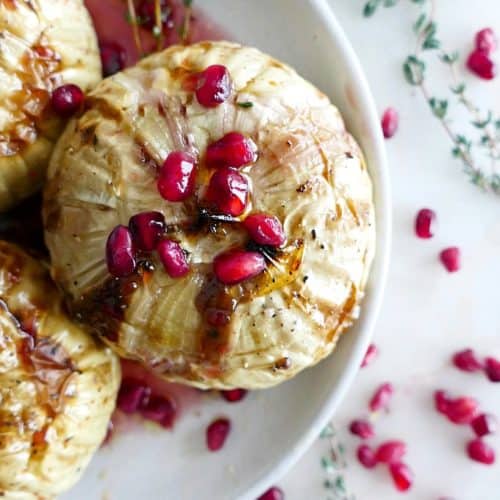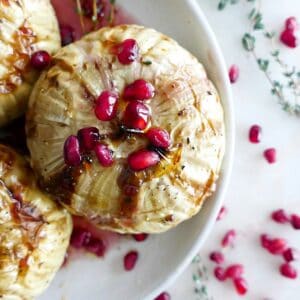 Whole Roasted Kohlrabi with Pomegranate Reduction
A fun way to eat kohlrabi with a sweet, syrup-like pomegranate reduction made solely from pomegranate juice!
Print
Pin
Rate
Instructions
Preheat the oven to 400 degrees F. Line a baking sheet with foil or parchment paper. Prepare the kohlrabi bulbs by trimming off their stems and leaves, scrubbing them clean, and peeling them (peeling is optional). Transfer the bulbs to the baking sheet, and brush each one with a thin layer of olive oil. Season with salt and pepper to taste. Bake for 45 to 60 minutes, or until the kohlrabi are tender. Cooking time will vary depending on the size of the bulbs.

While the kohlrabi are roasting, prepare the pomegranate reduction. Add the pomegranate juice to a small saucepan over high heat. Bring to a boil and then reduce heat to medium to maintain a slower boil for approximately 40-45 minutes, or until the juice begins to thicken into syrup-like consistency. The change can happen rather suddenly, so be sure to keep an eye on it and stir the juice occasionally to make sure you don't reduce it too much. You will end up with approximately half of the amount of juice you started with.

Remove the kohlrabi from the oven, and transfer the bulbs to serving plates. Drizzle each bulb with a few spoonfuls of the reduction, and sprinkle with pomegranate seeds. Enjoy warm!
Nutrition
Serving:
0
g
|
Carbohydrates:
0
g
|
Protein:
0
g
|
Fat:
0
g
|
Saturated Fat:
0
g
|
Polyunsaturated Fat:
0
g
|
Monounsaturated Fat:
0
g
|
Trans Fat:
0
g
|
Cholesterol:
0
mg
|
Sodium:
0
mg
|
Potassium:
0
mg
|
Fiber:
0
g
|
Sugar:
0
g
|
Vitamin A:
0
IU
|
Vitamin C:
0
mg
|
Calcium:
0
mg
|
Iron:
0
mg
Like what you see?! Pin this Whole Roasted Kohlrabi with Pomegranate Reduction now to make later! 


Cheers to another week of Vegmas!
Lizzie