Learn how to make basil chiffonade for recipes. Then use your basil ribbons on pizzas, pasta, and more! Step-by-step photos and a short video are included.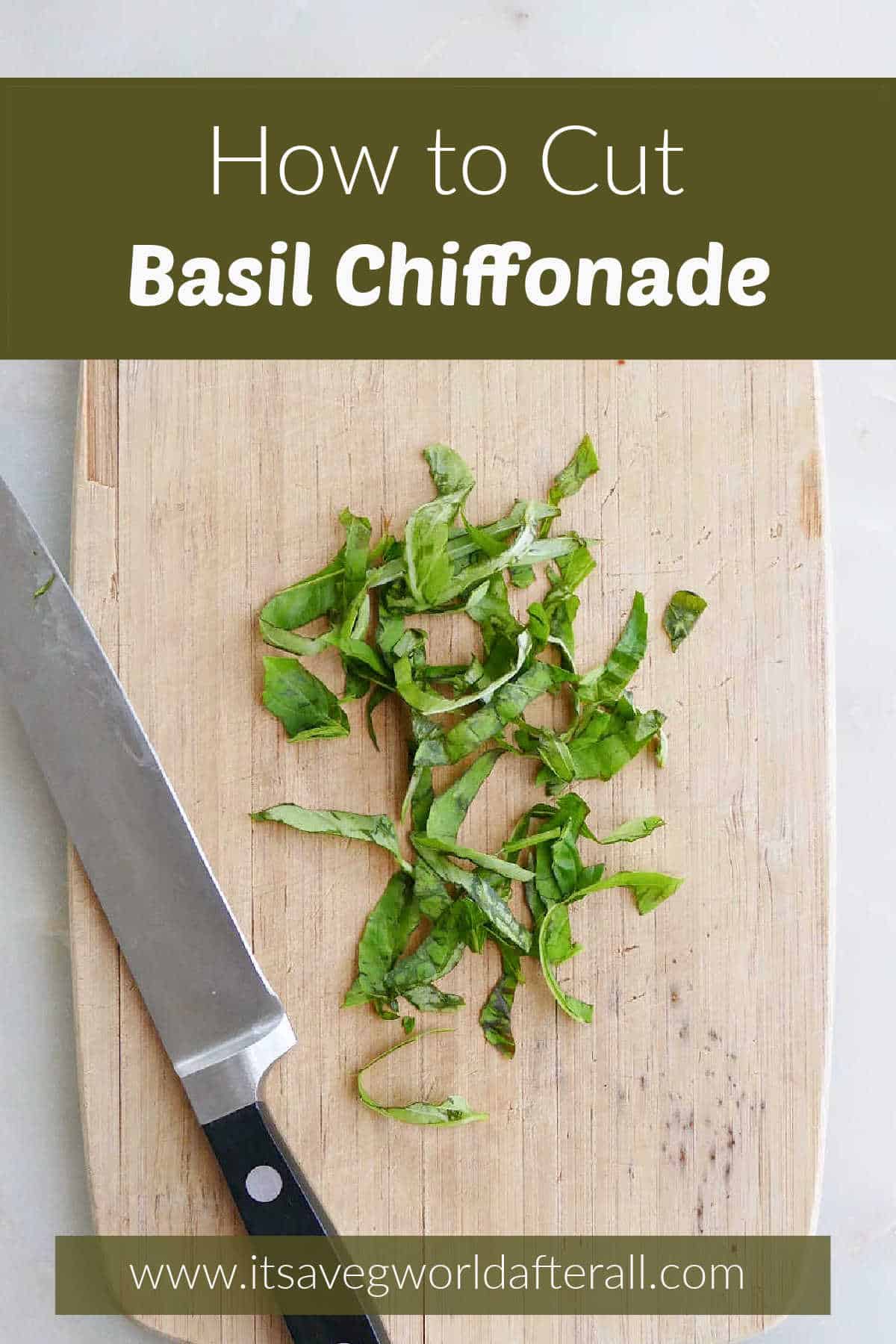 This post may contain affiliate links. For more information, see my affiliate disclosure.
Have you seen recipes call for basil chiffonade, but you're not sure what this means? I've got you covered! Here are the steps for how to slice basil in a chiffonade cut.
Chiffonade Meaning
If you aren't familiar with the term, chiffonade is a technique that involves slicing leafy vegetables and herbs into thin strips or ribbons. It's most commonly used to describe basil, but collard greens and other leafy green vegetables can also be prepared with this technique. Check out my tutorial on How to Cut Collard Greens for more information.
Preparing Chiffonade Basil
Gather a handful of basil leaves. Stack several leaves on top of each other in the center of a cutting board. If you have large leaves, you can use more in a stack than if you only have small leaves.
Starting from the bottom, roll the leaves up.
Cut the basil perpendicular to the roll, yielding thin ribbons.
Recommended Equipment
A good chef's knife and a cutting board that doesn't slip are key to chopping herbs and making basil chiffonade. Here is the chef's knife and set of cutting boards that I use.
How to Use Basil Chiffonade
You can add basil ribbons to tons of recipes for extra flavor and color. I like to use basil on pizzas, pasta, salads, and more. My favorite dishes with basil chiffonade include the Caprese Orzo Salad, Cherry Tomato Bruschetta, and Grilled Stuffed Mushrooms with Caprese Salad.
For recipes that use basil in different preparations, see the Mint Basil Pesto and Strawberry Basil Lemonade with Honey. The opportunities for fresh basil are endless!
Watch How to Cut Basil
Thanks for watching! – Lizzie