This healthy blueberry chia jam is an easy, foolproof recipe for homemade vegan jam that requires no pectin and can be made with fresh or frozen berries. It's also customizable, freezer-friendly, and even a great baby food.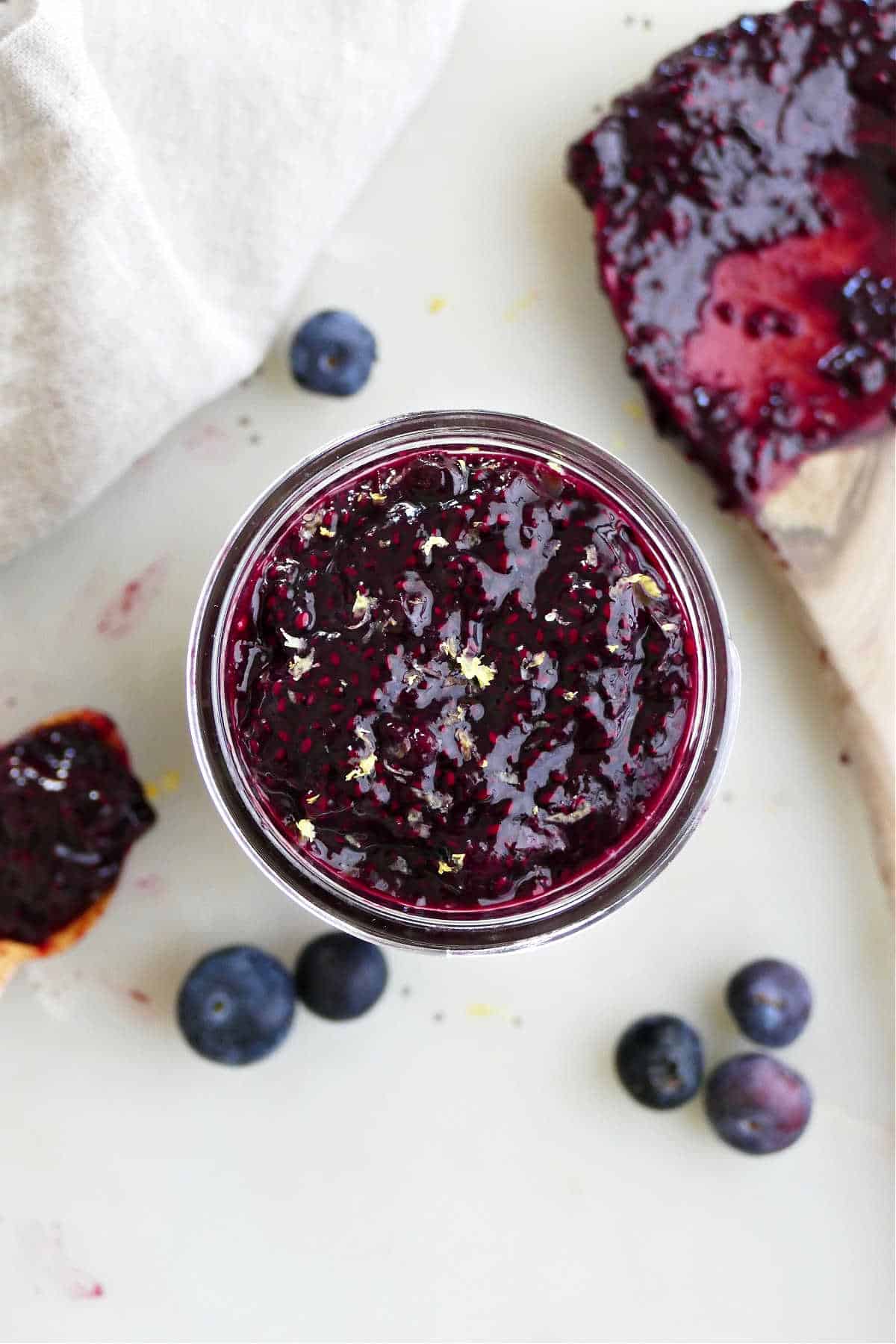 Homemade jams are kind of my…jam. Ok sorry, I just had to! But seriously, it's SO easy to make jams from fresh or frozen fruit. However, depending on the type of fruit you use, they sometimes require pectin to thicken.
Pectin isn't something that a lot of people having laying around in their pantry, so I've been experimenting with ways to make jam without this ingredient. My Blueberry Rhubarb Jam, for instance, doesn't need added pectin since the rhubarb plus the pectin in the berries act together as natural thickeners.
Using chia seeds is another great way to thicken jams, all while adding a boost of healthy fats, protein, fiber, vitamins, and minerals. It's a win-win in my book! Chia seeds become so gelatinous when mixed with cooked berries, yielding a perfect, spreadable texture. This unique property of chia seeds is also why they are a great base for healthy puddings, like my Banana Chia Pudding and Pumpkin Chia Pudding.
Due to its ingredient profile, blueberry chia jam is very healthful. My version is also low in added sugar, with just a tiny bit of maple syrup that can totally be omitted if desired. Read on to learn how to make this recipe with any variation you want, plus how to modify it for babies and kids so the whole family can enjoy it!
Jump to: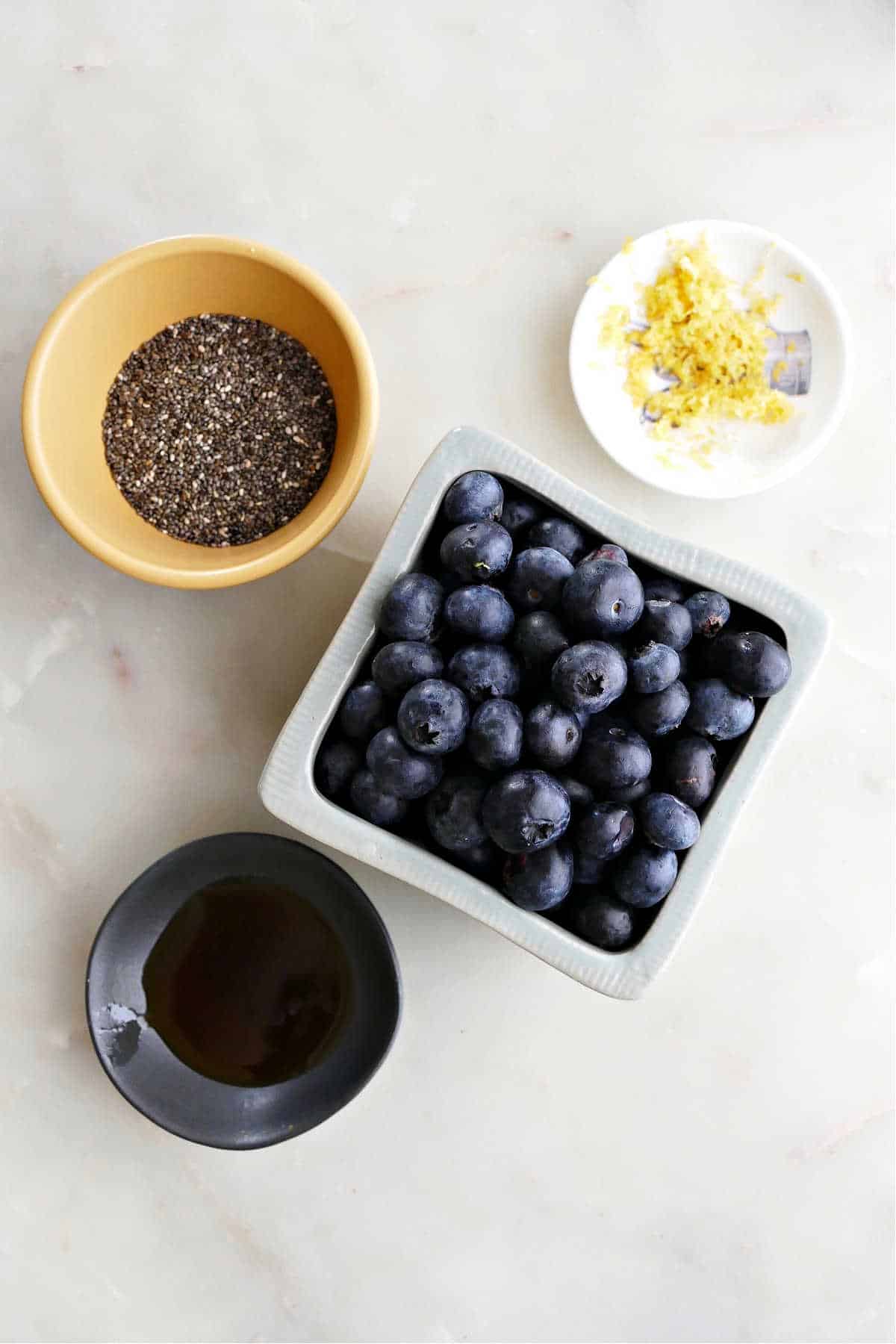 Ingredients
Blueberries: I use fresh blueberries but frozen ones are totally fair game. Use 2 heaping cups.
Chia seeds: White or black chia seeds both work in this recipe.
Maple syrup (optional): Add some maple syrup if you think your blueberry chia jam is too tart. You can also substitute honey or agave syrup. Omit any added sweeteners entirely if you are making this for babies, and remember that honey should not be served to babies under 1 year of age.
Lemon zest: I think lemon and blueberries are a perfect pair for jams, but you can omit this if desired or swap in another type of citrus zest.
Variations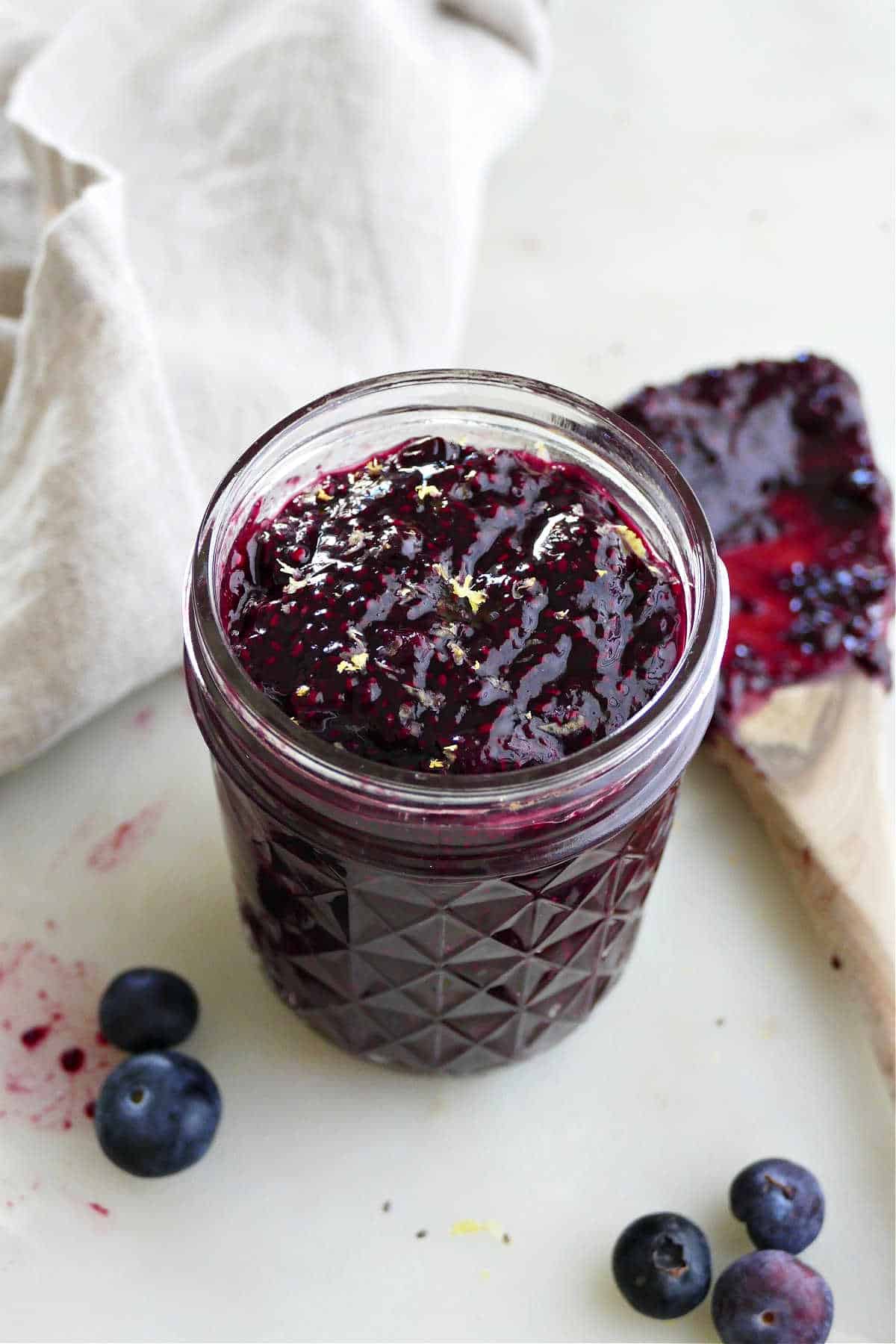 Instructions
Baby Modifications
You can serve blueberry chia jam to babies and kids. However, omit the maple syrup in this instance since it's not recommended to give babies added sugars. Consider serving the jam on age-appropriate toast sticks and sandwiches or mixed into yogurt and oatmeal. Start with a small amount and see how your baby reacts. If your kid doesn't like the texture or appearance of chia seeds, you can try blending the jam so that the seeds become less noticeable.
Storage
This jam will keep in an airtight container, such as a glass jar with a lid, for up to 7 to 10 days in the refrigerator. To freeze, let it cool completely then transfer to a freezer-safe container. Seal and store in the freezer for up to 3 months. Let it thaw in the refrigerator before using. Alternatively, you can freeze individual portions in a silicone ice cube tray. Once frozen, pop them out and transfer to a container or bag to store in the freezer.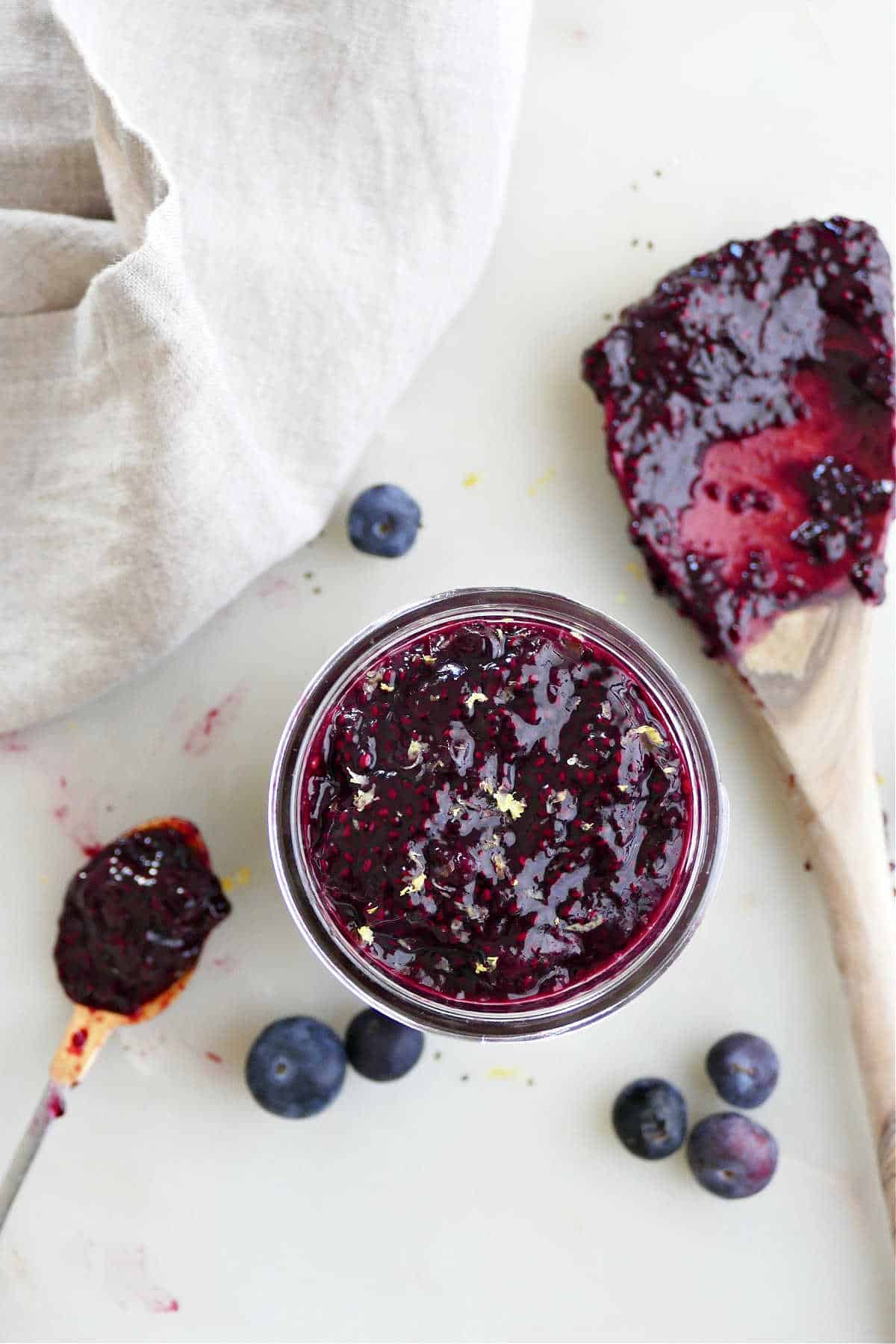 Serving Ideas
More Healthy Fruit Recipes
I'd love to hear how you like this recipe! Rate/review using the stars on the recipe card or in the comments, and follow the Veg World on YouTube, Instagram, Facebook, and Pinterest. Looking for something totally different? Browse the recipe library.
📖 Recipe
Happy berry season! – Lizzie