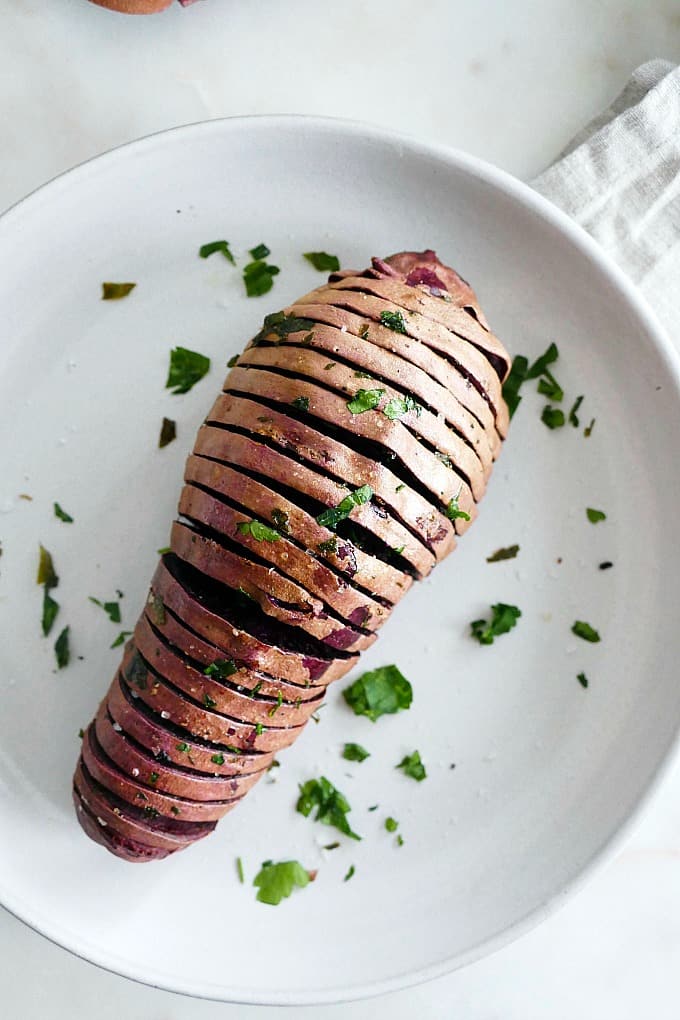 You guys…purple sweet potatoes. I repeat, PURPLE sweet potatoes!! Please tell me you have tried them?! If you haven't, well you need to, and this recipe for Hasselback Purple Sweet Potatoes with Ghee and Parsely will do the trick.
I stumbled upon my new favorite vegetable at the Wedge Co-op last week, and just KNEW I had to create something for the blog. Little did I know how good these purple sweet potatoes would taste though! Will and I split one with dinner earlier this week, and we were so pleasantly surprised by the flavor. Imagine a regular ol' sweet potato…but just better somehow!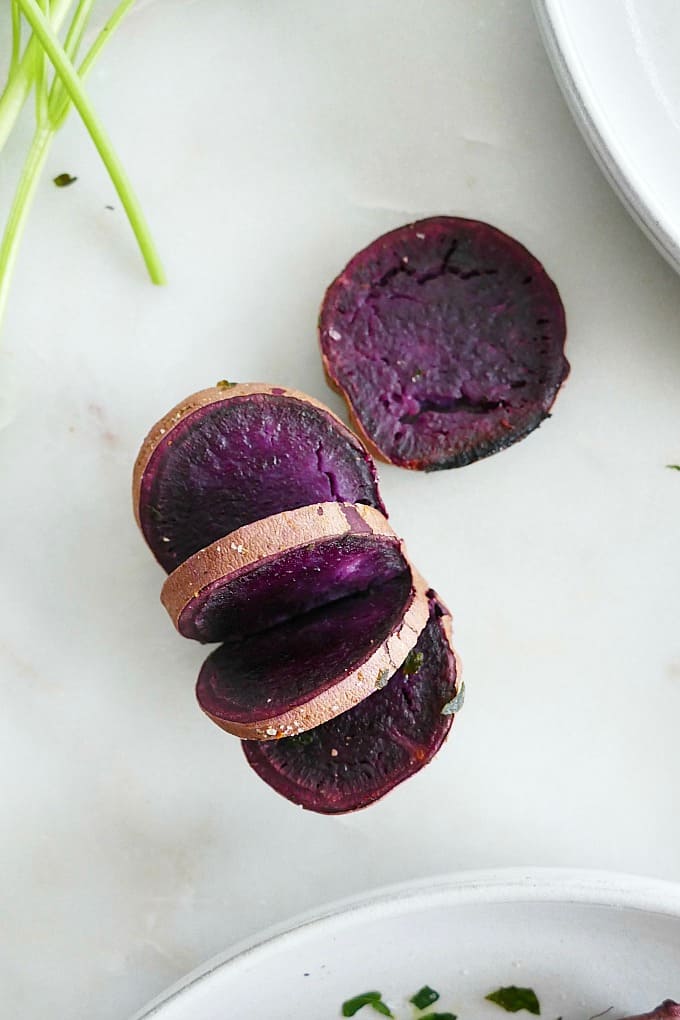 Ok that's enough about my love affair with purple sweet potatoes. Let's talk about how I prepared them. According to my very brief Internet research, Hasselback potatoes originated in Sweden. Aren't they cool looking?!
The tiny slits allow the edges of the potato to get extra crispy, while the middle stays soft and tender. Um, yum!! To ensure that the edges get crispy enough, you also need to brush each potato with butter, oil, or in my case, ghee!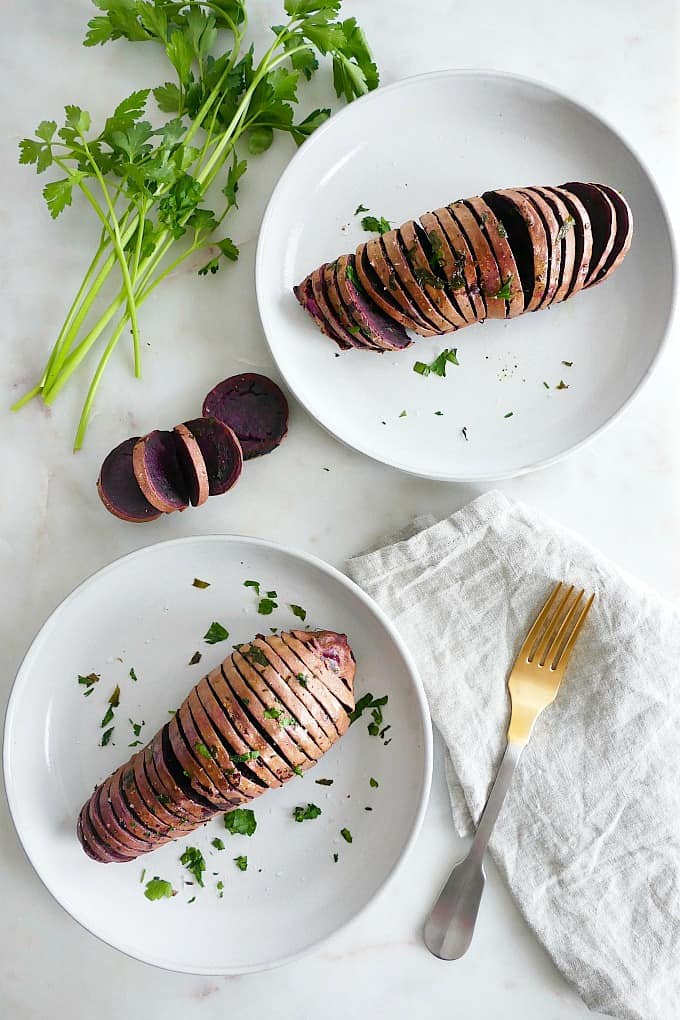 Ghee is produced by simmering butter to get rid of the milk solids and water. The remaining product has a nutty flavor and is free of lactose and casein, a sugar and protein in milk that can cause a negative reaction in certain people. Ghee also has a much higher smoke point than butter, and can be used in high temperature cooking without the risk of damaging its nutrients.
I recently started incorporating ghee into my cooking, and have fallen in love with the flavor! So far, I have enjoyed using it to cook eggs and cauliflower rice shrimp scampi, and as a topping for sweet potatoes. You can mix ghee with garlic or herbs to create a delicious seasoning. Hence why I added parsley to this recipe!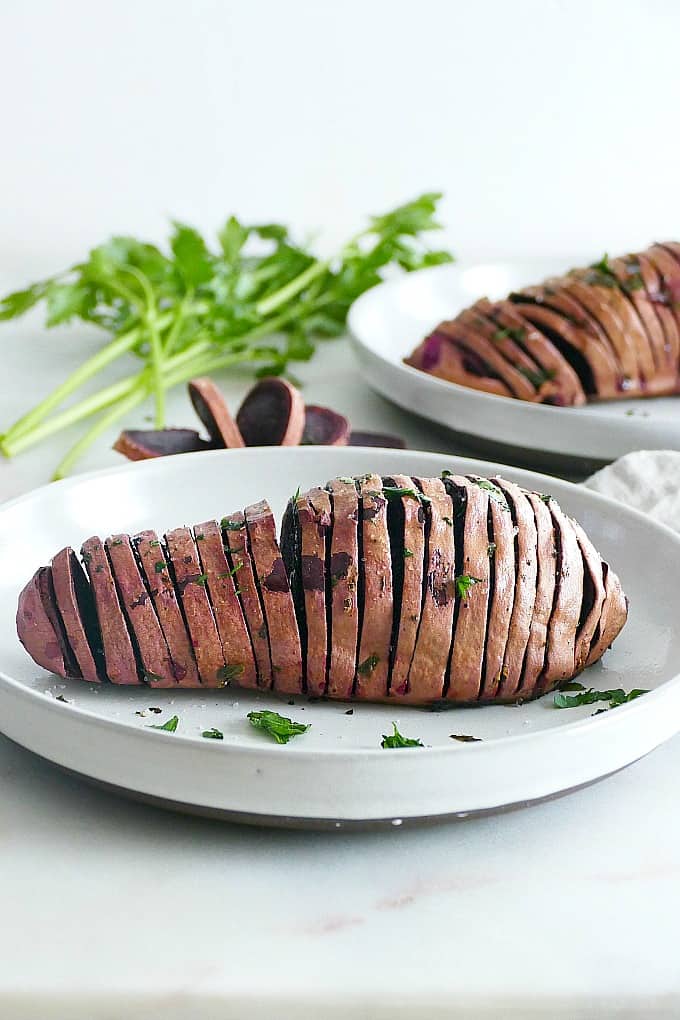 You may also be wondering how I made all those slits without slicing through the tater?! Good question. I did another round of brief internet research, and found out that the key to slicing these perfectly is using chopsticks or wooden spoons (and a knife of course). Believe me, this is VERY easy, even though the potatoes look so fancy!
First, you slice off a tiny piece of one long side of the potato to make it flat. I wish I had a picture for you, but basically just slice enough so you can put it down and it won't roll away. Then you place a chopstick or the handle of a wooden spoon on each side of the potato. This will ensure that you do not slice through the potato. Lastly, make your slits (about 1/4″ or smaller), and slice only as far as the chopsticks or wooden handles let you. Feel free to comment with any questions if you are still not sure!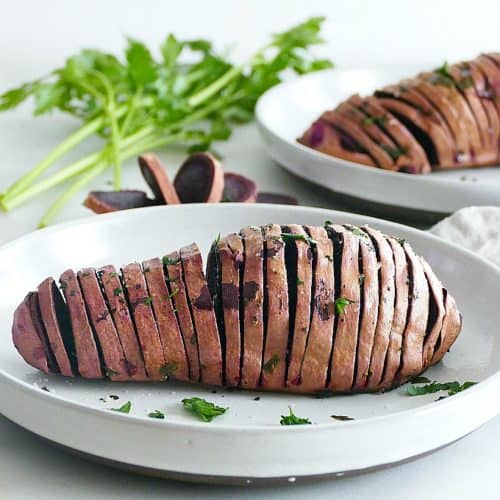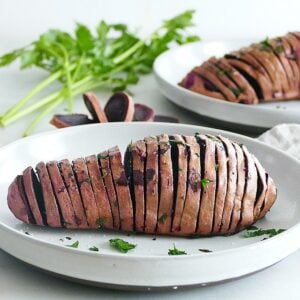 Hasselback Purple Sweet Potatoes with Ghee and Parsley
These delicious potatoes may appear fancy, but they are so easy to make! Serve as a side dish.
Print
Pin
Rate
Ingredients
2

purple sweet potatoes

-

scrubbed

2

tbsp

ghee

-

melted

2

tbsp

fresh parsley

-

chopped

Sea salt to taste
Instructions
Preheat oven to 425 degrees F. Line a baking sheet with foil.

Prepare the potatoes by slicing off a tiny bit on one side, so the potato stays flat when you put it down and does not roll away. Put a chopstick or the handle of a wooden spoon on either side of the potato, and use your knife to make 1/4" slits. The chopsticks or spoon handles will stop you from slicing through the potato.

Mix together the melted ghee and parsley, and use a brush to spread about 1/2 of the mixture over the potatoes. be sure to get some of the mixture in the cracks!

Bake for 35 minutes, remove from oven and spread the rest of the ghee and parsley mixture over potatoes. Bake for another 10-15 minutes until middle of potatoes are as tender as desired. Sprinkle with salt, and top with additional ghee and parsley, to taste.
Notes
These potatoes are Paleo and vegetarian friendly.
Nutrition
Serving:
1
serving
|
Calories:
245
kcal
|
Carbohydrates:
26
g
|
Protein:
2
g
|
Fat:
15
g
|
Saturated Fat:
9
g
|
Cholesterol:
38
mg
|
Sodium:
74
mg
|
Potassium:
460
mg
|
Fiber:
4
g
|
Sugar:
5
g
|
Vitamin A:
18780
IU
|
Vitamin C:
8
mg
|
Calcium:
45
mg
|
Iron:
1
mg


Have an awesome weekend everyone!
Lizzie