Learn how to cut celery ribs in different ways — chopped, diced, in sticks or batons, and angled. You'll learn the best way to prepare celery for soups, salads, dipping, and veggie trays. Plus, tips for using and storing cut celery are included.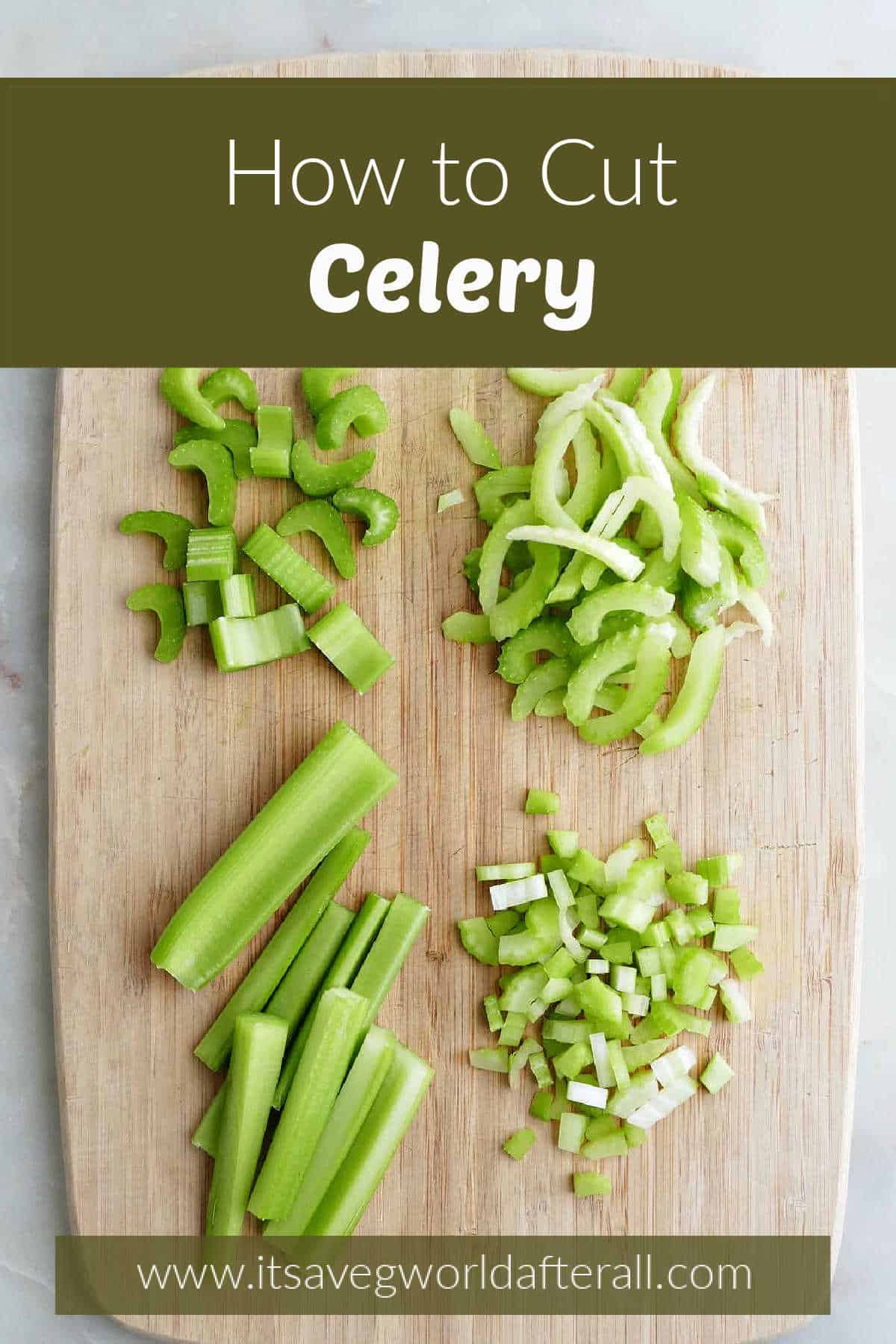 Celery is usually not someone's first choice of vegetable. It's stringy and tough and has a mineral-like flavor. So, on the surface, celery doesn't seem too appealing.
However, celery has a lot to offer! It tastes delicious roasted or in a salad, and of course, as the base of a soup. If you are interested in adding more celery to your meals, here's everything you need to know about how to prepare this vegetable.
Jump to:
How to Trim and Wash Celery
Before cutting celery into your desired shape and size, you need to trim and wash it. If you have an entire stalk of celery (also known as a head or bunch), you can make one slice through the butt of all of the ribs to remove the discolored, tough, and/or dirty ends. If you are working with individual ribs of celery, you can trim the end of each one on its own. Then, trim off the leafy part from the top, down to the joint (shown below).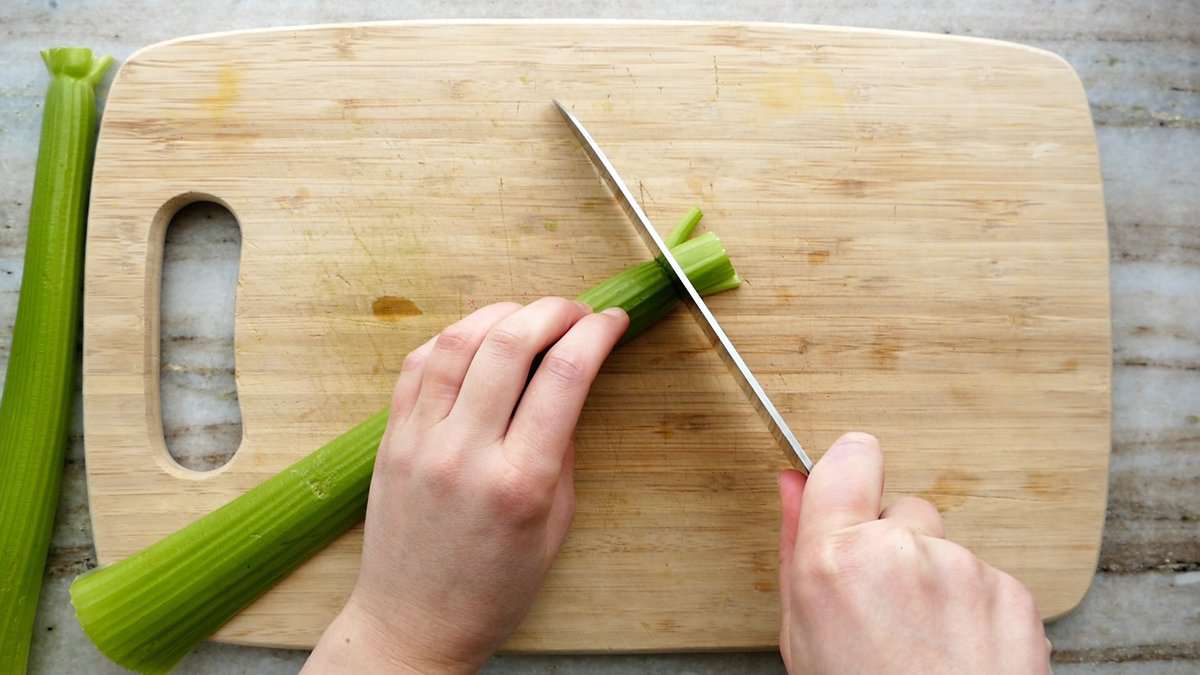 After trimming celery, wash each rib under cold, running water. Rub your fingers over the ribs to remove any stubborn dirt as needed.
How to Cut Celery Sticks
Celery sticks are great for a veggie tray or for making stuffed celery. When preparing celery sticks for a snack or for dipping, you can slice each rib into thirds to yield wide sticks or into batons to yield skinny sticks. It depends on your preference. For stuffed celery, it's best to cut celery into wide sticks that can hold a filling instead of batons. Here is how to cut celery sticks in both of these ways.
For wide sticks, cut a rib of celery into thirds. If you have short ribs, you may only need to cut them in half.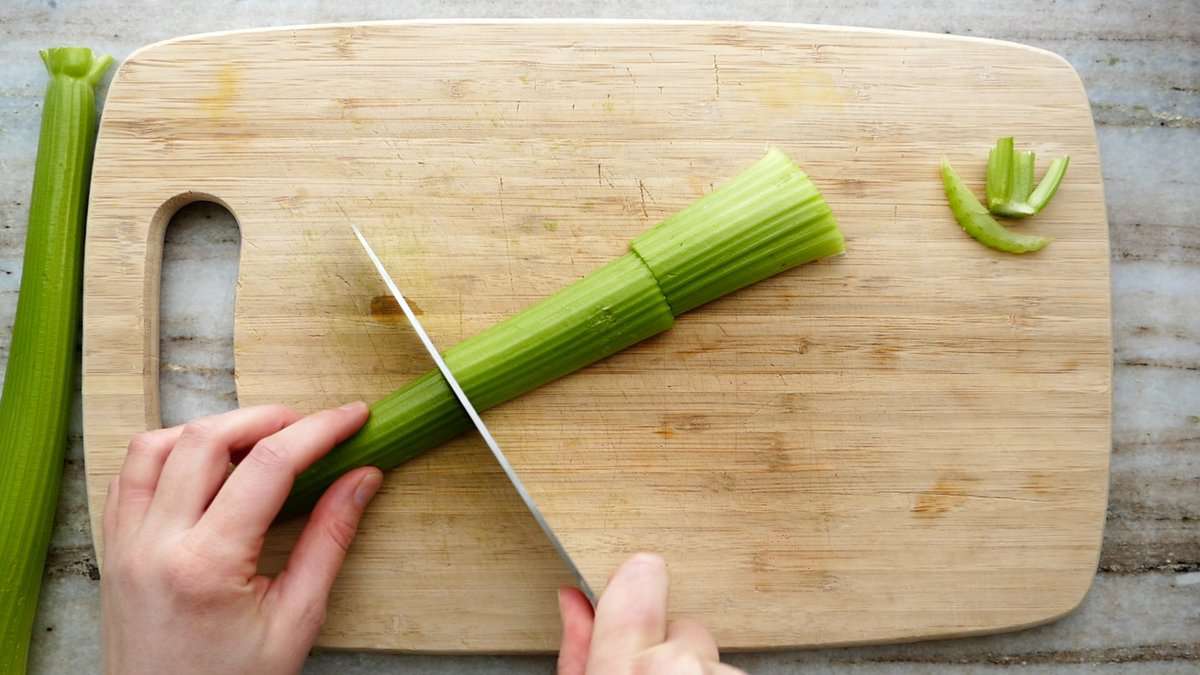 For batons, cut a rib of celery in half or into thirds. Then, slice each piece lengthwise into four skinny sticks.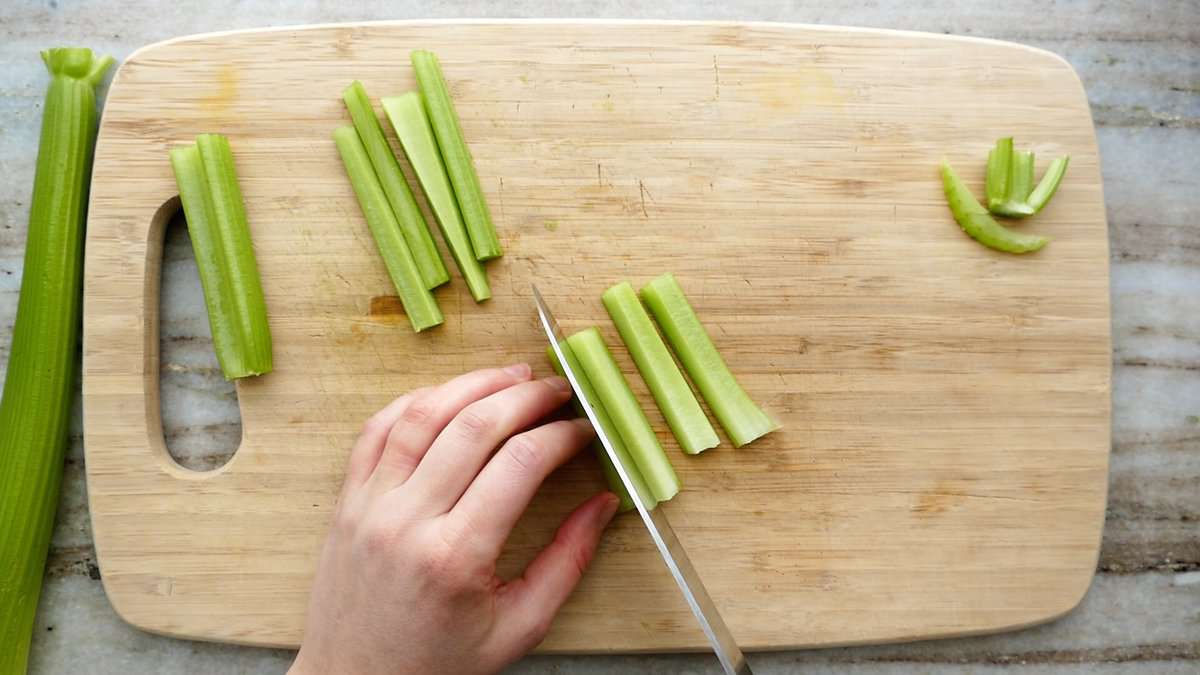 Sliced Celery
Sliced celery works well in salads, soups, and stir fry. To cut celery into slices, just cut the rib crosswise into ½- to 1-inch pieces, depending on what you need for your recipe.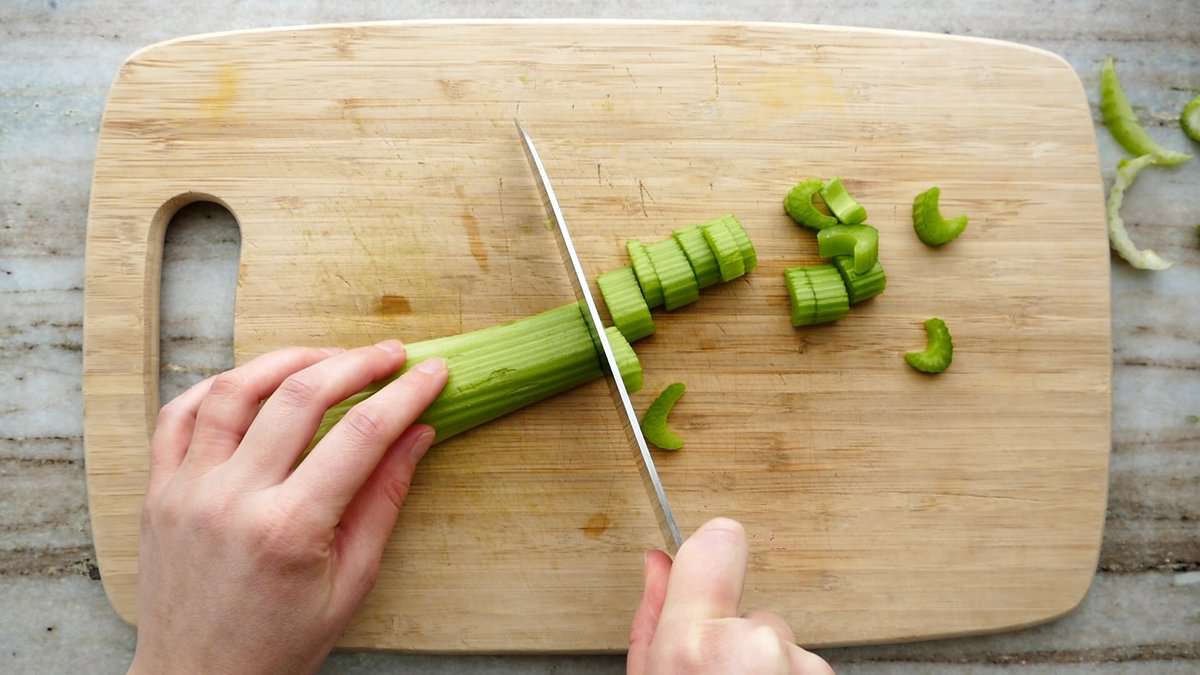 Diced Celery
Celery that is diced (cut into smaller pieces) works better in some recipes, especially if you don't want large pieces of celery in a dish. To dice celery, cut each rib crosswise in half or into thirds. Then, slice each piece lengthwise into four skinny sticks. Cut those sticks crosswise into diced pieces.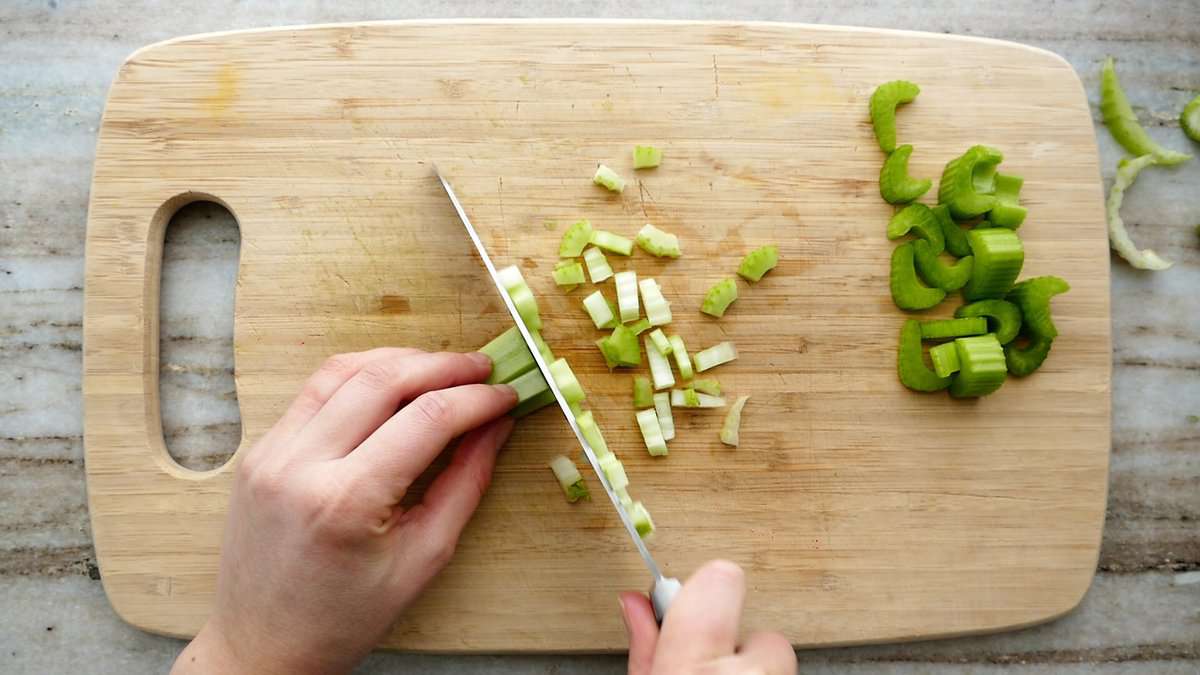 Fancy Celery (Angled or Biased)
If you want to prepare celery in a fancy way, consider cutting it on the bias, also known as cutting on a 45-degree angle. Hold the rib or your knife at an angle and slice crosswise. Slicing very thin pieces of celery on an angle is also a way to "shave" celery.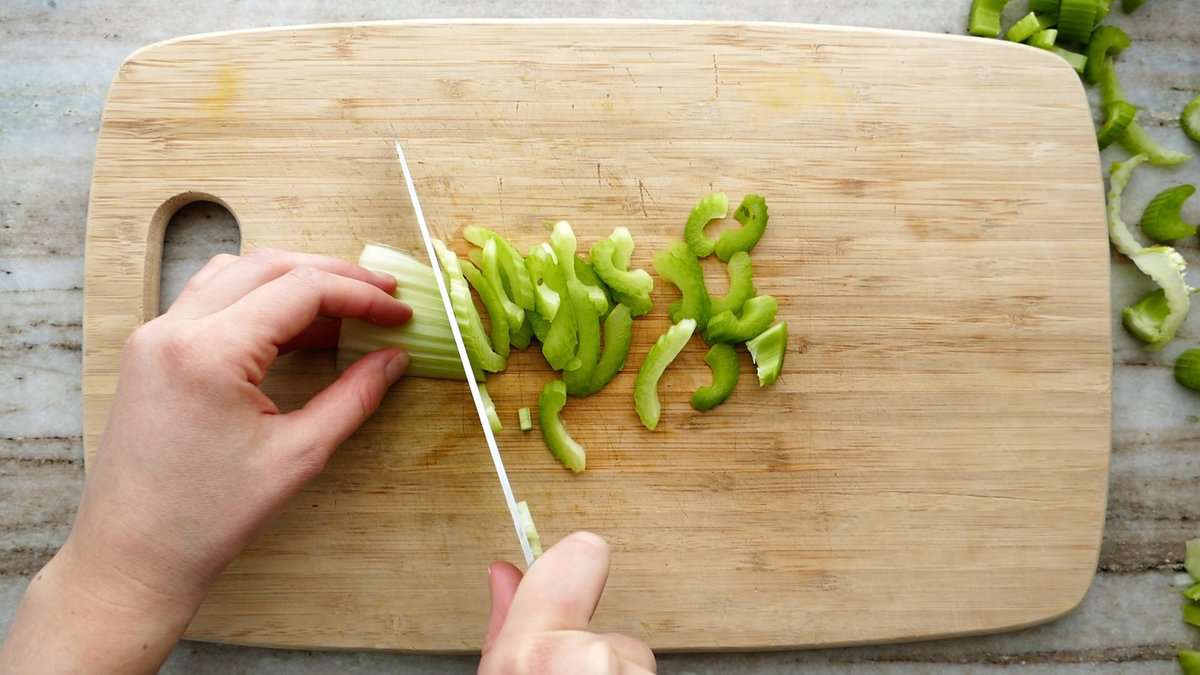 How to Store Celery
The best way to store cut celery, whether it's diced, sliced, or cut into sticks, is in the fridge with water. After preparing it, place the cut pieces in a jar or airtight container, fill with enough water so the celery is covered, and seal tightly. Store for up to two weeks in the refrigerator, draining and replenishing the water every few days.
You can also store cut celery without water in airtight containers. However, it will not last as long and will quickly dry out. Finally, you can freeze celery to store it for long periods of time.
If you don't have time to cut celery before storing it, you can easily preserve a whole head or several ribs together by wrapping them tightly with aluminum foil. Store in a drawer in the refrigerator for two to four weeks. Seriously, this really works!!
FAQ
Should you keep cut celery in water?
Yes, it should be kept in water in the fridge for maximum freshness and an increased shelf life. See above tips for more information.
What part of celery do you cut?
Typically, you remove the leafy part down to the joint at the top and trim the bottom of each rib before cutting celery. You can save those pieces to make vegetable broth if you are interested in preventing food waste.
Do you peel celery before cutting?
Celery does not need to be peeled. It naturally has a stringy, tough texture, so peeling does not make that much of a difference. However, you can certainly peel each rib if you want to remove some of the tough outer layer.
Celery Recipes
If you're in the mood for celery after learning how to cut it, here are some of my best recipes to try!
Video
I'd love to hear how you like this recipe! Rate/review using the stars on the recipe card or in the comments, and follow the Veg World on YouTube, Instagram, Facebook, and Pinterest. Looking for something totally different? Browse the recipe library.
📖 Recipe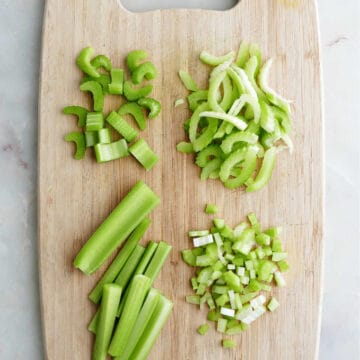 How to Cut Celery
Learn how to slice and dice celery, cut it into sticks, and chop it on an angle.
Print
Pin
Rate
Save
Saved!
Instructions
Before cutting celery, trim and wash it. Trim off the tough, dirty, and/or discolored parts of the ends. Then, trim off the leafy tops down to the joint. Wash each rib under running water to remove any dirt. Pat dry.
Sticks
For wide celery sticks that can be stuffed, cut each rib of celery crosswise in half or into thirds.

For thin celery sticks or batons, cut each rib of celery crosswise in half or into thirds. Then, slice each piece lengthwise into four skinny sticks.
Diced
Follow the instructions for cutting skinny celery sticks. Then, cut the sticks crosswise into diced pieces.
Sliced
Cut each rib crosswise into slices of your desired size.
Angled
Hold the rib or your knife at a 45-degree angle and cut into pieces of your desired size.
Notes
Store cut celery in an airtight container or jar. Add water to the container until it covers the celery. Seal tightly. Keep in the refrigerator for up to 2 weeks, replenishing the water every few days.
If you are storing a head of celery that has not been cut, wrap it in aluminum foil. Store in a drawer in the fridge for up to 4 weeks.
Use cut celery for dipping, on veggie trays, in salads or soups, or for stuffing.
Nutrition
Serving:
2
ribs
|
Calories:
16
kcal
|
Carbohydrates:
3
g
|
Protein:
1
g
|
Fat:
0.2
g
|
Saturated Fat:
0.05
g
|
Polyunsaturated Fat:
0.1
g
|
Monounsaturated Fat:
0.04
g
|
Sodium:
91
mg
|
Potassium:
295
mg
|
Fiber:
2
g
|
Sugar:
2
g
|
Vitamin A:
509
IU
|
Vitamin C:
4
mg
|
Calcium:
45
mg
|
Iron:
0.2
mg
Enjoy your celery! – Lizzie