Don't let extra celery go to waste! Learn how to freeze celery, how long to blanch it, and how to use it in recipes like soups, smoothies, and juices.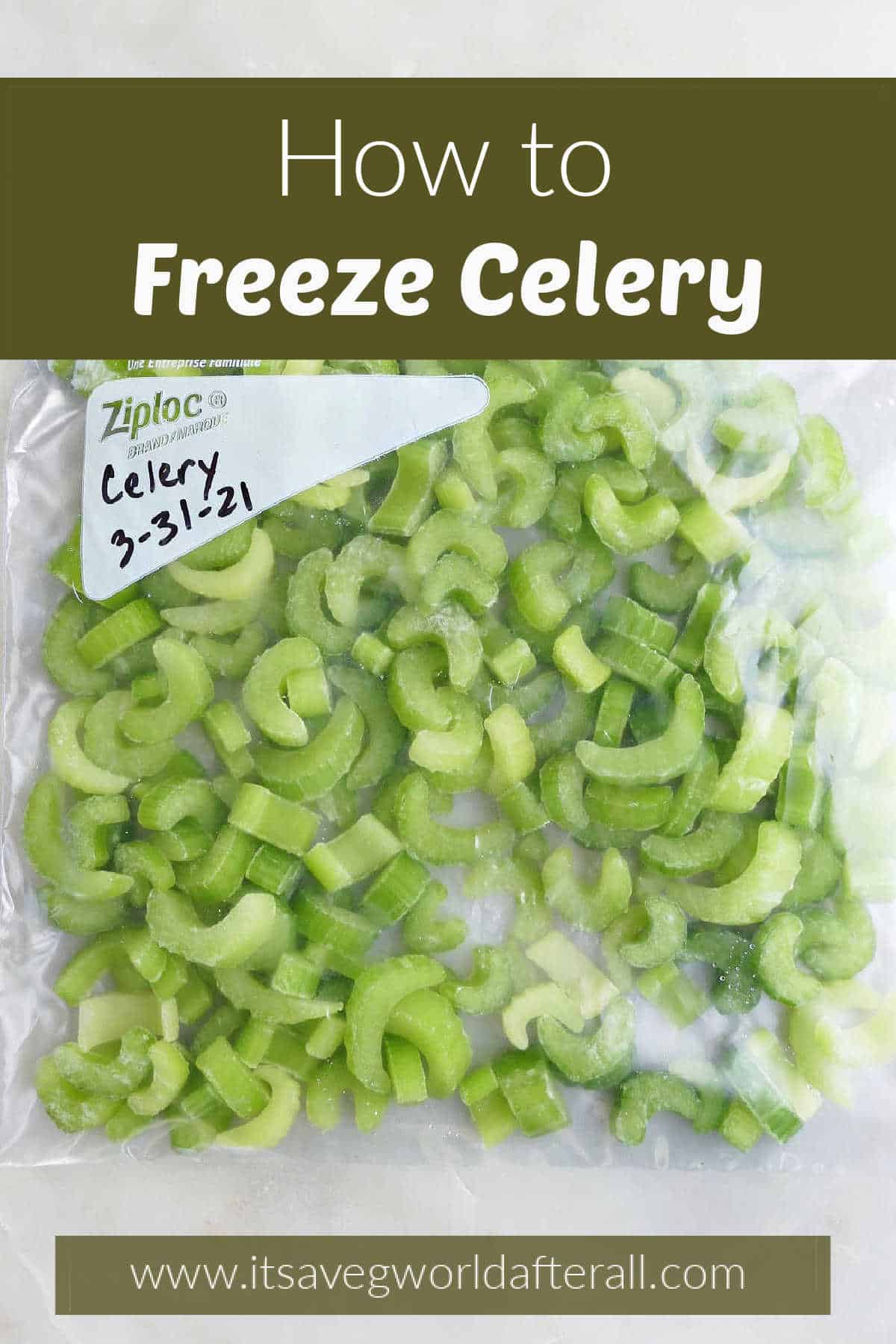 This post may contain affiliate links. For more information, see my affiliate disclosure.
It's time for another tutorial on how to freeze veggies! This post focuses on how to freeze celery for later use so that you can cut back on food waste and keep more veggies on hand. In case you missed some of my other tutorials, check out How to Freeze Carrots and my tips on Freezing Garlic.
Celery is one of the easiest veggies to freeze. It be added directly to hot recipes like soups and stews, saving future you time and energy when prepping meals.
Ready to make the most out of those crunchy green stalks sitting in your crisper drawer? Check out the following sections with my tips and tricks for freezing celery.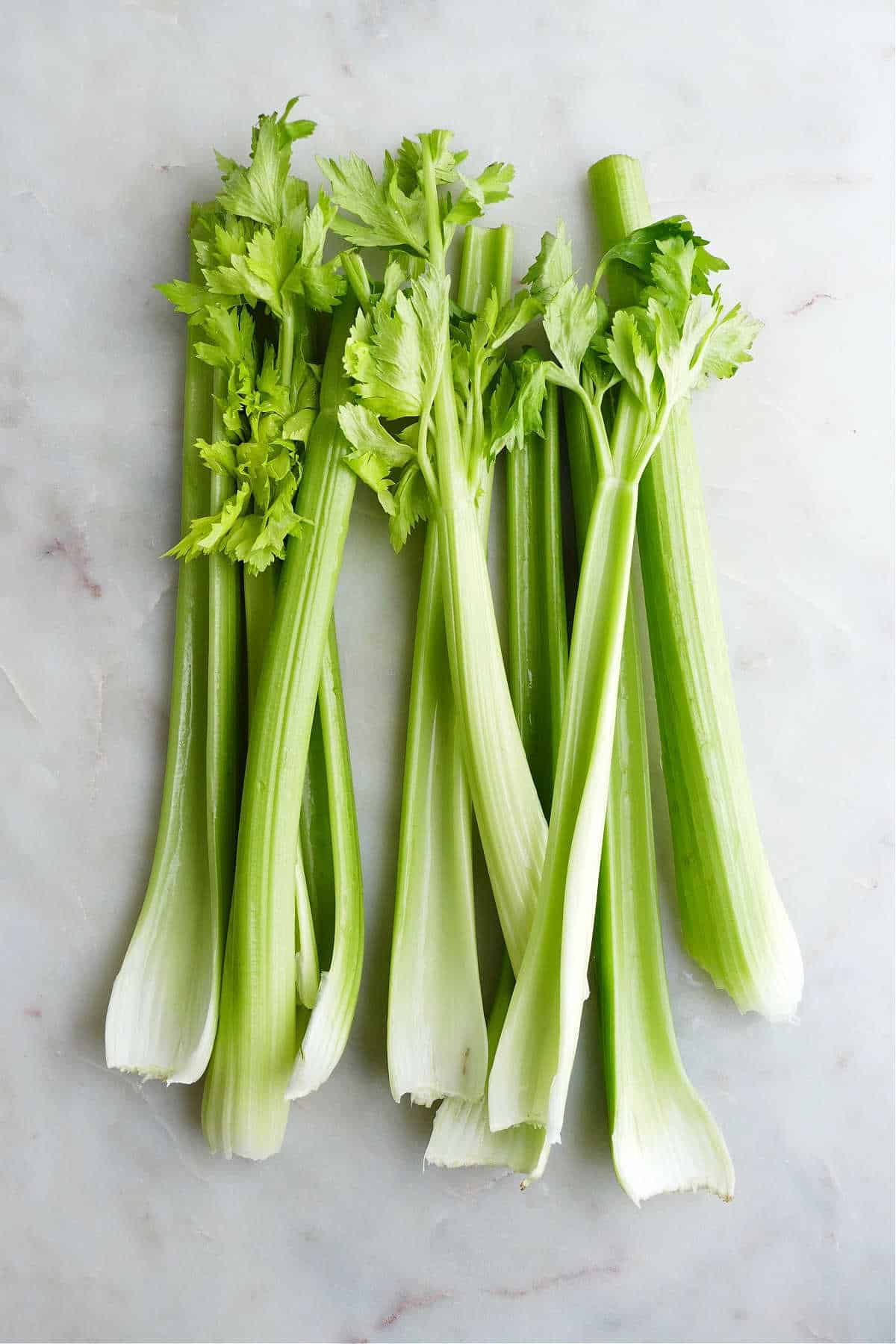 How to Freeze Celery: Step by Step
Get the following equipment ready: cutting board and knife, pot of boiling water, slotted spoon, mixing bowl with ice water, baking sheet, parchment paper, and freezer bags. For a reusable option to use in place of plastic bags, check out my favorite Stasher bags.
Trim off the root of the bunch of celery and pull apart the stalks. Wash them under cold running water, using your fingers or a vegetable brush to remove any dirt. Pat them dry.
Slice the stalks into pieces.
Transfer the sliced celery to a pot of boiling water to blanch them.
Remove the celery with a slotted spoon and place them in a bowl of ice water. Drain and pat dry.
Arrange the celery on a lined baking sheet. Put it in the freezer and let the celery flash freeze before transferring them to a bag. This will make them less likely to stick together in clumps.
How Long to Blanch Celery
Celery slices should be cooked in a pot of boiling water for three minutes then immediately plunged into a bowl of ice water to halt the cooking process. Blanching celery before will help to preserve the quality, color, and texture.
Can you freeze chopped raw celery?
For best results, blanch celery before freezing. You can technically freeze raw celery but it will lose its quality more quickly and won't last as long in the freezer. The extra step of blanching is worth it.
How long does frozen celery last?
Celery that has been blanched before being frozen can usually last for about a year in the freezer, but it may lose some of its quality over time. Raw celery does not last as long and can be stored for about two months.
Frozen Celery Recipes
Frozen celery can be used in hot and cooked dishes. If you let it thaw, it will get soggy and therefore doesn't work well in salads. Instead, you can add celery straight from the freezer to soups, stews, sauces, and casseroles.
Some of my recipes in which you can sub frozen celery for fresh include Carrot and Celery Soup with Thyme Pecan Crumble, Mushroom and Lentil Ragu, Slow Cooker Mushroom Barley Stew, and Healthy Vegetable Tortellini Soup.
In addition, it works very well in some cold recipes that are blended, including juices and smoothies. Check out my Celery Smoothie with Apple and Banana for inspiration.
I'd love to hear how you like this recipe! Rate/review using the stars on the recipe card or in the comments, and follow the Veg World on YouTube, Instagram, Facebook, and Pinterest. Looking for something totally different? Browse the recipe library.
📖 Recipe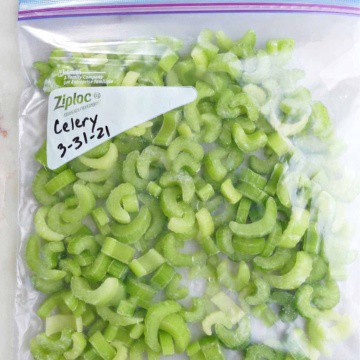 How to Freeze Celery
This step-by-step tutorial teaches you how to slice, blanch, and freeze celery for later use.
Print
Pin
Rate
Save
Saved!
Equipment
cutting board and knife

Pot

Slotted spoon

Mixing bowl

Lined baking sheet

Storage bags
Instructions
Bring a pot of salted water to a boil. Trim the root off of the bunch of celery, separate the stalks, and remove the leaves. Wash the stalks under cold running water to remove any dirt. Pat dry.

Cut the stalks into slices that are about ¼-inch thick. Once the pot of water is boiling, add the celery and cook for 3 minutes.

Remove the pot from heat, and use a slotted spoon to remove the celery stalks (pick up as much as you can with each spoonful) and transfer them to a large bowl of ice water. If the ice begins to melt, add more cubes. Let them sit for a few minutes so that the cooking stops. Drain the celery and pat dry.

Arrange the celery in a single layer on a baking sheet lined with parchment paper. Transfer the baking sheet to the freezer, placing it in an area where it can lay flat and won't be disturbed. Let the celery freeze for one to two hours until frozen solid. This step prevents the celery from sticking together and forming clumps.

Transfer the frozen celery pieces to a freezer-safe bag. Seal the bag tightly, and label with the date. Store frozen celery for up to 12 months in the freezer. Use frozen celery straight from the freezer in soups, stews, casseroles, and blended cold preparations like smoothies or juices.
Notes
I recommend blanching celery before freezing for the best quality, taste, and texture. But you can technically skip the blanching step.

If you do, frozen raw celery will only last about 2 months.
Nutrition
Serving:
1
bunch
|
Calories:
77
kcal
|
Carbohydrates:
14
g
|
Protein:
3
g
|
Fat:
1
g
|
Saturated Fat:
1
g
|
Sodium:
384
mg
|
Potassium:
1248
mg
|
Fiber:
8
g
|
Sugar:
9
g
|
Vitamin A:
2155
IU
|
Vitamin C:
15
mg
|
Calcium:
192
mg
|
Iron:
1
mg
Happy preserving! – Lizzie