Learn everything you need to know about how to freeze asparagus to preserve it in this tutorial. The post includes answers to your questions about how long to blanch asparagus and how to use frozen asparagus in cooking so that it doesn't get mushy.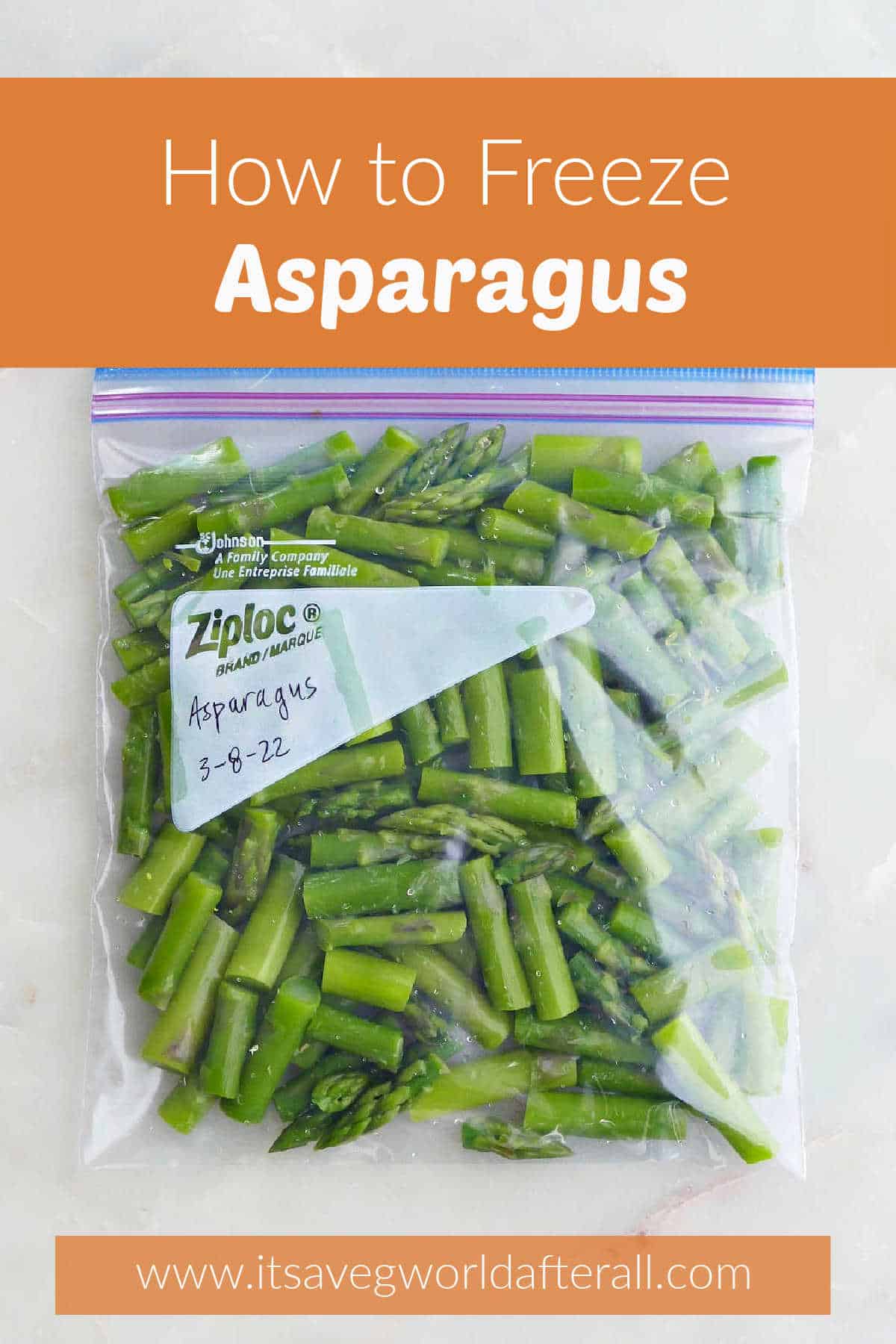 This post may contain affiliate links. For more information, see my affiliate disclosure.
Asparagus is in peak season in the spring. You can usually enjoy it year-round in most places but it tastes best during the spring months. If you want to preserve in-season asparagus, freezing is a great way to do it! Check out this post to learn how to freeze asparagus and cook with it.
How to Prepare Asparagus for Freezing
You can freeze whole asparagus spears or sliced pieces of asparagus. First, trim the ends of the spears with a knife or by snapping them off with your fingers. If you want to freeze pieces of asparagus, slice the spears into your desired size and shape. See my tutorial on How to Cut Asparagus for more information.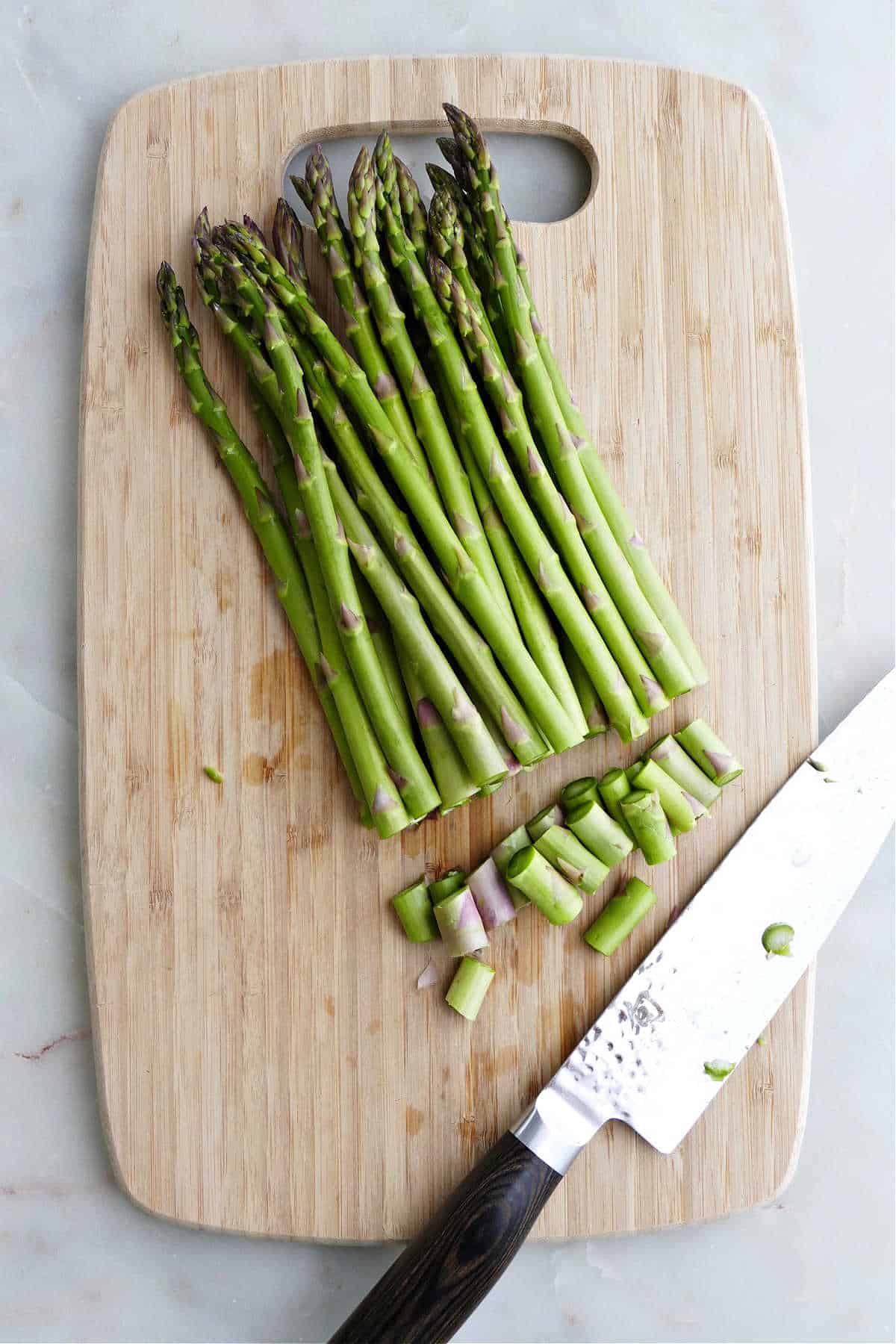 How Long to Blanch Asparagus Before Freezing
After you trim asparagus, you need to blanch it in boiling water then submerge it in ice water. Blanching helps preserve nutrition, taste, color, and texture. Here's a guide for how long you need to boil asparagus before freezing:
Small spears: 2 minutes
Medium spears: 3 minutes
Large spears: 4 minutes
Sliced pieces of asparagus (about 1-inch): 2 minutes
After blanching, remove the asparagus from the water using a slotted spoon or tongs and immediately submerge it in bowl of ice water. This stops the cooking process and will help prevent the frozen asparagus from getting too mushy.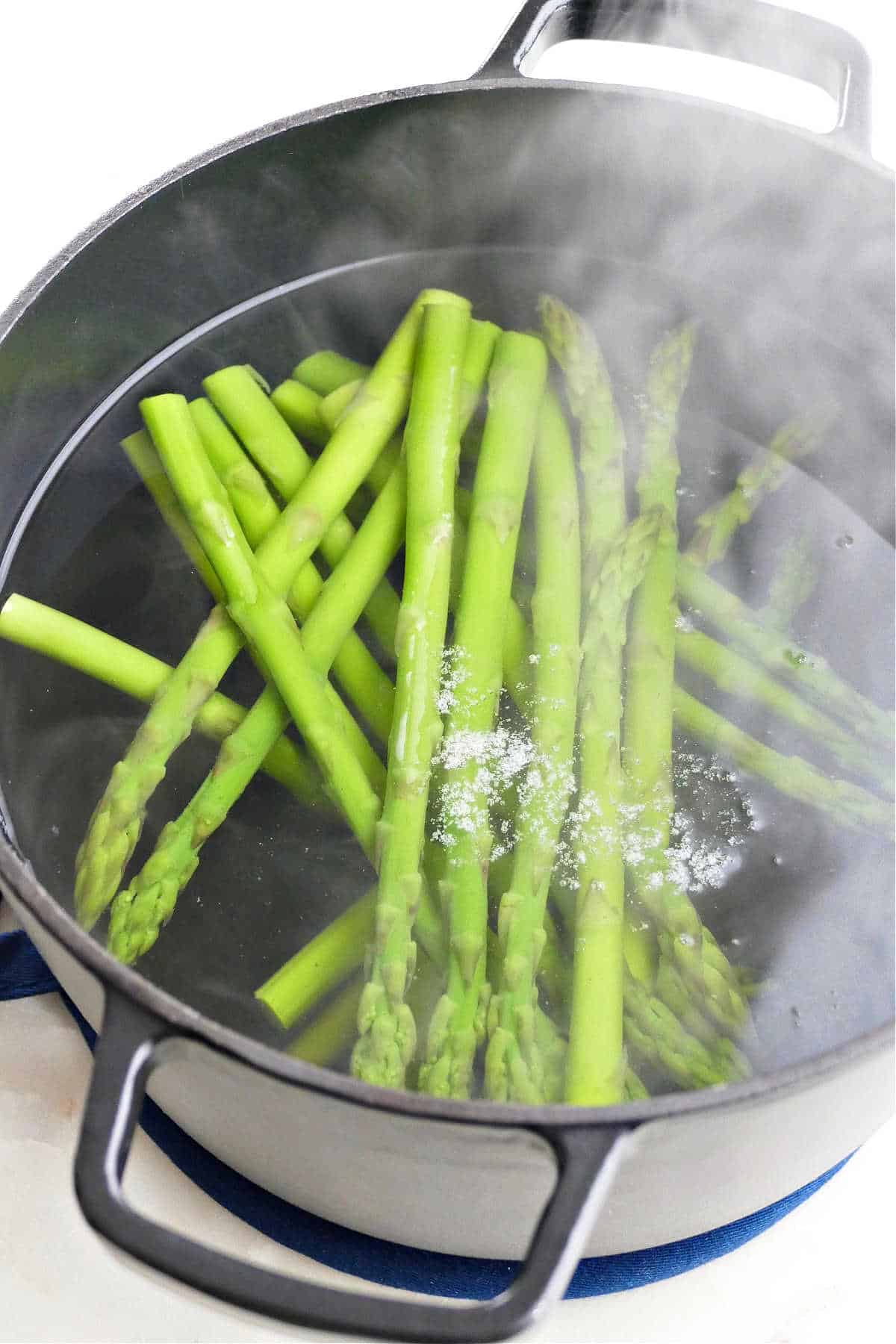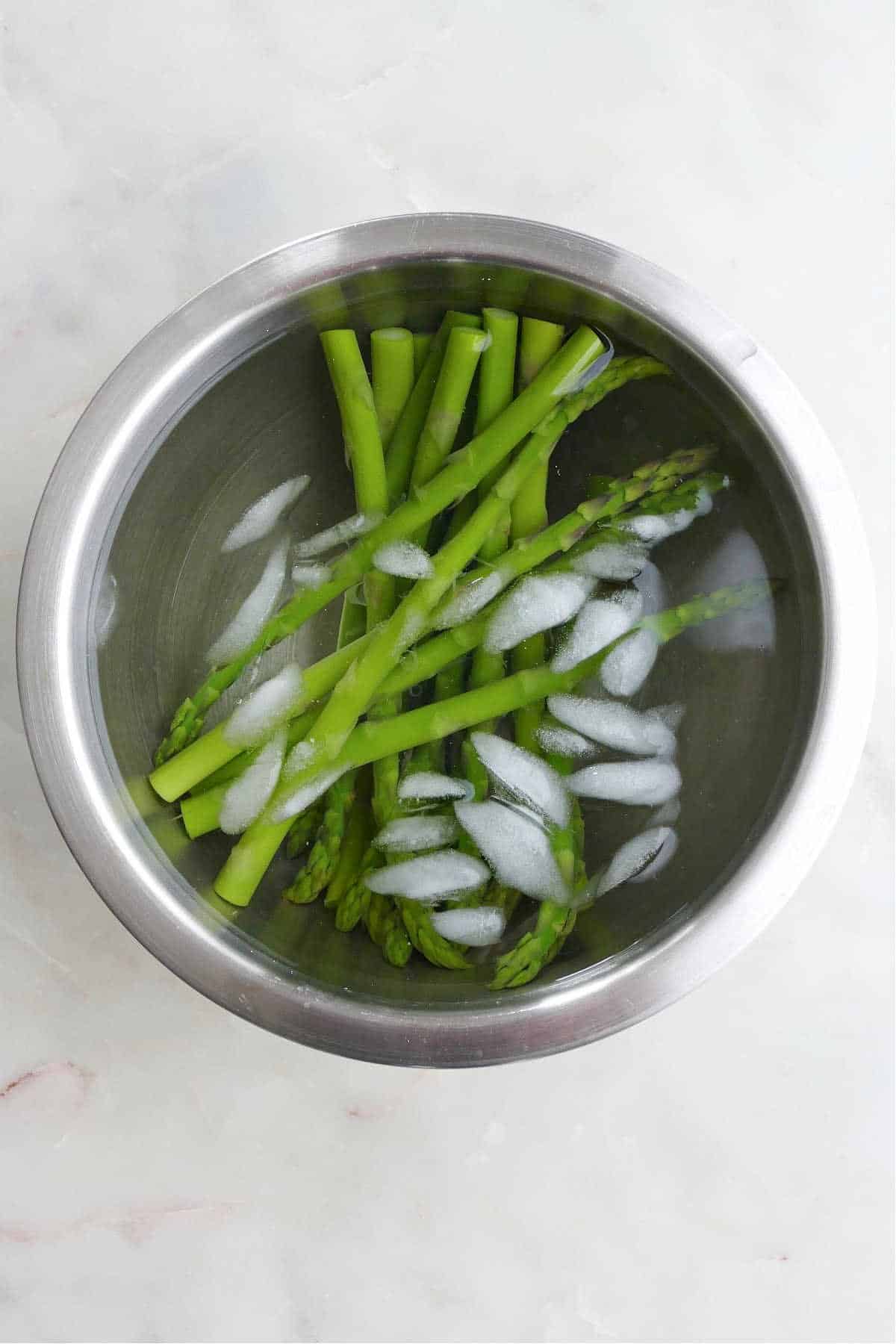 If you chose to freeze whole spears, drain them from the ice water and pat dry. Place them in a freezer bag in a single layer. I like to use Stasher bags. Seal tightly, removing as much air as possible. Label with date and store in the freezer.
If you cut the asparagus into pieces before blanching, you may want to flash freeze them first before transferring to a freezer bag to prevent them from sticking together. Drain the blanched asparagus pieces from the ice water, pat dry, and spread out on a baking sheet lined with parchment paper. Place in the freezer for 1 to 2 hours until frozen solid before transferring to a labeled freezer bag.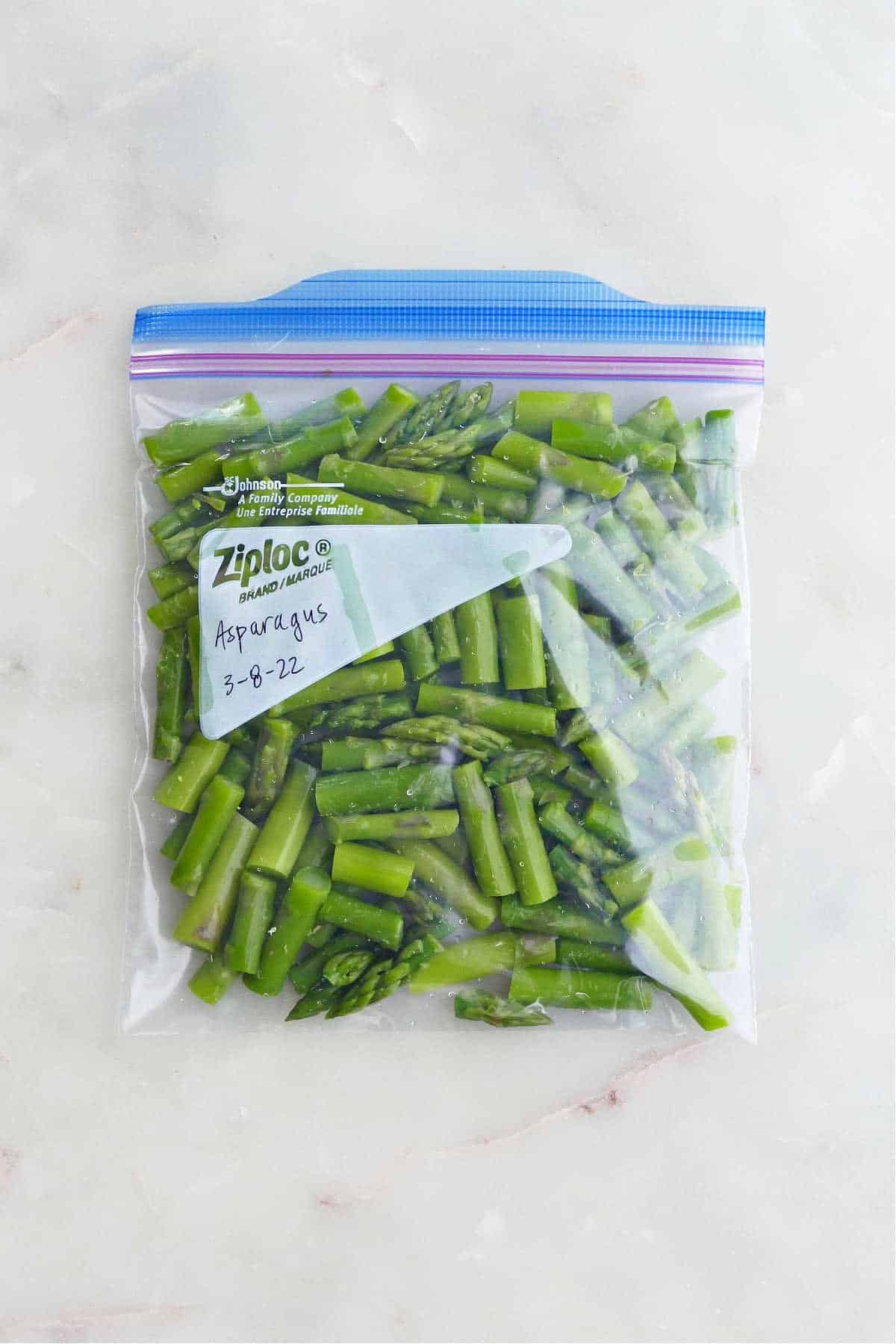 Can you freeze asparagus without blanching it?
Technically, you can freeze raw, fresh asparagus by just placing the spears in a freezer bag and sealing tightly. However, I don't recommend freezing asparagus without blanching it first. Asparagus easily loses color and texture, and the additional step of blanching prevents these losses.
How long can you freeze asparagus?
Frozen asparagus that has been blanched can last for up to 6 to 8 months in the freezer. For best results, enjoy within 3 months.
How do you freeze asparagus without getting soggy?
Frozen asparagus has a reputation of being mushy when used in recipes. To prevent this from happening, don't overcook it during the blanching process. You really don't need to boil it for that long.
Also be sure to pat the asparagus dry after you drain it from the ice water. Get it as dry as possible before freezing so that it doesn't accumulate additional ice crystals that can make it soggy.
In addition, keep frozen asparagus frozen until using it in cooking. Don't thaw it first. This will help prevent it from getting mushy too.
How to Use Frozen Asparagus
Now that you know how to freeze asparagus, let's talk about eating it! Frozen asparagus should be used straight out of the freezer in hot recipes like soups, stir fries, or casseroles. You can roast frozen asparagus too, but it won't turn out as crispy as roasted fresh asparagus.
Avoid using frozen asparagus in raw preparations, since it will be too mushy once it defrosts. Stick to hot dishes. You can substitute frozen asparagus for fresh in my Vegan Balsamic Asparagus Mushroom Soup, Asparagus Fried Rice, and Baked Brown Rice Risotto with Asparagus.
I'd love to hear how you like this recipe! Rate/review using the stars on the recipe card or in the comments, and follow the Veg World on YouTube, Instagram, Facebook, and Pinterest. Looking for something totally different? Browse the recipe library.
📖 Recipe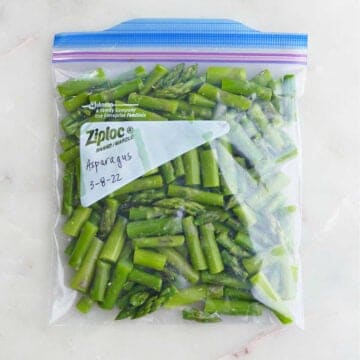 Equipment
large pot

Slotted spoon or tongs

Mixing bowl

Freezer bag
Instructions
Trim the asparagus to remove woody ends. You can leave the spears whole or cut them into smaller pieces if desired.

Bring a pot of water to a boil. Add the asparagus and blanch for 2 minutes for small spears or sliced asparagus, 3 minutes for medium spears, or 4 minutes for large spears.

Promptly remove the asparagus from the boiling water after it's done blanching, using a slotted spoon or tongs, and submerge in a large bowl filled with ice water. Let it sit for a few minutes to cool and to fully stop the cooking process.

Drain the asparagus and pat dry. Try to get it as dry as possible to prevent ice crystals from forming in the freezer.

If freezing whole spears, place them in a single layer in a freezer bag. Label and date the bag. Freeze for up to 6 to 8 months.

If freezing asparagus pieces, you can add the optional step of flash freezing them first. Spread them out in a single layer on a baking sheet lined with parchment paper. Place the tray in the freezer, somewhere it won't get bumped, for 1 to 2 hours until frozen solid. Transfer to a freezer bag. Store for up to 6 to 8 months.
Notes
Use frozen asparagus in hot recipes straight from the freezer (no need to thaw). Frozen asparagus should not be used in raw preparations, as it will get too mushy.
Nutrition
Serving:
0.5
bunch
|
Calories:
45
kcal
|
Carbohydrates:
9
g
|
Protein:
5
g
|
Fat:
1
g
|
Saturated Fat:
1
g
|
Polyunsaturated Fat:
1
g
|
Sodium:
5
mg
|
Potassium:
455
mg
|
Fiber:
5
g
|
Sugar:
4
g
|
Vitamin A:
1701
IU
|
Vitamin C:
13
mg
|
Calcium:
54
mg
|
Iron:
5
mg
Enjoy asparagus all year long! – Lizzie