This tutorial on how to freeze carrots includes everything you need to know about preserving carrots for future use. You'll learn how long to blanch carrots, how to store them in the freezer, and how to use frozen carrots in recipes.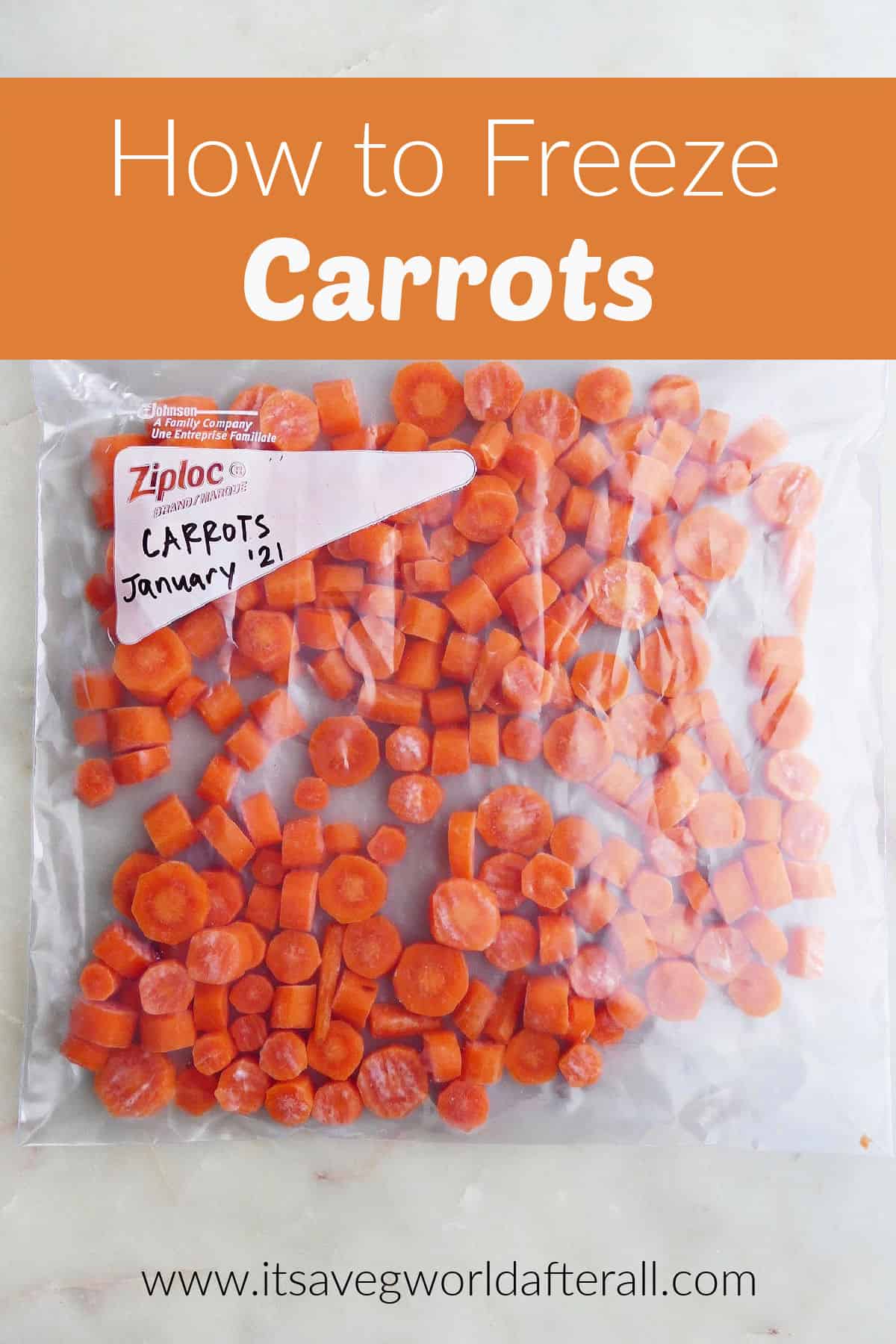 This post may contain affiliate links. For more information, see my affiliate disclosure.
When it comes to preserving food, the freezer is one of the most valuable tools. A well-stocked freezer can help you put meals together even when the fridge and cupboards are bare, cut down on grocery bills, and enjoy batch cooked meals at a later time.
But one of the best uses of the freezer is being able to store veggies that would otherwise go to waste. If you find yourself purchasing too many carrots by accident, receiving a ton of them in a CSA box, or having a particularly successful harvest in your backyard garden, this post is for you!
In the sections that follow, you'll learn how to freeze carrots so that you can enjoy them at a later time and avoid food waste.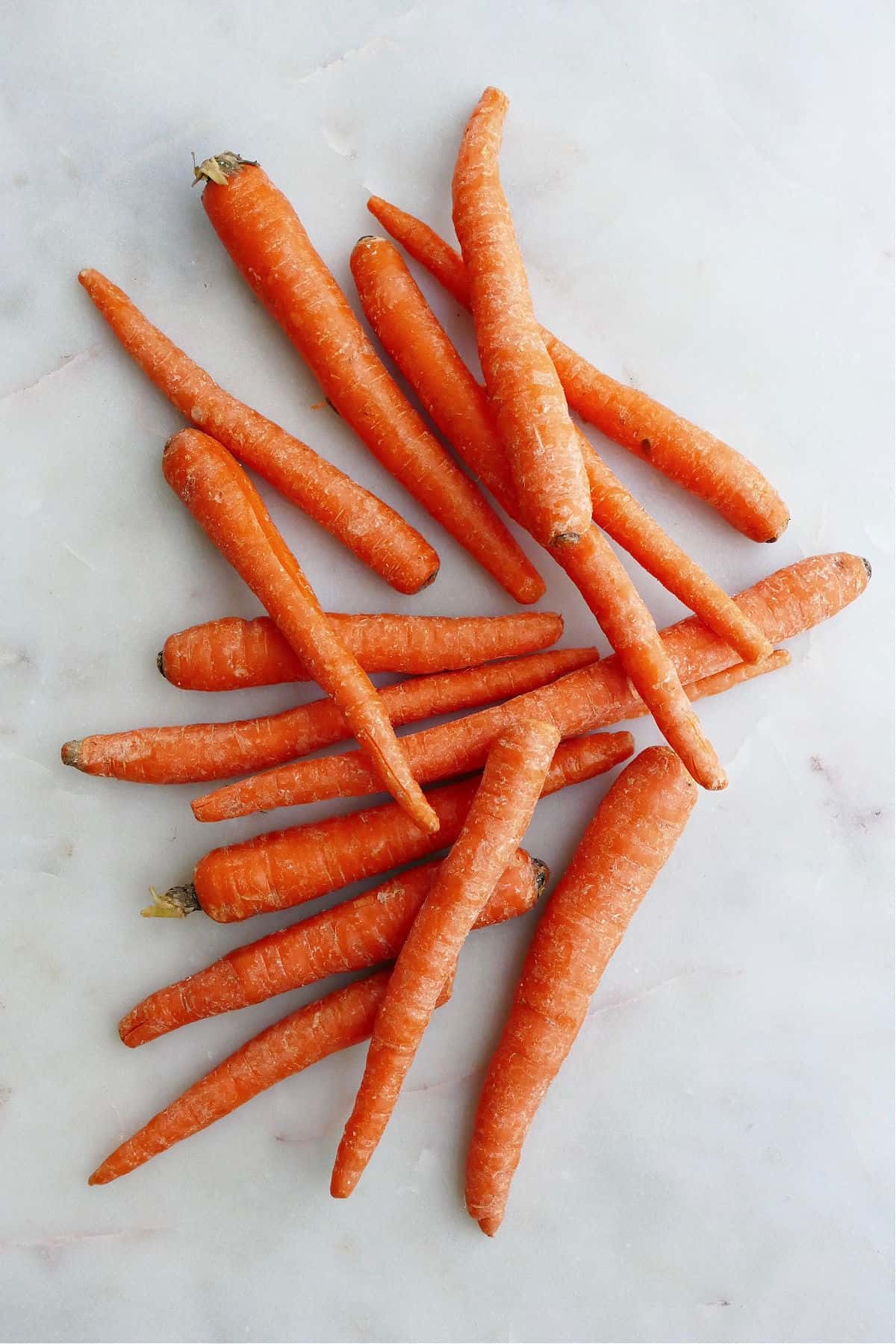 How to Prepare Carrots for Freezing
Gather the following equipment: vegetable peeler (optional), cutting board and knife, pot of boiling water, slotted spoon, mixing bowl with ice water, baking sheet, parchment or wax paper, and freezer bags (use Stasher bags for a reusable option).
Clean and trim the carrots. You do not need to peel them, and in fact you will preserve more nutrients if you keep the peels, but it's up to you.
Slice them into ½-inch coins.
Drop the carrot slices into the boiling water to blanch them for a few minutes.
Remove them with a slotted spoon and transfer to the mixing bowl with ice water.
Drain the carrots, and place them in a single layer on a lined baking sheet. Transfer to the freezer for an hour or two until frozen solid. This is known as flash freezing and helps ensure that the carrots don't stick together.
Place them in a freezer bag and seal tightly.
How Long to Blanch Carrots
According to the National Center for Home Food Preservation, diced or sliced carrots should be blanched for 2 minutes. Small, whole carrots (like baby carrots) should be blanched for 5 minutes.
Blanching is the process of cooking food for a short time in boiling water followed by plunging the food immediately into ice water to stop the cooking. This process helps to preserve the quality, texture, color, and nutrition of vegetables.
Can you freeze carrots without blanching them?
Yes, you can freeze raw carrots without going through the blanching process. However, they will lose their texture and quality more quickly if you skip blanching, compared to if you blanch them before freezing.
To do this, wash and trim the carrots, peel if desired, slice into thin circles, and spread the slices on a lined baking sheet. Place the carrot slices in the freezer for a couple hours before transferring them to a tightly sealed freezer bag.
How Long to Store Carrots in the Freezer
Blanched then frozen carrots can typically last up to 12 months in the freezer. If you skip the blanching process, frozen raw carrots will last for up to 2 months.
Can you freeze cooked carrots?
Yes, you can freeze carrots that have been roasted, sautéed, mashed, or made into soups. Transfer these preparations to freezer bags or containers, leaving a couple inches of headspace to allow for expansion in the freezer. Most recipes can last for up to 3 months in the freezer.
How to Use Frozen Carrots
Now that you know how to freeze carrots, let's discuss ways to use them. Frozen carrots are best used in soups, stews, casseroles, or other hot dishes. You don't even need to thaw them, or shorten the cooking time, when using them in these kinds of recipes.
If you want to thaw frozen carrots and eat them in cold dishes, they won't be as good as fresh ones. They can get soggy or lose their texture. Stick to hot dishes.
Some of my recipes that can use frozen carrots in place of fresh ones include the Carrot and Celery Soup with Thyme Pecan Crumble, Carrot and Swede Mash, Tater Tot Casserole with Veggies, One Pot Veggie Mac and Cheese, Mini Vegetarian Pot Pies, and the Slow Cooker Mushroom Barley Stew.
I'd love to hear how you like this recipe! Rate/review using the stars on the recipe card or in the comments, and follow the Veg World on YouTube, Instagram, Facebook, and Pinterest. Looking for something totally different? Browse the recipe library.
📖 Recipe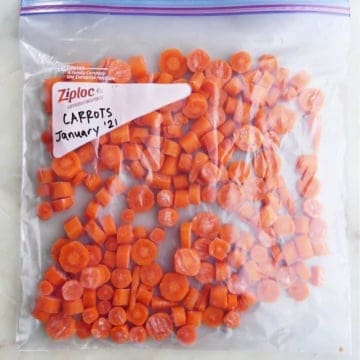 How to Freeze Carrots
Learn how to preserve carrots with the simple process of blanching and flash freezing.
Print
Pin
Rate
Save
Saved!
Equipment
Vegetable peeler (optional)

cutting board and knife

Pot

Slotted spoon

Mixing bowl

Baking sheet with parchment or wax paper

Storage bags or containers
Instructions
Bring a large pot of salted water to boil and prepare a mixing bowl with ice water.

Wash the carrots under cold running water, scrubbing away dirt as needed. Trim the carrots, remove the skin with a vegetable peeler (optional), and slice them into ½-inch circles.

Add the carrots to the boiling water, and cook for 2 to 3 minutes. If you are using whole, baby carrots, blanch them for 5 minutes. Remove them with a slotted spoon and immediately add to the mixing bowl with ice water to stop the cooking. Let them sit in the ice water for a few minutes. Add more ice as needed if most of it starts to melt.

Drain the carrots, then arrange them in a single layer on a baking sheet lined with parchment or wax paper. Place the baking sheet in the freezer (somewhere it can fit without getting bumped or moved). Let the carrots freeze for one to two hours until frozen solid.

Transfer the carrots to a freezer bag, leaving ½-inch of head space, and seal tightly. If you are using containers, leave 1 or 2 inches of head space to allow the carrots to expand. Store for up to 12 months. Use directly from frozen in hot dishes, such as soups, stews, and casseroles.
Notes
Blanching the carrots in boiling water then submerging them in ice water helps to preserve quality, color, taste and nutrition. However, you can skip blanching. Follow all of the other steps as listed. Unblanched carrots last for up to 2 months in the freezer.
Using frozen carrots in cold/raw dishes isn't the best way to enjoy them. They may get soggy after thawing. Stick with hot dishes.
For a reusable freezer bag, check out my favorite Stasher bags.
Nutrition
Serving:
0.25
pound
|
Calories:
46
kcal
|
Carbohydrates:
11
g
|
Protein:
1
g
|
Fat:
1
g
|
Saturated Fat:
1
g
|
Sodium:
78
mg
|
Potassium:
363
mg
|
Fiber:
3
g
|
Sugar:
5
g
|
Vitamin A:
18944
IU
|
Vitamin C:
7
mg
|
Calcium:
37
mg
|
Iron:
1
mg
Enjoy this vegetable prep hack! – Lizzie