Learn everything you need to know about how to freeze jalapeños, including how to do it without blanching, what type of containers to use, and what to make with frozen jalapeños.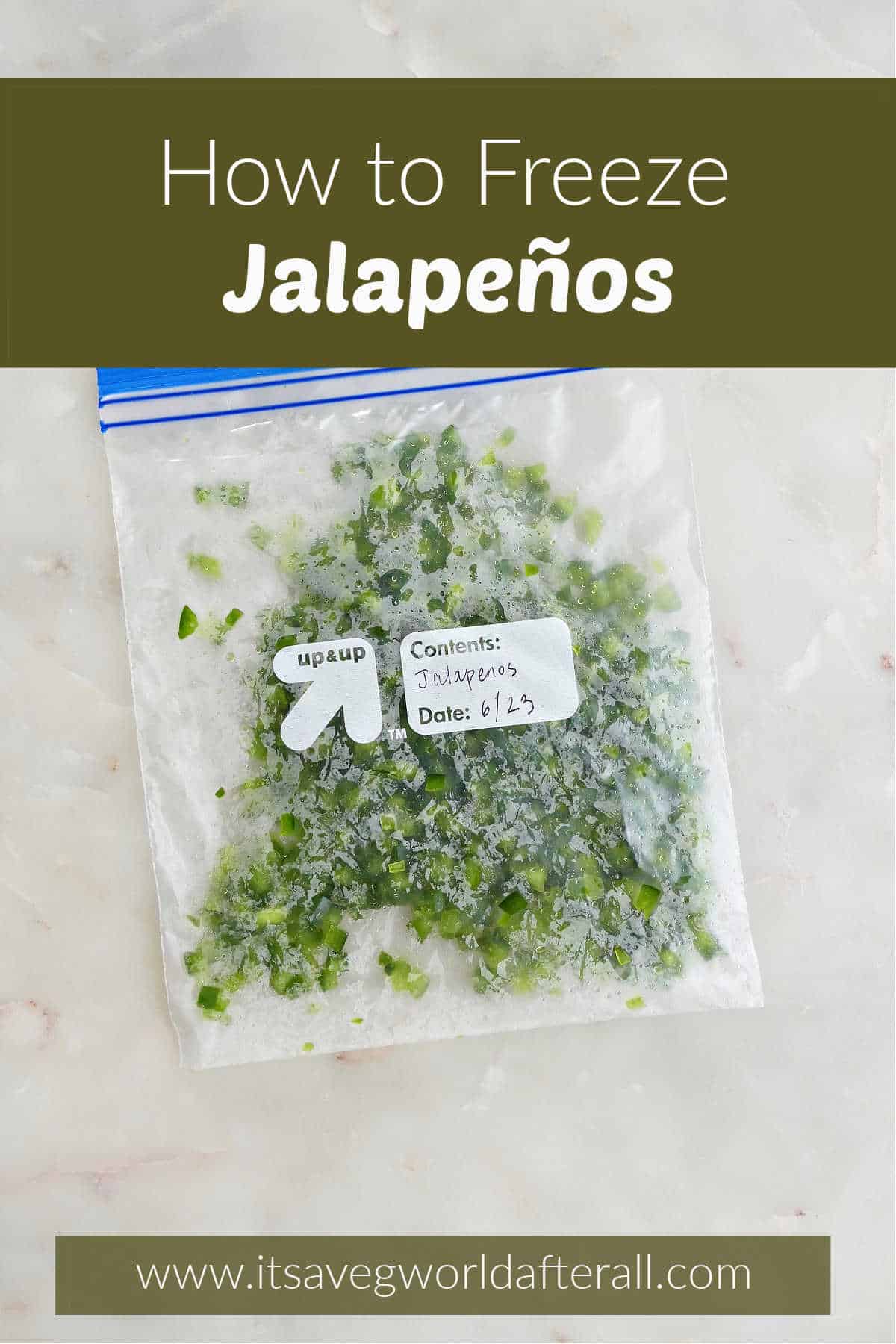 If you find yourself with too many jalapeños and want to preserve them, freezing is the way to go! It's so easy to freeze small peppers so that you can use them in countless recipes at a later time. Read on to learn all of my tips and tricks for how to freeze jalapeños!
Jump to:
Steps for Freezing Jalapeños
If you're wondering about freezing jalapeños without blanching, you're in the right place. I find that blanching isn't necessary for small peppers, so I prefer to freeze them raw.
Here's how to do it:
Wash jalapeños under running water and pat dry.
Cut the jalapeños into your desired shape and size. Decide on if you want to freeze them whole, sliced, or diced. Preserving whole jalapeños is good if you want to use them for stuffed peppers or jalapeño poppers. If you don't plan on making those specific recipes, it's probably better to freeze them sliced or diced, since that's how they are used in most recipes. If you want to prevent the peppers from burning your skin, use gloves while handling them.

To prepare whole jalapeños, cut off the stem. Use a paring knife and spoon to scoop out the seeds and membranes and discard them.
To prepare sliced jalapeños, cut off the stem, remove the seeds and membranes, and slice crosswise into circles.
To prepare diced jalapeños, cut off the stem then slice the pepper lengthwise in half. Remove the seeds and membranes. Cut each half lengthwise into strips then crosswise into diced pieces.
See my tutorial on How to Cut Jalapeños for more tips, including how to get any lingering heat off your hands after cutting them.

Transfer the jalapeños to freezer-safe bags or containers. Some people prefer to spread them on baking sheets and pop them in the freezer for an hour to flash freeze before transferring them to bags. This allegedly helps them from clumping together when frozen. Personally, I don't think it makes a difference so I skip that step. I just put them straight into bags, then I lay the bags flat in the freezer so that the jalapeños are mostly in a single layer and don't get too stuck together.
Seal tightly, label, and store in the freezer.
Use in recipes straight from frozen for best results.
Can you freeze jalapeños with seeds?
I prefer to remove the seeds and membranes from jalapeños before freezing, but you can certainly leave them if you prefer. They will be spicier if you keep the membranes especially.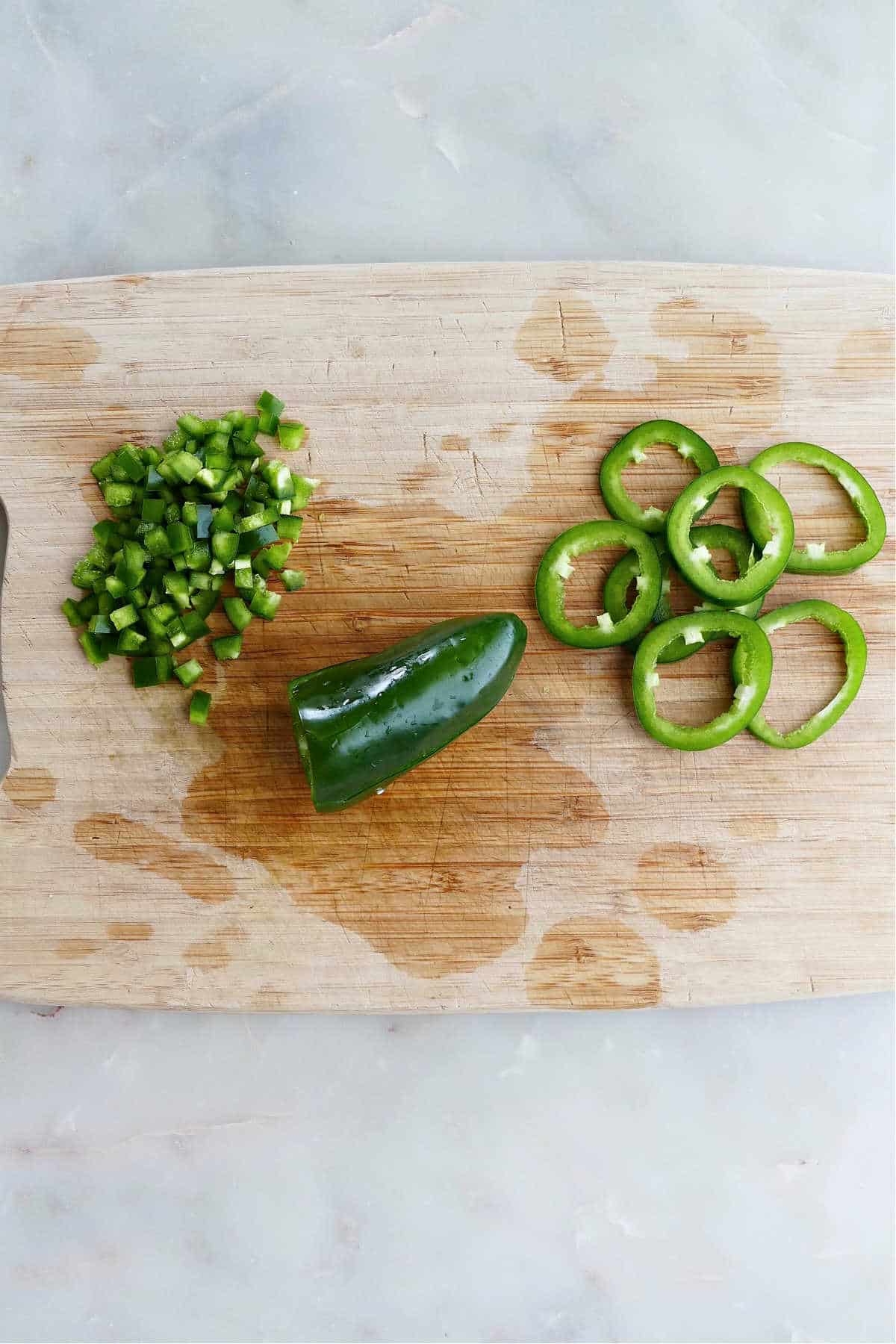 Recommended Containers
To preserve freshness, freeze jalapeños in freezer-safe bags or containers. I often recommend silicone bags for freezing vegetables, but I actually do not recommend them for jalapeños! This is because the spicy compound in the peppers, capsaicin, can rub off on the silicone and be difficult to remove. Keep jalapeños in plastic bags or freezer-safe glass to prevent lingering jalapeño on your containers.
How long can you freeze jalapeños?
Frozen jalapeños will last for up to 6 months. Use them within 3 months for best results. They will lose some of their texture but will still be pretty much just as spicy as fresh jalapeños.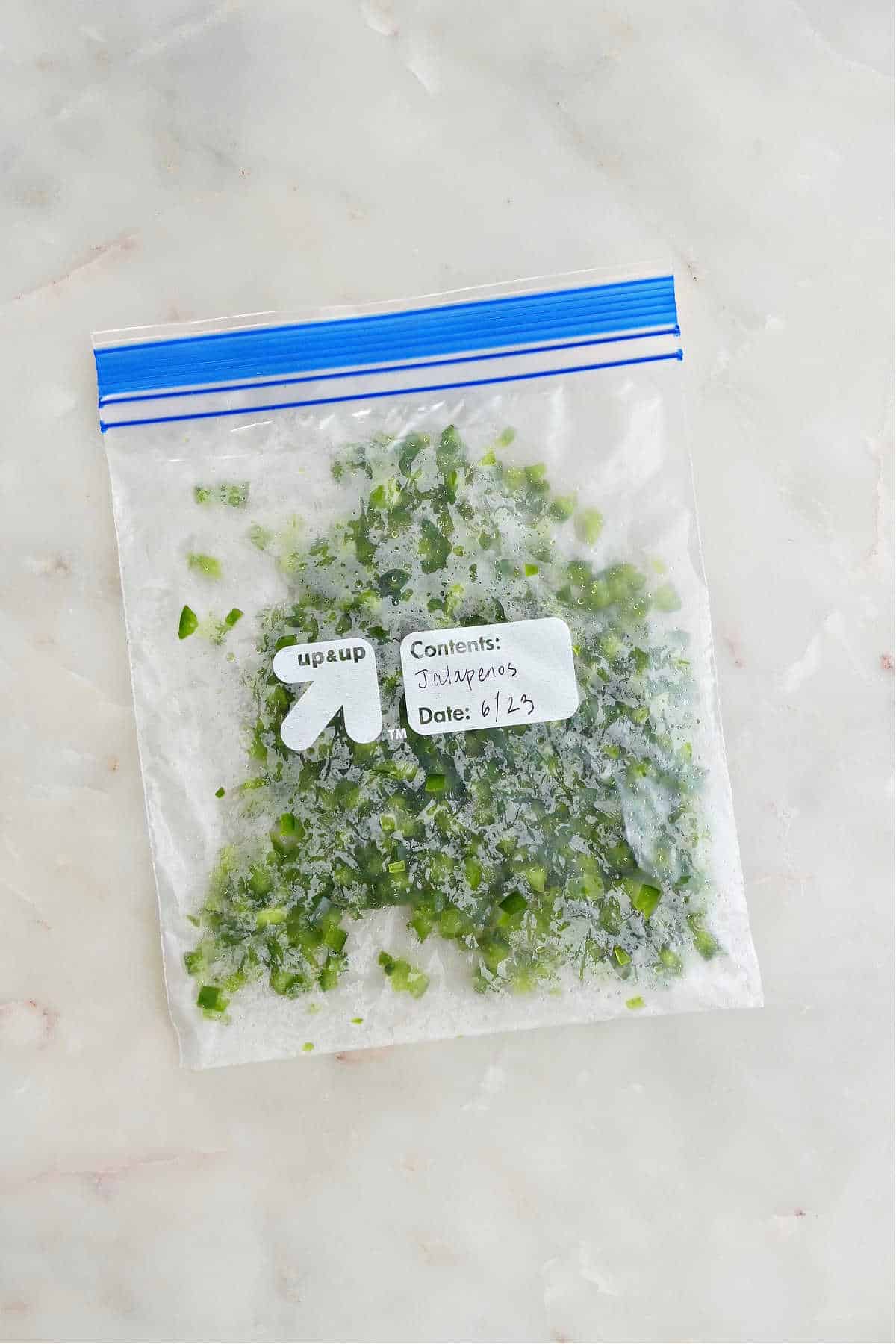 How to Use Frozen Jalapeños
Like most other frozen vegetables, frozen jalapeños work best in cooked dishes. This is because they can get a little soggy when thawed. However, I have found that frozen diced jalapeños don't get as soggy as frozen slices or whole peppers. I think they work just fine in raw salsas or salads if that's all you have. They also work fine as toppings for nachos, soups, or baked potatoes, since the steam from those dishes generally thaws them quickly.
For the most part, however, I suggest using frozen jalapeños straight from frozen without thawing first. Add them to soups, casseroles, sauces, and other cooked dishes. If you froze them whole, use them for jalapeño poppers or stuffed peppers. Here are some great recipes where frozen jalapeños can be subbed for fresh ones:
I'd love to hear how you like this recipe! Rate/review using the stars on the recipe card or in the comments, and follow the Veg World on YouTube, Instagram, Facebook, and Pinterest. Looking for something totally different? Browse the recipe library.
📖 Recipe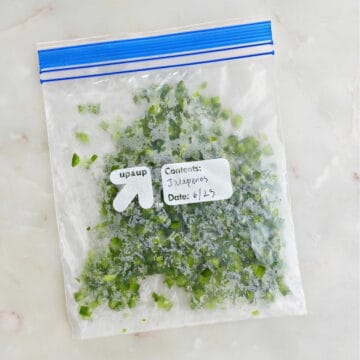 How to Freeze Jalapeños
Learn how to preserve these spicy peppers without blanching first to use for later!
Print
Pin
Rate
Save
Saved!
Instructions
Wash the jalapeños and pat dry.

Decide if you want the peppers frozen whole, sliced, or diced. Most recipes call for sliced or diced jalapeños, unless you're making poppers or stuffed peppers.

Trim off the stems. If freezing the peppers whole, use a paring knife and spoon to cut out the membrane and remove the seeds. For sliced jalapeños, perform this step then slice them crosswise into circles. If freezing them diced, cut them in half lengthwise, then remove the membranes and seeds. Cut the halves into strips and then into diced pieces. Alternatively, you can leave the seeds and membranes for more heat if desired.

Place the peppers (whole, sliced, or diced) into freezer-safe bags or containers. I usually recommend reusable silicone bags, but here I suggest plastic bags or glass (freezer-safe) containers. This is because jalapeño can rub off on silicone and be hard to remove, so I like to prevent any lingering jalapeño on containers I use for other foods.

Seal the bags or containers tightly and label. Store them in the freezer for up to 6 months. If using bags, I like to lay them flat and spread out the jalapeños into a single layer so they don't freeze in clumps.

Add frozen jalapeños directly to recipes without thawing first. They work great in soups, casseroles, and other cooked dishes.
Notes
Wear gloves while handling jalapeños to avoid burning your hands. If you don't have gloves, hold them with a damp paper towel to prevent direct contact. Rubbing your hands with oil and letting it sit for a minute before washing off after handling hot peppers also helps to remove some of the burning sensation.
Nutrition
Serving:
1
jalapeño
|
Calories:
4
kcal
|
Carbohydrates:
1
g
|
Protein:
0.1
g
|
Fat:
0.1
g
|
Saturated Fat:
0.01
g
|
Polyunsaturated Fat:
0.02
g
|
Monounsaturated Fat:
0.004
g
|
Sodium:
0.4
mg
|
Potassium:
35
mg
|
Fiber:
0.4
g
|
Sugar:
1
g
|
Vitamin A:
151
IU
|
Vitamin C:
17
mg
|
Calcium:
2
mg
|
Iron:
0.03
mg
Enjoy! – Lizzie