Juicing and blending veggies is a great way to increase your intake, but you might have questions about the pro and cons of the juicer vs. blender. Read on to learn about how vegetables juices and smoothies are different in taste, texture, and nutrition.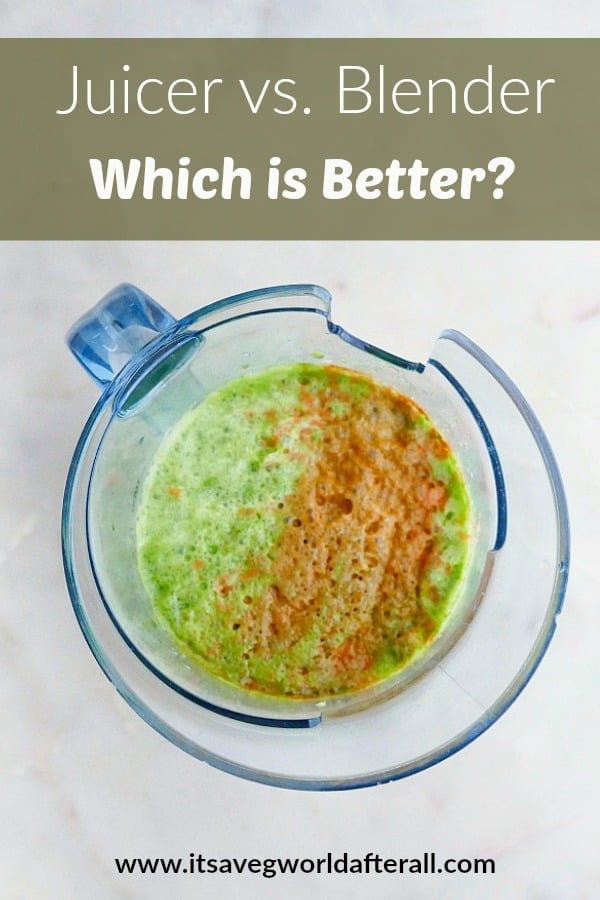 This post may contain affiliate links. For more information, see my affiliate disclosure.
Most Americans don't eat enough vegetables. According to estimates from the Centers for Disease Control and Prevention (CDC) in 2017, only 9% of adults met the recommended intake of 3 cups of vegetables per day.
This isn't a surprising statistic to most people, but it's still concerning, especially considering the strong association between a diet rich in vegetables and a decreased risk of chronic diseases.
As a dietitian and veggie enthusiast, I often get the question, "how can I eat more veggies?" or "how can I make it easier to get enough vegetables?"
There are loads of resources and recipes on this very blog to help you eat your veggies, but one of the most efficient ways to consume more vegetables is through juicing or blending.
And I'm not talking about the $15 smoothie at the local, organic juice bar down the street that has bee pollen, spirulina, and countless other "superfoods."
Sure, you can treat yourself to that every once in a while if that's your thing. But making delicious and simple juices and smoothies is super easy to do right in your own kitchen!
Juicing 101: How it Works, Pros and Cons
Juicers work by separating the juice of fruits and vegetables from their fiber and pulp. They often require a large amount of produce to yield the same amount of volume as a blended smoothie.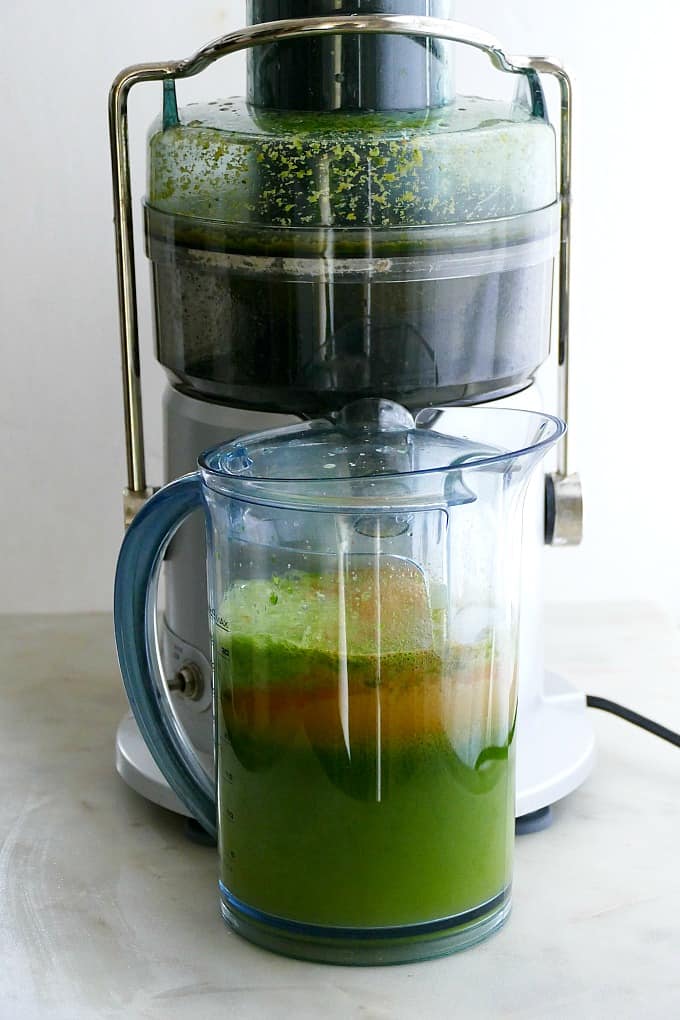 There are a few different types of juicers that work in their own ways, including:
Centrifugal Juicers: These juicers are extremely fast and use centrifugal force (via a rotating blade) to separate juice from the rest of the vegetable or fruit. You can put whole fruits and vegetables in these juicers, including lemons with the their skin and whole carrots and cucumbers. I kid you not, you can make a juice with pounds of vegetables and fruits in about one minute! I personally use a Breville juicer.
Masticating (Slow) Juicers: These juicers are also known as cold press juicers, and use a combination of crushing and spinning fruits and vegetables at a slower pace than centrifugal juicers.
It's claimed that the masticating process helps extract and preserve more nutrients than centrifugal juicers. This is one of the reasons why cold press juicers are more expensive.
However, studies show that there is no significant difference between the nutrient content of juices made from centrifugal vs. masticating juicers (1).
Pros of Juicing
Makes highly concentrated juices that contain a large amount of produce
The nutrients are quickly absorbed, since juices don't contain fiber
Great for using up home gardening harvests or produce that's on sale
Usually better for those who need to follow low-fiber diets
Cons of Juicing
Cannot add ingredients other than fruits and vegetables (in most cases)
Not as filling, since juices don't contain fiber
More clean-up and food waste compared to blending
Can be more expensive than blenders
Blending 101: How it Works, Pros and Cons
Blenders work by using a rotating blade to process whole vegetables and fruits, usually combined with other ingredients, into thick liquids. Fiber is not removed in this process.
They are ideal for making smoothies, but can also be used to chop veggies, whip up frozen drinks, and make soups and purees.
Some of the most popular types of blenders are:
Standard Blenders: These usually have a pitcher with a blade that sits on top of a base.
Single-Serve Blenders: Examples include the NutriBullet or Ninja.
Immersion or Hand Blenders: These blenders are typically used to puree soups or sauces in a pot or bowl.
High-Powered Blenders (with multiple kitchen functions): Blenders like the Vitamix can act as both blenders and food processors.
Depending on the type, blenders may have metal or plastic bases, and glass or plastic jars or pitchers.
Pros of Blending
Great for making thick, creamy smoothies
Blended smoothies provide a slower release of energy and are more filling than juices, since the fiber has not been removed
Can include other ingredients, such as milk, yogurt, nut butters, flax or chia seeds, and other nutritious add-ins
Less food waste and clean-up than juicing
Usually more affordable than juicers
Cons of Blending
Typically does not include as much produce as juices
May take longer to drink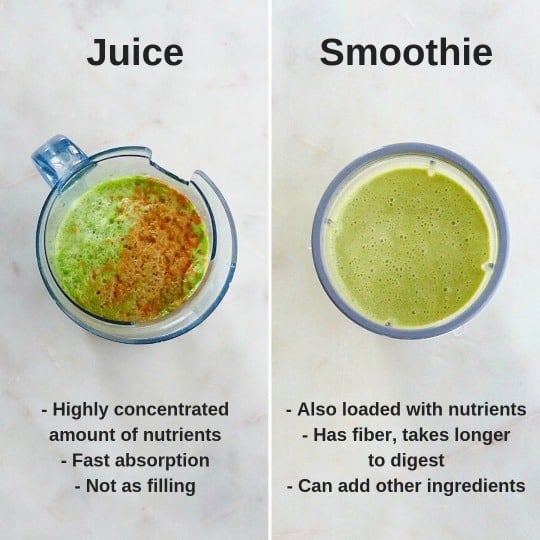 Juicing vs. Blending Nutrition
Some people claim that juicing is wasteful and yields a less nutritious product (since juices lack fiber), and that blended smoothies are superior in nutrition and more filling.
But the truth is that both juicing and blending offer several benefits and make it easier for people to consume more vegetables.
One study that compared the effects of a juicer vs. blender on the nutrient content of fruit juices found that blending whole fruits preserved more antioxidants and beneficial compounds overall, but juicing some fruits extracted more vitamin C (2).
Furthermore, a review of studies found that fruit and vegetable juices provide an abundance of antioxidants and anti-inflammatory compounds that can help protect against heart disease (3).
It's worth mentioning again that to get the same volume of juice as you get in a smoothie, you need to use a large amount of produce. As a result, juices often contain a more concentrated amount of nutrients compared to smoothies. The nutrients in juices are also rapidly absorbed.
However, keep in mind that smoothies made from whole fruits and vegetables may provide additional benefits due to the fiber they contain. The nutrients in smoothies are digested at a slower pace and provide a steadier stream of energy.
To Juice or to Blend?
So, when it comes to the juicer vs. blender, how do you decide which tool is better for your needs?
First, consider your personal preferences and budget.
If you prefer creamy smoothies that are more filling and contain ingredients other than just fruits and vegetables, then a blender is your best bet. Blenders are more versatile than juicers, and can be used for other kitchen tasks.
If you want more potent and concentrated juices that aren't as filling, go for a juicer. But keep in mind that you will likely pay more for a juicer than a blender.
For some good smoothie recipes, be sure to check out the Green Grapefruit Smoothie and Green Pea and Mint Smoothie. And if you prefer juicing, check out my Carrot Ginger Kale Juice.