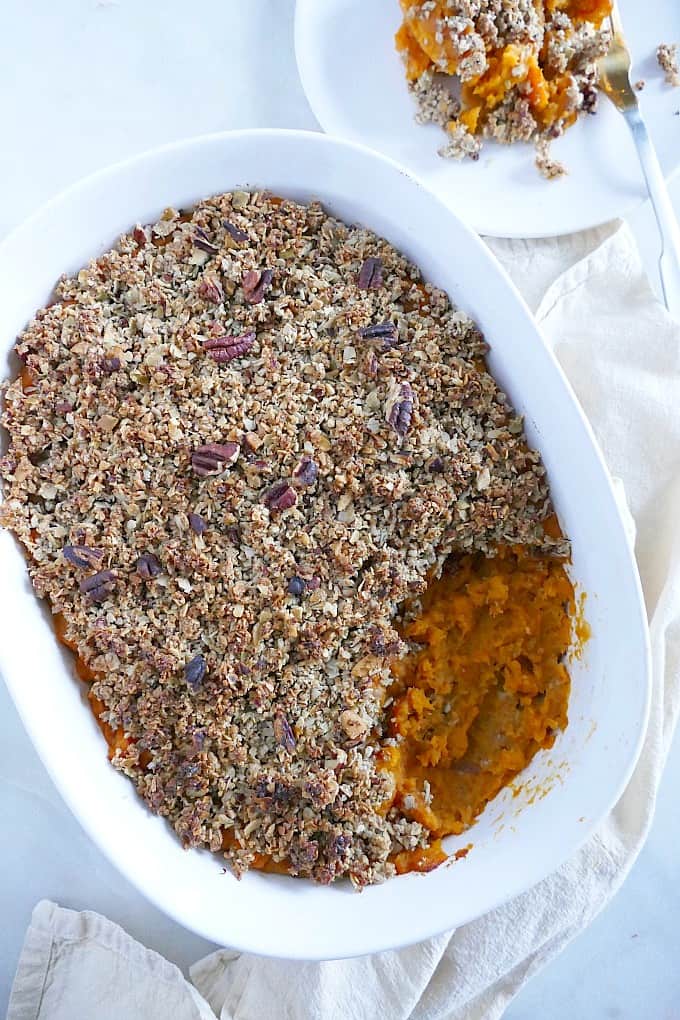 Ready or not, Thanksgiving is only two weeks away! In our house, we are definitely ready for the holiday, especially since we've been eating leftovers of the veggie-loaded holiday dishes I've been creating.
If you have ever celebrated Thanksgiving with someone in the DiSanto/McManus family, then you know how we feel about sweet potato casserole. If you haven't (which is probably the case for most of the people reading this), then I'll give you a hint. We adore it! And not just any sweet potato casserole, we especially love the one that my mom makes.
Her recipe comes from a newspaper clipping that I'm pretty sure was published in the early 1990s. It has all the makings of an epic sweet potato casserole: butter, brown sugar, sweet potatoes of course, more butter, white sugar…and did I mention butter? As you can probably tell, it's a decadent, melt-in-your-mouth treat that has become a treasured staple in our Thanksgiving spread.
This Lighter Sweet Potato Casserole isn't meant to compete with my mom's tried-and-true recipe. Oh no, I'll still take a scoop of her's over mine any day. For my family, the sweet potato casserole is kind of the big thing on our table (aside from the turkey). While we still have the other classics, they're usually much less heavy than the sweet potato casserole.
But for others, every Thanksgiving dish may be pretty darn decadent. Of course there's nothing wrong with this, but there's usually room to make a few dishes a little lighter without sacrificing taste and tradition. This idea is exactly what inspired me to create a Lighter Sweet Potato Casserole. When we tried the final product, Will and I both agreed that it was still downright delicious but just overall felt "lighter" as it went down, hence the name.
So if your fam isn't as big on traditional sweet potato casserole as mine is, then this Lighter Sweet Potato Casserole is the perfect way for you to have your sweet potatoes and eat them too! Maybe you're a mashed potato or green bean casserole family. Awesome. Stick with your classic recipes for those, and try something new for the sweet taters!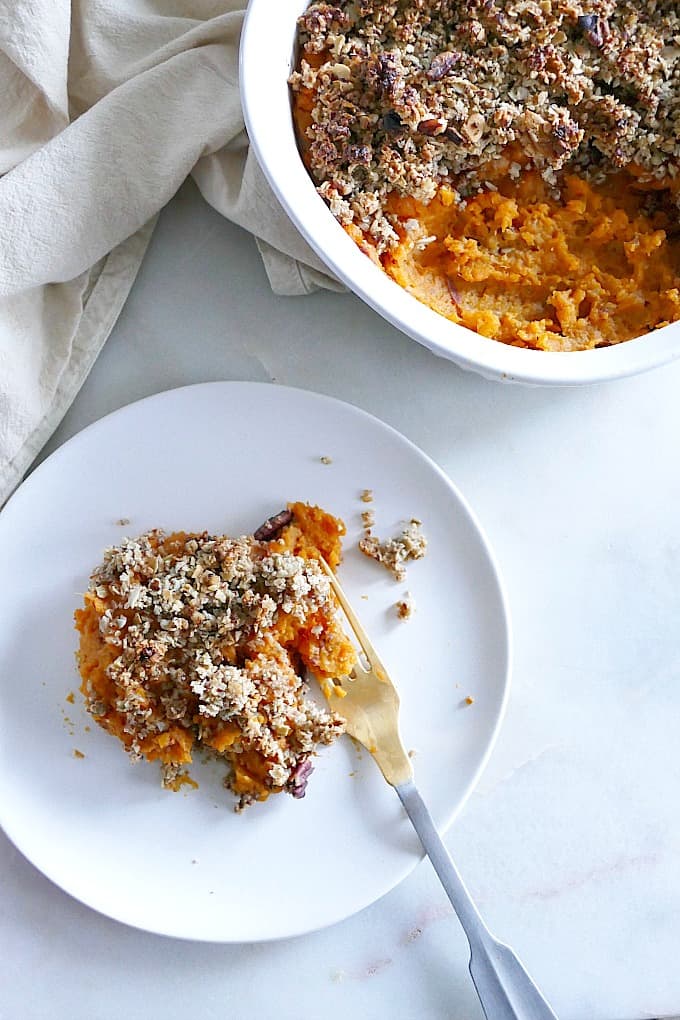 So what makes this a Lighter Sweet Potato Casserole?
For one, I used about a third of the sugar that some traditional sweet potato casseroles have, in the form of maple syrup. I also substituted full-fat canned coconut milk for the heavy cream in the filling. I know, I know. The jury is still out on whether the saturated fat in coconut is any better for you than animal fat. BUT, I love the taste of coconut and liked the idea of adding a different, plant-based twist to this recipe.
If you're not a big coconut fan, don't worry. The coconut taste is very subtle. On the other hand, if you do love coconut, Will suggested that you also add shredded coconut to the topping for this casserole. UM, YUM. Sounds like he should get a pay raise, huh? (And by pay, I mean more leftovers from recipe testing).
Finally, I made the crumble on top with pecans (obviously), pumpkin seeds, and old fashioned oats! I wanted to sprinkle in some extra nutrition, in the form of healthy fats and fiber. Plus, I only needed to use a couple tablespoons of maple syrup and butter to keep the crumble topping together, instead of the typical amounts.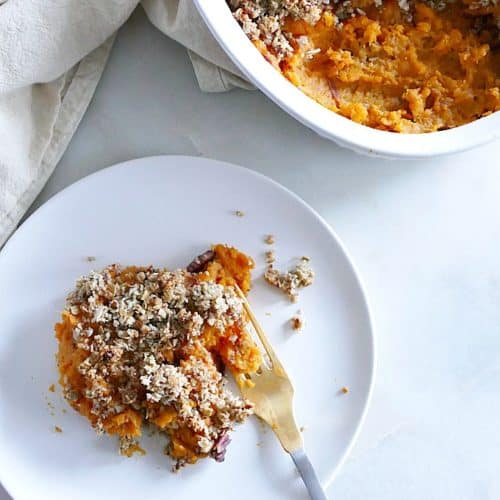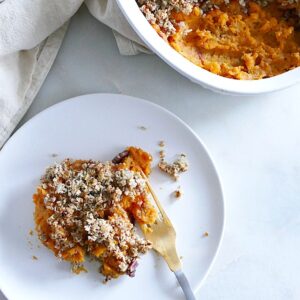 Lighter Sweet Potato Casserole with Pecan Crumble
A lighter twist on traditional sweet potato casserole with less sugar, cream, and butter. Enjoy for Thanksgiving or Christmas!
Print
Pin
Rate
Servings:
8
servings, as a side
Instructions
Preheat the oven to 400 degrees F. Grease a 2.5 qt baking dish, like a French Corningware, or 13x9 baking dish.

Prepare the sweet potatoes by scrubbing them and roughly chopping them into large pieces. You can peel them if desired, but I left on the skin for added fiber. Add them to a large pot and cover with a few inches of water. Cover and bring to a boil. Cook the potatoes for ~15 minutes or until they are tender.

Add the cooked sweet potatoes to a large bowl with the coconut milk, maple syrup, vanilla, cinnamon, nutmeg, salt, and egg. Use a hand mixer to blend until smooth. Transfer the filling to the greased baking dish and evenly spread it out.

To make the topping, add the pumpkin seeds, pecans, and oats to a food processor and pulse until finely chopped. If you do not have a food processor, you can roughly chop the seeds and pecans with a knife and leave the oats intact. In a small bowl, mix together the chopped seeds, pecans, and oats with the cinnamon, sea salt, maple syrup, and melted butter.

Crumble the topping on top of the filling. Bake for 20 to 30 minutes or until topping is slightly browned. Enjoy warm!
Nutrition
Serving:
0
g
|
Carbohydrates:
0
g
|
Protein:
0
g
|
Fat:
0
g
|
Saturated Fat:
0
g
|
Polyunsaturated Fat:
0
g
|
Monounsaturated Fat:
0
g
|
Trans Fat:
0
g
|
Cholesterol:
0
mg
|
Sodium:
0
mg
|
Potassium:
0
mg
|
Fiber:
0
g
|
Sugar:
0
g
|
Vitamin A:
0
IU
|
Vitamin C:
0
mg
|
Calcium:
0
mg
|
Iron:
0
mg
If you make this Thanksgiving, leave a comment, will ya?! Enjoy!


Cheers to family traditions!
Lizzie