Upgrade your holiday menu with this delicious wild rice pilaf, featuring mushrooms and fresh cranberries! It's a vegan and gluten free wild rice side dish recipe that looks beautiful on a Thanksgiving or Christmas table.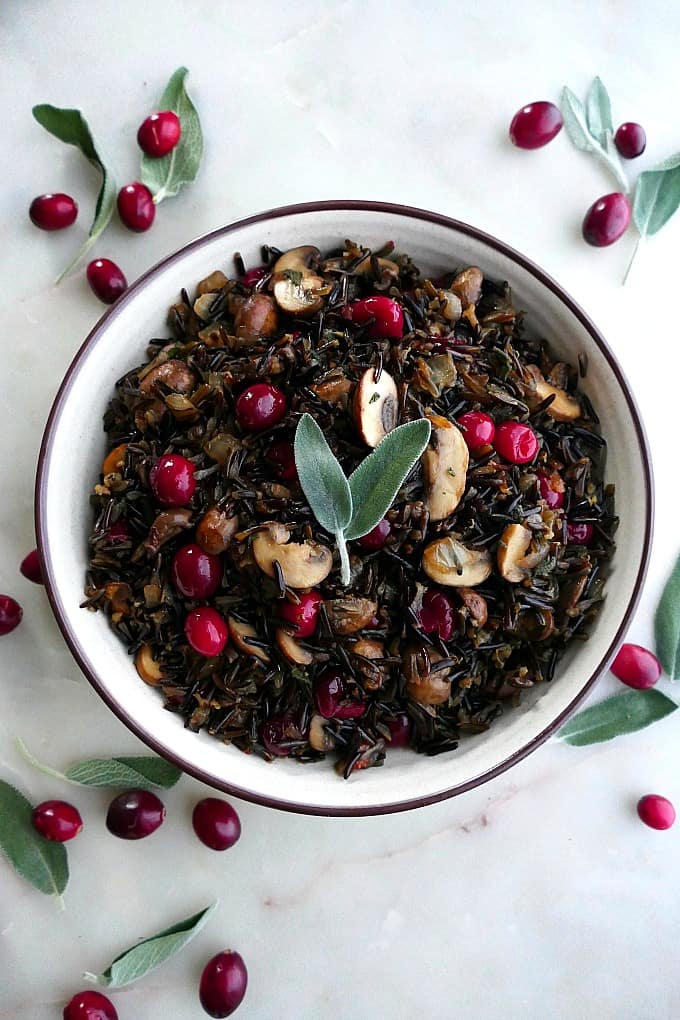 This post may contain affiliate links. For more information, see my affiliate disclosure.
A few winters ago, I was fortunate enough to stumble upon the book "In Winter's Kitchen" by a Minneapolis food writer named Beth Dooley. It has since become one of my favorite books about food! Dooley highlights a different local food in each chapter, and weaves in stories about the food's history and her personal experience with it.
Both wild rice and cranberries, two of the main ingredients in this wild rice pilaf, are highlighted in Dooley's book. After learning about their intensive growing and harvesting processes, I appreciate these Midwestern staples in a new way!
And I'm so excited to share this festive recipe with all of you. I think it would go great with my Healthier Green Bean Casserole and Turnip and Beet Gratin, and most of my other holiday side dishes, don't you agree?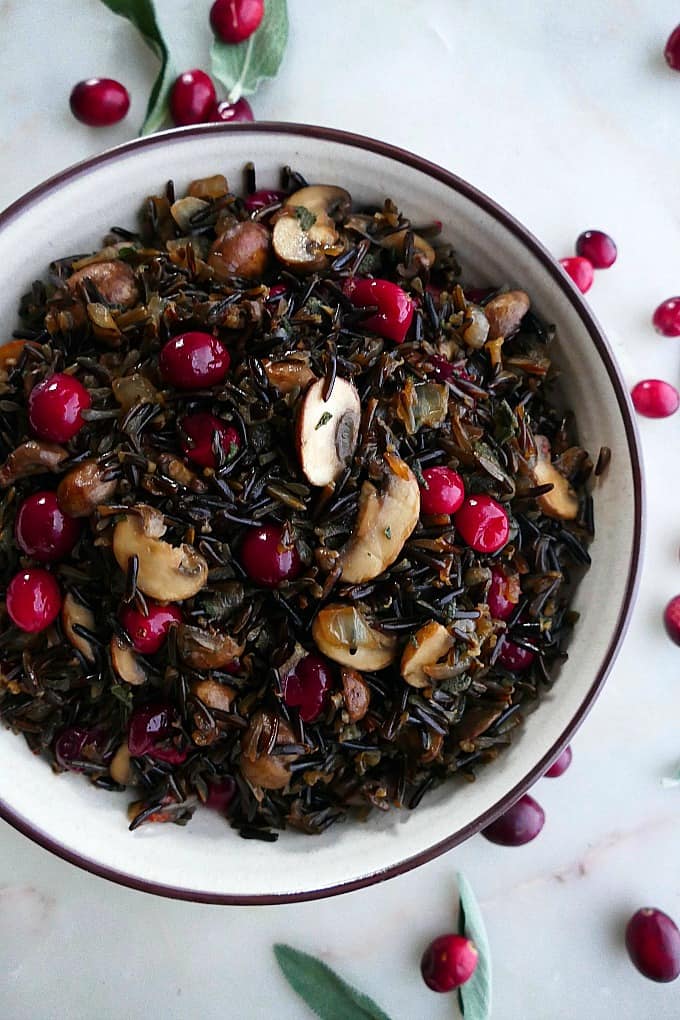 The BEST Wild Rice Pilaf Recipe
I didn't know much about wild rice before I moved to Minnesota, but now I absolutely love this delicious (and highly nutritious) grain. It has a nutty, earthy taste. I encourage you try it, and make wild rice pilaf a staple of your Thanksgiving dinner!
Specifically, you should make this easy, healthy, and flavorful version ;-). I may be biased, but I think it's hands-down the best wild rice pilaf out there, and I have some back-up from family members too.
Here's why you'll LOVE it:
It's a nutritious but tasty dish, that's naturally vegan and gluten free.
You can make it ahead of time, and serve it cold or hot!
Tart cranberries are an excellent companion to meaty mushrooms and hearty wild rice, and earthy sage rounds out the whole dish.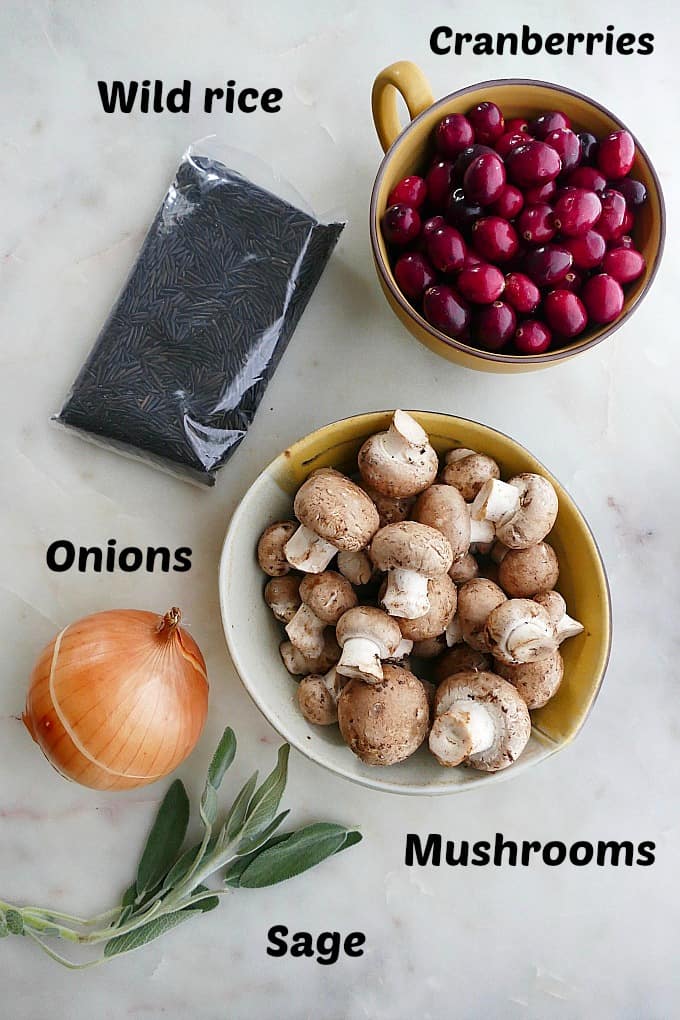 Is wild rice pilaf healthy?
YES, this dish is actually incredibly nutritious. In fact, one cup of wild rice has 28 grams of protein! Who knew?!
Not only is wild rice rich in protein, but it is also loaded with fiber and various phytonutrients that act as antioxidants and can help fight underlying cell damage in the body.
How to Make Wild Rice Pilaf
Prepare the wild rice by following the instructions on the package. Depending on the type/brand you get, it may take longer than I suggest to cook it. While the wild rice is cooking, cook the onions and mushrooms until tender in a large skillet.
Add the cranberries and cook until they "pop" and are able to be "smushed" down with your spoon.
Add the fresh sage to the skillet.
Once the wild rice is finished, add that to the rest of the ingredients.
FAQ and Tips for Cooking Wild Rice
To get perfectly tender wild rice for pilaf, follow these expert tips.
Use a wild rice to liquid ratio of 1 to 3. I personally prefer to cook wild rice in broth, but you can cook it in water too.
Although most packages will suggest fully covering the wild rice and reducing the heat to a simmer, I found the most success with a loose-fitting lid that I tilted up slightly to let some steam out. I also cooked it over low-medium heat, instead of a full simmer.
I have made this recipe with Trader Joe's wild rice and true Minnesota wild rice (that was harvested by hand and is accessible to me in Minneapolis). It tastes great with both kinds, but it took much longer to cook the true Minnesota wild rice than the TJ's kind, likely because of the differences in processing and harvesting. Here is more information on cultivated vs. true wild rice, if you are interested.
Should you rinse wild rice?
It's always best practice to rinse grains to remove any dust or dirt. You can rinse wild rice in a sieve with cold water.
Do you need to soak wild rice?
No, but it will cook much faster if you do. Try soaking it in a bowl of cold water on the counter or in the fridge for a few hours or overnight.
If you are making this wild rice pilaf recipe for Thanksgiving and want to cut back on cooking time, I'd recommend soaking the wild rice beforehand.
Can wild rice be cooked in a slow cooker?
Yes! Add the rice and liquid to a crockpot in a 1:3 ratio. Cover and cook on high for 3-4 hours, or low for 6-7 hours. This would be another great way to save time while making this dish.
What is the best way to flavor wild rice?
Cook wild rice in vegetable or chicken broth for the best flavor. Fresh herbs, like sage and thyme, taste great with this type of rice too.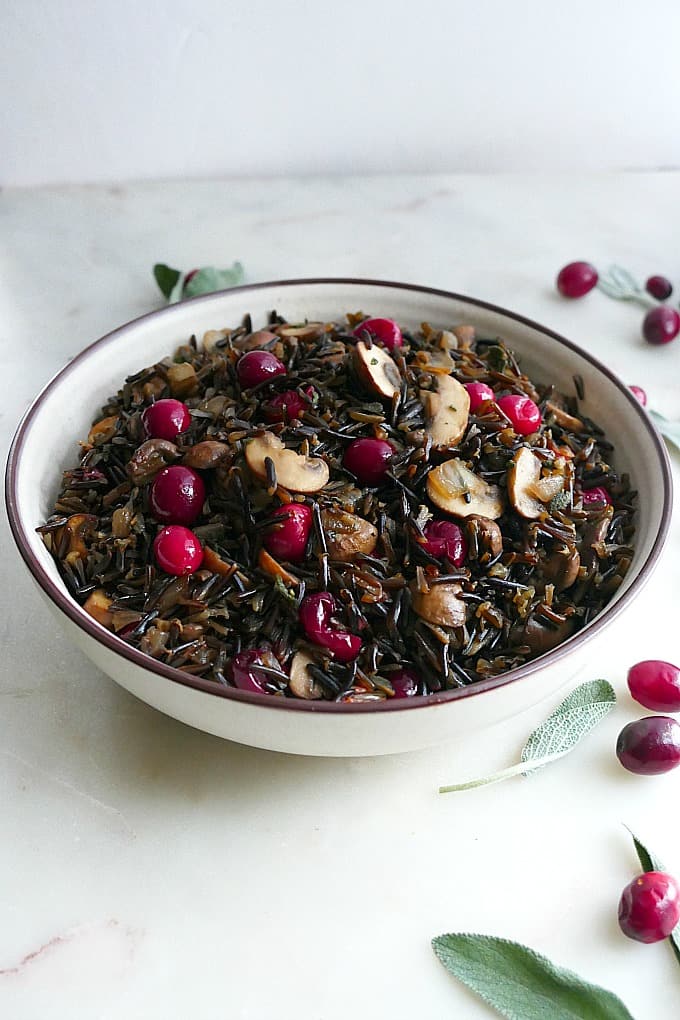 Wild rice pilaf can be eaten warm right after cooking, or can be made ahead of time and enjoyed cold or reheated. You can reheat it in the microwave for 2-3 minutes on high or in a preheated oven (~250 degrees F) for 10-15 minutes.
Store leftovers in an airtight container in the fridge for up to 5 days.
More Vegan Holiday Dishes
If you make this recipe, don't forget to rate it and let me know how you like it in the comments below!
📖 Recipe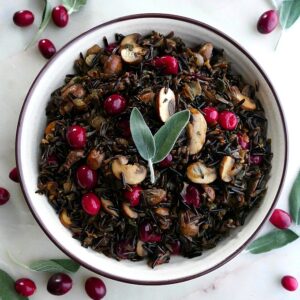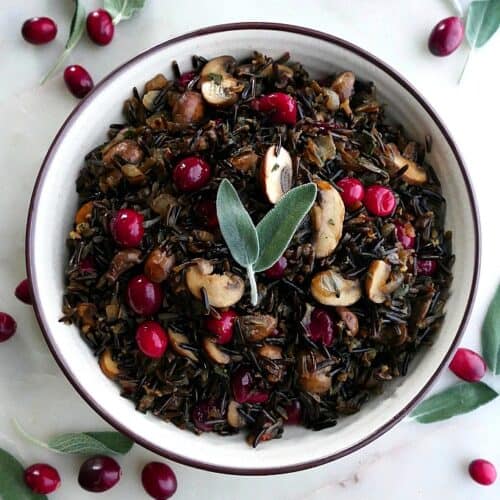 Vegan Mushroom and Cranberry Wild Rice Pilaf
A delicious side dish with Midwestern roots. It would be especially tasty on your Thanksgiving or Christmas table!
Print
Pin
Rate
Save
Saved!
Equipment
saucepan and lid

cutting board and knife

large skillet
Instructions
In a small saucepan, bring three cups of vegetable broth to a boil. Add wild rice, reduce to a medium-low boil/simmer, and cover with a loose-fitting lid. If you can tilt the lid up slightly, so that it lets some steam out, that will help the rice cook. Cook according to package instructions. Some varieties may only take 20-25 minutes, others take 40-50 minutes.

While the rice is cooking, heat oil over medium heat. Add onion and saute for 3 to 5 minutes. Add mushrooms and cook down for ~10 minutes. You may want to add a splash of vegetable stock for more flavor. Next, add the cranberries and cook for another 5 minutes or until they begin to "pop." Stir in the fresh sage.

When the rice is finished, drain the excess liquid and add it to the mushroom/cranberry mixture. You can heat it up in the same skillet or in a serving dish in the microwave, or serve cold. Serve with more fresh sage, salt, and pepper to taste.
Notes
To reduce cooking time, soak wild rice in a bowl with cold water overnight or for 3-4 hours before cooking.
You can also prep the wild rice in a slow cooker to save time. Add the rice and stock, cover, and cook on high for 3-4 hours.
You can make this ahead of time and serve cold or reheated (in the microwave for 2-3 minutes or in a preheated oven for 10-15 minutes).
Store leftovers in an airtight container in the fridge for 3-5 days.
Nutrition
Serving:
1
cup
|
Calories:
170
kcal
|
Carbohydrates:
30
g
|
Protein:
9
g
|
Fat:
3
g
|
Saturated Fat:
1
g
|
Sodium:
481
mg
|
Potassium:
636
mg
|
Fiber:
4
g
|
Sugar:
6
g
|
Vitamin A:
260
IU
|
Vitamin C:
7
mg
|
Calcium:
14
mg
|
Iron:
1
mg
This post was originally published in November 2017. It was updated with new photos and expert tips in November 2019.
Happy cooking!
Lizzie