This Healthier Green Bean Casserole with Almonds is a fun twist on a classic Thanksgiving dish. Made without cream of mushroom soup and instead with maple almonds and crispy shallots, it's a delicious green bean recipe that's gluten free and vegetarian…and can even be made ahead of time!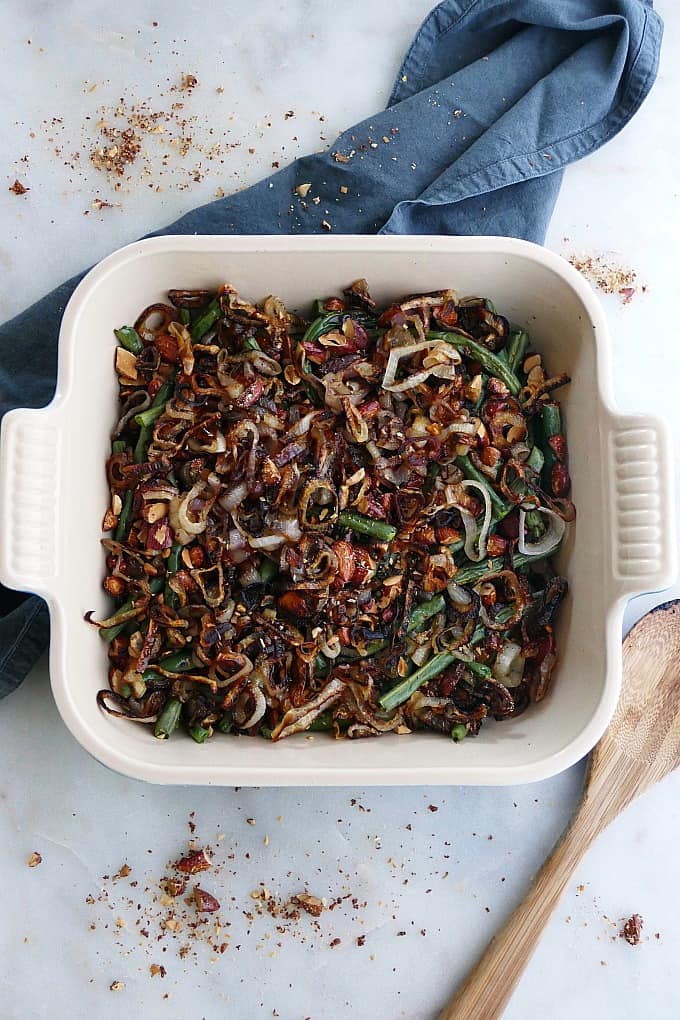 This post may contain affiliate links. For more information, see my affiliate disclosure.
The first thing that comes to mind when we think about Thanksgiving is turkey. But when you really think about the meal, vegetables steal the show. Mashed potatoes, sweet potatoes, broccoli, green beans, pumpkin…the list goes on.
All of these are staples of this wonderful holiday, and without them, well…the meal just wouldn't be the same!
I'm not here to suggest that you should stop making a century-old family recipe for creamy mashed potatoes, and make plain, boiled potatoes instead. I'm only here to provide healthier spins on Thanksgiving favorites, and to give you some inspiration for new dishes and ways to "lighten up" the classics!
And that's exactly where this Healthier Green Bean Casserole with Almonds comes into play. It's a unique way to enjoy a holiday green bean recipe with some of the usual ingredients (crispy shallots!!) and without some of the others (i.e. cream of mushroom soup).
Reasons to Love Green Bean Casserole with Almonds
Think of this recipe as a cross between green bean almondine and green bean casserole. If you like both of those, you will REALLY like this.
It features one of the Veg World readers' all-time favorite recipes: Maple Roasted Almonds. I'm telling you, those things are DELICIOUS. Speaking of maple-y nuts, check out the Green Beans with Pecans recipe for something similar.
You can serve this recipe hot or cold, making it the perfect dish for a crazy kitchen day like Thanksgiving.
It's gluten free and vegetarian, just in case you or your guests need it to be.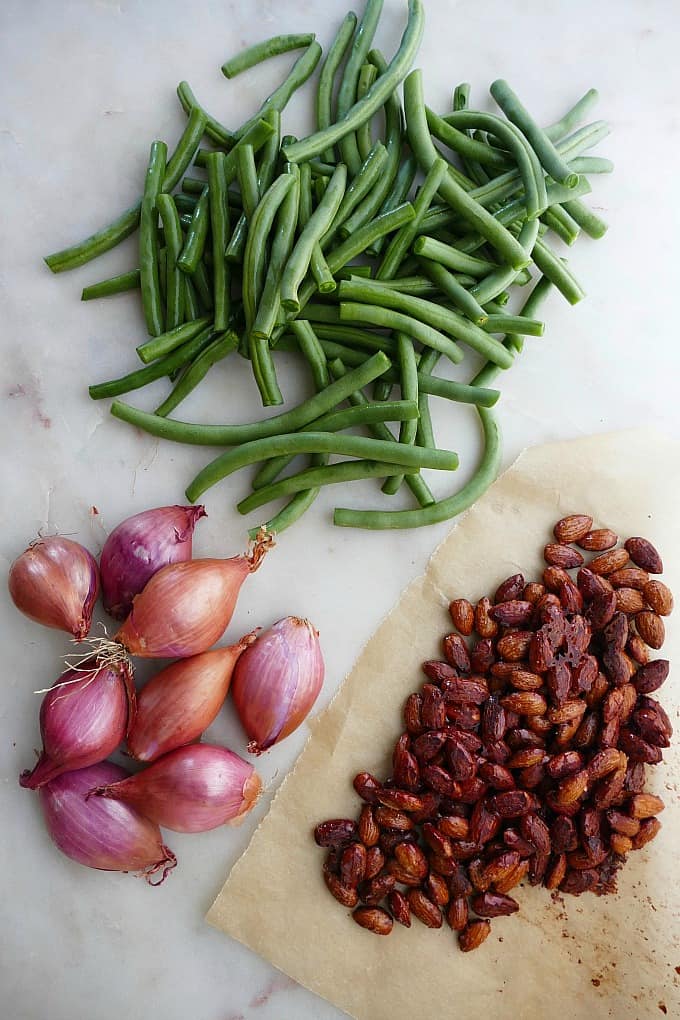 How to Make Healthier Green Bean Casserole from Scratch
This recipe uses both the oven and the stove, but you can prep the green beans in advance to free up oven space if needed.
And the best thing about this dish is that you can have it all finished in 6 easy steps:
Start by rinsing and trimming the green beans. Toss in olive oil, spread on a couple of sheets lined with parchment, and roast the green beans in the oven. If you need to prep the Maple Roasted Almonds for this recipe, you can do them at the same time (and oven temp) as the green beans.
Next, peel and slice the shallots into thin circles. Use your fingers to pull them apart.
Cook the shallots in butter and olive oil until crispy. Make sure they don't overlap in the pan. You may need to do 2 rounds of shallots depending on the size of your skillet.
Put the cooked green beans in a serving dish.
Top with the almonds.
Add the shallots.
(Not pictured!) – pat yourself on the back for a job well done!
Tips for Serving, Storing, and Reheating
You can serve green bean casserole with almonds in any dish, with a large spoon (a spaghetti server works especially well) or tongs. However, if you are transporting it and want to reheat it at your host's house, serve it in an 8×8 baking dish.
To reheat this recipe, cover with foil and put the dish in a preheated oven (perhaps one that's already cooking a turkey!) for ~20-30 minutes, or until it's warmed through.
Alternatively, this dish also tastes really good when it's served cold!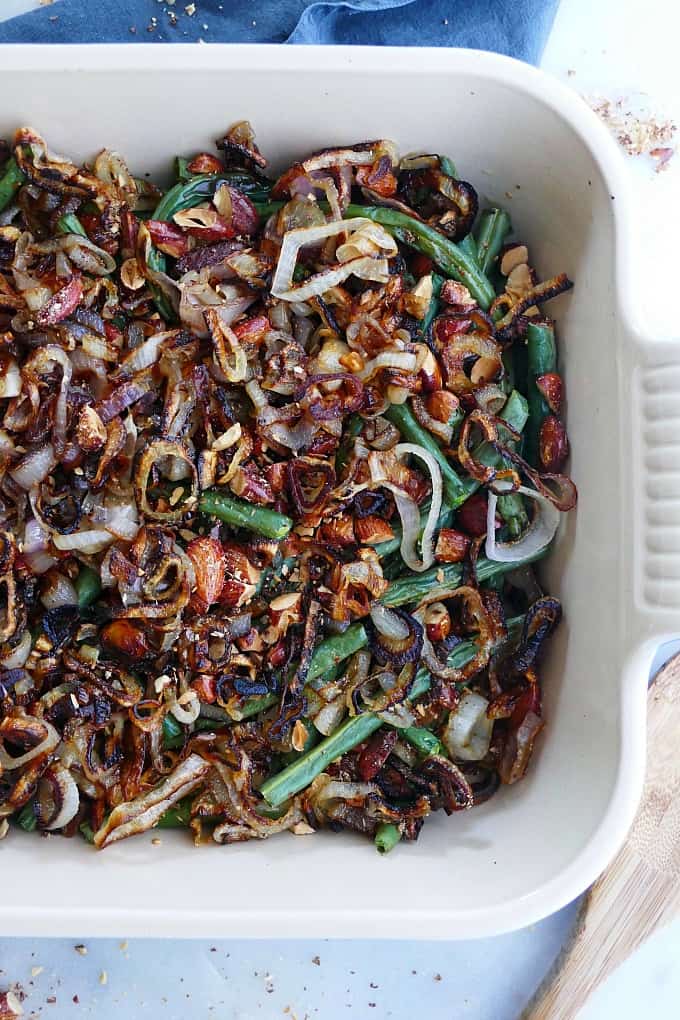 What goes well with green bean casserole?
Ah, I was hoping you'd ask! Healthier Green Bean Casserole with Almonds would be the perfect companion to one or two of these other Veg World Thanksgiving dishes: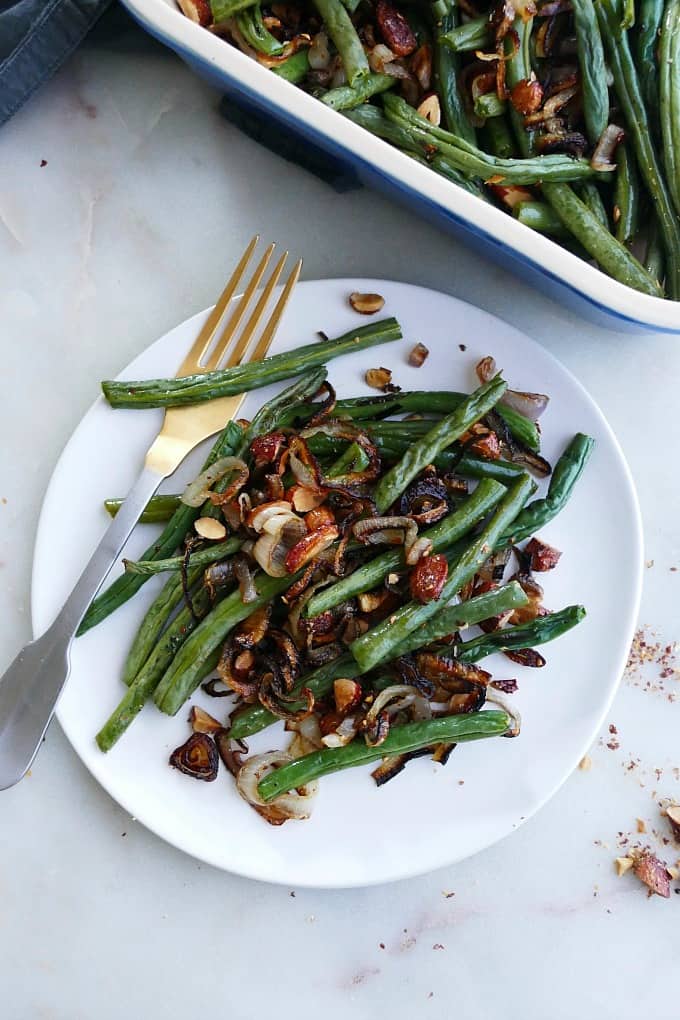 If you make this recipe, I'd love to hear how you like it! Please rate and review the recipe using the stars on the recipe card or in the comments section.
📖 Recipe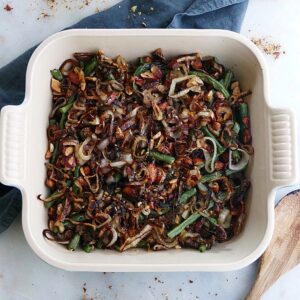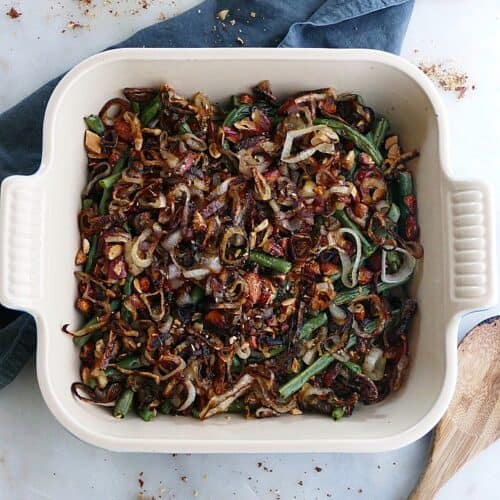 Healthier Green Bean Casserole with Almonds
A healthier version of classic green bean casserole, made without cream of mushroom soup and instead with crispy shallots and maple roasted almonds.
Print
Pin
Rate
Save
Saved!
Equipment
cutting board and knife

skillet

serving dish
Instructions
Preheat oven to 350 degrees F. Line 2 baking sheets with parchment paper, or line 3 if you have not prepped the Maple Roasted Almonds in advance.

Spread the trimmed green beans out evenly on 2 of the baking sheets. Drizzle with 1 tablespoon olive oil. Sprinkle with sea salt and ground black pepper to taste. Roast for 20 to 25 minutes or until slightly brown.

In a mixing bowl, combine the almonds with the maple syrup and mix until coated. Transfer to the other lined baking sheet and use a rubber spatula to spread them out so they don't overlap. Pop them in the oven and bake for ~15 minutes.

While the beans and almonds are roasting, prepare the shallots. Peel and thinly slice the shallots. Then use your fingers to pop them apart so you have thin, hollow slices.

Heat 1 tablespoon butter and 1 tablespoon olive oil in a large skillet over medium high heat until the butter is melted. Add thinly sliced shallots and cook until brown and crispy, about 10 to 15 minutes. Remove from skillet and place on a plate lined with a paper towel. You may have to do 2 batches of shallots depending on the size of your skillet. Simply heat 1 more tablespoon of butter and 1 more tablespoon of olive oil and repeat the process.

Transfer the green beans to a serving dish. Chop the almonds and add them to the beans, and top with crispy shallots. Enjoy warm or cold!
Notes
This recipe tastes good warm or cold. If you want to serve it warm, make it in an 8x8 baking dish, cover with foil, and reheat for ~20-30 minutes in a preheated oven (300-350 degrees F). You can also reheat it in the microwave.
The most time consuming part of this recipe is peeling, slicing, and cooking the shallots. But believe me, it's worth it! You can also prepare other things in the kitchen while the shallots are cooking.
Nutrition
Serving:
1
serving
|
Calories:
321
kcal
|
Carbohydrates:
26
g
|
Protein:
9
g
|
Fat:
23
g
|
Saturated Fat:
4
g
|
Cholesterol:
10
mg
|
Sodium:
47
mg
|
Potassium:
613
mg
|
Fiber:
8
g
|
Sugar:
12
g
|
Vitamin A:
1160
IU
|
Vitamin C:
21
mg
|
Calcium:
138
mg
|
Iron:
3
mg
Have a wonderful Thanksgiving!
Lizzie