This recipe for Italian style sautéed rapini (aka broccoli rabe) with garlic and olive oil is a delicious and easy vegetable side dish. You'll learn everything you need to know about cooking rapini so it is not bitter, including how long to boil it and cook on the stove. It's simply the best!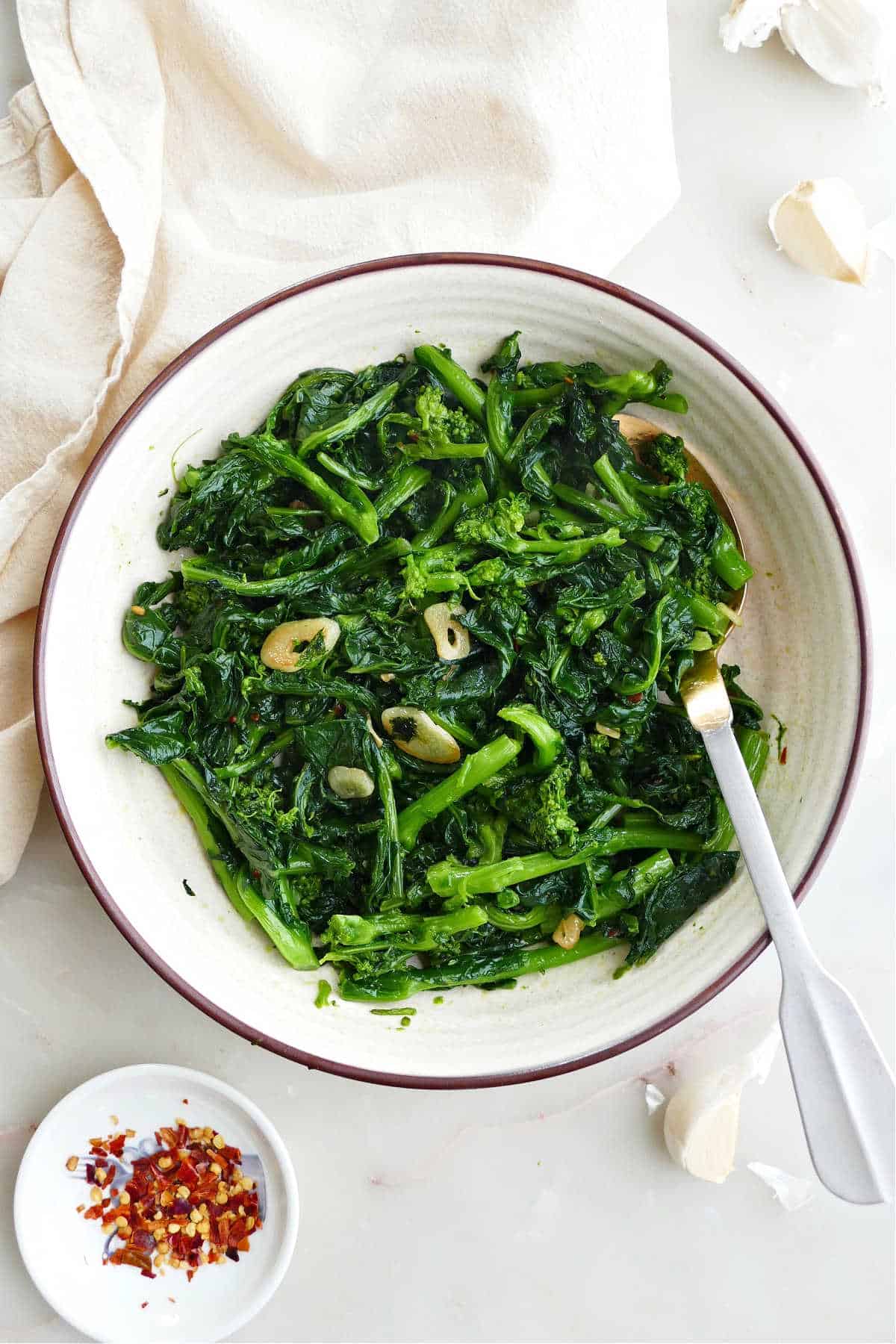 I am no stranger to broccoli rabe, aka rapini, cooked until crisp-tender and smothered in extra virgin olive infused with garlic and red pepper flakes. It has been one of my favorite dishes to get from Italian delis and restaurants since at least high school.
Growing up (with a mom who is 100% Italian!), I frequented a spot called Pagano's deli in Drexel Hill, PA that was down the street from my childhood home in Havertown. They had an incredible vegetarian hoagie made with broccoli rabe and provolone cheese. Boy do I miss that hoagie…and all the other quality Italian food I had access to when I lived in Philadelphia!
Anyways, it's about time I shared my own recipe for homemade sautéed rapini with all of you. I can't promise that it's as good as Pagano's, but it's a pretty darn delicious option for those of you who don't have an Italian deli down the street. If you're in the mood for more Italian food now, check out my Italian Marinated Green Bean Salad and White Beans and Escarole while you're here.
Jump to: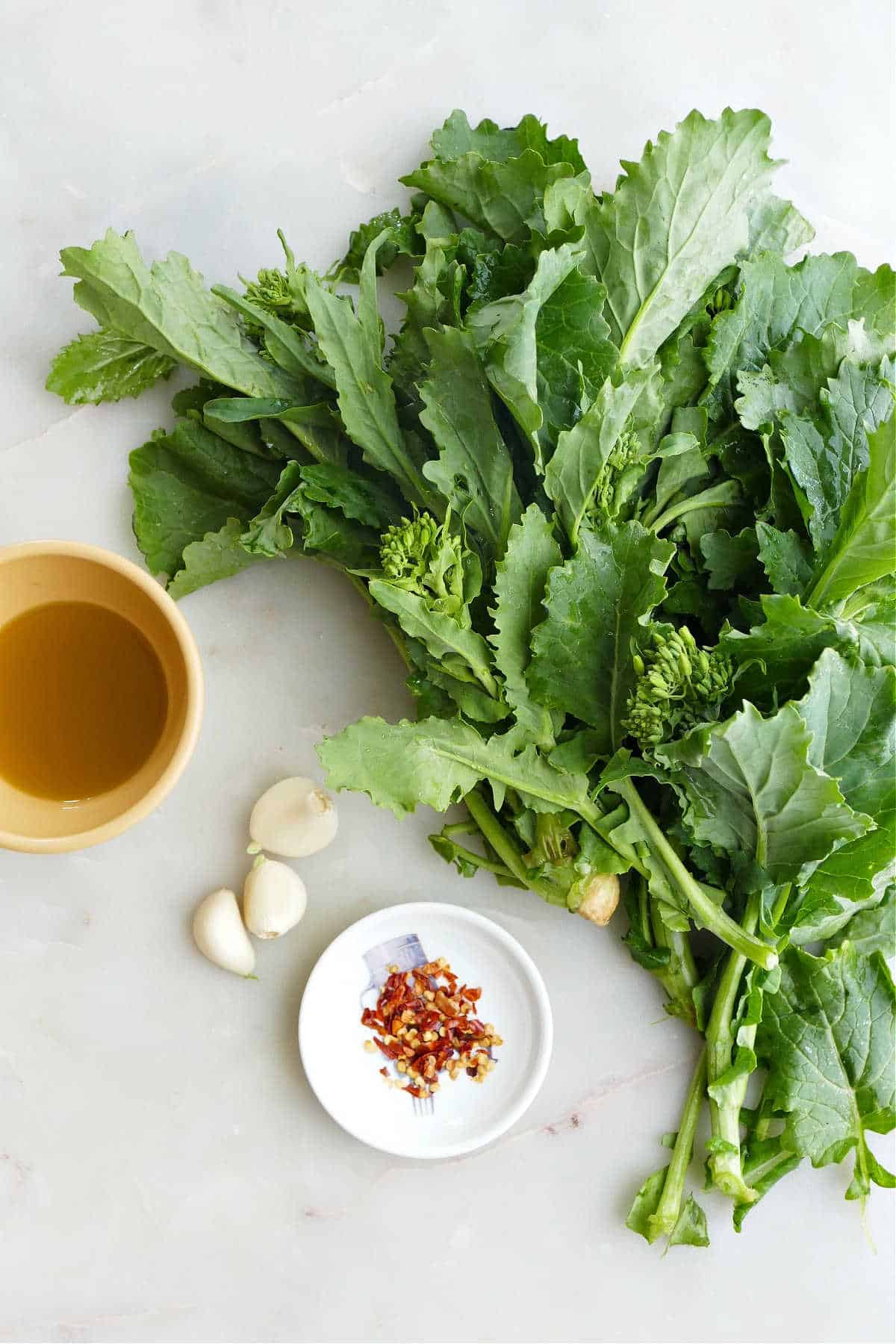 Ingredients
Rapini (broccoli rabe): Broccoli rabe is not actually a type of broccoli, even though it looks like broccolini with bigger leaves. Instead, it's related to the turnip family and therefore has a bitter taste. Depending on where you live, you'll see it labeled as rapini or broccoli rabe in the grocery store. If you live in an area with a big Italian population, you will likely find broccoli rabe at most grocery stores. It can be harder to find in other areas, as was the case in Minneapolis. I found it at Kowalski's after trying Whole Foods with no luck.
Extra virgin olive oil: Use a good quality olive oil that is labeled extra virgin when making sautéed rapini (or any Italian food for that matter). I prefer to get Sicilian olive oil that has been imported from Italy and is stored in tins. My favorite brand is Partanna. The taste is extremely good.
Garlic: Fresh garlic all the way for this one! You can mince the garlic before adding it to the recipe, but I prefer to slice it into thin slivers since that's how I see it done at a lot of Italian delis.
Red pepper flakes: If you want a little kick, add a pinch of red pepper flakes. Omit if you don't want the heat.
Instructions
The full recipe card for sautéed rapini, with ingredient quantities and instructions, is at the bottom of the post. Here's a preview of the steps with my expert tips and photos to guide in you in the kitchen.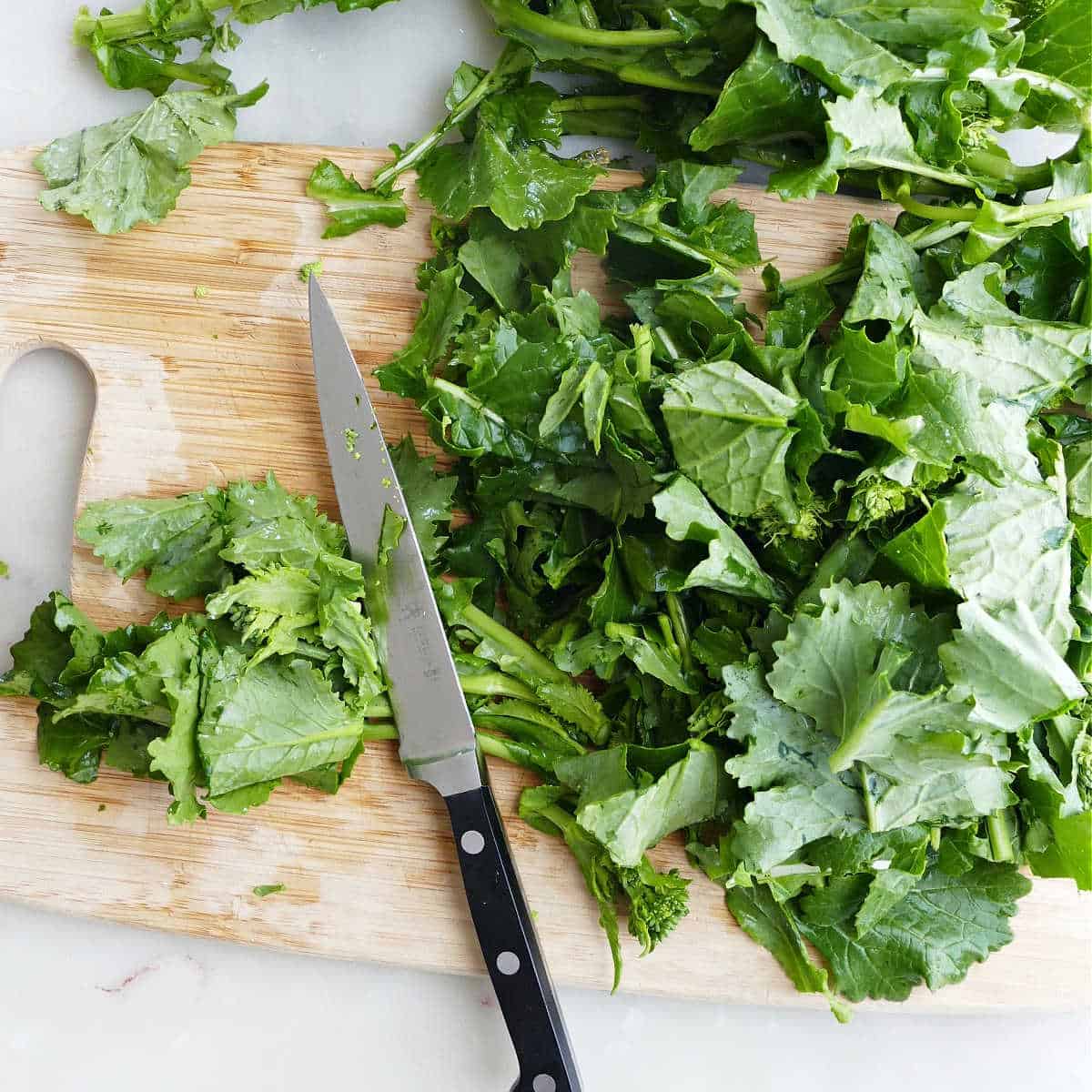 Wash the rapini under running water. Pat dry and transfer to a cutting board. Trim the ends and cut into 2-inch pieces.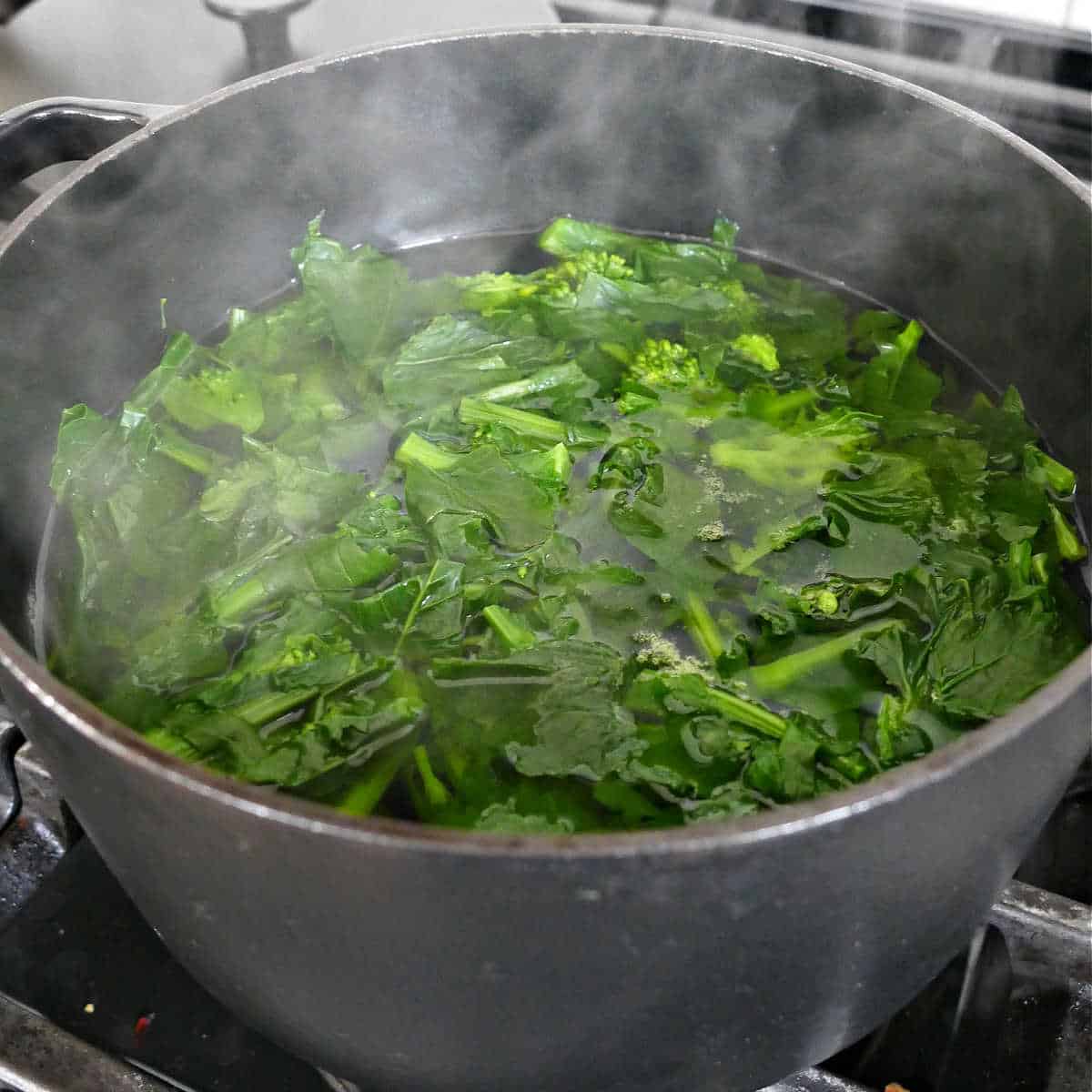 Bring a pot of salted water to a boil. Drop the rapini in the pot and cook for 60 to 90 seconds.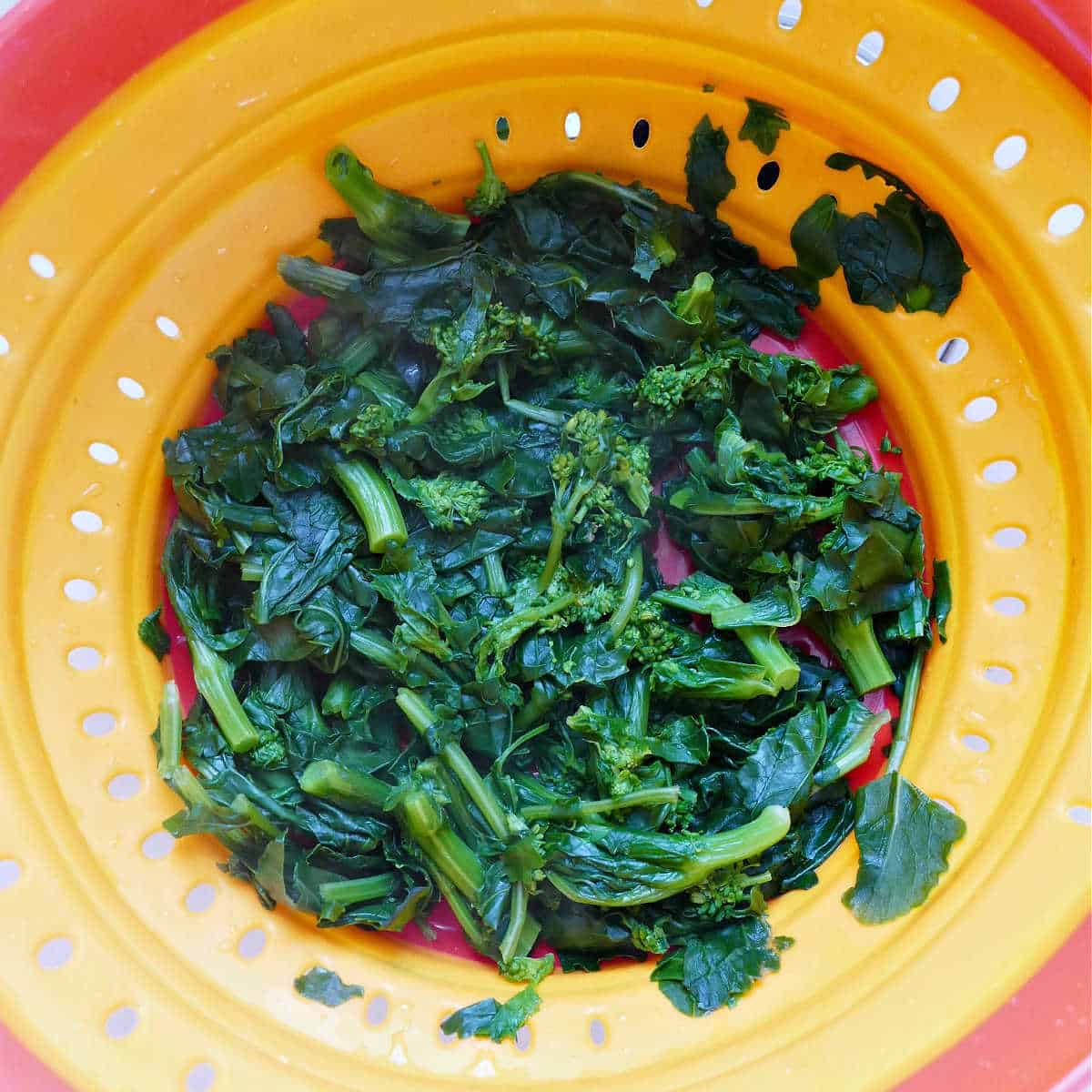 Immediately drain the rapini.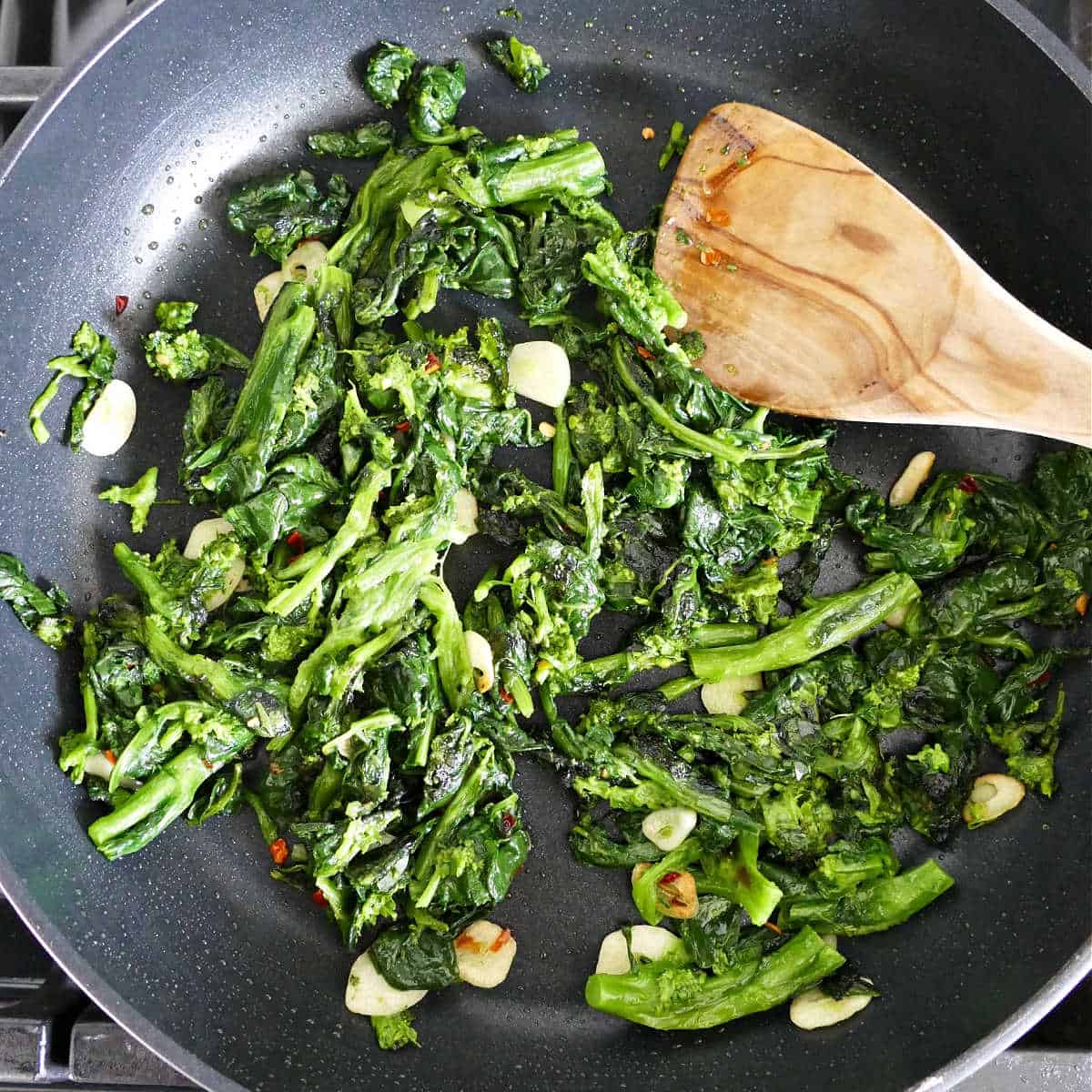 In a large skillet, warm the olive oil. Add the garlic and cook for a minute, being careful not to burn it. Stir in the blanched rapini and red pepper flakes. Cook for a few more minutes.
Storage and Reheating
Sautéed rapini can be enjoyed warm or cold. If you want to serve it at a later time, store in an airtight container in the refrigerator for up to 3 to 5 days. I like to drizzle a little extra olive oil over it before storing. If you want to reheat broccoli rabe, warm in the microwave for 1 to 2 minutes.
Serving
If you're wondering what to serve with rapini, it makes a wonderful vegetable side dish for Italian inspired meals. Have it with spaghetti and meatballs, lasagna, baked ziti, or my roasted red pepper pasta. You can also use it as a hoagie filling alongside roasted red peppers and provolone cheese. For another way to use garlicky broccoli rabe, see my Lemon Rapini Pasta recipe.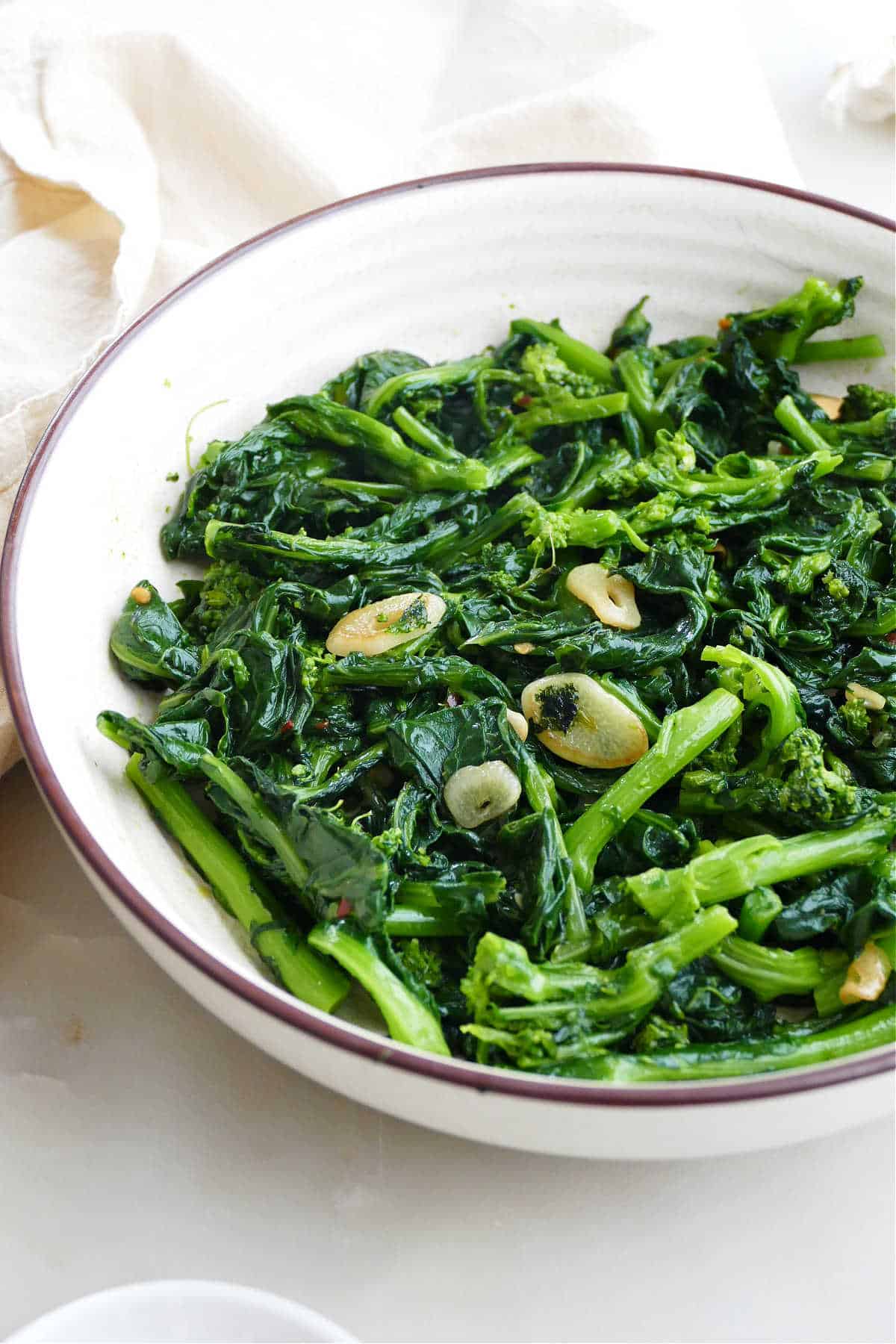 FAQ
Do you eat the leafy part of broccoli rabe?
When working with broccoli rabe, you may be wondering what parts are edible. The answer is all of them: the leaves, stalks, and florets. Don't throw the leaves out. They add a lot of bulk and flavor.
How do you get the bitterness out of broccoli rabe?
Blanching is key to making rapini/broccoli rabe less bitter. You can blanch it in a pot of boiling water for 60 to 90 seconds or steam it with a little water for a few minutes in a covered skillet before sauteeing. Both methods work well, but I prefer to boil it first.
Why is my sautéed rapini mushy?
If your dish ends up mushy, it's probably because you boiled the broccoli rabe for too long before sautéing. I recommend only blanching it for 60 seconds and max 90 seconds before immediately draining. Some recipes suggest boiling for 2 to 3 minutes, but I have personally found that this is way too long and results in mushy broccoli rabe.
More Side Dish Recipes
I'd love to hear how you like this recipe! Rate/review using the stars on the recipe card or in the comments, and follow the Veg World on YouTube, Instagram, Facebook, and Pinterest. Looking for something totally different? Browse the recipe library.
📖 Recipe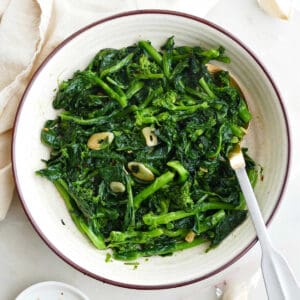 Sauteed Rapini (Broccoli Rabe)
This Italian style broccoli rabe is loaded with extra virgin olive oil and fresh garlic. It's a simple side dish with 4 ingredients that's wonderfully easy and delicious.
Print
Pin
Rate
Save
Saved!
Servings:
2
1-cup servings
Instructions
Bring a large pot of salted water to a boil. In the meantime, wash the broccoli rabe well under running water to remove any dirt. Pat dry.

Cut the broccoli rabe into 2- to 3-inch pieces. When the water is boiling, drop the pieces into the pot. Blanch for 60 seconds (max 90 seconds) and drain immediately into a colander. The blanching helps remove some of the bitterness but overdoing it can cause the dish to be mushy.

Warm the olive oil in a skillet over medium heat. Add the sliced or minced garlic and cook for about a minute, stirring frequently to prevent burning. Stir in the red pepper flakes followed by the blanched broccoli rabe.

Cook for to 3 to 5 minutes, stirring occasionally, until the broccoli rabe is cooked to your liking. I prefer it to be crisp-tender. You can season with salt and pepper if desired, but I think it has a lot of good flavor without too much of these ingredients.

Remove from heat, serve, and enjoy!

Leave a rating or review by tapping the stars on this recipe card (above) or in the comments section (at the end of the post)!
Notes
Serve this dish warm or cold. Keep in an airtight container in the fridge for 3 to 5 days. To reheat, warm in the microwave for 1 to 2 minutes.
This recipe is a great side dish to pasta or other Italian dishes. You can also serve it on a vegetarian hoagie with roasted red pepper and provolone cheese.
Nutrition
Serving:
1
cup
|
Calories:
243
kcal
|
Carbohydrates:
8
g
|
Protein:
8
g
|
Fat:
22
g
|
Saturated Fat:
3
g
|
Polyunsaturated Fat:
3
g
|
Monounsaturated Fat:
15
g
|
Sodium:
80
mg
|
Potassium:
468
mg
|
Fiber:
6
g
|
Sugar:
1
g
|
Vitamin A:
6021
IU
|
Vitamin C:
47
mg
|
Calcium:
254
mg
|
Iron:
5
mg
Enjoy this Italian dish! – Lizzie