If you only need the bottoms of green onions for a recipe, don't throw away the tops! Use them to make this delicious scallion pesto. It's a tasty spring recipe that features a combination of fresh basil and green onions instead of just basil. Use it as a pasta sauce, on sandwiches, or as a veggie dip.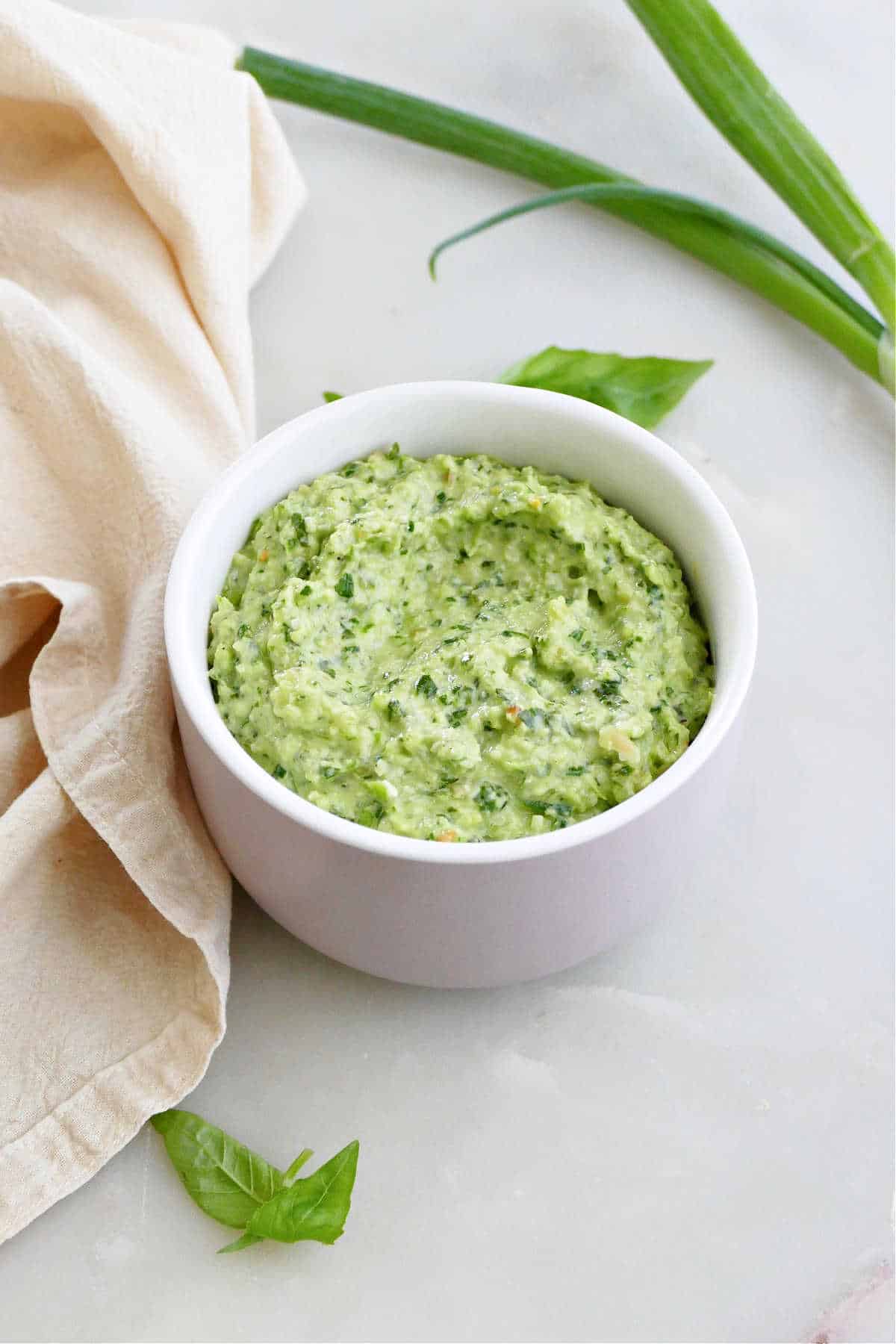 If there's anything that screams spring, it's fresh pesto! Seriously though, we're only a few weeks into spring (at least by Minnesota standards) and I've already made 4 batches of homemade pesto, including Ramp Pesto, Radish Top Pesto, and Mint Basil Pesto. I can't be stopped!
I just love how green and fresh and versatile pestos are and how they can be made with so many variations. This version is a fun twist that can also help you cut down on food waste in the kitchen! Instead of using only basil, I mixed in the tops of green onions. This lends a more pungent onion taste to the pesto, but I countered it by using slightly more pine nuts than usual.
The final result is DELISH with just the right amount of nutty, salty, and onion-y notes in every lil' spoonful. It pairs perfectly with vegetables and tasted amazing with the turkey meatballs and quinoa that we made one night for dinner! I can't wait to hear how you use your own scallion pesto!
Jump to: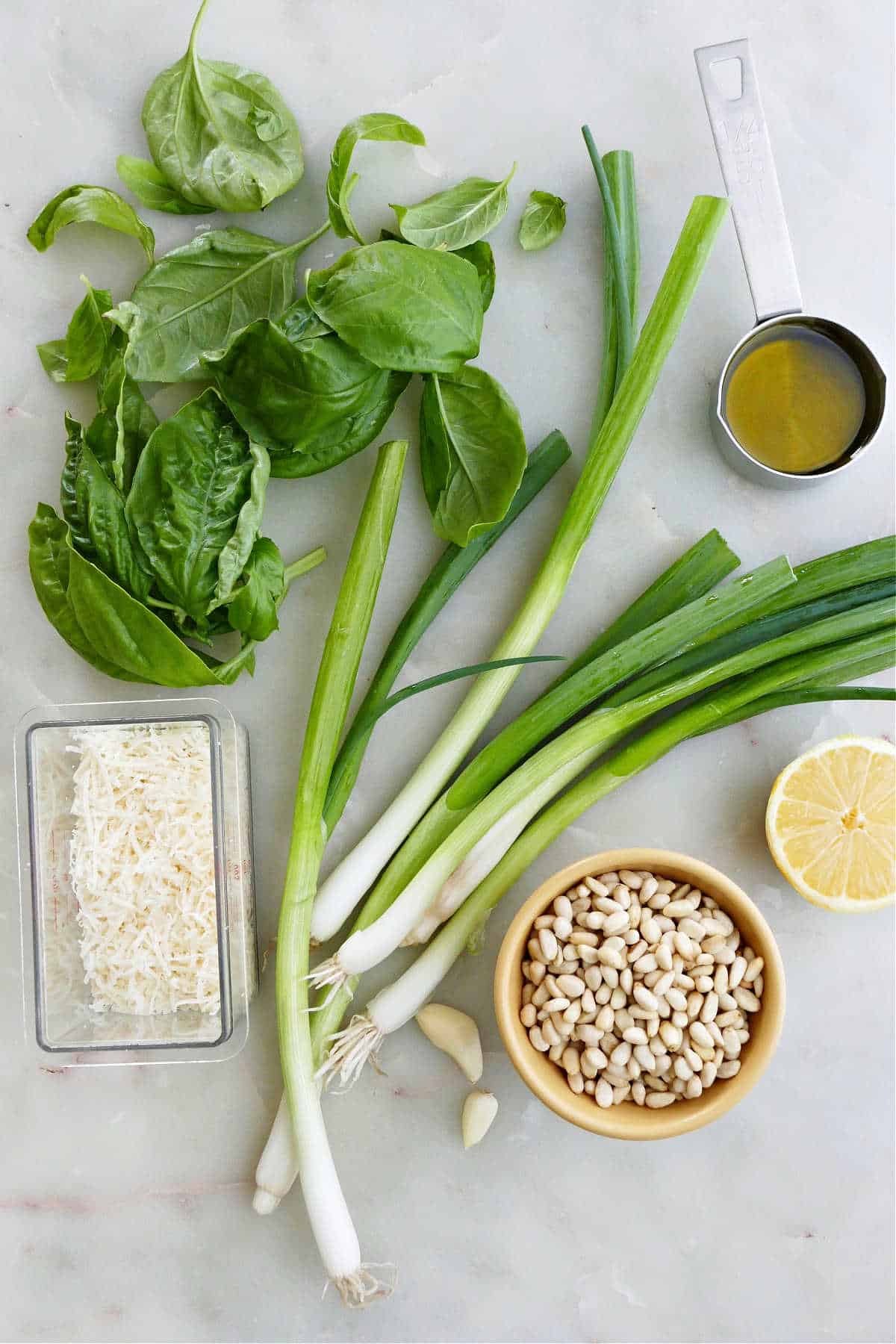 Ingredients and Substitutions
Scallions: Also known as green onions, these are the star ingredient! Some recipes only call for the white and light green parts of scallions, so this scallion pesto is intended to be a way for you to use the darker green tops. But it's so good that it's totally justified to buy a bunch of scallions just to make this recipe. Just keep the white and light green parts for another dish and use them as you would a regular onion. You could add those parts to the pesto too, but keep in mind that they have a stronger flavor.
Basil: You will need about a cup of packed basil leaves.
Lemon juice: Squeeze this out of a small lemon or half of a large lemon to get 2 tablespoons. If you don't have lemon, you could try lime juice or red wine vinegar.
Garlic: Use a clove of fresh garlic or about a teaspoon of garlic powder.
Pine nuts: I use ½ cup of toasted pine nuts. Trader Joe's sells them pre-toasted but you can also toast pine nuts yourself in a skillet over medium-low heat until fragrant (be careful not to burn them). If you don't have pine nuts, try walnuts or cashews, but personally I think pine nuts offer the best flavor in scallion pesto since they offset the onion flavor and are slightly sweet.
Extra virgin olive oil: My favorite brand is Partanna. Using a high-quality olive oil is key to making the best possible pesto!
Parmesan cheese: I like to grate my cheese by hand from a block of aged parmesan but you can use pre-shredded too. If you need this recipe to be strictly vegetarian, look for parmesan cheese that is labeled vegetarian such as Whole Foods 365 brand.
Instructions
Storage
Scallion pesto keeps very well in an airtight container or jar in the refrigerator for about a week. You can also freeze pesto. Divide it up into smaller portions if you think you will only use a little bit at a time, store in freezer-safe containers, and freeze for up to 6 months.
Many people like to freeze pesto in silicone ice cube trays, since the cubes are a good portion size, then pop them out and store them in a freezer bag. Let the frozen pesto thaw in the fridge overnight or in a bowl of warm water if you are using it immediately. You can mix frozen pesto into warm dishes like pasta and it will thaw in them.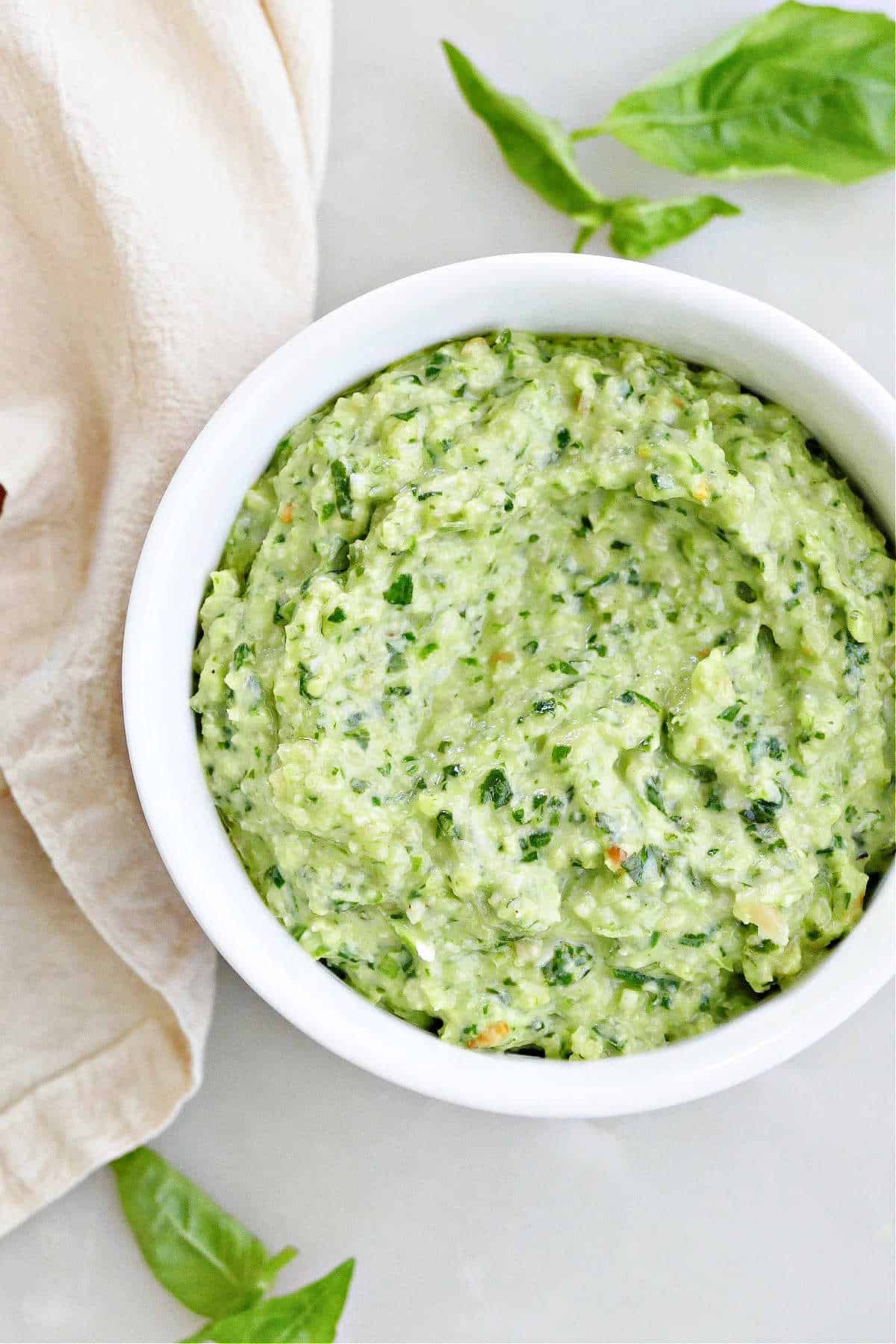 Uses
More Dips and Sauces
I'd love to hear how you like this recipe! Rate/review using the stars on the recipe card or in the comments, and follow the Veg World on YouTube, Instagram, Facebook, and Pinterest. Looking for something totally different? Browse the recipe library.
📖 Recipe