Learn how to make the most delicious roasted garlic butter compounded with fresh herbs! It's wonderful on top of steak, fish, or vegetables, spread onto bread, spooned onto potatoes, and melted into pasta. This easy yet impressive recipe is sure to wow your guests and elevate everyday fare.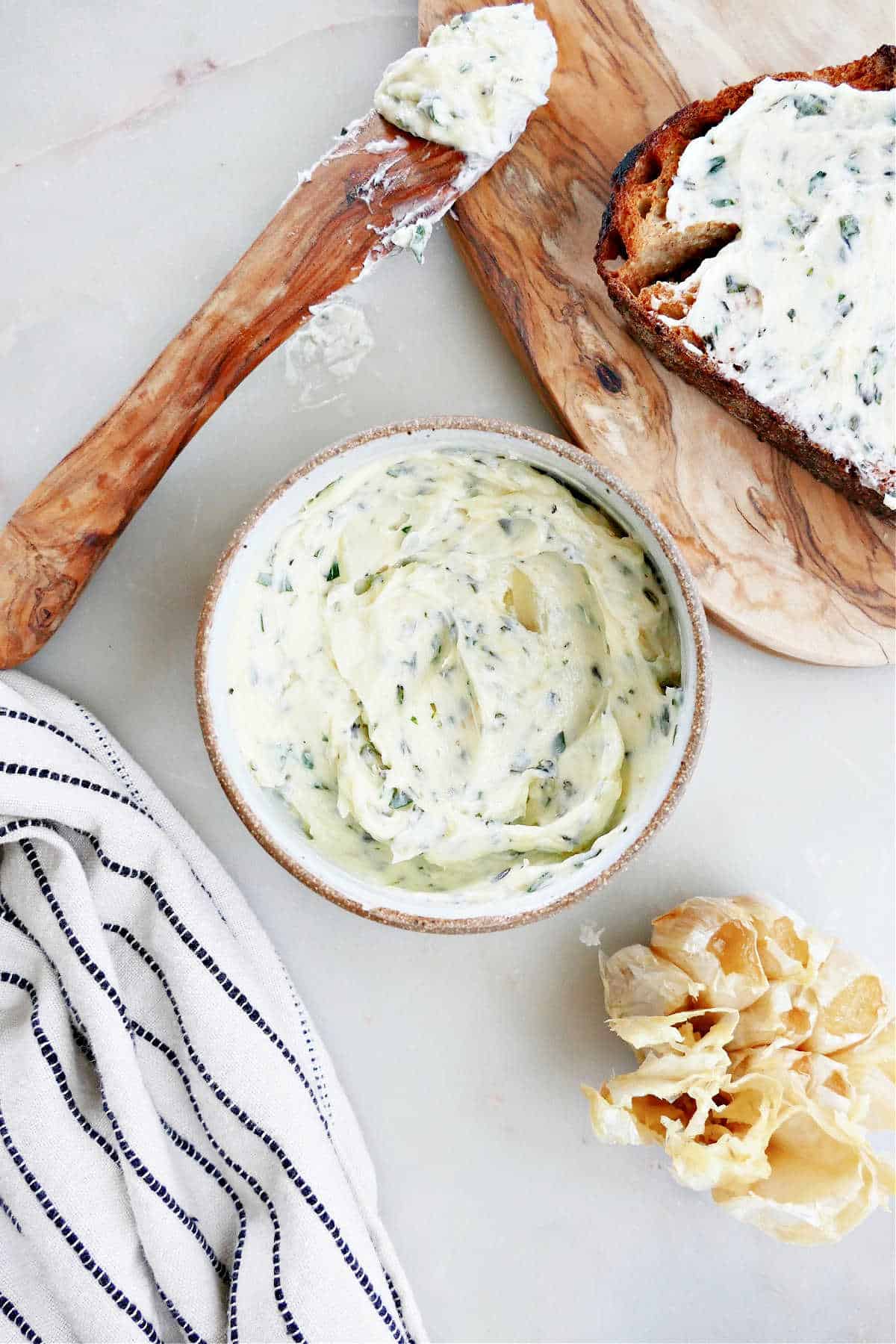 Is there really anything better than garlic? The flavor, the smell, the versatility. It's just such a great ingredient and one that I always have on hand! I've even gotten in the habit of freezing garlic so that I never run out.
One of my favorite ways to prepare garlic is roasting a whole head and using it to make roasted garlic butter. Not only does the process make your house smell amazing, but it's also an incredibly easy way to prepare an elegant condiment that's fit for dinner parties and everyday meals alike. If you like the sound of that, be sure to check out my Roasted Garlic Olive Oil while you're here!
Roasted garlic is also much sweeter and milder than raw garlic, so I use a whole darn head of it in this recipe! This contributes a ton of flavor without the worry of the butter being too pungent and unpalatable. In addition to garlic, this homemade compound butter is speckled with fresh herbs. It's the best.
Jump to: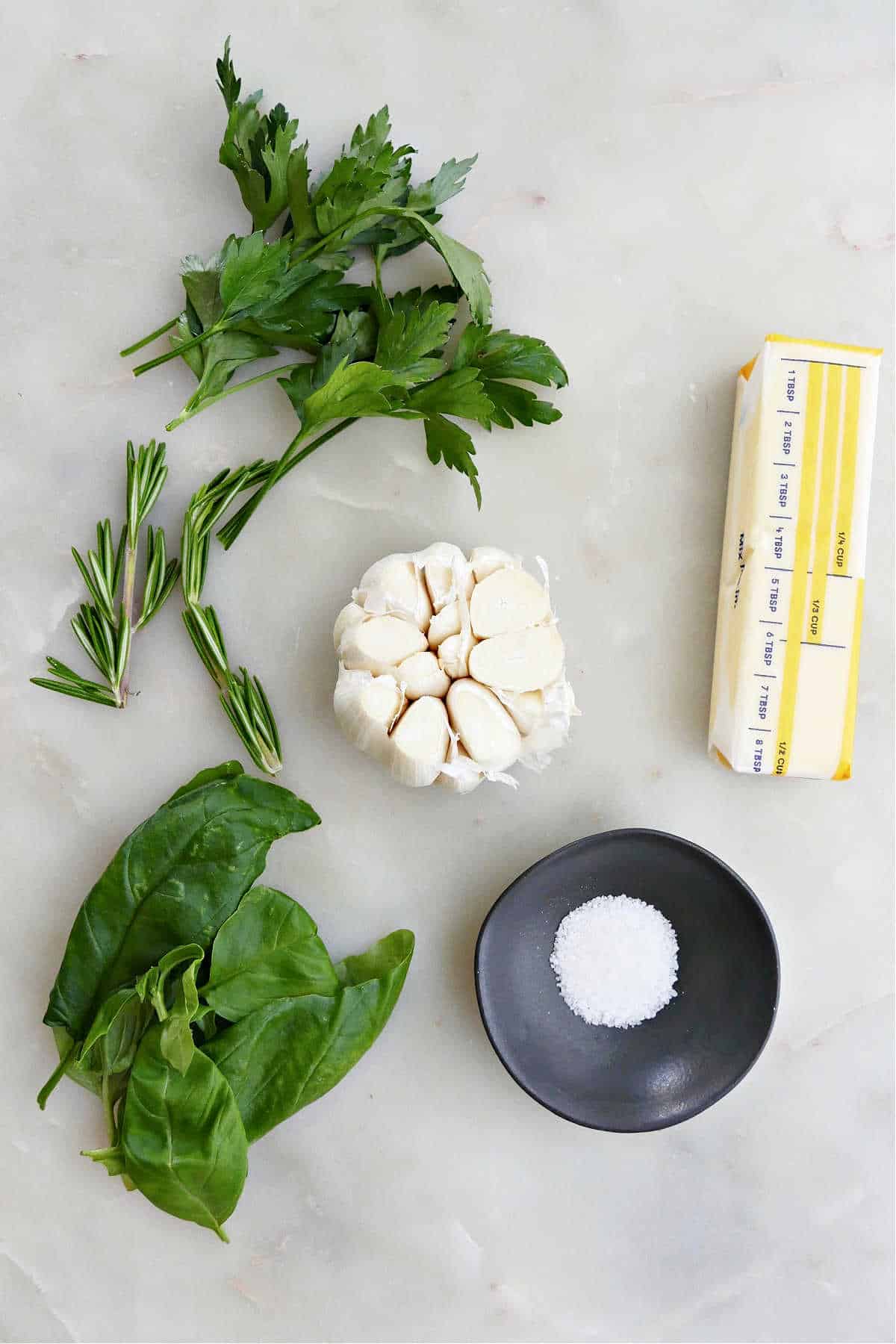 Ingredients and Substitutions
Garlic: Use a whole head of it! If you don't have time to roast the garlic yourself, you can substitute a store-bought option, either roasted minced garlic in a jar or roasted garlic paste. If you have pre-peeled garlic cloves instead of a head of garlic, you can still roast them to use in the recipe. However, they take less time to bake than a whole head. Toss the cloves in olive oil, spread them out on a lined baking sheet, and roast for 20 to 30 minutes at 400 degrees F.
Butter: I like to use unsalted butter, either Kerrygold or Tillamook, and add salt myself. You can also used salted butter and omit the added salt.
Fresh herbs: I use a combination of basil, parsley, and rosemary in my roasted garlic butter recipe. You can use any combination you want and substitute other herbs, like dill, thyme, or oregano, if that's what you have.
Salt: I prefer using kosher salt or a flaky sea salt but any salt works. If you want to add pepper too, be my guest.
Instructions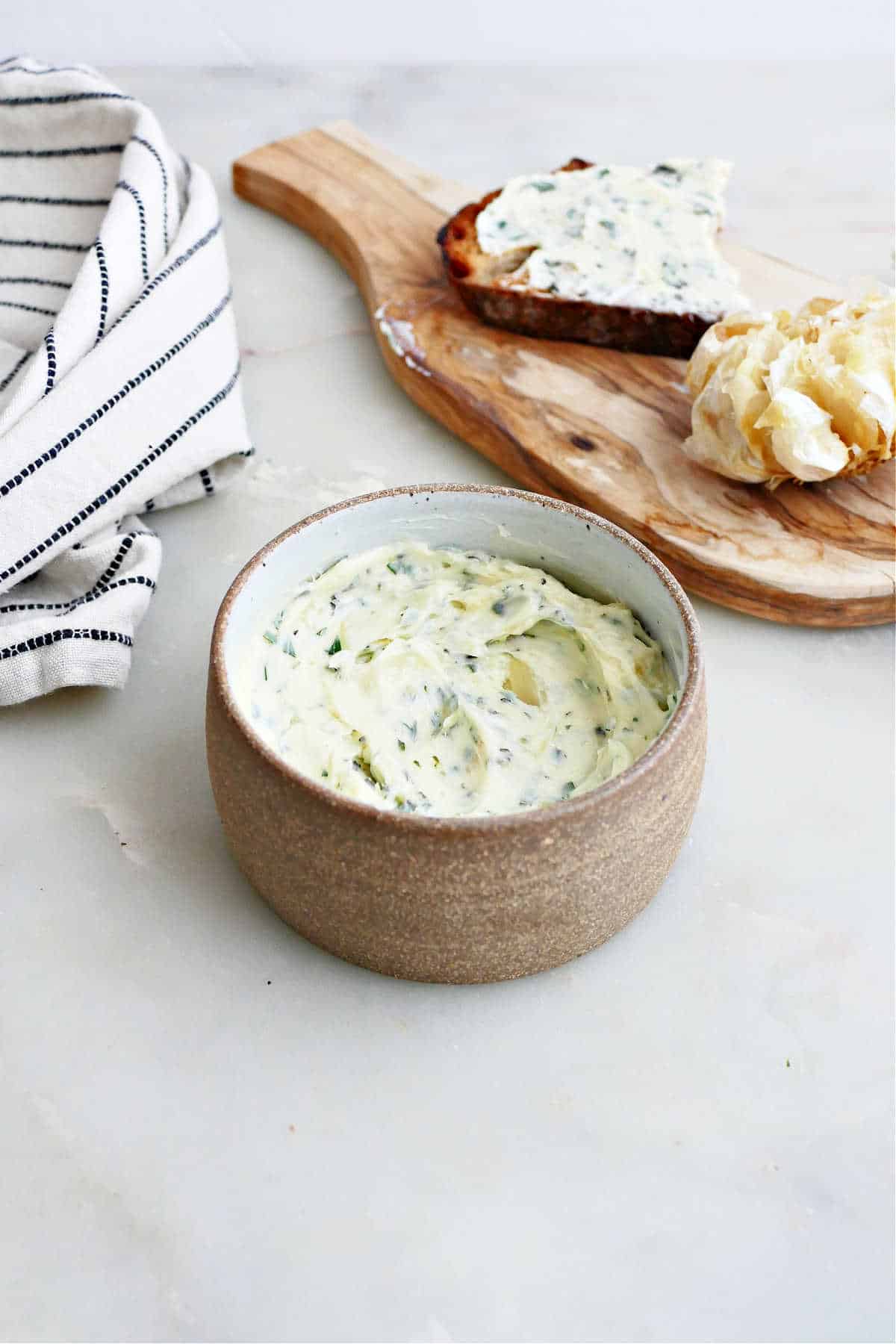 Storage and Freezing
If you're wondering how long roasted garlic butter lasts, the answer depends on how it's stored. It should always be stored in the refrigerator or freezer and never at room temperature for food safety reasons. When kept in an airtight container in the refrigerator, it will last for up to a week. I typically just keep the butter in a glass pyrex container, but you can roll it into a log and then store the log in a container if you want.
To shape compound butter into a log, spoon it onto a piece of parchment paper and wrap it up. Use your fingers to form it into a log, twisting the parchment paper on each end of the log to seal it. Place the log in the fridge and refrigerate until firm. Once firm, remove the parchment paper and slice the log into pieces for serving.
You can also freeze roasted garlic butter, either in a freezer-safe container or as a whole log wrapped in parchment paper then plastic wrap and stored in a bag. Only store it in these ways if you plan to use it all at once in the future. Alternatively, you can freeze individual pats of the butter. Wrap each one tightly in plastic wrap and store them in a container or bag.
Frozen butter will last for up to 6 months. Thaw it overnight in the refrigerator or on the counter just before serving.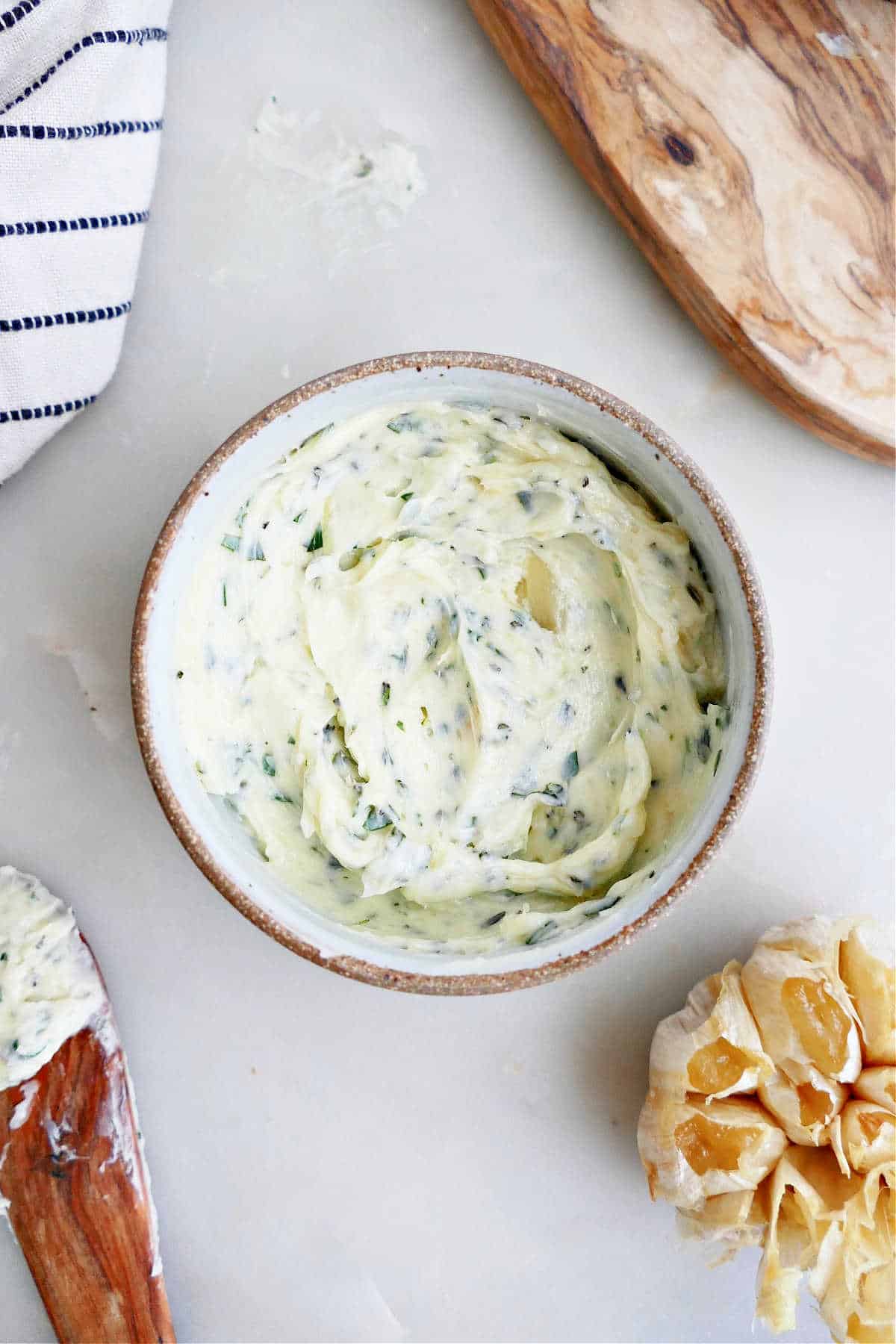 Serving
More Garlic Recipes
I'd love to hear how you like this recipe! Rate/review using the stars on the recipe card or in the comments, and follow the Veg World on YouTube, Instagram, Facebook, and Pinterest. Looking for something totally different? Browse the recipe library.
📖 Recipe