If you're hosting Thanksgiving this year, I put together my annual menu and prep guide to help you! It includes Veg World's best recipes for the big day and a day-by-day guide to help you nail your timing. Download your free PDF of the menu and guide here, and refer to the post for more information.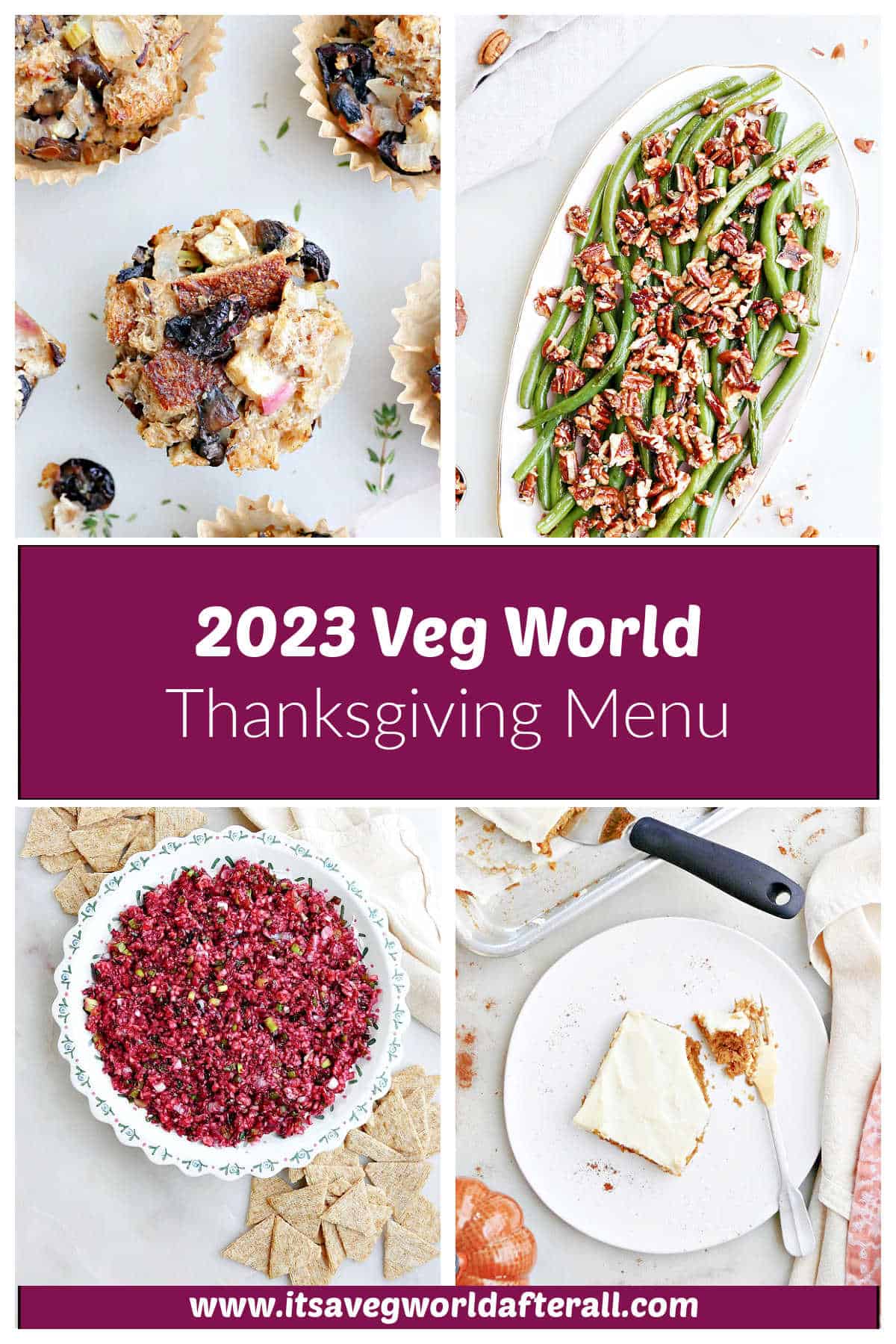 While Thanksgiving can be full of fun, good food, and family time, it can also be overwhelming if you're the host! Putting together the menu is one of the most stress-inducing tasks for the holiday.
Good news, though. I did the whole menu for you! Continue reading to see the recipes and prep guide, and be sure to download the PDF version by clicking here. If you're interested in a slightly different menu, I also made guides for 2019 and 2022.
Jump to:
Veg World Thanksgiving Menu
Similar to past years, my 2023 menu features all Veg World recipes (except for the turkey)! There's a mix of tried and true reader favorites and a couple of newer recipes that I'm sure you will love. The menu includes many of the classics, but you can of course substitute your family recipes for those if desired. If making everything in the guide is a little much for you, have guests bring an app, side, or dessert to lighten the load.
Appetizers
Main Dish

Turkey recipe of your choice!

Sides
Desserts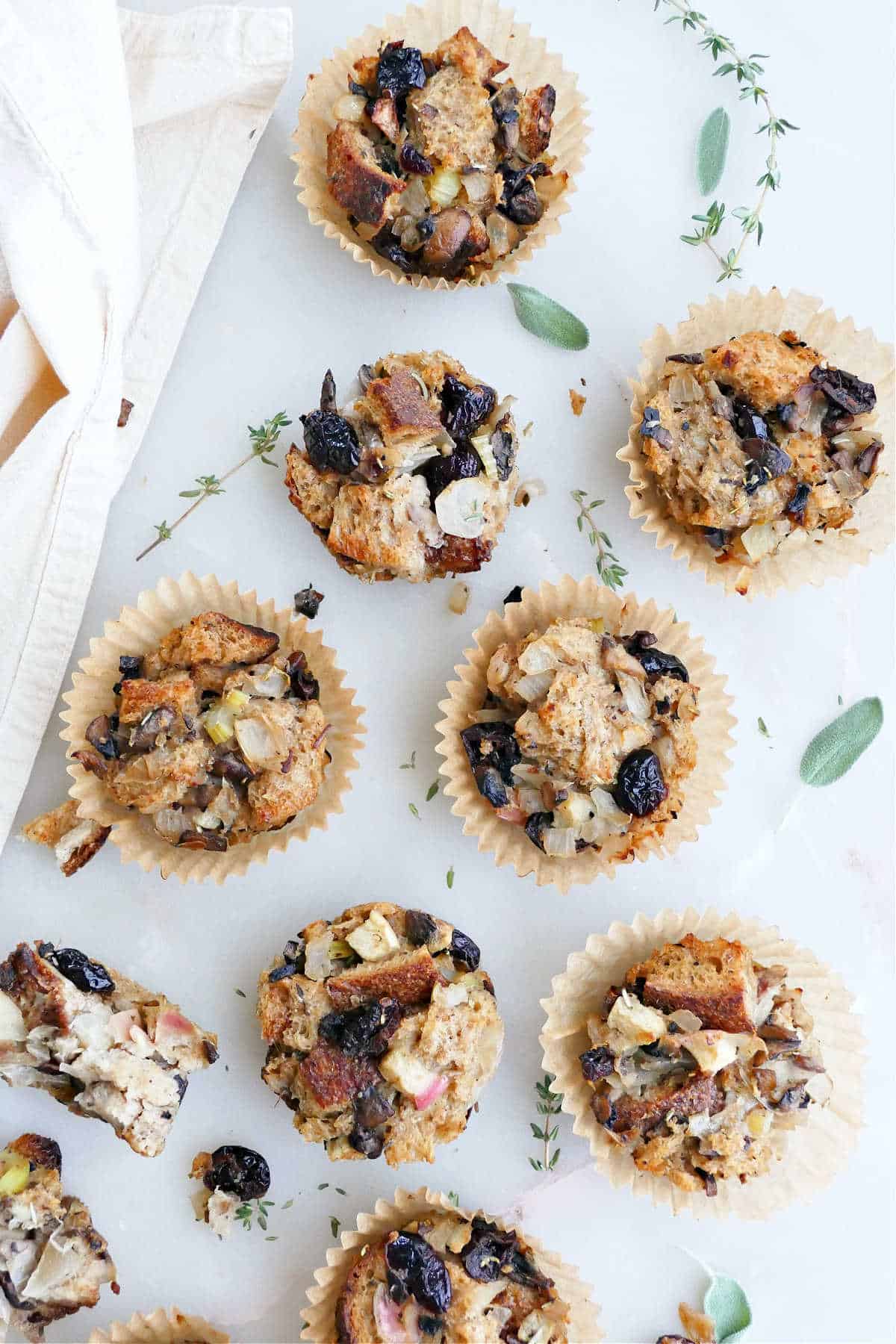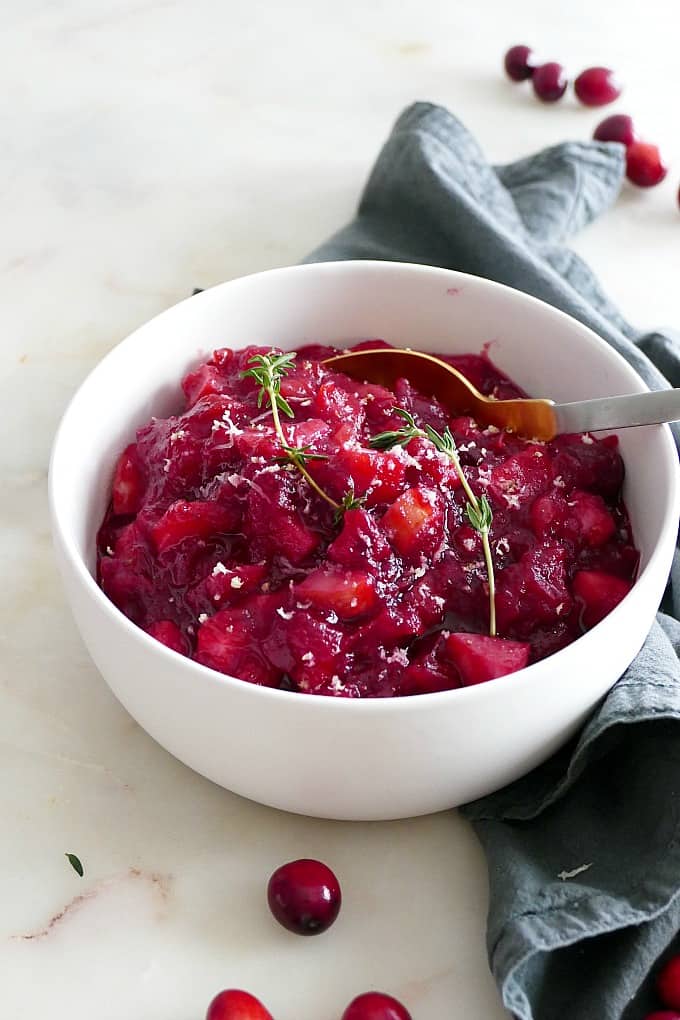 Timeline and Tips
Cooking all of those recipes and preparing your house for hosting is a lot of work! To help you through the process, here's my suggested schedule of day-to-day tasks.
2 weeks before

Finalize your menu and order the turkey (allow for about one pound of turkey per person)
Do an inventory check of baking and serving dishes

Thursday through Sunday of the weekend before

Organize your grocery list, pick up turkey, get rest of groceries
Get place settings and anything you need for the table/serving out from storage
Make the Cranberry Sauce and freeze for later
Let the bread sit out and go stale for the stuffing muffins

Monday of Thanksgiving week

Purchase alcohol and any groceries that you want to be as fresh as possible
Set the table if you can, or at least organize place settings and store close to the table
Make the Make Ahead Stuffing Muffins
Make sure the turkey is thawing in the fridge

Tuesday
Wednesday

Last minute grocery store trip if needed
Make the Cranberry Jalapeño Dip and store in the fridge
Put serving dishes and utensils out and close to the kitchen
Take the cranberry sauce out of freezer to thaw in fridge
Chop vegetables for the Brussels Sprouts Salad and Beet and Turnip Gratin, and keep in refrigerator until tomorrow

Thanksgiving morning

Make the Green Beans with Pecans (store in separate containers in the fridge until dinner)
Put together the Brussels sprouts salad
If you didn't roast the garlic in advance, roast it now for the dipping oil
Put the turkey in the oven!!!

Thanksgiving mid-day before guests arrive

Make the Instant Pot Mashed Potatoes (keep warm until dinner in the Instant Pot or reheat later)
Assemble and bake the beet and turnip gratin (keep covered with foil and reheat right before dinner)
Assemble the dipping oil
Put the appetizers out

60 to 90 minutes before dinner

Remove turkey from oven and let it rest before carving
Make the gravy
Reheat any other dishes (i.e. green beans, gratin, stuffing muffins) as needed
Put desserts out at room temperature so they're ready to serve after dinner
And that's a wrap! I hope you find this guide helpful as you prepare for Thanksgiving. Let me know what you're cooking for the holiday and how you're using this guide in the comments!