Hosting Thanksgiving this year? I have everything you need for successful entertaining in this post, including a Thanksgiving menu complete with the Veg World's best holiday recipes. Plus, I created a day-by-day prep guide to help you stay organized and stress less! Download your free PDF of the menu and guide here, and refer to the post for more details.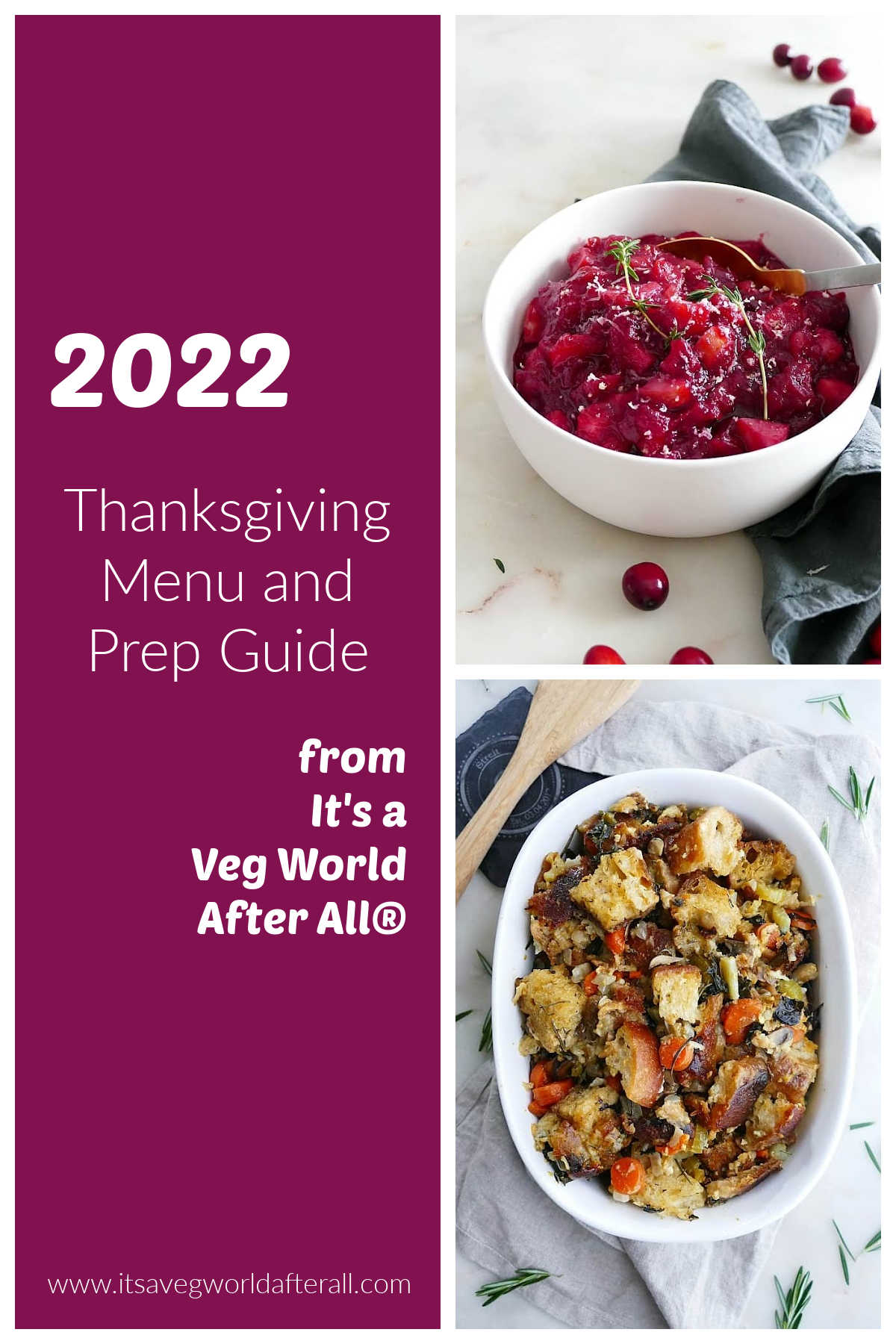 Thanksgiving is only two weeks away, and I don't know about you, but it really snuck up on me. I'm not hosting this year, but I want to help you if you are!
There are so many great recipes for the holiday on the blog, including a lot of classics with a Veg World twist (i.e. cranberry sauce but with parsnips, and green bean casserole but healthier…both delicious!). However, it can be very overwhelming to put together a menu for the day and figure out what to do in advance and how to make everything in time for dinner.
So, I did it all for you! Click here to download a PDF of the menu and prep guide that follows. I made a similar guide for Thanksgiving in 2019 with some different recipes, so check that out if you're interested in other ideas than what I listed here.
Jump to:
Veg World Thanksgiving Menu
This year's menu features all Veg World recipes, with the exception of the turkey. I included most of the classics like mashed potatoes, stuffing, and green beans, in addition to some less common dishes. Of course, you can substitute your own recipes for the classics if you so please! Have guests bring an appetizer, side, or dessert to lighten your load, too. Here's the PDF of the menu and prep guide again if you need it.
Appetizers
Main Dish
Sides
Desserts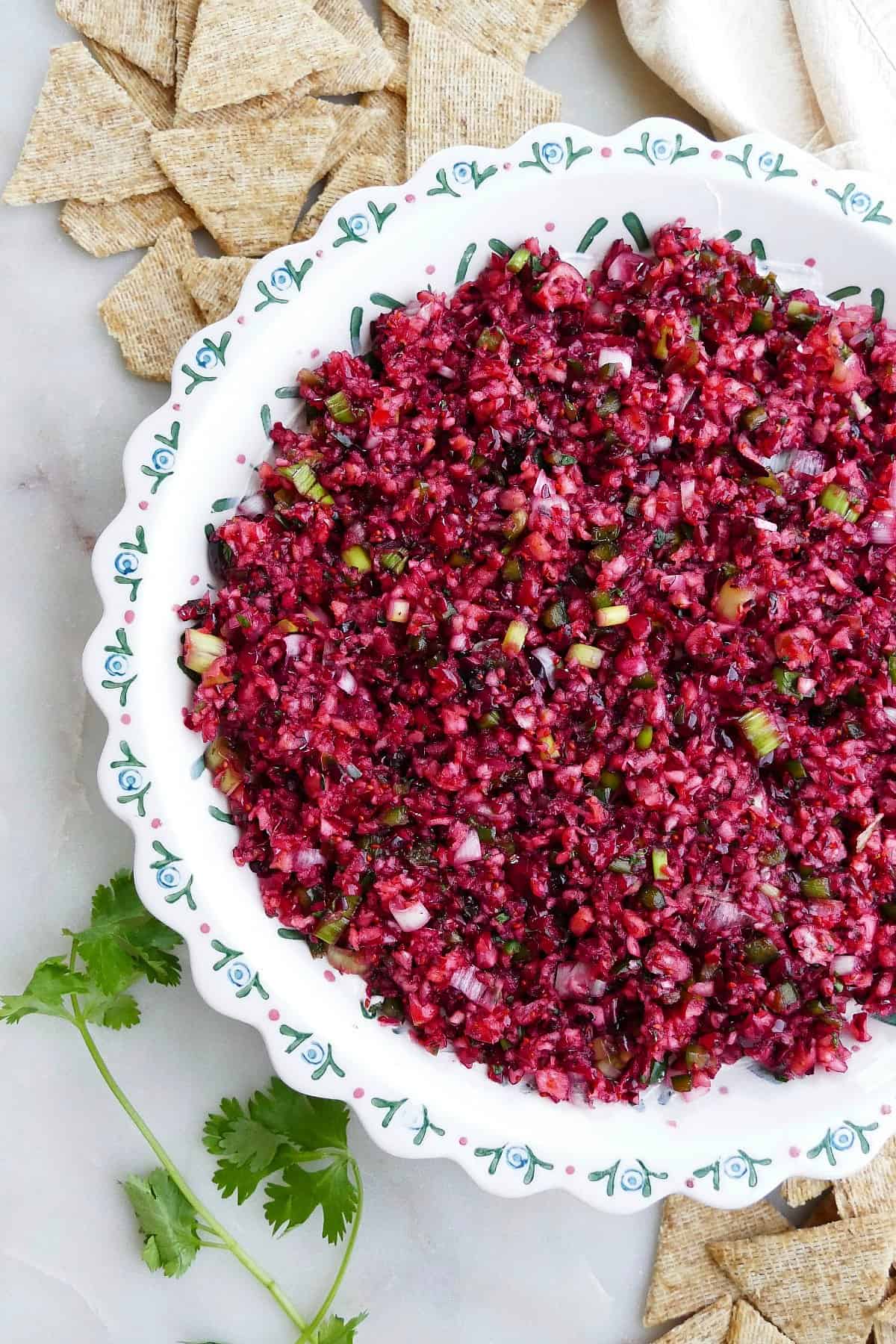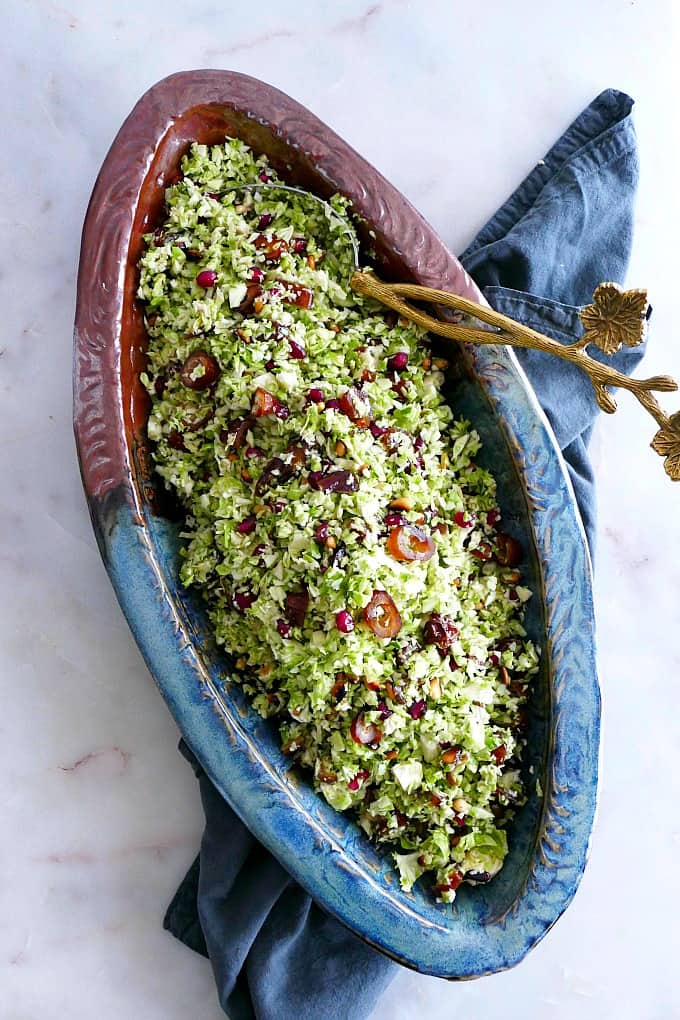 Timeline and Tips for Thanksgiving Prep
Now that you have your Veg World Thanksgiving menu, let's talk about how to make it come to life. Hosting Thanksgiving is a big endeavor, but following this timeline can make it less stressful and keep you on track. Here's the PDF of the menu and prep guide again if you need it.
2 weeks before

Finalize your menu and order the turkey (allow for about one pound of turkey per person)
Do an inventory check of baking and serving dishes

Thursday through Sunday of the weekend before

Organize your grocery list, pick up turkey, get rest of groceries
Get place settings and anything you need for the table/serving out from storage
Make the Cranberry Sauce and freeze for later

Monday of Thanksgiving week

Purchase alcohol and any groceries that you want to be as fresh as possible
Set the table if you can, or at least organize place settings and store close to the table
Make the Maple Roasted Almonds for the green beans

Tuesday
Wednesday

Last minute grocery store trip if needed
Make the Cranberry Jalapeño and Butternut Squash Dips and store in the fridge
Put serving dishes and utensils out and close to the kitchen
Take the Cranberry Sauce out of freezer to thaw in fridge
Chop vegetables for the Stuffing, Butternut Squash, and Brussels Sprouts Salad, and keep in refrigerator until tomorrow
Let the bread for the stuffing sit out so it gets stale

Thanksgiving morning

Make the Slow Cooker Stuffing (keep warm in the slow cooker until dinner)
Put together the Shredded Brussels Sprouts Salad
Roast the green beans and slice the shallots for the GB casserole (store in containers in the fridge until later)
Put the turkey in the oven!!!

Thanksgiving mid-day, before your guests arrive
60-90 minutes before dinner

Put the Vegetarian Pot Pies in the oven
Remove turkey from oven and let it rest before carving
Make the gravy
Reheat any other dishes (i.e. butternut squash, mashed potatoes) as needed
Put desserts out at room temperature so they're ready to serve after dinner
And that's a wrap! I hope you find this guide helpful as you prepare for Thanksgiving. Let me know what you're cooking for the holiday and how you're using this guide in the comments!
Happy Thanksgiving! – Lizzie