This delicious carrot pie is a great addition to any Thanksgiving menu! Made with cooked carrots and warm fall spices, you won't be able to resist getting a second piece. Move over pumpkin, carrot pie is here to stay!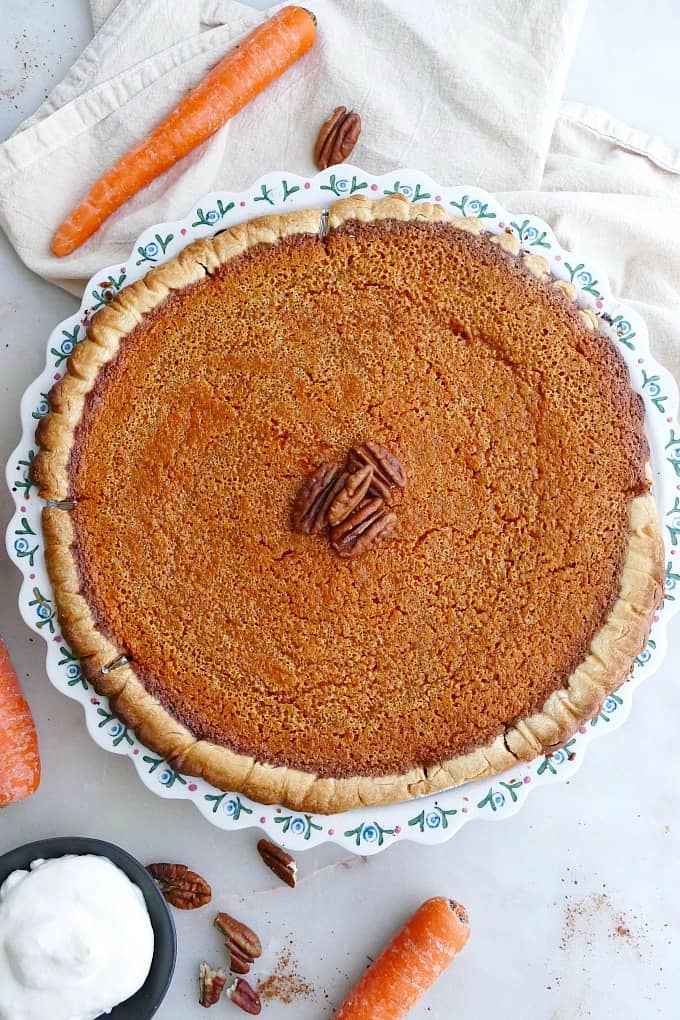 This post may contain affiliate links. For more information, see my affiliate disclosure.
Carrots in pie?! Say whaaaa?! Yup. It happened. And it's delicious.
I have been wanting to make a carrot pie for the blog for a couple years now, and I knew that it had to happen this holiday season.
It took a few tries to get this recipe just right, and I'm so glad with how the finished product turned out! Biting into a piece of this sweet treat is well worth the time it takes to make the recipe.
Why You'll Love Carrot Pie
I know what you're probably thinking though. Is carrot pie good? Like…actually? YES IT IS. It's like a sweet potato pie but BETTER. (No offense to sweet potatoes.)
Plus, I added allspice, ginger, and cinnamon to the filling and sweetened it with maple syrup, which made for the most perfectly caramelized layer on top. I'm telling you, this is a must make for your family on Thanksgiving (or even Easter!!).
And just in case you can't get enough carrot-based holiday desserts, make a batch of my Classic Thumbprint Cookies with Carrot Jam while you're at it!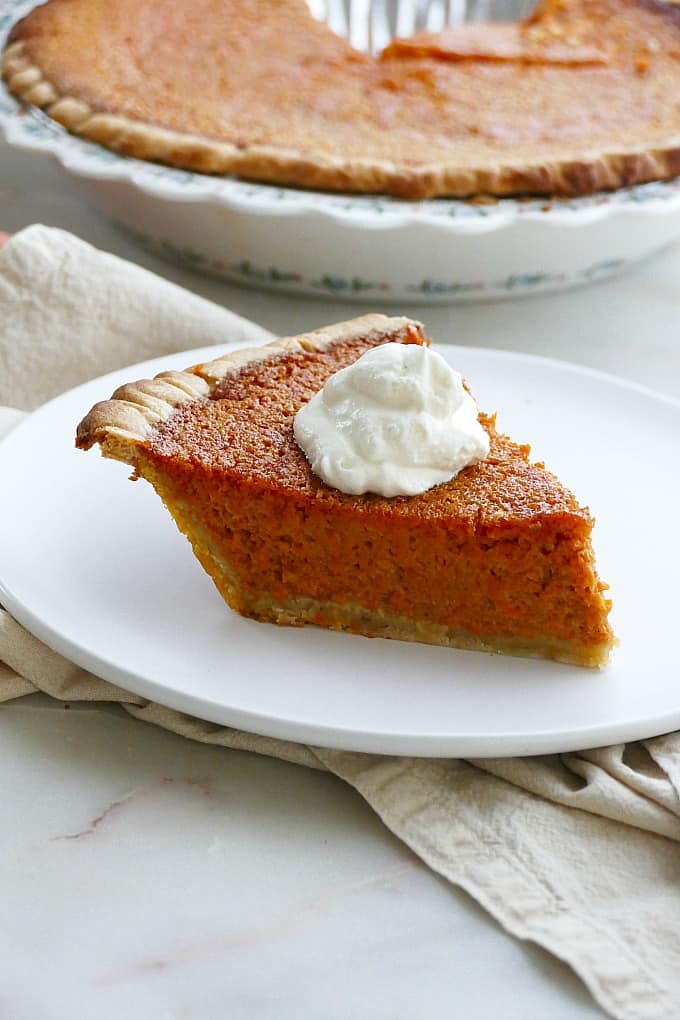 How to Make Carrot Pie
First, you'll need a 9″ pie crust of course! Homemade pie crust would be great, but you can use frozen, store-bought crust as well.
Be sure to pre-bake ("blind bake") the crust for 12-15 minutes at 425 degrees F, with parchment (or foil) fitted on top and dried beans or rice on top of that to weigh it down.
Next, add 1 pound of roughly chopped carrots to a saucepan with an inch of water. Bring to a boil, cover, then lower heat to medium and cook until tender.
3. Add the cooked carrots to a blender or food processor with the other
ingredients.
4. Blend until smooth, about 1 minute.
5. Pour filling into the pre-baked crust. Put in the oven!
Expert Tips
Since I had to make this pie a few times to get it just right, I have a lot of good tips to share with you. Follow these, and you'll make a perfect carrot pie on the first try!
Only use an inch or so of water to cook the carrots before you blend them for the filling. After they cook, drain the water and return the pot with the carrots back to the stove to "steam" off any excess moisture for a few minutes. I tried boiling them in a whole pot of water and did not return them to the pot to "steam" off excess water the first time, and this made the filling too watery.
Make sure to use heavy whipping cream, like the recipe says, or substitute evaporated milk. Do not try it with plain milk or even half and half. These options will make the filling too watery when combined with the carrots.
Pre-bake your pie crust before you add the filling. I used a frozen pie crust and baked it at 425 degrees F for 15 minutes. You can also use a homemade pie crust and bake it for 12-15 minutes at this temperature. Just remember to line it with parchment paper or foil, and add dried beans or rice on top while it's pre-baking. Check out this great article from Sally's Baking Addiction for more tips.
To avoid burnt crust edges, cover the edges with a little foil while you are baking the pie.
The pie is finished baking when the center no longer "jiggles" when you shake the pie dish with your hands. A small jiggle is OK, because it will continue to thicken up as it cools, but the filling should not be sloshing around.
Let carrot pie cool completely, for 30 minutes at room temp and then an hour in the fridge, before slicing.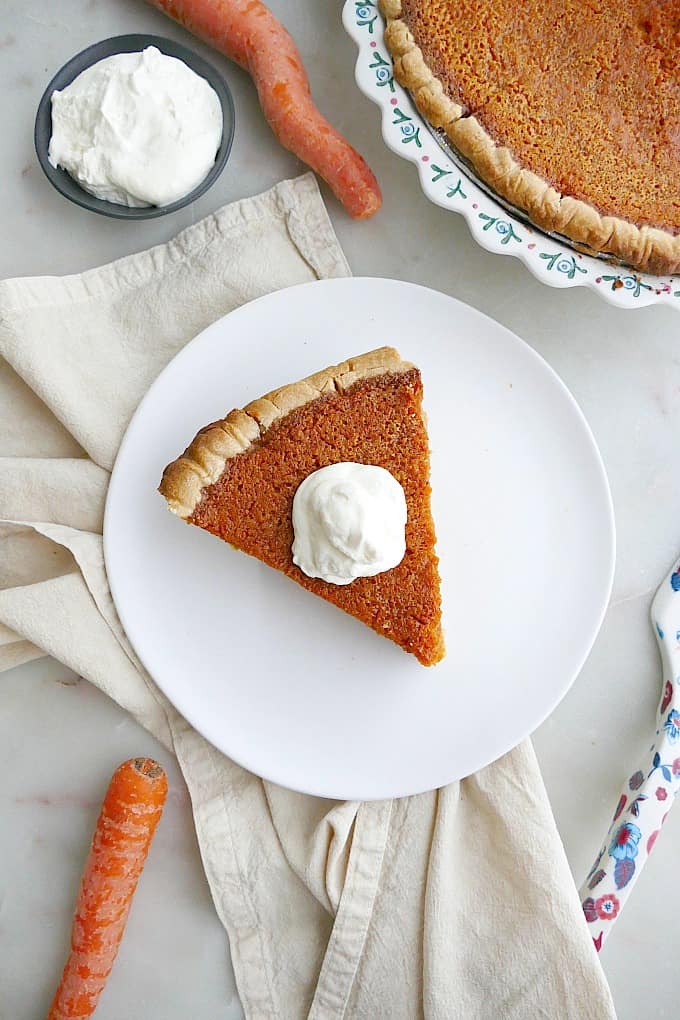 Carrot pie tastes great with a dollop of whipped cream. I made my own by blending the rest of the heavy whipping cream (yay for no food waste!) with some confectioner's sugar.
If you're wondering what else you should serve on Thanksgiving, check out these dishes: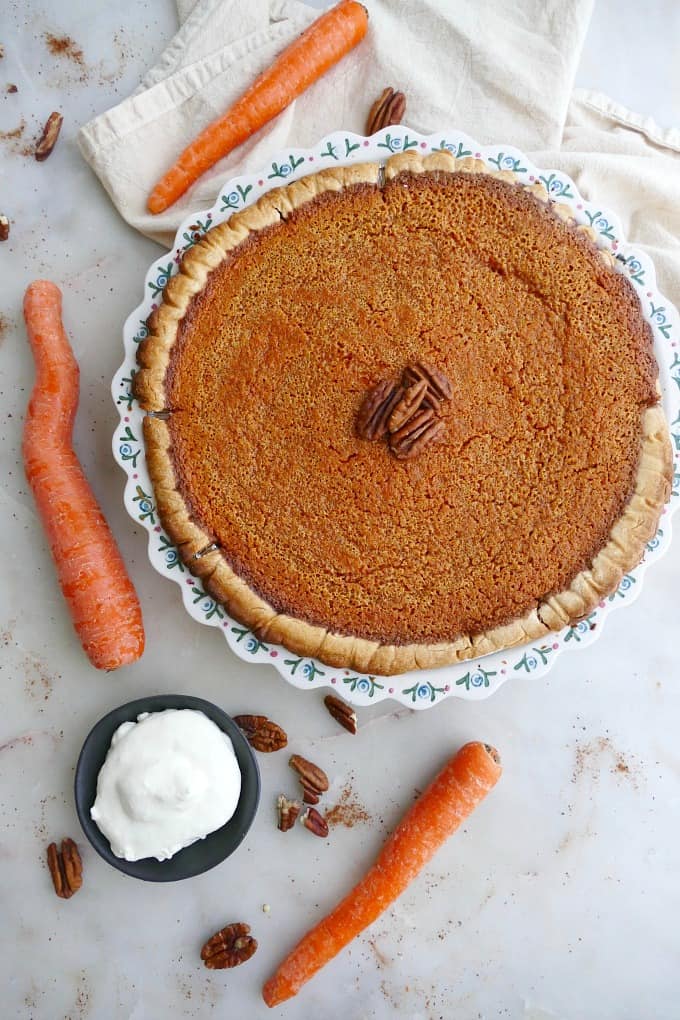 I love to hear from you!
I'd love to hear how you like this recipe! Rate/review using the stars on the recipe card or in the comments, and follow the Veg World on YouTube, Instagram, Facebook, and Pinterest. Looking for something totally different? Browse the recipe library.
📖 Recipe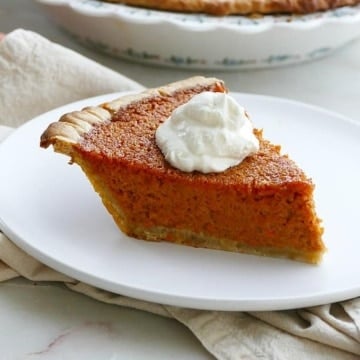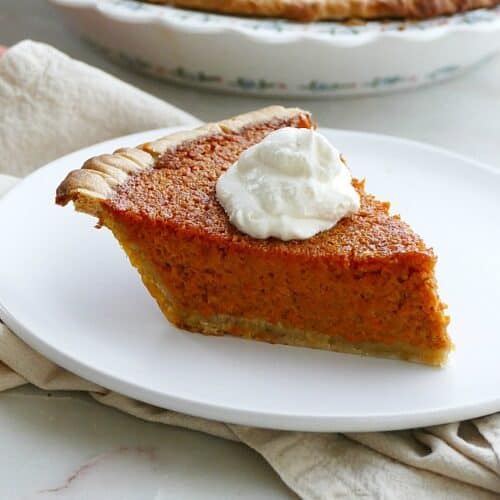 Carrot Pie
A delicious pie made with cooked carrots and fall spices. It's perfect for Thanksgiving!
Print
Pin
Rate
Save
Saved!
Equipment
pie dish

saucepan + lid

blender or food processor
Instructions
Preheat oven to 375 degrees F. However, if you need to pre-bake the crust, increase heat to 425 degrees F. Carefully line the pie crust with parchment or foil, and put dried beans or rice (something to weigh it down) on top. Bake for 12-15 minutes. Remove from oven and discard the parchment.

Roughly chop the peeled carrots, place them in a large saucepan, and cover with 1 inch of water. Bring to a boil over high heat, cover, and then reduce heat to medium. Cook for 12-15 minutes or until the carrots are tender. Drain the excess water in the pan and return it (with the carrots) to the stove. Turn the heat back on to medium and let the carrots cook for a few minutes to "steam" off any excess moisture.

Add the cooked carrots, heavy cream, maple syrup, eggs, vanilla, cinnamon, allspice, ginger, and salt to a blender or food processor. Blend until smooth, about 1 minute. Pour the filling in the pie crust. If desired, cover the edges of the crust with a little foil to avoid burnt edges.

Bake for 50-65 minutes (at 375 F), or until the center of the pie no longer "jiggles" and a toothpick inserted in the center comes out clean. The top of the pie should be slightly caramelized.

Remove from oven and let it cool for 30 minutes at room temp before putting it in the fridge for another 60 minutes to finish cooling. Slice with a sharp knife, and serve with whipped cream!
Notes
Don't skip the step of letting the cooked carrots "steam" off any excess water, or else you run the risk of the filling being too watery.
Substituting regular milk or half and half will also make the filling too watery.
You can use homemade or store-bought pie crust.
Cover leftovers tightly with foil or plastic wrap. They will keep in the fridge for 2-3 days.
Nutrition
Serving:
1
slice
|
Calories:
441
kcal
|
Carbohydrates:
50
g
|
Protein:
6
g
|
Fat:
24
g
|
Saturated Fat:
12
g
|
Cholesterol:
136
mg
|
Sodium:
412
mg
|
Potassium:
420
mg
|
Fiber:
3
g
|
Sugar:
28
g
|
Vitamin A:
13331
IU
|
Vitamin C:
5
mg
|
Calcium:
116
mg
|
Iron:
1
mg
Happy Thanksgiving!
Lizzie