Apple Cider Brussels Sprouts, made with apple cider vinegar and maple syrup, are an easy and delicious vegetable side dish. 5 ingredients and 30 minutes is all you need for this vegan roasted brussels sprouts recipe!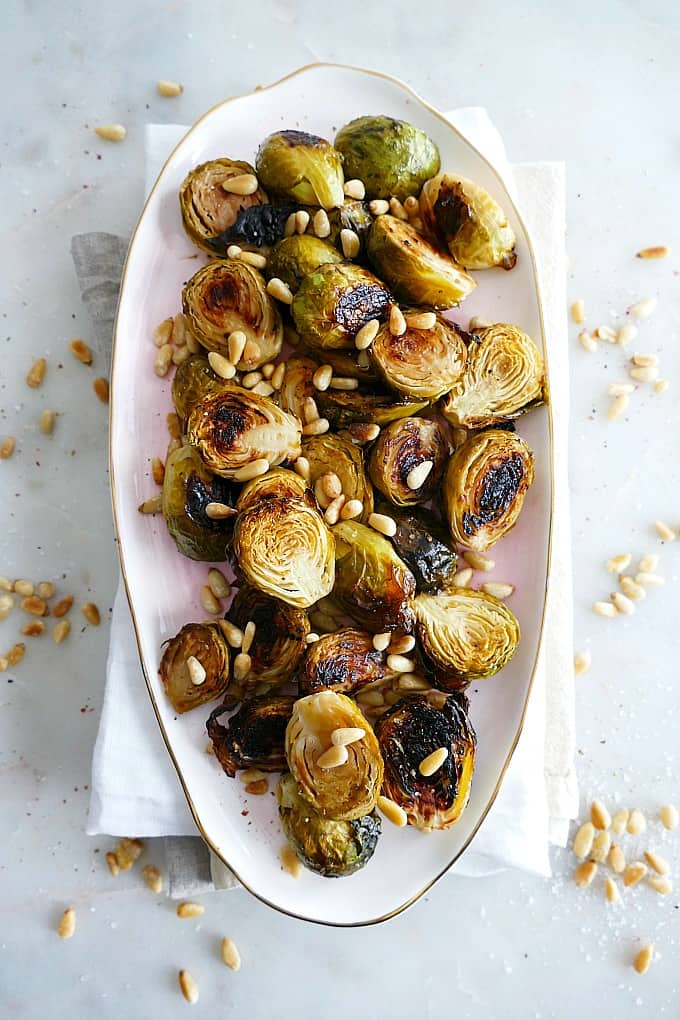 Roasted brussels sprouts are where it's at! Especially these Apple Cider Brussels Sprouts. These aren't smell-like-sulfur sprouts that stink up your house and turn out all mushy. Oh no, these are much better.
The leaves are crispy and the middle of each sprout is tender. They're a perfect side dish for a weeknight meal, dinner party, or even Thanksgiving or Christmas. And those little white things on top? Pine nuts! I've been a fan of pine nuts ever since I discovered Italian pignoli cookies.
(Side note/PSA – If you ever want to try the BEST pignoli cookie ever, check out Mike's Pastry in Boston. I promise, you will not regret it!)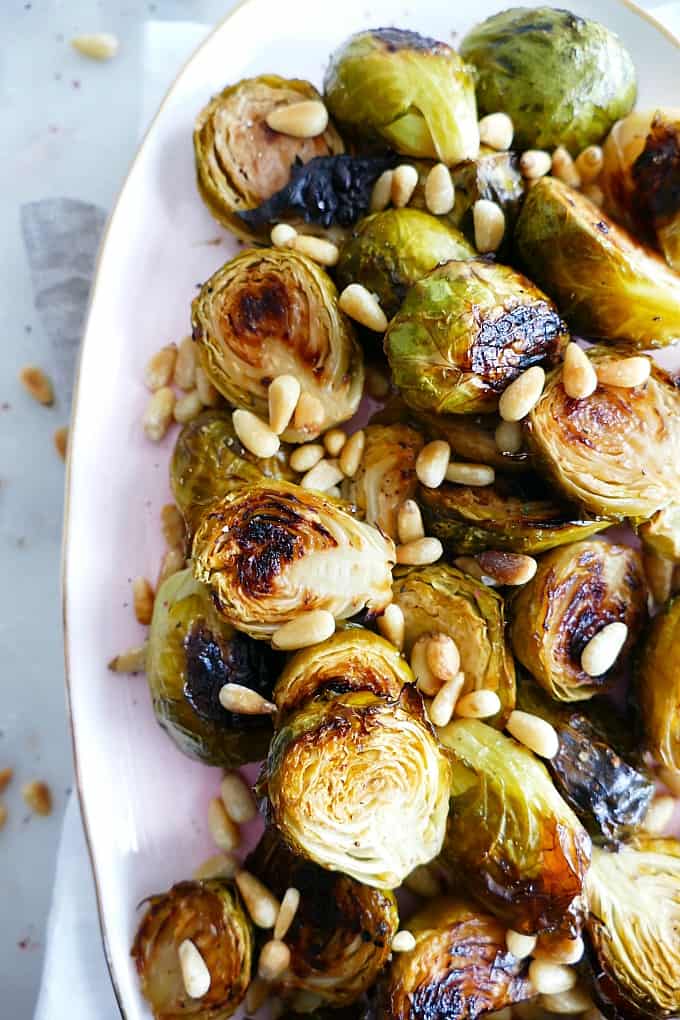 Ok back to these sprouts. If you've been a part of the Veg World for a while, this recipe may look familiar. That's because I based it off of one of my old posts, which I called "Cider-braised Brussels Sprouts with Pine Nuts." This post has new and improved photos and an updated recipe.
Since I wanted to change the name of this recipe, I decided to make a brand new post instead of updating the old one. So, there you have it! Different name, better photos, same delicious taste.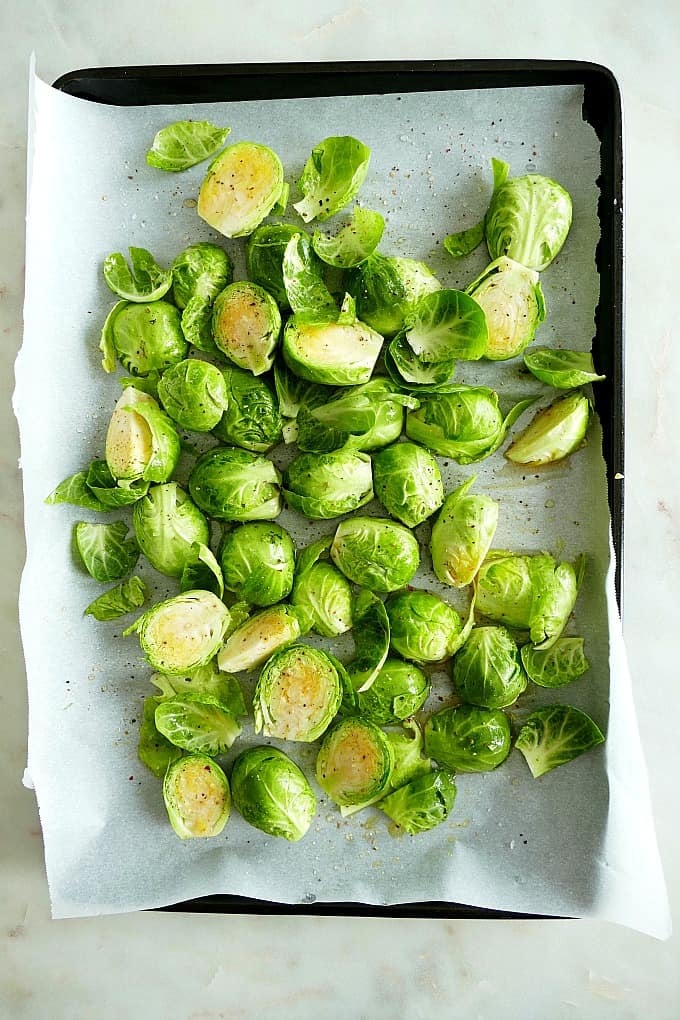 Why are brussels sprouts healthy?
Brussels sprouts are so nutritious, mainly because they are rich in antioxidant compounds that help fight oxidative stress that damages cells (1).
Studies in humans suggest that eating brussels sprouts may help protect again certain types of cancers by preventing oxidative damage associated with cancer development. Additionally, some research indicates that glucosinolates found in brussels sprouts can enhance the activity of enzymes involved in the body's detoxification pathways, and may therefore decrease the risk of colorectal cancer (2, 3).
Brussels sprouts are also rich in fiber, and vitamins C and K. In other words, it can't hurt to start eating these bad boys, stat! 😉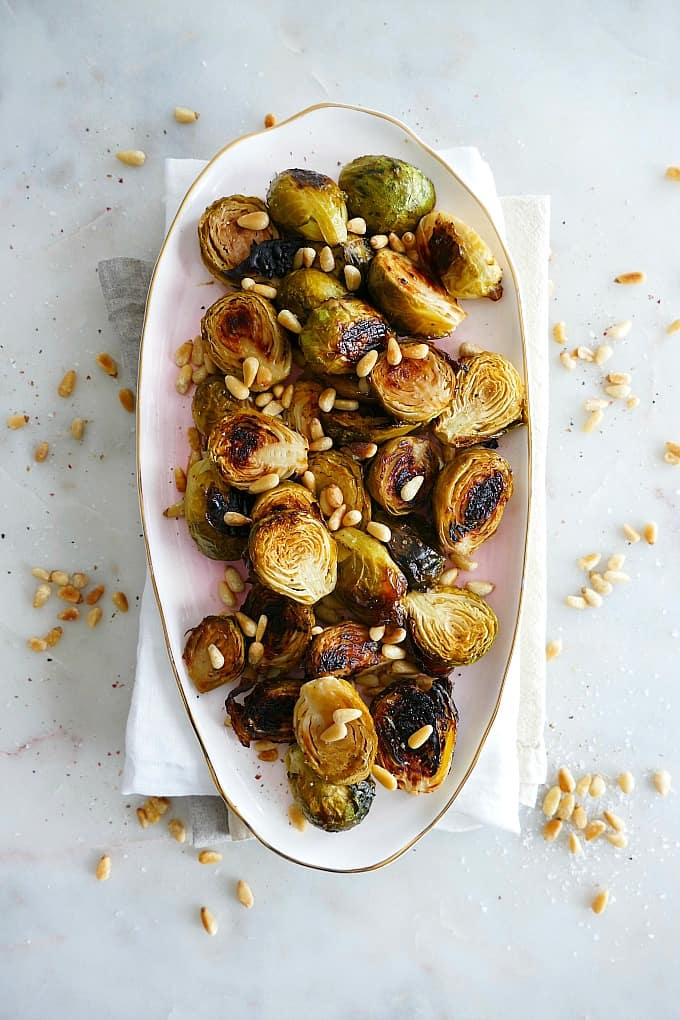 Good thing you have a new tasty recipe to try, so you can get those brussels in! These sprouts are delicately sweet, with hints of maple syrup and apple cider vinegar. Sprinkled with sea salt, they're hard to resist.
How to Make Apple Cider Brussels Sprouts
Line a baking sheet with parchment and preheat the oven to 400 degrees F.
Clean and prep the brussels by running them under cold water and slicing them in half. Remove any dirty leaves.
Whisk together olive oil, apple cider vinegar, and maple syrup. Add this and the sprouts to a large mixing bowl and stir until the sprouts are coated. Transfer the sprouts to the baking sheet and sprinkle with salt and pepper.
Bake for 25-30 minutes.
Top with toasted pine nuts and enjoy!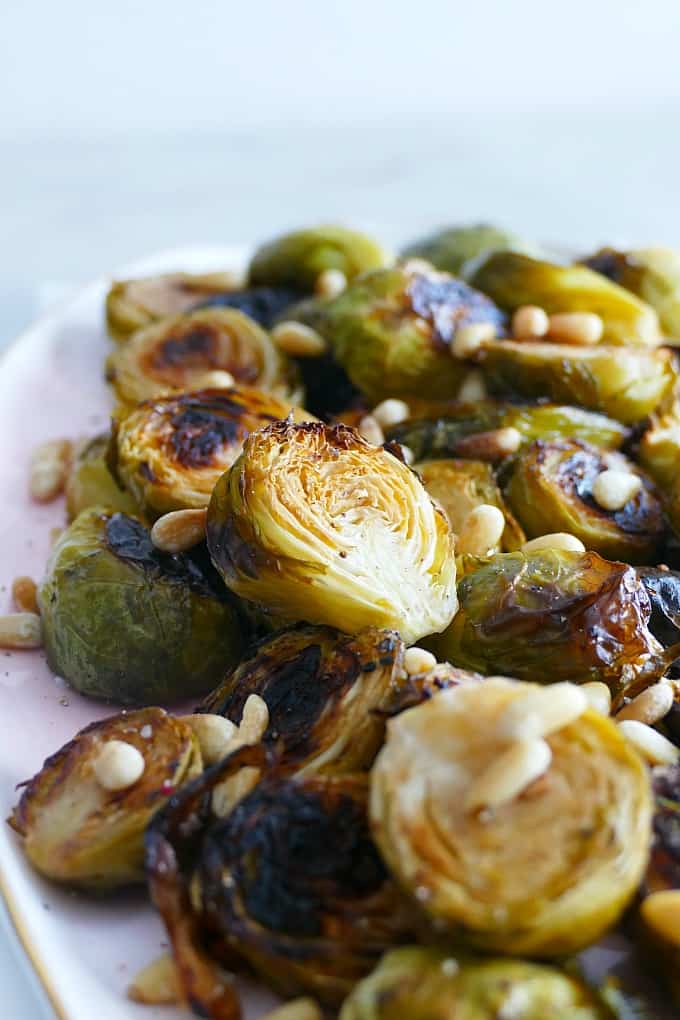 If you make this recipe, remember to rate and review it in the comments below!
And if you're looking for other delicious brussels sprouts recipes, check out some of my favorites:
📖 Recipe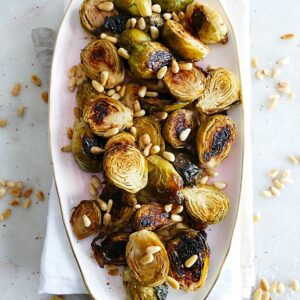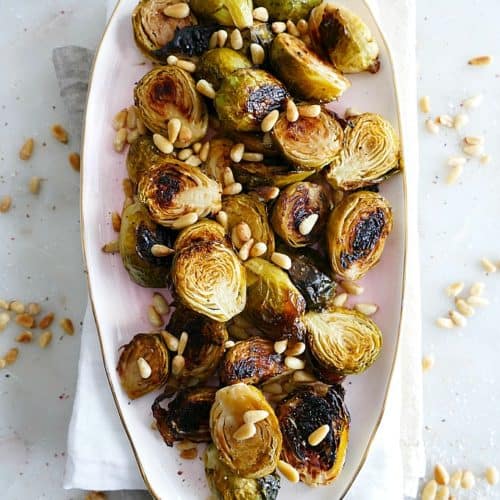 Apple Cider Brussels Sprouts
These tasty brussels sprouts are cooked with apple cider vinegar and topped with toasted pine nuts. A simple dish for all preferences.
Print
Pin
Rate
Save
Saved!
Instructions
Preheat oven to 400 degrees F. Line a baking sheet with parchment paper.

In a mixing bowl, mix the olive oil, vinegar, and syrup. Add the Brussels sprouts and toss until coated. Season with salt and pepper. Transfer to baking sheet, and bake for 25-30 minutes or until slightly charred.

While the Brussels are baking, heat a skillet over medium heat. Add pine nuts and toast until fragrant, about 2-3 minutes. Be careful not to burn them.

When the brussels are finished, serve and top with pine nuts. Enjoy!
Notes
Be sure to spread the Brussels out in a single layer, and leave enough room between them to allow the liquid to cook off without "steaming" them. This will ensure that you get the crispiest sprouts possible!
Nutrition
Serving:
1
serving
|
Calories:
295
kcal
|
Carbohydrates:
27
g
|
Protein:
10
g
|
Fat:
19
g
|
Saturated Fat:
2
g
|
Sodium:
59
mg
|
Potassium:
983
mg
|
Fiber:
9
g
|
Sugar:
10
g
|
Vitamin A:
1710
IU
|
Vitamin C:
193
mg
|
Calcium:
103
mg
|
Iron:
4
mg
Happy last week of February/first week of March!
Lizzie
Need some more dinner inspiration? Be sure to follow my Pinterest boards!