Bright orange flesh gives a beautiful color to this kabocha squash soup with hints of apple and ginger!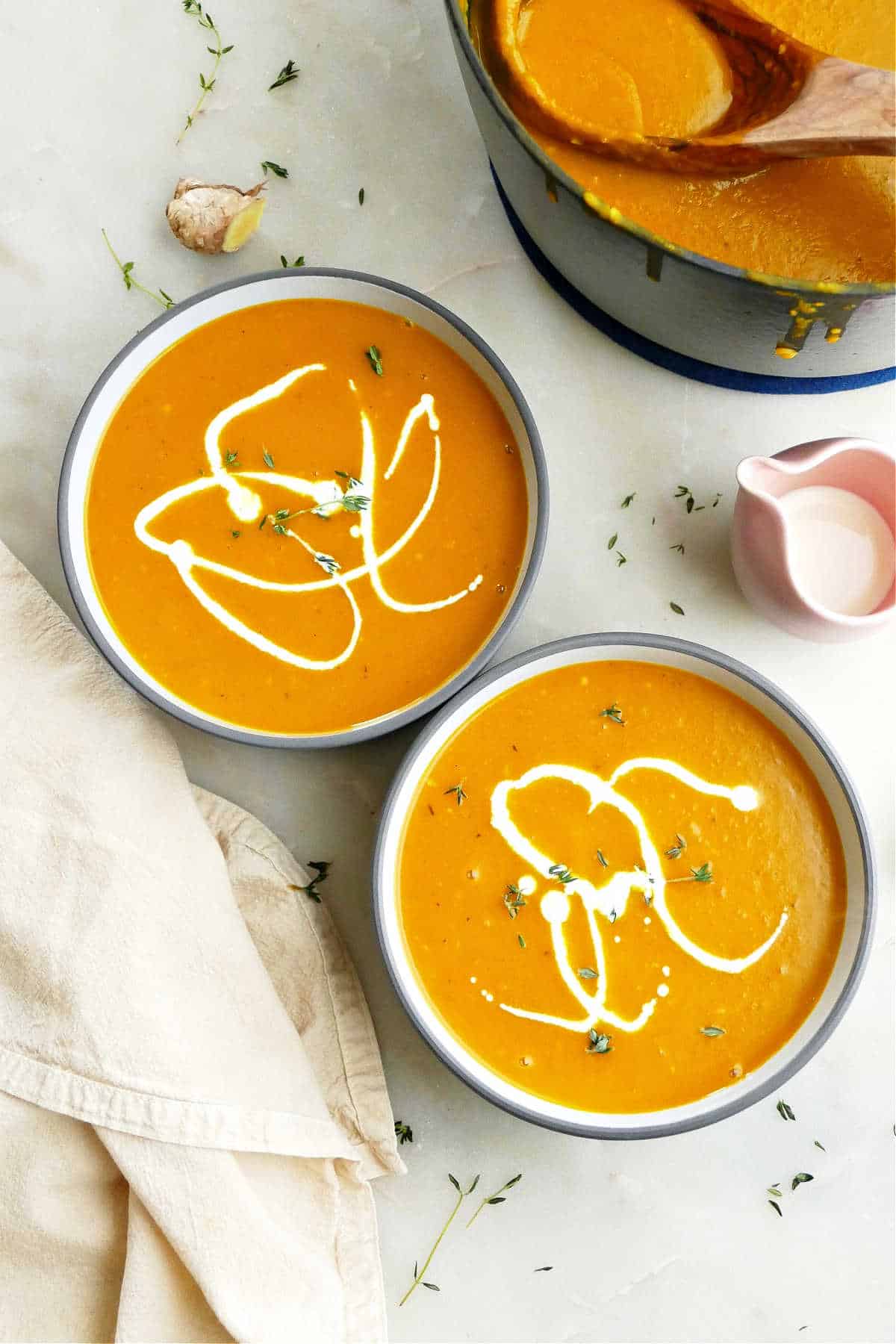 Even though your mind is probably focused on mashed potatoes, turkey, and pie for Thanksgiving tomorrow, this month's Recipe Redux theme has me thinking about soups at the moment! Specifically, the Recipe Redux challenge for November was to come up with a fun twist on classic, comforting soup.
Being the vegetable lover/blogger that I am, I knew that this was the perfect opportunity to try one of the more unique squashes that are in currently in season. That's how I settled on kabocha squash as the base for my soup.
So before I even dive into the deets about this yummy soup, let's talk about the interesting variety of squash I used to make it, shall we?
What is Kabocha Squash?
Kabocha squash is a type of winter squash also known as Japanese pumpkin. It typically has a dark green outer skin with a bright orange flesh. Many people compare its flavor and texture to sweet potatoes. When cooked, kabocha squash develops a velvety mouthfeel that can transform a dish into a smooth, decadent meal.
You can find kabocha squash in most areas during the fall and winter. Check out your local farmers markets or grocery stores to purchase one if you are interested in making this recipe. If the squash has speckles of gold and yellow on its skin, that means it's ripe enough to cook.
By the way, if you are wondering how to pronounce kabocha, it's ka-bach-a. I looked it up on YouTube!
Is Kabocha Squash Healthy?
Aside from having a delicious flavor and appealing texture, kabocha squash is loaded with beneficial nutrients. Like most foods with bright orange flesh, this squash has tons of beta-carotene, a carotenoid that converts to vitamin A in the body. Eating foods with these nutrients can improve vision, skin health, and immune strength.
Kabocha squash is also loaded with fiber and contains other vitamins and minerals. So, adding this Apple Ginger Kabocha Squash soup to your dinner or lunch will certainly give you a nutritious boost! For other soups with winter vegetables and fruits, check out my Butternut Squash and Pear Soup or Celeriac and Apple Soup with Crispy Chickpeas.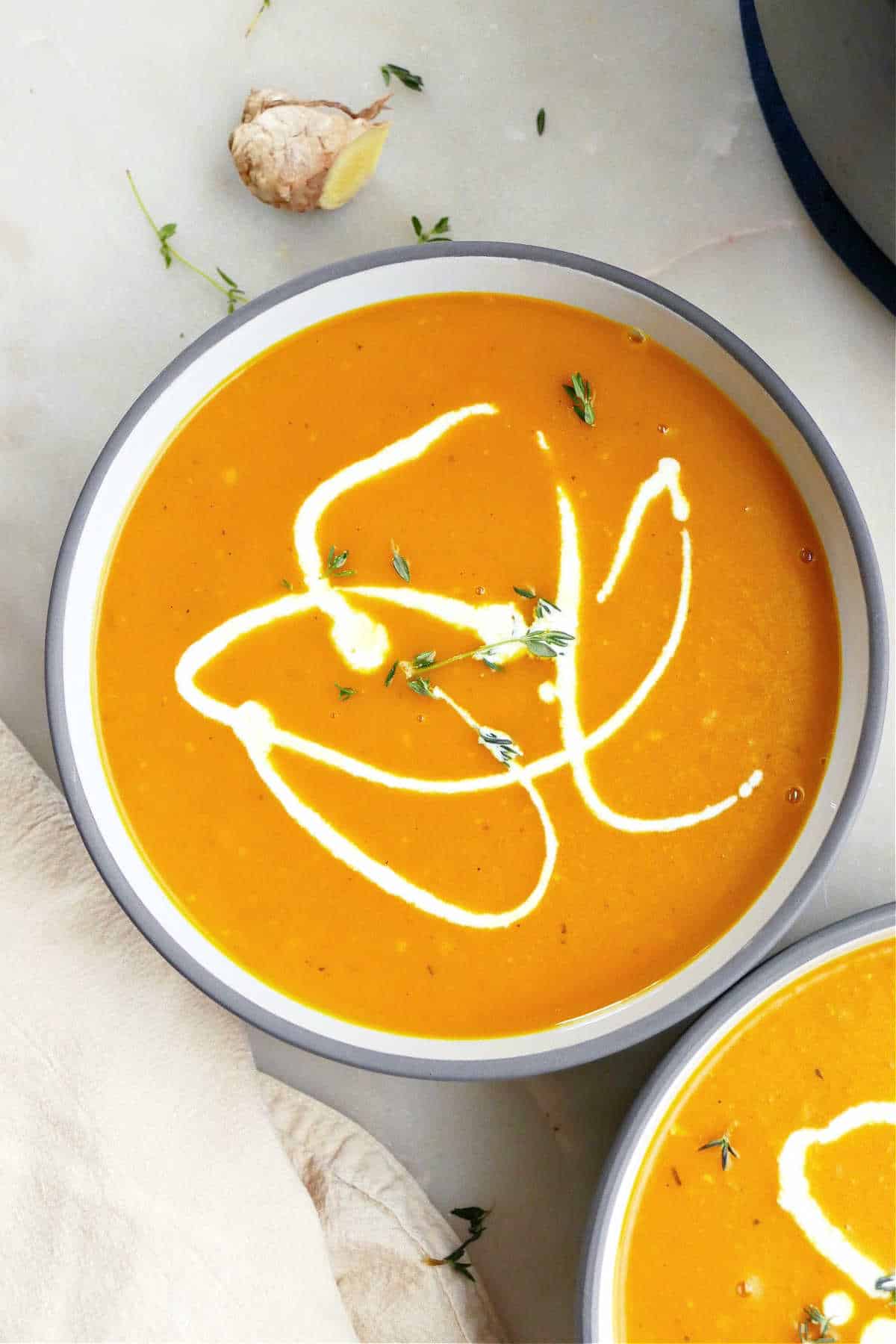 In this soup, tart Granny Smith apples and zesty ginger are wonderful companions to the sweet kabocha squash. I served it with some roasted pumpkin seeds and fresh thyme sprigs, and they tasted great! I didn't try roasting the kabocha seeds, but as far as I know you can do that just as you would with any other squash seed. Raw or sautéed diced apples would also be a great topping for this soup. Finally, you could finish it off with a swirl of Greek yogurt or coconut milk.
For other creative soup recipes, check out this month's Recipe Redux by clicking the image at the end of the post!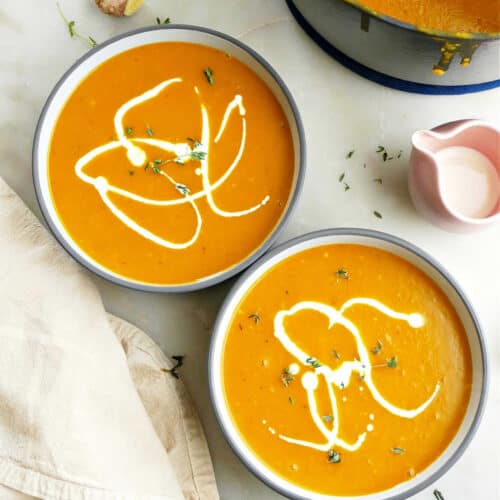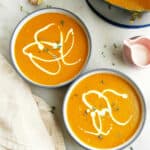 Apple Ginger Kabocha Squash Soup
A velvety smooth kabocha squash soup with tart Granny Smith apples and zesty ginger. Delicious as a main course or when combined with a sandwich. Vegan and gluten free.
Ingredients
1

kabocha squash

peeled, deseeded, and diced into 1" cubes

1

tbsp

olive oil

1

yellow onion

diced

2

Granny Smith apples

cored and diced

2

tbsp

fresh ginger

chopped

4

cups

vegetable stock

1/2

cup

apple cider
Instructions
Prepare the kabocha squash by peeling it with a vegetable peeler or knife, and slicing it in half and then in half again. Use a spoon to remove the seeds, and then dice the squash into ~1" cubes (they can be roughly chopped). You can discard the seeds or roast them for a snack or soup topping.

In a large pot, heat the olive oil over medium hight heat. Add the onion and sauté for approximately 5 minutes before adding the squash, apples, and ginger. Pour in the vegetable stock and bring to a boil. Cover and simmer for approximately 20 minutes or until the squash is tender when touched with a fork.

Remove the pot from heat and use an immersion blender to blend the soup until smooth. Alternatively, you can use a regular blender and purée the soup in batches. Stir in the apple cider. Try a spoonful of the soup and add more ginger and/or apple cider to taste.

Keep the soup warm on the stove until you serve it. Garnish with roasted pumpkin seeds, fresh thyme, a dollop of yogurt, more ginger, or diced apples. Enjoy!
Recipe Notes
Kabocha squash can be very difficult to peel and cut. Make sure you set aside enough time to do this (it can take up to 10-15 minutes), and use a sharp knife to stay safe. The delicious taste and beautiful color of kabocha squash is worth the prep time. 
If you use a regular blender to purée this soup, make sure to not overfill it as the liquid will be very hot. Blending the soup in batches is the safest way to do it.
Pin this Apple Ginger Kabocha Squash Soup now to make later!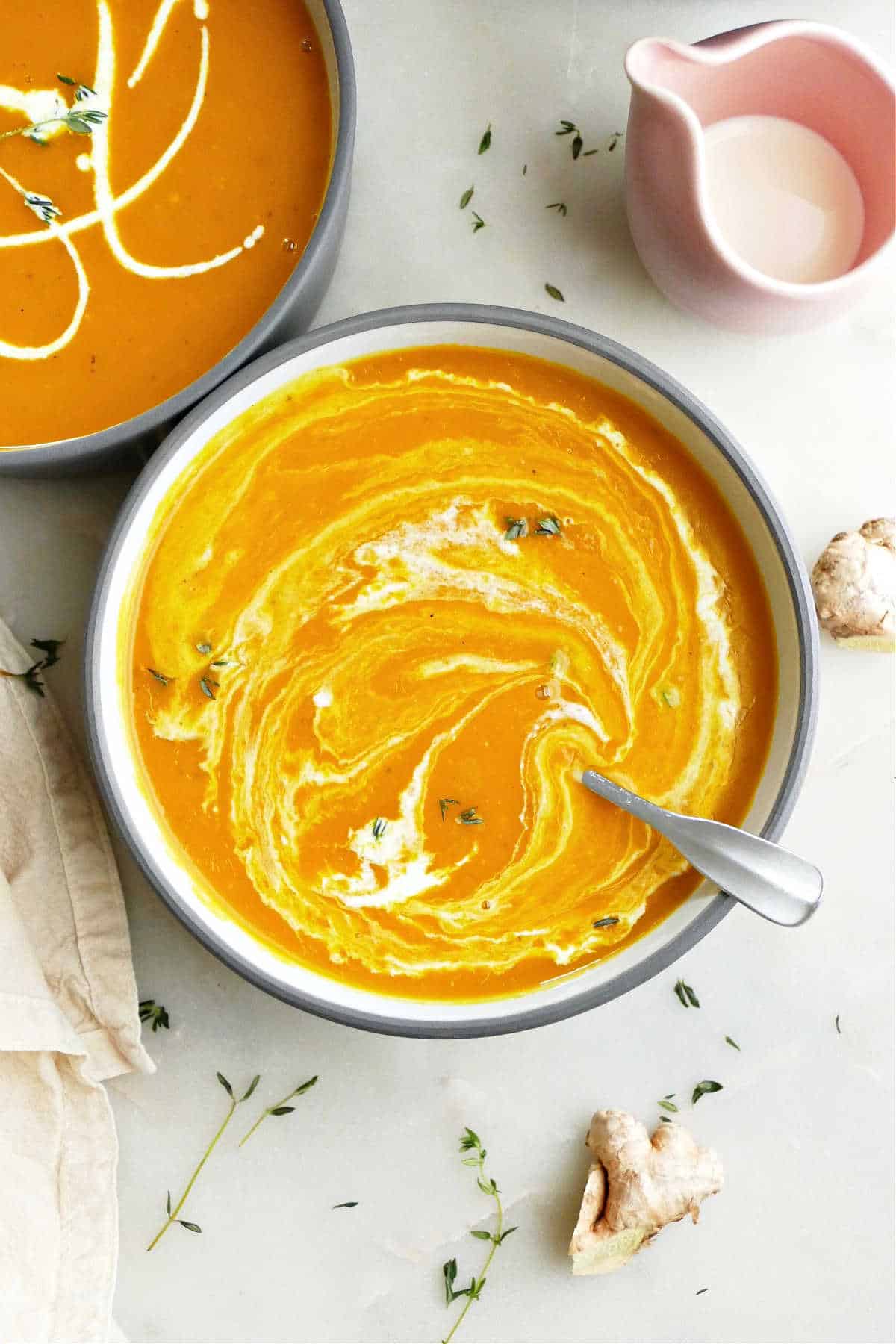 Isn't she gorgeous?!
Lizzie