Beet and Green Lentil Cakes are a colorful and flavorful plant-based recipe that shine as a main dish.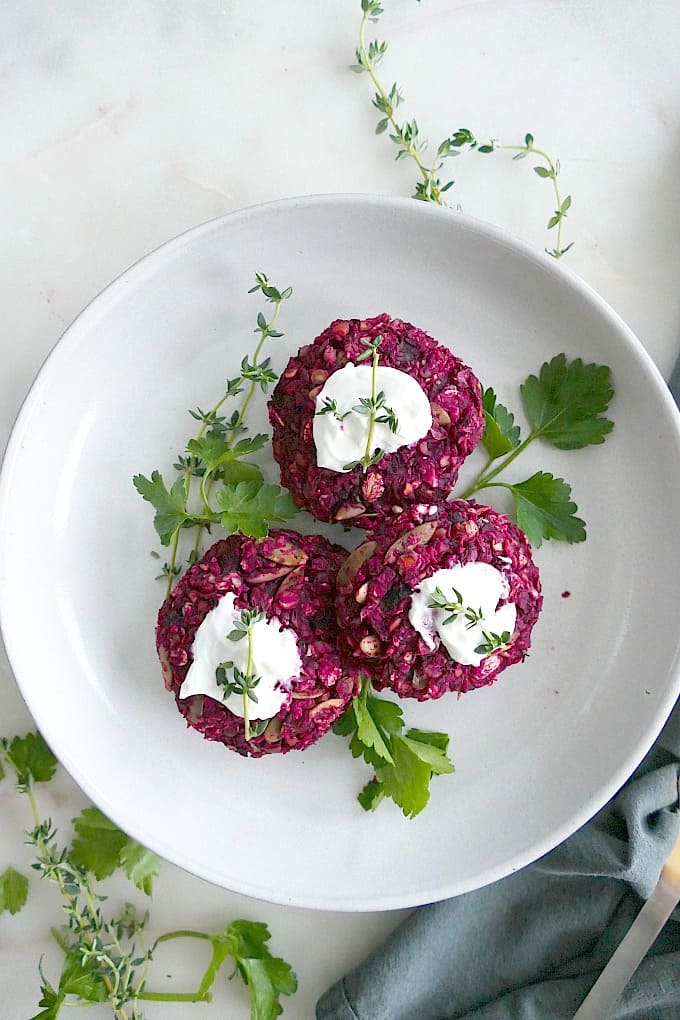 This post may contain affiliate links. For more information, see my affiliate disclosure.
Believe it or not, February is nearly halfway over. Which means that Valentine's Day is here. Whether you like this holiday or not, it's a great excuse to eat pretty, red and pink food and of course some chocolate too!
As a veggie blogger, Valentine's Day also means that I can use my all time favorite veg – beets! You probably know all about my love for beets if you've been a part of the Veg World for a while, but in case you're new here…I love beets. There, I said it.
I have several recipes with these earthy root vegetables on the blog, but I don't have too many that can be served as a main course, besides the delicious black bean beet burgers.
So to give my beloved beets a little staying power, I bulked them up with protein-packed green lentils, pumpkin seeds that contain healthy fats, and an array of seasonings. The end result is satisfying, flavorful, and a great way to make vegetables the star of your plate!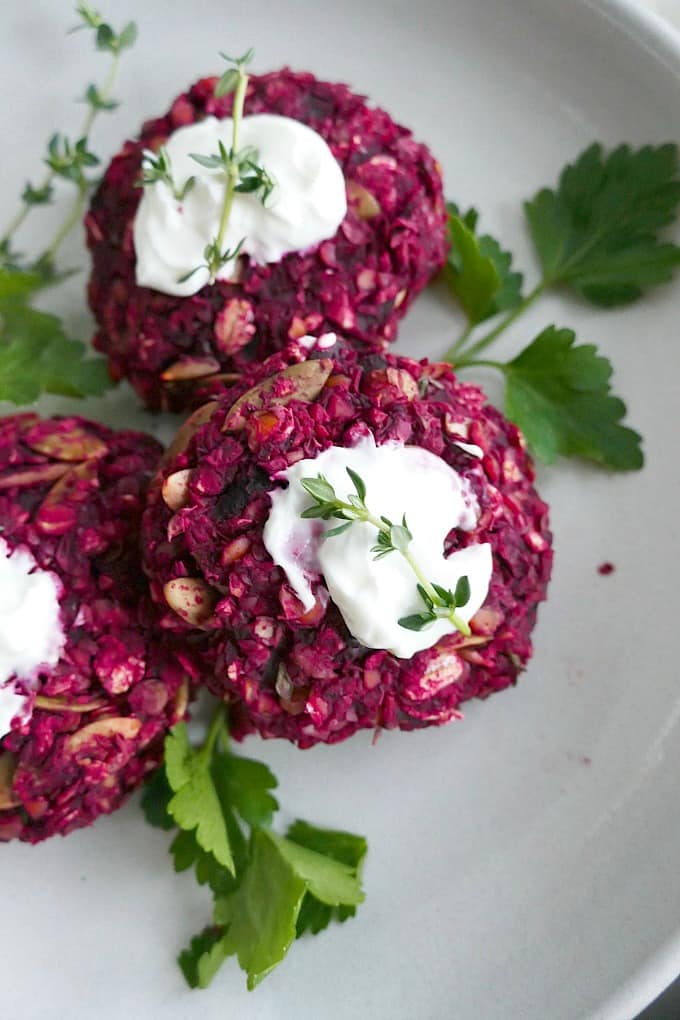 How to Make Lentil Cakes
The first step in making lentil cakes is, of course, to cook the lentils. I used green lentils for this recipe and cooked them in a saucepan with simmering water for 12-15 minutes until they were tender. You can also use red or brown lentils.
While the lentils are cooking, gather the other ingredients: rolled oats, garlic, lemon juice, sea salt, pumpkin seeds, thyme, and garlic powder. You can cook the beets at the same time as the lentils, but the cook time might be shorter or longer depending on which technique you use (steaming, boiling, or roasting).
To steam the beets, scrub and trim them, roughly chop them into quarters, and steam them in a vegetable steamer basket for 7 to 10 minutes. If you don't have a steamer, you can bring a pot of water to a boil and drop the beets in there, then cook them in the boiling water until fork tender (about 15-20 minutes). Lastly, you can roast the beets (but this takes longer) or buy pre-roasted beets to use.
After you cook the lentils and beets, combine them in a food processor with the garlic and half of the rolled oats and pulse for ~30 seconds. When the mixture contains about half whole lentils and half mashed lentils, stop pulsing.(PS – Here is my favorite food processor if you need one.)
Transfer the mixture to a large bowl and add the rest of the ingredients. Use a ⅓ measuring cup to scoop out some batter and form it into a patty with your hands. Repeat ~12 times.
The batter will be fairly crumbly, but it should stay together when you form the patties. Some people find that adding a beaten egg at this point helps the patties stay together better. I didn't see a need for this, and the patties came out great for me without an egg, so it's really up to you. Finally, bake the lentil cakes in the oven at 400 for ~15 minutes or until slightly crispy.
What to Serve with Lentil Cakes
These Beet and Green Lentil Cakes taste delicious with a dollop of Greek yogurt or even some mashed avocado. As I mentioned, they are a good vegetarian main course and would taste great with a side salad or some brussels sprouts or green beans. I typically eat two or three as a serving.
Some other recipes that would pair well with lentil cakes include:
And if you're on a lentil kick, check out my BBQ Lentils with Shredded Carrots.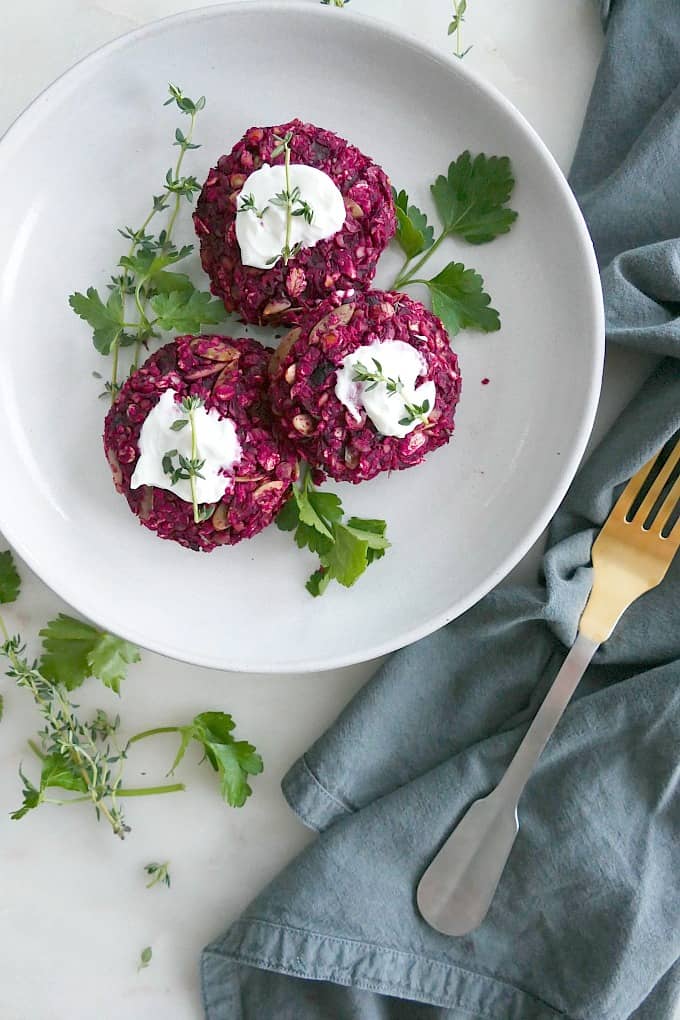 If you make this recipe, be sure to rate and review it in the comments below! For more veggie-loaded recipes, sign up for the weekly newsletter.
📖 Recipe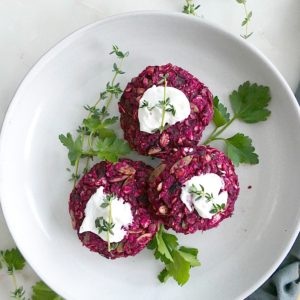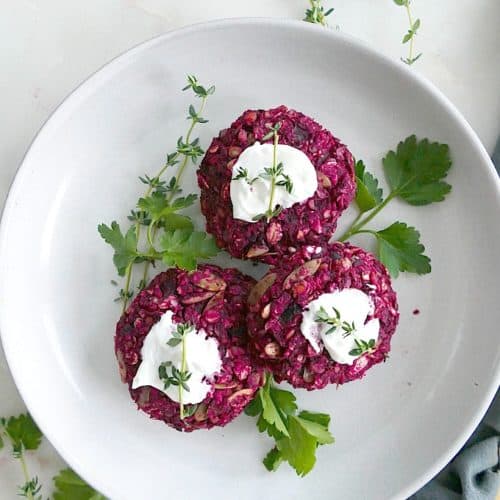 Beet and Green Lentil Cakes
Flavorful, filling lentil cakes made with beets. Add a pop of color to your plate with this delicious vegetarian main dish.
Print
Pin
Rate
Save
Saved!
Instructions
Preheat oven to 400 degrees F. Line a baking sheet with parchment paper.

Scrub and trim the beets. Steam, boil, or roast them until tender. Once cooked, set aside to cool.

Combine the green lentils and water in a saucepan. Bring to a boil and then reduce heat to a simmer. Cook uncovered for 12 to 15 minutes or until tender.

In a food processor, combine the cooked beets and lentils. Add ½ cup of rolled oats and the garlic cloves. Pulse for about 30-60 seconds or until everything is well combined and you have half mashed lentils and half whole lentils.

Transfer the mixture to a large mixing bowl. Add the other ½ cup of the rolled oats, pumpkin seeds, lemon juice, sea salt, garlic powder, and thyme. Mix until well combined. The batter should be crumbly but still hold together.

Use a ⅓ cup measuring cup to scoop out some batter. Form each lentil cake with your hands and place them on the lined baking sheet. You should make about 12 patties. Cook them for 15 to 20 minutes or until they are slightly crispy on the outside.

Enjoy with a dollop of Greek yogurt and a fresh salad or vegetable side dish!
Notes
These lentil cakes can be served warm or cold. They can be stored in the fridge for up to 5 days and also freeze well.
I typically eat 2-3 lentil cakes per serving.
Nutrition
Serving:
1
patty
|
Calories:
102
kcal
|
Carbohydrates:
16
g
|
Protein:
6
g
|
Fat:
2
g
|
Saturated Fat:
1
g
|
Sodium:
112
mg
|
Potassium:
242
mg
|
Fiber:
6
g
|
Sugar:
1
g
|
Vitamin A:
38
IU
|
Vitamin C:
3
mg
|
Calcium:
20
mg
|
Iron:
2
mg
Happy Valentine's Day!
Lizzie