This slow cooker butternut squash risotto is a healthy, comforting recipe made with short grain brown rice and the best flavors of fall!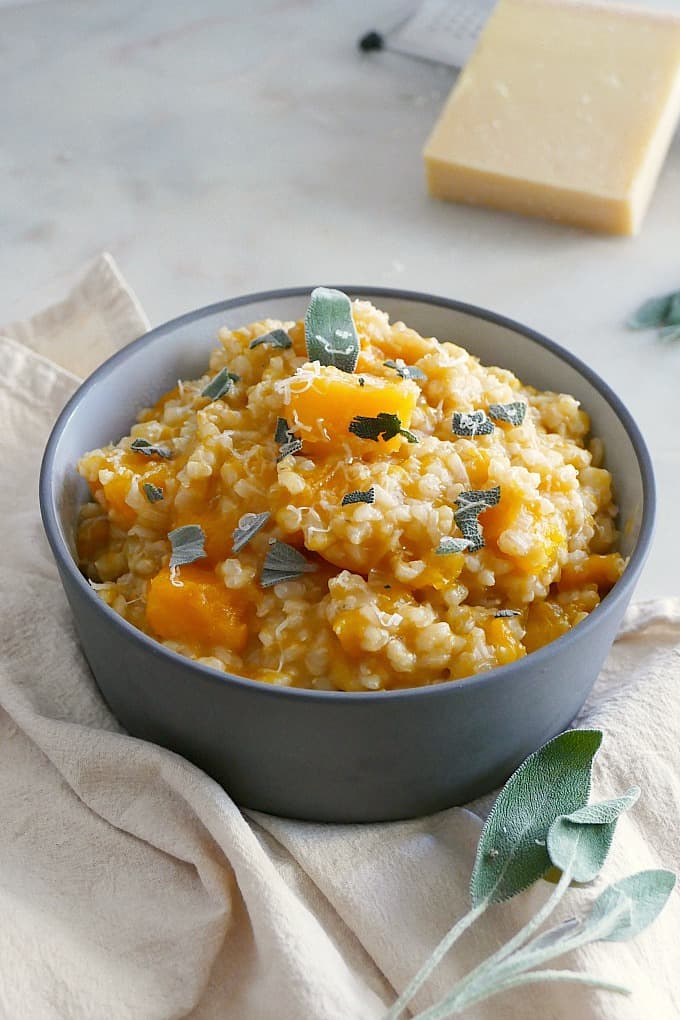 This post may contain affiliate links. For more information, see the affiliate disclosure.
Is it just me, or is this the Monday-est Monday of all time? Ok good, so it's not just me. You know what makes crazy Mondays better? Super easy dinners! Especially the kind that you can make in the slow cooker.
If that way of thinking resonates with you, then boy do I have a recipe that you'll want to bookmark!
This Slow Cooker Butternut Squash Brown Rice Risotto has it all. It's creamy without the incessant stirring (TG for slow cookers, am I right?), packed with nutrients from butternut squash, and loaded with fiber from whole grain brown rice.
I know what you may be thinking…a healthy crockpot risotto?! With brown rice?! But how!
Can you use brown rice in risotto?
Yes! If you are a seasoned risotto maker, you might be wondering how I managed to make this recipe with brown rice. For those of you who don't know, risotto is typically made with a specific type of rice called arborio. Arborio is a medium grain rice, which is ideal for risotto-making since it helps create a creamy consistency.
Why? Well, medium and short grain rices have more amylopectin, a type of plant starch, than their long grain counterparts. To produce a creamy rice dish, the more starch, the better. So, longer grain rices that don't have as much starch, like basmati, jasmine, and brown, don't yield the best risotto.
However, brown rice also comes in a short grain variety! And apparently there's brown arborio rice out there too. Both of these rices have the whole rice grain intact, meaning they provide more fiber, vitamins, and minerals than white rice that has its bran and germ removed.
So, in an effort to pack a little more nutrition into this risotto, I went with short grain brown rice as the base. It's a win-win — enough starch to make a creamy dish, but with some added nutrients!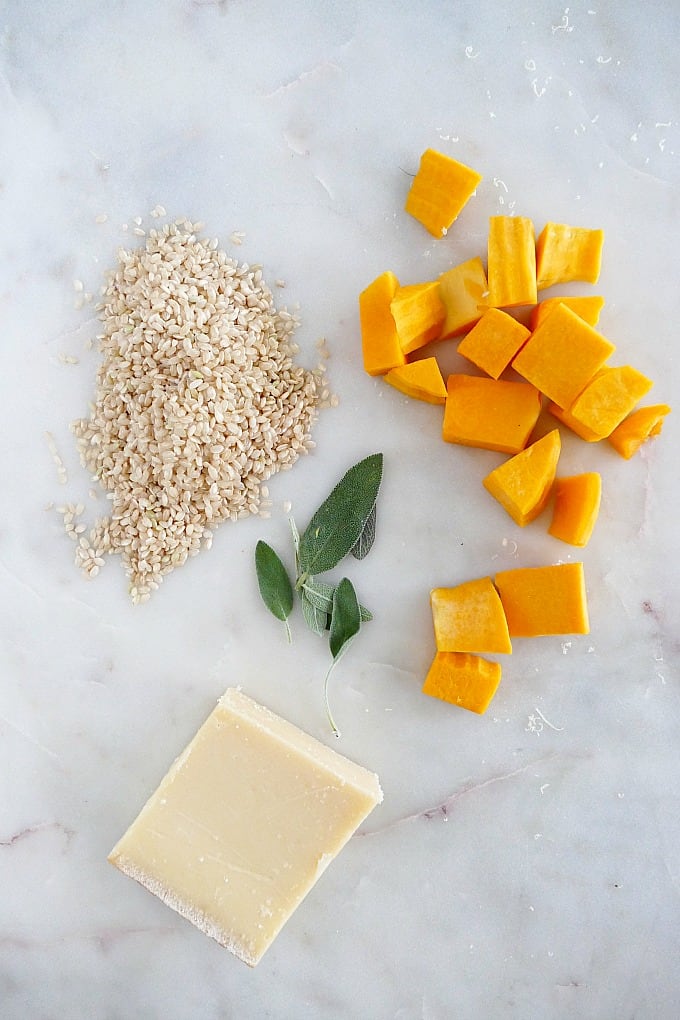 Tips for Healthy Butternut Squash Risotto with Brown Rice
You guys, this is so easy to make. I feel silly even telling you the process, but here's what you do:
Peel, deseed, and dice the butternut squash. OR save yourself all that effort and get pre-cubed butternut squash at the store instead.
Dice some shallots.
Add the squash and shallots to a crockpot with short grain brown rice and vegetable broth.
Cook in the crockpot on high for 4 hours.
Stir in parmesan, sage, salt, and pepper.
EAT IT UP!
Store leftovers in an airtight container in the fridge for up to 5 days. Reheat in the microwave for 2-3 minutes on high.
This recipe also freezes well and is an excellent addition to weekend meal prep! You can reheat it from frozen in a saucepan over low-medium heat, stirring occasionally. You may need to add a little water to prevent scorching.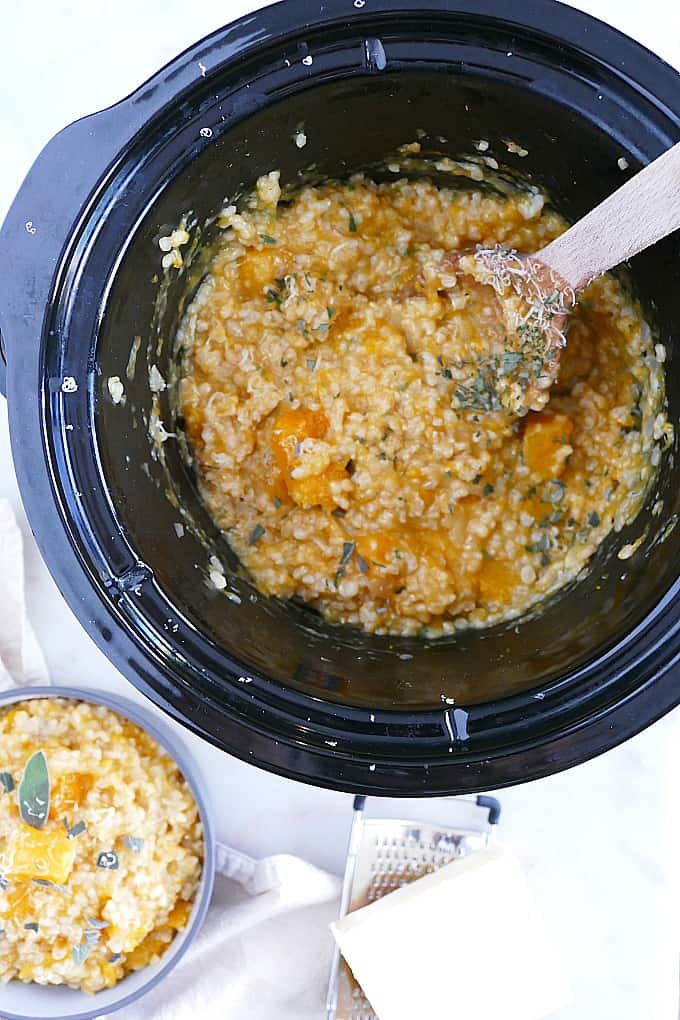 Craving more butternut squash recipes? Check out the Garlic Lemon Butternut Squash Noodles with Shrimp, Butternut Squash and Pear Soup, and Spiced Oat and Butternut Squash Muffins while you're here!
What to Serve with Butternut Squash Risotto
Pair this with some other quick, healthy foods for a complete meal, like baked fish, chicken, or pork and steamed broccoli or a salad. You can also serve slow cooker butternut squash risotto as a main dish. It would pair well with the Arugula Apple Salad with Pecans.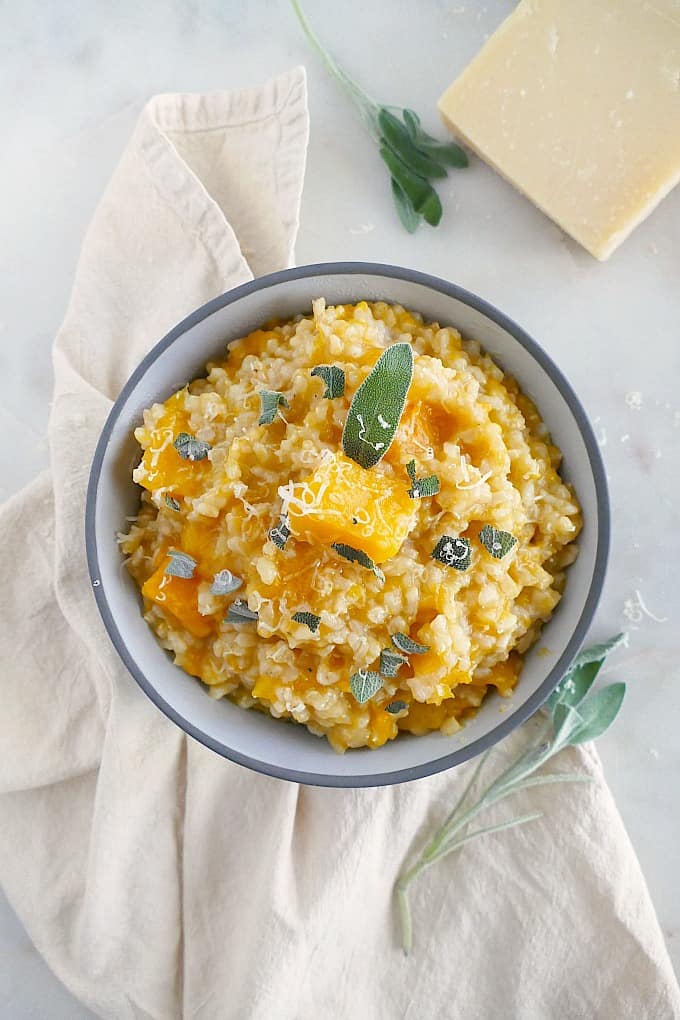 More Risotto Recipes
Love this butternut squash risotto? Check out these other risottos while you're here. You may also enjoy the Slow Cooker Butternut Squash Mac and Cheese.
If you make this recipe, please rate it using the stars on the recipe card or in the comments section. I can't wait to hear how you like it!
📖 Recipe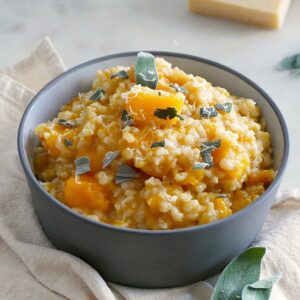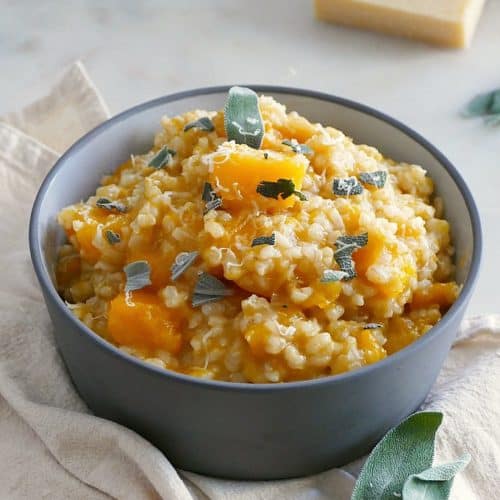 Slow Cooker Butternut Squash Brown Rice Risotto
A healthy risotto recipe that doesn't require any stirring! With butternut squash, parmesan cheese, and fresh sage, it's the perfect fall dish.
Print
Pin
Rate
Save
Saved!
Instructions
Prepare the squash by slicing off the ends, peeling it, slicing it in half, and scooping out the seeds. Then slice it into cubes. You can also save time by purchasing pre-cubed butternut squash, available at most stores. Prepare the shallots by peeling, trimming, and then dicing them.

Combine the shallots, butternut squash, dry short grain brown rice, and vegetable broth in a crockpot. Cover and cook for 4 hours on high. You can also cook for 6 to 7 hours on low, or until the rice is tender and the consistency is creamy.

Stir in the parmesan, sage, and salt and pepper to taste. Serve warm and enjoy!
Notes
This recipe will not work with long grain rice. You need short grain rice for it to cook correctly and get the right consistency.
Store leftovers in an airtight container in the fridge for 3-5 days. Reheat in the microwave on high for 2-3 minutes.
You can freeze this risotto too. Reheat in a saucepan over low-medium heat and add a splash of broth/water as needed to prevent scorching.
Nutrition
Serving:
1
cup
|
Calories:
255
kcal
|
Carbohydrates:
47
g
|
Protein:
8
g
|
Fat:
4
g
|
Saturated Fat:
2
g
|
Cholesterol:
8
mg
|
Sodium:
405
mg
|
Potassium:
491
mg
|
Fiber:
4
g
|
Sugar:
4
g
|
Vitamin A:
10342
IU
|
Vitamin C:
20
mg
|
Calcium:
213
mg
|
Iron:
2
mg
Enjoy the rest of your Monday! – Lizzie