This creamy, healthy, and super easy Vegan Mushroom Risotto is made with white wine, fresh thyme, and vegetable stock. It's a no fuss recipe that you can whip up for any occasion.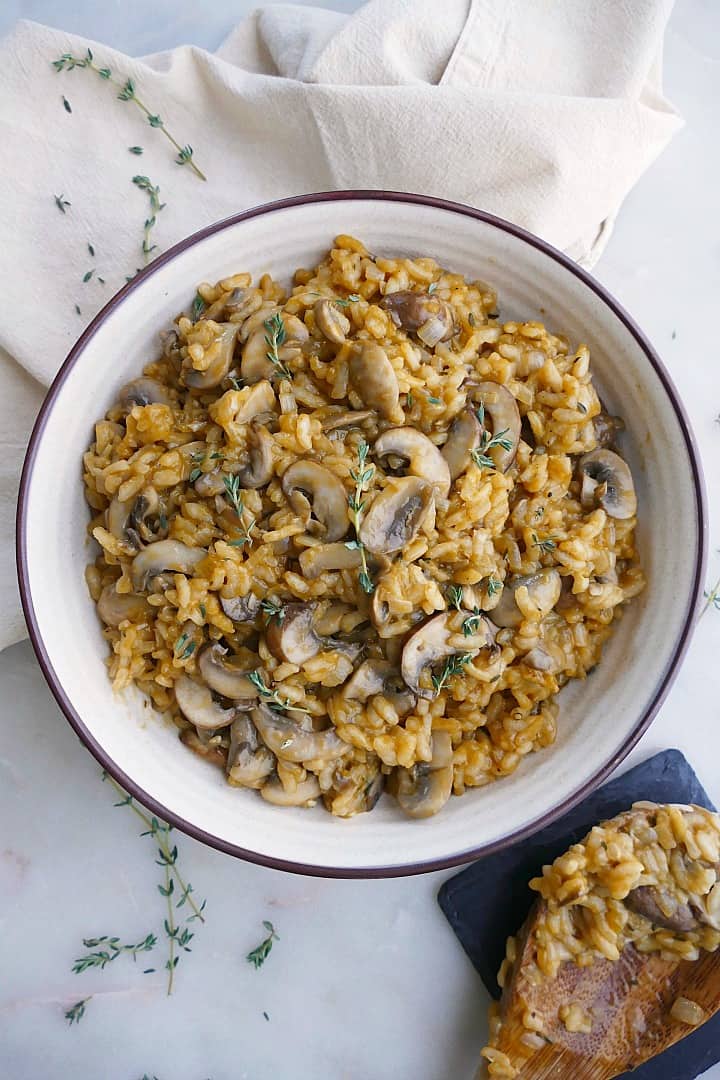 This post may contain affiliate links. For more information, see my affiliate disclosure.
I'm back again today with another OG Veg World recipe that I first made in September 2013 (check my post on Greek Cauliflower Rice for another old school dish). Woah, that's a long time ago! Regardless, this Vegan Mushroom Risotto recipe is still one of my favorite dishes.
Why? Well, for one, it's REALLY easy to make. Sure, you need to stir it a lot, but that's what you get when you sign up for risotto. Two, it's a great dish for a cold winter's night (like last night here in Minneapolis, when the wind chill was -25 degrees…brrrr!), a Valentine's Day meal (hence why I'm posting it today), or for when you need a quick, throw some veggies + rice in a pot kind of dinner.
Some of you may be wondering, how do you make a vegan risotto? Isn't parmesan cheese a big contributor to the creaminess of this epic Italian staple? In part, that's true. But the key to making a creamy risotto is actually in the rice and liquid combination, so you don't necessarily need cheese!
I put together my best tips for making this dish below, so be sure to check them out before you scroll to the recipe card! They will be well worth your time. And once you try this Vegan Mushroom Risotto, I know you'll be just smitten with its creamy texture, incredible flavor, and the meaty mushrooms in the mix!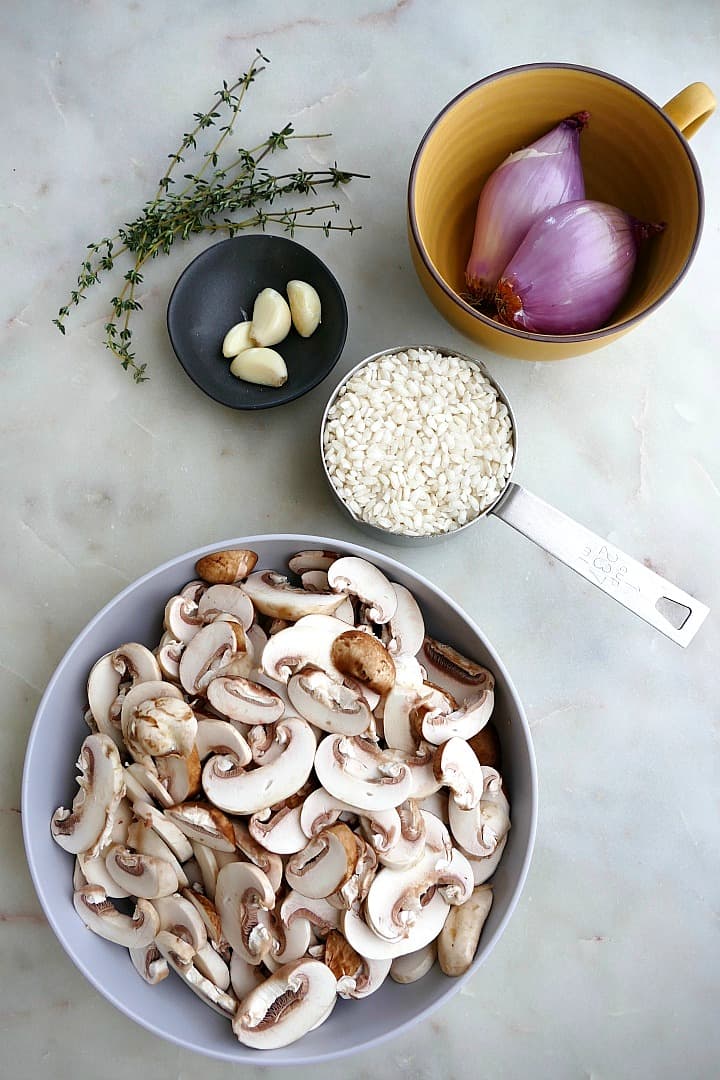 Ingredients in Vegan Mushroom Risotto
The potential of any dish is ALL in the ingredients, and this recipe is no exception. Here are my recommendations for choosing the best ingredients for risotto.
Rice: For a basic vegan risotto, use arborio rice. You cannot use normal rice for risotto, because you need the high starch content of arborio to make the dish creamy. I have substituted short grain brown rice for arborio in other risotto recipes, but those recipes also used different cooking techniques instead of the traditional heat + stir method you will use here.
Mushrooms: You can actually use any kind of mushrooms for mushroom risotto! I used a mix of baby bella (cremini) and white mushrooms, but you can also use shiitake or portobello 'shrooms.
White wine: I recommend a dry white wine, like a Sauvignon Blanc or Pinot Grigio. Essentially you want a wine that isn't too sweet (I have used Chardonnay before too, if it's the only one I have on hand). There are some good tips on choosing a cooking wine in this article from Southern Living.
Vegetable stock: While all vegetable broths/stocks may taste pretty similar, I personally love the Trader Joe's Vegetable Stock (not broth) and the Field Day Organic Vegetable Broth.
Aromatics: I used shallots (prefer them over onions), fresh thyme, and fresh garlic in this Vegan Mushroom Risotto. Feel free to add more or less of each ingredient, depending on your taste preferences.
The great thing about this dish is that you don't need to just add mushrooms to it. You can also incorporate peas, leeks, or asparagus. Just follow the instructions as written and swap in your veggies of choice.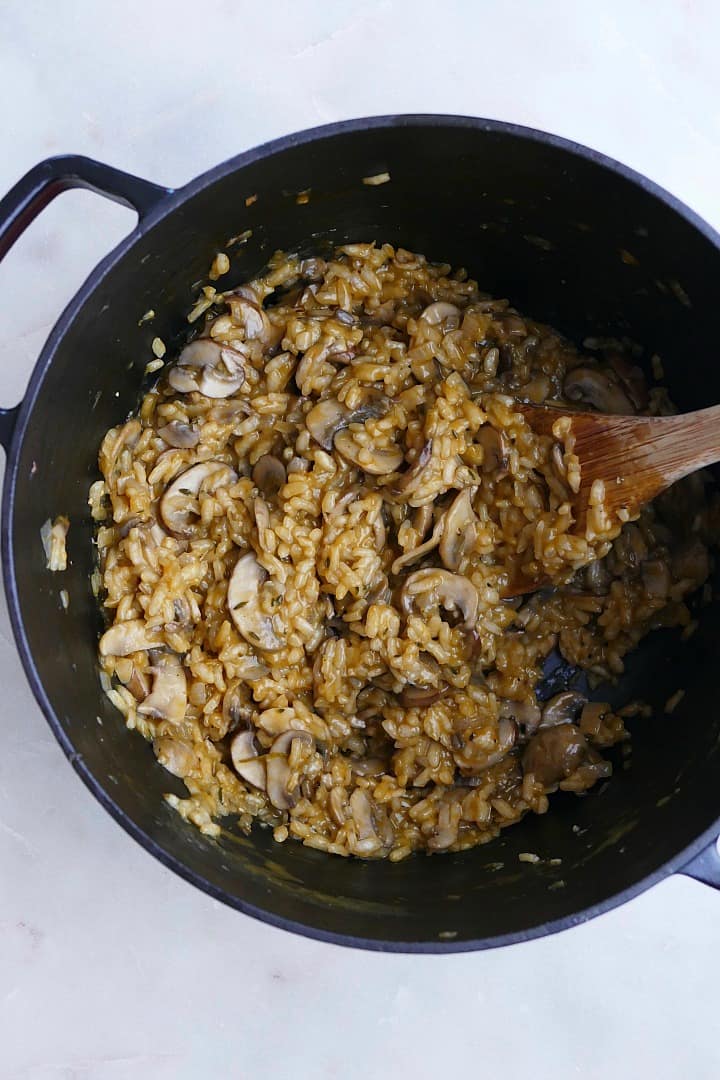 How to Make Vegan Mushroom Risotto
The key to all good risottos is consistent/constant stirring. I like to make risottos in a dutch oven (you can also use a large pot) and use a long wooden spoon to stir. Before you begin, heat the vegetable stock in a large saucepan over low heat.
Cook the mushrooms until tender. Transfer to a clean plate.
In the same pot, cook the shallots and garlic in some olive oil over medium heat.
Add the arborio rice, without any liquid at first, and cook for 2-3 minutes, stirring constantly until the edges of the rice start to get a little translucent.
Add the white wine and thyme, and cook, stirring constantly, until the wine is absorbed.
Use a ladle or ½ measuring cup to pour in some of the hot broth. Stir constantly until it's absorbed. Repeat this step until all of the broth has been added. This takes around 20-25 minutes over medium heat.
Add the mushrooms and mix to incorporate. Taste, and adjust seasonings as needed (more thyme, salt, pepper, etc).
Expert Tips
It's important to get the vegetable stock hot before you start adding it to the risotto. But you just want to bring it to a simmer in a saucepan, not a boil.
Risotto really does take constant stirring. I wouldn't leave it unattended for longer than 60-90 seconds without a good stir.
Be sure to taste the risotto after you incorporate all of the stock to make sure the rice is tender. You may need to add a little more stock if not. This is also a good time to adjust the seasonings as desired.
Store Vegan Mushroom Risotto leftovers in an airtight container in the fridge for 3-4 days. Reheat in the microwave on high for 1-2 minutes.
Looking for another mushroom recipe? Check out the Garlic Thyme Roasted Mushrooms while you're here!
What goes with mushroom risotto?
Risotto tastes especially delicious with seafood, like scallops or white fish. But if you are using this recipe since you follow a vegan diet, enjoy it as a main dish with a salad or vegetable side dish!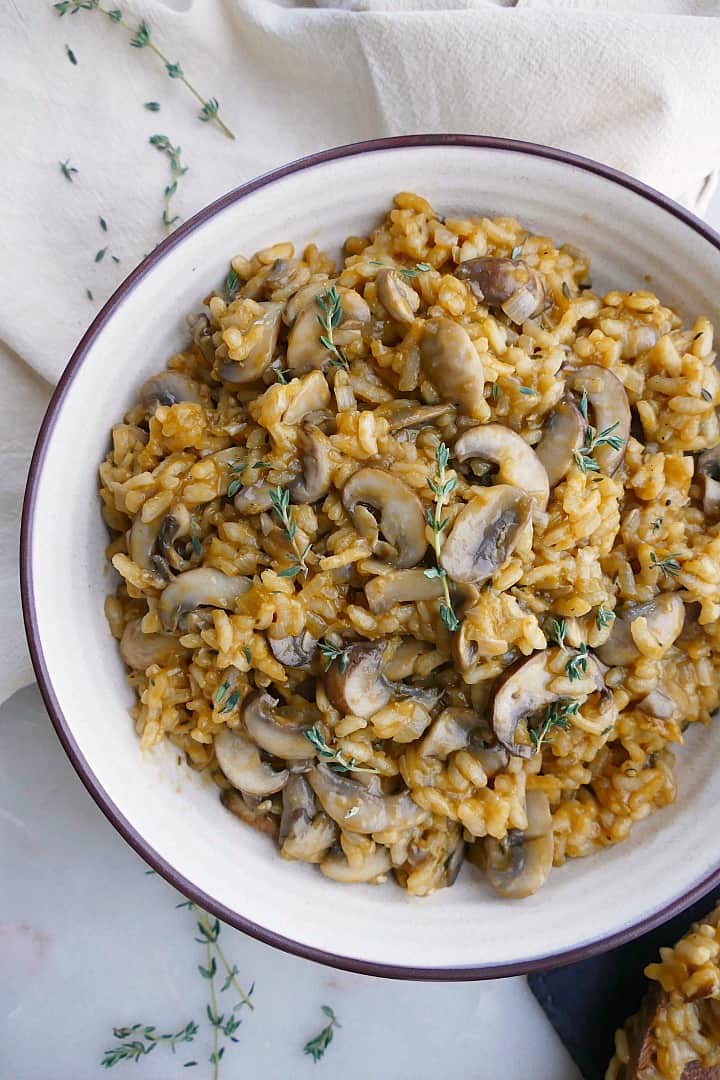 More Vegetable Risotto Recipes
If you make this Vegan Mushroom Risotto, I'd love to hear from you! Please rate/review using the stars on the recipe card or in the comments section. And don't forget to subscribe to the weekly newsletter.
📖 Recipe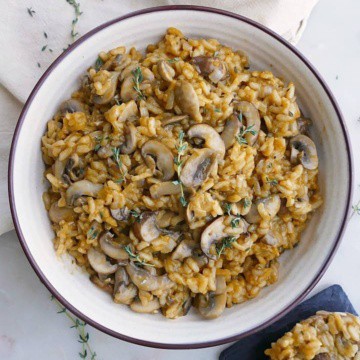 Vegan Mushroom Risotto
This easy vegan risotto recipe is made with white wine, fresh thyme, and meaty mushrooms.
Print
Pin
Rate
Save
Saved!
Servings:
4
people, as a side
Instructions
Bring vegetable stock to a simmer over medium-low heat in a saucepan. Keep it as is while you prepare the rest of the recipe.

In a Dutch oven or large pot, heat 1 tablespoon of the olive oil over medium heat. Add the sliced mushrooms and cook until tender, about 5-7 minutes. Remove the mushrooms from the pot and transfer to a clean plate.

Heat the other 3 tablespoon of olive oil in the saucepan over medium heat. Add the shallots and garlic, and cook until tender (about 4-5 minutes). Add the rice and stir constantly for about 4 minutes, until the edges of the rice become slightly translucent. Pour in the wine, add the thyme, and continue to stir until almost all of the wine appears to be absorbed by the rice.

Use a soup ladle or a ½ measuring cup to pour in some of the hot vegetable stock. Stir constantly until the rice has absorbed the stock. Repeat this step multiple times, while constantly stirring, until all of the stock has been added and absorbed. It should take about 20-25 minutes. Taste the rice at this point to make sure it's tender. If not, add some more broth if you have it on hand. I've never had an issue with it not being tender at this point. Adjust seasonings as desired, and add more thyme, salt, and pepper to taste. Finally, add the mushrooms and stir until incorporated. Enjoy warm!
Notes
Remember to constantly stir the risotto and to keep the heat at medium or a bit lower. Do not leave unattended for more than 60-90 seconds.
Serve with seafood, like scallops or white fish, or on the side of a lean baked protein. You can also eat risotto as a main dish with a side salad or vegetable.
Store leftovers in an airtight container in the fridge for 3-4 days. Reheat in the microwave for 1-2 minutes on high.
You can also use this recipe as a basic vegan risotto, and add veggies other than mushrooms (i.e. peas, leeks, or asparagus).
Nutrition
Serving:
1.5
cups
|
Calories:
379
kcal
|
Carbohydrates:
52
g
|
Protein:
7
g
|
Fat:
14
g
|
Saturated Fat:
2
g
|
Sodium:
381
mg
|
Potassium:
632
mg
|
Fiber:
3
g
|
Sugar:
5
g
|
Vitamin A:
584
IU
|
Vitamin C:
5
mg
|
Calcium:
40
mg
|
Iron:
3
mg
This post was originally published in 2013. It was updated with expert tips and new photos in February 2020.
Enjoy! And happy weekend! – Lizzie